Monksdown Primary School Add Fabric Shade Sail in Liverpool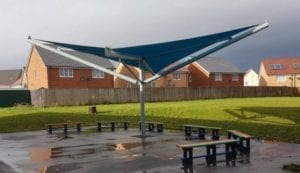 We have so many outdoor playground canopies to choose from because you don't just want something that works, you want something that works AND excites you. So when the staff of Monksdown Primary School contacted A&S Landscape, asking about our Maxima range, we knew they were looking for nothing less than great.
We installed a Maxima StarSail™ and Maxima Umbrella™, both of which provide generous areas of shade whilst also looking fantastic. The Maxima StarSail™ was installed at 7000mm x 7000mm with the Maxima Umbrella™ coming in at the same size. Both featured grey (RAL 7000) steelwork and a gorgeous, stand out turquoise fabric.
The result of the playground canopies is striking. Instead of just good, Monksdown Primary School has certainly got something great and a couple of outdoor shade shelters that will stand the test of time. To see more 'great' you should really take a look at our gallery of finished canopies for schools. We have a habit of making a little magic wherever we go and you might just get some inspiration for your own project. If you have any questions, get in touch and a member of our design team can have a full proposal with you for your review.
Shade Sails add Outside Space to Clatterbridge Cancer Centre in Birkenhead
No more so than at Clatterbridge Cancer Centre where the need for outdoor space for its patients to get some natural light, fresh air and simply BE outdoors rather than inside for a little while is so very important.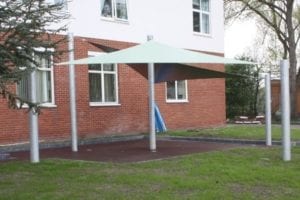 Of course, nature isn't always so welcoming so the need for a shelter, somewhere to take cover and the security that brings, knowing the outside is always available, is vital. Plus, if we do say so ourselves, it never hurts if those spaces look a little magical too. The three Maxima Sails™ work in harmony at Clatterbridge Cancer Centre, offering effective cover from the rain, and direct sunlight, thanks to the long-lasting waterproof tensile fabric, which has been implemented here in a stylish mint green.
Safe from UV rays, poor weather and built to last many, many years, this area at Clatterbridge Cancer Centre is used daily by the staff and patients, no matter what time of the year. And that's something that gives us a real sense of reward. We are never just providing a structure it is never just about steel and fabric. It's about what that structure, when put together in the right place, offers.