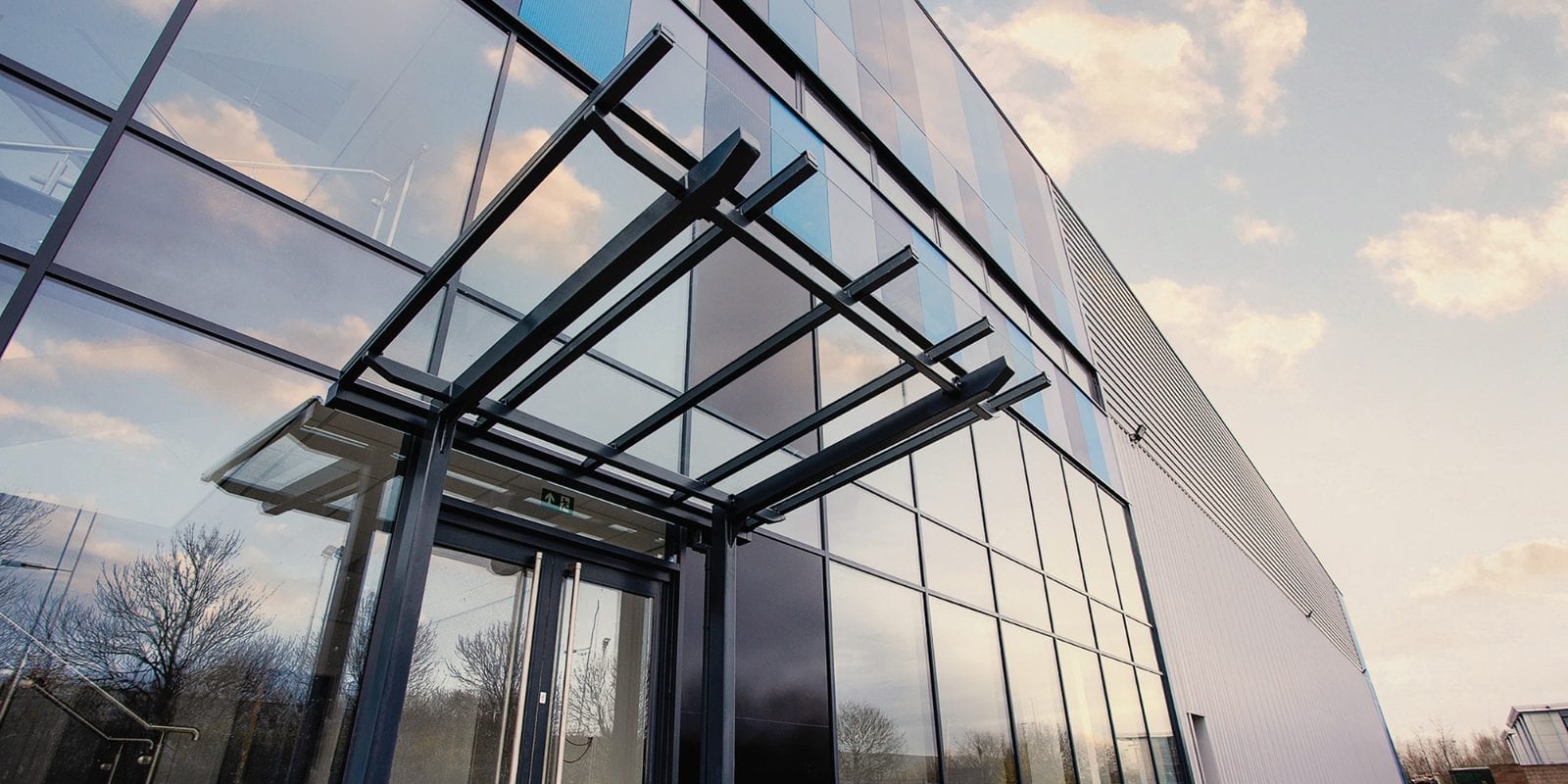 New Shade Sail Fabric Installed at Bluebell Park School in Liverpool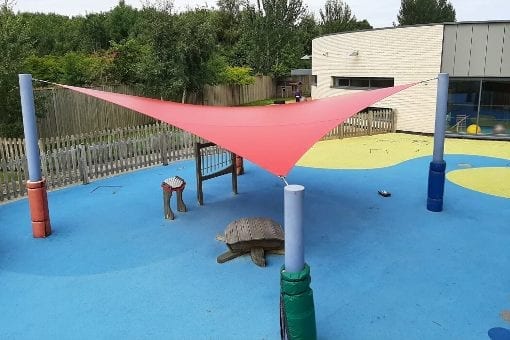 At A&S Landscape, we provide an outstanding aftercare service and highly value our customers. When we were approached by this Kirby school for help to replace an existing shade sail canvas, we were very happy to help.
With a wide range of primary school playground shelters and early years outdoor canopy options on offer, not only are we on hand to help with a new installation, but our flexible product range means that there are always options for replacement shade sail fabric too. The pupils at Bluebell Park School, located in Kirby, loved their playground canopy cover. They'd become accustomed to it providing them with shade from the sun in summer, as well as cover on rainy days.
So, when we were asked to help with replacing the fabric on the sail part of the canopy cover, we were more than happy to oblige. Our range of shade sails made it easy for us to provide the best possible solution, quickly and with the minimum amount of disruption. Because Bluebell Park School already had their playground theme in place, they decide to go for a Red colour for their canopy fabric which really popped with the existing primary colours of the playground. The end result was a fresh new look for the area, and the Bluebell Park School pupils were soon able to enjoy playing under their beloved canopy cover again.
Broadgreen Hospital in Liverpool Adds Shade Sail to its Grounds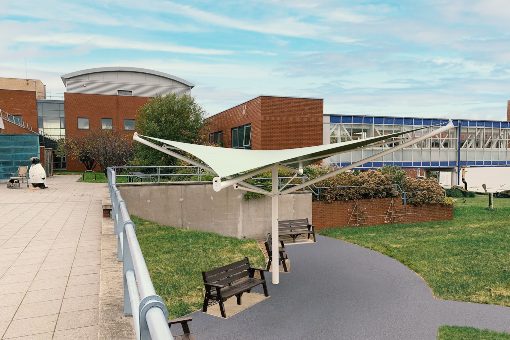 Broadgreen Hospital in Liverpool needed a shade sail for its therapy garden to allow its patients to get the health benefits from the space all year round. The staff at the hospital – which aims to deliver patient-centric, quality and value for money services – wanted it to be able to protect people from the elements and have an appealing and calming design that didn't detract from the environment. They got in touch with us because they knew that we were canopy experts.
After careful consideration, Broadgreen Hospital chose a 6000mm X 6000mm Maxima StarSail™ for its canopy. This product was a fantastic choice as it sports an innovative, attractive design that instantly boosts any outdoor space. A Moss Green roof and White steelwork worked together to create a subtle look that complemented the purpose of the therapy garden, and the canopy was durable enough to shelter patients from many types of weather.
Everyone at Broadgreen Hospital thinks that the shade sail is a great addition to its facilities. Now patients can access the therapy garden in rain or shine, so this valuable resource can be used more often. The shade sail model really suits the space and it is both appealing and functional. Call us today on 01743 444100 to learn more about our experience as canopy and shelter specialists.
Monksdown Primary School Add Fabric Shade Sail in Liverpool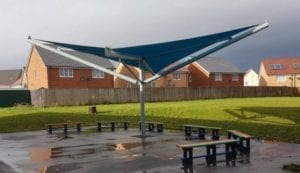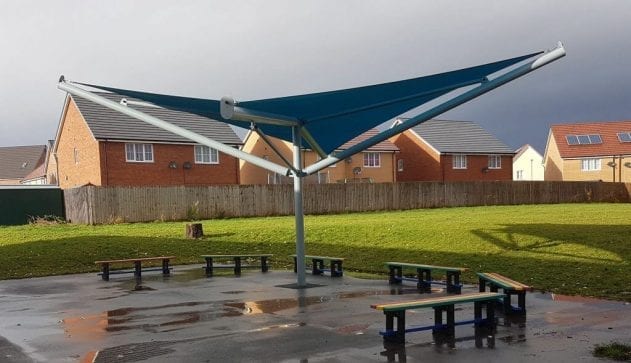 We have so many outdoor playground canopies to choose from because you don't just want something that works, you want something that works AND excites you. So when the staff of Monksdown Primary School contacted A&S Landscape, asking about our Maxima range, we knew they were looking for nothing less than great.
We installed a Maxima StarSail™ and Maxima Umbrella™, both of which provide generous areas of shade whilst also looking fantastic. The Maxima StarSail™ was installed at 7000mm x 7000mm with the Maxima Umbrella™ coming in at the same size. Both featured grey (RAL 7000) steelwork and a gorgeous, stand out turquoise fabric.
The result of the playground canopies is striking. Instead of just good, Monksdown Primary School has certainly got something great and a couple of outdoor shade shelters that will stand the test of time. To see more 'great' you should really take a look at our gallery of finished canopies for schools. We have a habit of making a little magic wherever we go and you might just get some inspiration for your own project. If you have any questions, get in touch and a member of our design team can have a full proposal with you for your review.
Shade Sails add Outside Space to Clatterbridge Cancer Centre in Birkenhead
No more so than at Clatterbridge Cancer Centre where the need for outdoor space for its patients to get some natural light, fresh air and simply BE outdoors rather than inside for a little while is so very important.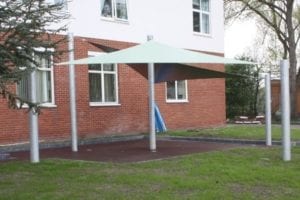 Of course, nature isn't always so welcoming so the need for a shelter, somewhere to take cover and the security that brings, knowing the outside is always available, is vital. Plus, if we do say so ourselves, it never hurts if those spaces look a little magical too. The three Maxima Sails™ work in harmony at Clatterbridge Cancer Centre, offering effective cover from the rain, and direct sunlight, thanks to the long-lasting waterproof tensile fabric, which has been implemented here in a stylish mint green.
Safe from UV rays, poor weather and built to last many, many years, this area at Clatterbridge Cancer Centre is used daily by the staff and patients, no matter what time of the year. And that's something that gives us a real sense of reward. We are never just providing a structure it is never just about steel and fabric. It's about what that structure, when put together in the right place, offers.
Stylish Entrance Canopy Installed at Estuary Boulevard in Liverpool
Estuary Boulevard is the site of a key industrial hub servicing the commercially crucial south Liverpool area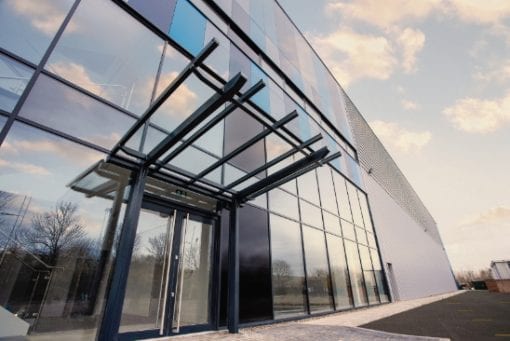 . In keeping with its existing quality constructions, A&S Landscape, canopy and shelter specialists, was commissioned to install a contemporary canopy at the site of 6A, Estuary 51. This commercial development was a sleek, modern clear polycarbonate and steel unit, and it was critical that the custom canopy fitted cohesively with it.
The installation of a door porch canopy can bring a range of benefits. From shelter from the elements to the reduction of glare in the internal areas, they not only look great but serve an extremely practical purpose too as they offer protection from the elements. We offer an extensive range of different canopy solutions, but for the Estuary 51 project, the latest addition to our range, the Motiva Entrada™ straight roof canopy, was hands down the best option. The sleek modern design and angled roofline, along with the clever design of the structure itself, mean that not only can the Motiva Entrada™ be installed without impact on the existing building, but it also looks fabulous too.
For the Estuary 51 bespoke design project, the steelwork was finished in Anthracite Grey (RAL 7016) from our range of colours, and the canopy cover was clear glass. The structure itself was finished with integral guttering, making for an efficient and low-maintenance contemporary canopy. Find out more about our wide range of products and how we help schools and business by viewing our galley.
Modern Entrance Shelters Added to University of Liverpool in Liverpool
The University of Liverpool in Merseyside needed to install three entrance canopies at its Chadwick Lecture Theatre. The staff at this institution – which has over 22,000 students on campus – wanted them to each be designed to suit the building, come in matching colours that reflected their brand, make the ways in appealing and clear, and shield those waiting to attend lectures from the elements. A&S Landscape worked quickly to find the right solution.
After a thorough discussion, the University of Liverpool chose to add three Motiva Entrada™ canopies to its facilities. The modern angled roofline caught the team's eye and they liked that the freestanding design wouldn't interfere with the building itself. A&S Landscape provided one model with 4700mm X 1200mm specifications and two with 2800mm X 1200mm specifications to meet their requirements, and these were more than up to the challenge of withstanding unpredictable British weather. Also, the Sapphire Blue steelwork and Lagoon Blue roofs both promoted the university colours and made the entrances impossible to miss.
Everyone at the University of Liverpool thinks that the canopies are a fantastic asset. The Chadwick Lecture Theatre exterior now looks more attractive and colourful, and staff and students use the entrance shelters regularly before and after lectures to keep out of the rain. Whether you're interested in this product or something a little different – such as an outdoor classroom shelter or dining canopy – call A&S Landscape today on 01743 444100.
Covered Walkway Made for Taskers Home Store at Hunts Cross
Taskers is a home and furniture store with branches across Merseyside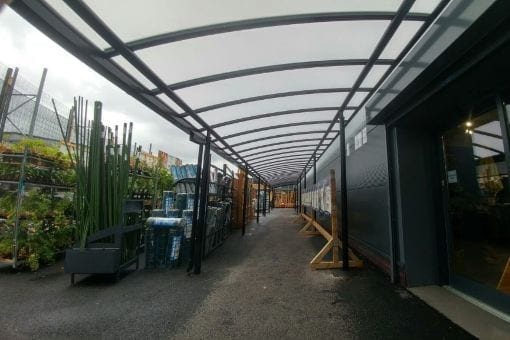 that were looking for a covered walkway for retail units outside their Hunts Cross branch to protect the customers from the weather. Taskers got in touch with A&S Landscape to see how we could help. We installed a Motiva Mono™ monopitch curved polycarbonate roof canopy at 27000mm x 3000mm with smart, 'on brand' black steelwork (RAL (9005) with opal roofing. This Motiva Mono serves as an attractive covered walkway, protecting shoppers from the rain and includes Alu-Tuff™ boxed profile guttering in matching Dura-Coat™ paintwork.
Dry shoppers and a happy Taskers branch of staff. This covered walkway protects from the rain whilst the opal roofing cuts out a little direct sunlight, offering some shade on hot summer days. It's also 'on brand', with the smart black steelwork fitting seamlessly with the store aesthetic which means it feels as though our Motiva Mono™ covered walkway has always been there.
It really doesn't matter what business you're in, the rain still falls. So whether you're looking for dining canopies for schools or outdoor shelter for retailers we have a range of options that will keep you dry and add some real aesthetic value to the environment. But don't just take our word for it, look for yourselves by browsing our gallery here. Our design team is highly experienced and can work with you to get exactly the shelter you need so if you have any questions at all, get in touch about our range of canopies for primary schools and businesses.
Our Lady Immaculate Catholic Primary School Add Three Fabric Sail Shades
Our team erected three sails for Our Lady Immaculate Catholic Primary School, Northumberland Terrace, Merseyside. The job involved three Maxima™ tensile shade cloth fabric sails including for all stainless steel fixtures and fittings.
Whitefield Primary School Add Playground Sail Shade
We erected a sail for Whitefield Primary School, Boundary Lane, Merseyside. The job involved one 10300mm X 7800mm X 7800mm Maxima™ tensile shade cloth fabric sail including for all stainless steel fixtures and fittings.
Click below to see more of our locations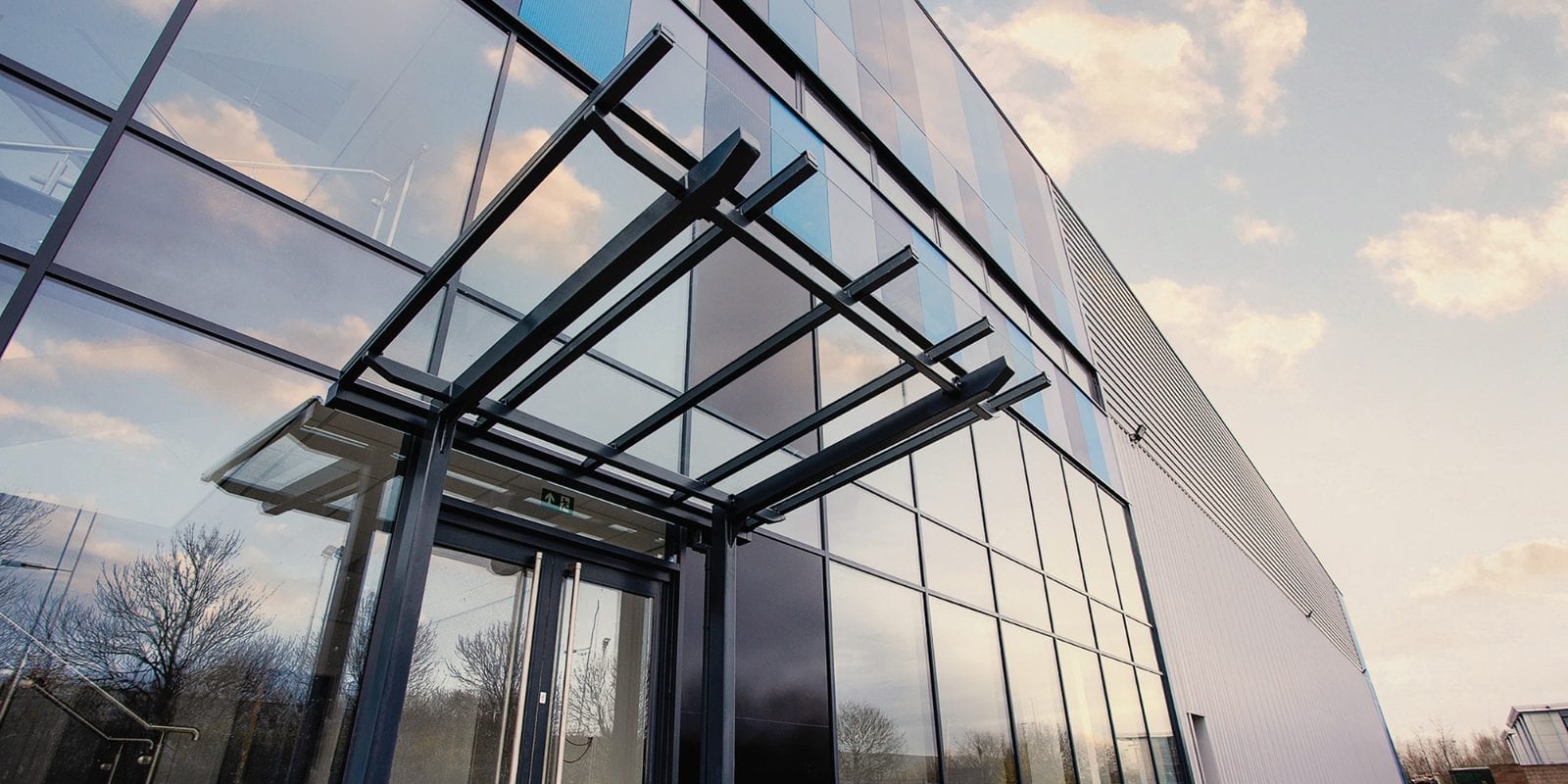 Send us your email and an idea of your requirements and we'll get back to you with a quick price.