Multiple Canopies at Ysgol Y Garnedd in North Wales
What was the problem?
Ysgol Y Garnedd School, located near Bangor, wanted to create the perfect environment to learn. They knew that to achieve this, a holistic approach was required, and the children needed access to the outside spaces all year round. To do this, a high-quality cover system was needed. That's when they brought in A&S Landscape, who would be responsible for the design, manufacture and install of multiple canopies.
What was our solution?
A total of eight canopies were added all together. Five of which had a retractable roof, whilst the remaining three were from the straight roof range. The retractable canopies all benefit from an attractive metallic roof (4040-3D), whilst the three flat roof canopies were built with opal polycarbonate roofing. The two types of shelter offer a sun shade during the summer months, and weather protection during the winter months. The retractable canopies also offer the added choice element for the outdoor area.
What product did we use?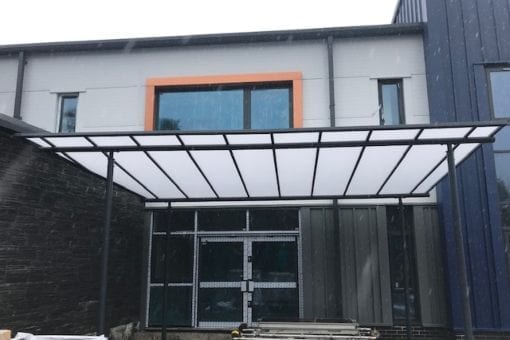 The three straight roof canopies were all built to a Motiva Linear™ design, these all have an asymmetric roof, meaning that one side is higher than the other. They are a popular choice for covered walkways, but also offer extra protection for indoors when constructed against a building. This is due to the sun canopy cooling the area beneath by several degrees.
The remaining five were all retractable canopies, built to an overall size of 4400mm x 3538mm. Operating like a retractable, waterproof awning, but with a much sleeker and modern look, these are amazing shelters for when you don't require a cover system all year round.
What was the result?
The result of the multiple shelter installation was fantastic. Now outdoor spaces can be used as outdoor classrooms, and the school frequently use the sheltered areas for circle time, assemblies, and as a place to eat lunch and refresh. The school are so pleased that their outdoor space can be used all year round, and their envisioned shelter solutions have become a reality.
A little bit about the client…
Ysgol Y Garnedd School, located just South of Bangor in North Wales, was a wonderful school to work with. Evidently dedicated to the needs of the pupils, they are a part of the healthy school scheme, putting the children's health and wellbeing at top priority.
We felt inspired by their optimism, and it was a real pleasure to work with all staff members we worked with. It was fantastic to know that all canopy structures installed were made to the highest quality of materials – and so the pupils' enjoyment of the outdoors and fresh air will be long-lasting.
What is a straight roof canopy?
A straight roof canopy is where one side of the roof is slightly higher than the other, with the lowest pitch typically available at 5 degrees. The performance characteristics of this fantastic product are second to none, and due to its flexible design – there is a huge range of bespoke options. For example, a coloured roof can be added which is great for nurseries, or if you want to make an outdoor room, the shelter can even come with side panels. And as they are so well-suited to being elevated against a wall, they even make a great door canopy!
Can I get funding for a shelter project?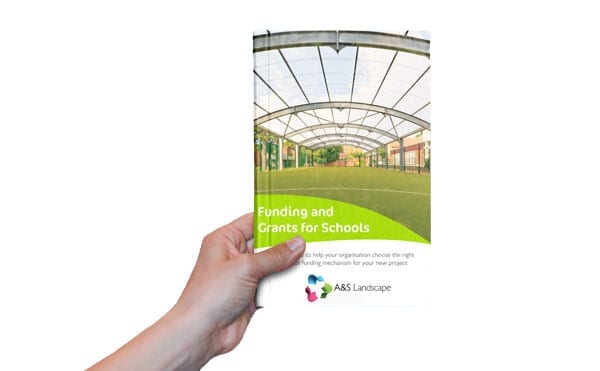 There are hundreds of grant-awarding bodies that you are able to apply for. Whether you are an educational body, a not for profit, or even a small business, there are various grants available to you. For schools specifically, there are various funding bodies that offer grants for all kinds of projects, from playground canopies that allow safe play at all times of the year, to extracurricular activities, and the development of outdoor spaces to enhance education.
At A&S Landscape, we know that the hardest parts of the grant process include finding the funding body and knowing how to write the application to appeal to the trustees. That's why we've created various free resources to help you, including an extensive list of grant providers, and a free 'Writing Successful Grant Applications' guide. Whilst we aren't affiliated with any of the grant providers and so can't give you more detailed information; we are sure this handy guide will come in use to finding your right funding application.
How A&S Landscape can help you?
We've been designing, manufacturing and installing canopies across the UK for 44 years. In that time, we have developed our business in line with the shelter UK industry, and we are now one of the leading suppliers of canopies in the UK. Whatever the purpose of a cover system, whether this is providing additional space to indoor rooms, or the need for outdoor shading solutions for the summer, we can help you find the shelter that suits your needs.
Our expertise, coupled with our exceptional customer service, means that you're in safe hands. Since we began in 1976, we have built up an array of satisfied customers, delighted with their new shelters. Don't just take our word for it, see what they had to say!
If you'd like to know more about our canopies, please don't hesitate to give our friendly team a call today on 01743 444100 or at [email protected].