Outdoor Classroom Added to Whirlybirds Pre School in Bury St Edmunds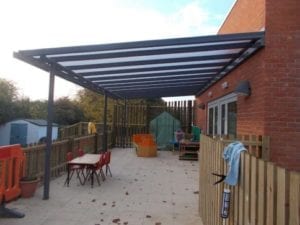 When you can add a stunning classroom extension then you create the space for all sorts of activities that are better suited to the outdoors. We're talking messy artwork or play that needs a little extra room. These kinds of activities need a special kind of space that only really becomes available when you move outside. Whirlybirds Pre School contacted A&S Landscape looking for a way to take the teaching outdoors!
A Motiva Linear™ became the perfect addition, looking especially stunning with only front uprights and being attached directly to the wall of Whirlybirds Pre School. Fitted to an overall size of 8100mm a 400mm this is a big space that means children can get some fresh air whilst making a mess and making a noise. We finished this Motiva Linear™ in slate grey (RAL 7015) with clear polycarbonate roofing to let the sunshine in but keep the raindrops out.
The result is another room for Whirlybirds children to use for learning and play that will keep them dry all year round and means that the footprint of Whirlybirds Pre School just got a little bigger. You can take a look at our full range of outdoor playground shelters here and if you have any question about outdoor canopy design then get in touch.
Abbotts Hall CP School Add Multicoloured Roof Shelter in Stowmarket

Because the problem we have in this country, in case you hadn't noticed, is that the weather doesn't really dance to our tune. For many people, the winter months and even time during the summer equals 'indoors'.
Abbotts Hall CP School decided to increase the outdoor available space they had and contracted a major Suffolk building contractor who specified A&S Landscape to deliver a Motiva Linear™ canopy and that much needed outdoor zone. We installed a Motiva Linear™ canopy in matching PPC green with a well-planned out coloured roofing, this canopy complements the extension perfectly.
Whilst A&S Landscape may have added a brand-new outdoor school canopy, what we really added was time spent outdoors, lungs breathing in fresh air and staff that have another area to choose from when planning their sessions. Getting your students outside is important and we know you know that. But we also know that many buildings just don't have the capacity to do so during Britain's 11 month 'off season'. The problem with a lack of available outdoor space is planning, it is so hard to plan to use a space that is dependent on something so undependable as the weather.
So if you're looking to put a cover on an outdoor space and make it useable, get in touch here and look at a host of other projects for inspiration here.