Shelter Experts in Somerset
As canopy and shelter specialists, A&S Landscape has completed many projects in Somerset and the rest of the UK. We design, supply and install shelter, shade sail and cycle shelter structures, using the highest quality materials and latest processes. Our school canopies suit a wide range of uses and sites, from a large university campus to a small nursery garden.
Some of the most popular applications of our range of products include:
Entrance canopies
Bike stores
Playground shelters
Outdoor dining areas
Covered MUGAs
Walkway covers
Outdoor classrooms
Whether you want to create a space for outdoor learning or a secure storage area for play equipment, we have the solution for you. If your future projects require a canopy, get in touch with us today on 01743 444100 or use our contact form online.
Covered Play Area and Walkway at St Nicholas Primary School in Radstock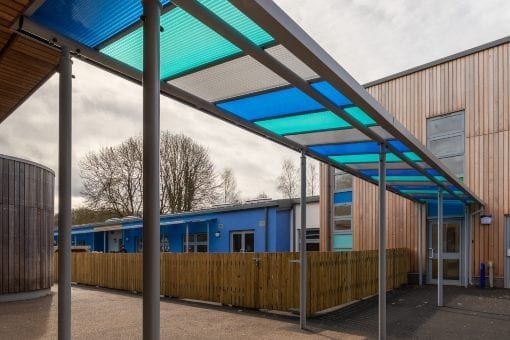 A&S Landscape installed two straight roof canopies at different areas around the site. One shelter was added outside of the reception classrooms to create a covered play area. The second Motiva Linear™ was installed in-between two buildings, to form a covered link walkway. Both designs featured subtle Window Grey coloured steelwork with a multicoloured roof containing Moondust, Lagoon and Mint sheets.
The finished shelters look dazzling with the coloured roofs. Already the pupils of St Nicholas Church of England Primary School love the new play area, and they can spend more break times outside in the fresh air. The walkway also protects the staff and pupils from the elements while they are moving between classrooms. Outdoor play equipment could also be stored under the cover too. Our multicoloured polycarbonate roof shelters add a splash of colour to any area and create a vibrant, jolly space. Perfect for primary schools and nurseries, your pupils will love playing under the colourful roof. You can see more examples of our coloured canopies in our gallery. Or you can talk to us to discuss your plans on 01743 444100.
Dining Canopy and Food Pod Installed at Trinity Academy in Bristol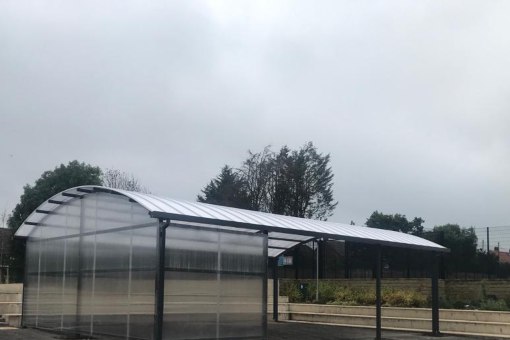 Trinity Academy in Bristol needed to create more space at break times and lunchtimes so an increased number of students could eat in comfort. It required a dining shelter with some coverage on the end and sides, as well as a food pod canopy for more dining options. Both models needed to allow people to relax outdoors in peace by shielding them effectively from the rain and wind.
The staff were impressed with our past work, so they approached us and we recommended some of our models to them. Our Motiva Duo™ was chosen for the dining canopy, and we designed this efficient product with clear panels to the sides and end for additional shelter, plus 15000mm X 10000mm measurements so many children could dine in the fresh air, all year round. We also provided a 7000mm x 6000mm food pod canopy to increase their opportunities and available space, and the matching Slate Grey steelwork and Opal roofs looked really classy.
Trinity Academy was thrilled with the two shelters; they have expanded its dining space so all the new students can enjoy breaks in the fresh air with plenty of elbow room, in all weathers. This project showed that canopies can easily tackle schools' urgent problems in cost-effective, practical ways. Contact us at [email protected] to find your shelter solutions.
Northgate Primary School in Bridgwater Add Second Playground Canopy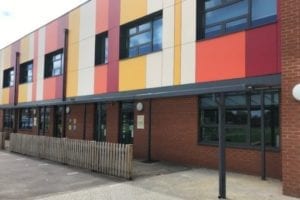 Northgate Primary School, Somerset offers education to nursery, reception and primary school pupils up to the age of eleven. They had worked with us previously when we installed a steel shelter frame canopy, and with this new project, they wanted to match the installation with the original canopy. Offering a choice of versatile products, A&S Landscape was easily able to accommodate the client's requirements.
Keeping the canopy architecture for the new installation in line with the previous project, we installed a Motiva Linear™ measuring an extensive 23000 mm by 3035 mm. This great product is a go-to choice when it comes to installations fitted against a building structure. In the case of Northgate Primary School, the canopy was fitted to run alongside classrooms and doorways, therefore offering access directly from the inside to the outdoor space. With matching steelwork in Slate Grey and roofing material in Clear polycarbonate, it was identical to the original cover, and if you didn't know it, you could well assume that both canopies had been installed at the same time!
The new covered area was intended for outdoor play and storage of outdoor equipment, and with a fence installed to mark the end of the sheltered area and the start of the playground, a defined area of outdoor shelter was achieved.
Innovation Centre Add Straight Roof Canopy to Site
Working with a well-known architect A&S designed a straight polycarbonate roof canopy in Innovation Centre The Bath And West Showground, Shepton Mallet. The job involved the supply and installation of one Motiva Mono™ monopitch straight roof shelter measuring 4600mm X 2400mm.
Farmborough C of E VC Primary School Add Covered Walkway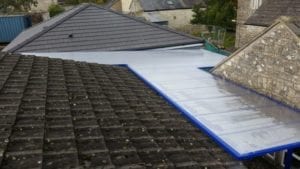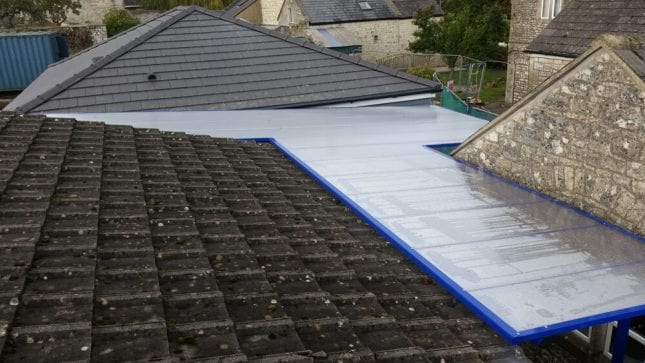 Whilst you can't really erect a brand-new outdoor rain canopy everywhere you go, there are places that could benefit from a simple covered walkway that lets in natural light but keeps out the rain. A&S Landscape was asked to install just such a covered walkway at Farmborough C of E VC Primary School in, you guessed it, Farmborough.
Installing a Motiva Linear™ in a t-shape has created an excellent area of outdoor cover here. Measuring in at 8150mm x 2500, 3400mm and 4500mm x 1900mm this Motiva Linear is finished in a blue steelwork (RAL 5002) with matching Alu-Tuff™ aluminium box profile guttering in Dura-Coat™ paint. Whilst there we also added another shelter, providing a Motiva Linear™ in the same colour scheme at 3300mm x 2500mm. The result is simple; dry people who remain dry moving from one place to another, no matter what the weather is doing.
Which, in turn, means happy students, staying happy from one class to the next. No loss in natural light, thanks to the clear roofing means that Farmborough are very happy with their new canopies. To find out more about our outdoor canopies, take a look at a gallery of finished projects and if you have any questions then just get in touch.
Shaded Area Added to Ashcott Playing Fields Near Bridgwater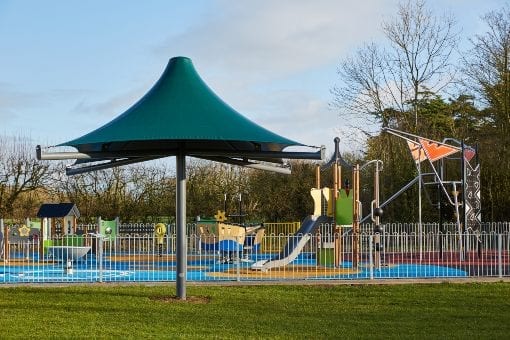 What the playing fields did need was some shade and shelter to make sure that it was a real year-round community resource. With so many design options available, ranging from steel and polycarbonate canopies to fabric roof canopies, there was a lot to consider. Eventually, an Umbrella canopy from the Maxima range was chosen. This design uses minimal posts and was installed alongside the park area.
The area looks modern and the Maxima Umbrella™ adds a sense of fun as well as the required shade and shelter. The team at Ashcott Playing Fields have been receiving lots of compliments, and they are delighted with the finished product. Whatever your requirement A&S Landscape can provide a bespoke solution.
From Shade Sails, Umbrellas and Tepees, to straight or curved roof steel canopies, A&S Landscape have a range which is sure to offer you something special. We can help you from the beginning planning stages, right through to installation. Feel free to look through our gallery, which has more than 1,500 images to inspire you. Or use our contact form to get in touch with us to request a quote.
Play Area Shade Sail at Somerton Primary School in Newport
What was the problem?
Somerton Primary School in Newport wanted to encourage their pupils to spend more time exercising outside during the day. However, the weather often meant breaks had to be spent inside the classrooms, and the children weren't able to get much fresh air. As with many other primary and secondary schools, the budget was tight and didn't allow for a shelter. Luckily, Newport City Home's community programme helped to fund this important project and improve the facilities at the site.
What was our shade solution?
One fabric sail shade structure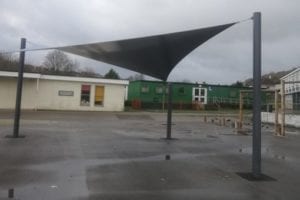 was installed in an area of the playground at the school. The Maxima Sail™ measured 5000mm x 5000mm, and so created plenty of covered space. The four uprights were finished in a slate grey colour, which works well with the dark blue fabric. A waterproof PVC material was used so that the sail could protect the pupils from the rain as well as the sun.
What was the result?
The staff and pupils are very happy with the new playground sail shade. Playtimes can now be spent outside, no matter the weather! This has allowed the pupils to let off steam and refresh ahead of their next lessons, leaving them motivated to learn.
The school could also install picnic benches under the sail and use this as an outdoor dining area too. This would also make a great place for storytimes and the pupils will love the alternative learning environment. Our versatile canopies and shade sails can be used for a wide range of applications for many years, making them a cost-effective and worthwhile investment.
A little bit about the client…
Based in Newport, Wales Somerton Primary School provides a great educational experience for the local children. The site features a dedicated nursery area, which is a purpose-built area for three to five year olds. It's great that these young children will also be able to benefit from the playground sail shade, receiving a great education from such an early and important age.
It's always great when we get to work with schools who play such a big role in the local community. It was a pleasure to contribute to this fantastic area and play a part in the education of many of the pupils now and in the future.
Why is outside play so important to primary school children?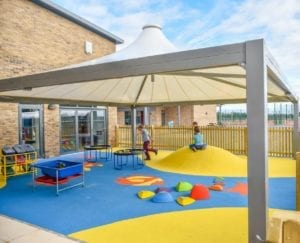 Spending time outdoors is a big part of our childhood and so it's crucial that future generations also get the same experience. Outside play is also a great source of exercise and helps children develop their physical skills. By spending time playing outdoors, children are more likely to run, jump, catch, skip and move their bodies.
Playing outdoors also helps children learn and understand the natural world by experiencing it for themselves, first-hand. Learning the names for different trees, plants and species is much easier when you can explore nature and see everything yourself. This is also a great way of encouraging children to learn about our environmental issues and how we can make a difference ourselves.
Children's imaginations are also developed and stimulated outdoors as they utilise the space around them during their playtimes. Our range of multicoloured polycarbonate roof canopies is also brilliant at creating a stimulating environment. When the sun shines through the coloured roofing, the light casts onto the ground making a beautiful effect.
How can A&S Landscape help you?
From your initial enquiry to the final sign off, we will help you through every step of the process. Our team of canopy and shelter specialists can offer you impartial advice to ensure that you get the right canopy for your needs. From our secure cycle stores to our dining area shelters, to entrance canopies, we have canopy systems to suit every school and nursery. We know how important it is for schools to use their limited budgets carefully, so we'll work with you to find the right design for the right price.
Have any questions? Take a look at our handy frequently asked questions page to find the answer to some of our most asked queries. Or contact us directly to discuss your plans on 01743 444100 or email us at [email protected].
Northgate Primary School Add Straight Roof Canopy in Bridgwater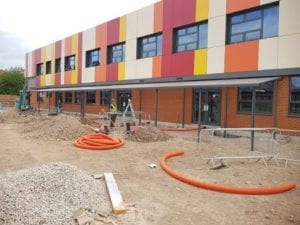 As canopy and shelter specialists, A&S Landscape has a variety of outdoor canopies and the one which they chose for this project was the Motiva Linear™. A long canopy was installed at 26800mm x 3035mm alongside the building, offering shade from the sun in summer and shelter from the rain in the Winter. Aluminium rainwater goods ensure that water is drained away effectively and that the structure will stand the test of time. No broken, plastic gutters at Northgate Primary School!
The resulting shelter has completed the outside space at this superb school. The rest of the pupils who will start in January 2018 certainly have a delightful campus. They also have the option to enjoy the outdoors whatever the weather. A&S Landscape can help you with inspiration and design expertise if you think your project might benefit from something similar. No matter what size of space you have, we have it covered! Please get in touch.
From Shade Sails, Umbrellas and Tepees, to straight or curved roof steel canopies, A&S Landscape have a range which is sure to offer you something special. Feel free to look through our gallery, which has more than 1500 images to inspire you.
Three Covered Walkways Installed at Musgrove Park Hospital in Taunton
Musgrove Park Hospital in Taunton, Somerset had the idea to add three covered walkways to its grounds. They wanted them to enable people to walk around the facilities outside without being bothered by the wind or the rain. The staff at the hospital – which provides a variety of health services for many thousands of local residents and those further afield – also thought that the products should be affordable, attractive and efficient. We were pleased to create shelters for this important client.
Following talks about the different models available, Musgrove Park Hospital decided on the Motiva Linear™. We thought this was a fantastic choice because it's well-suited to the purpose of being a covered walkway, and the asymmetric look lends something special to any outdoor space. The Opal roofs and Squirrel Grey steelwork created a simple, clean and modern feel. What's more, because the three canopies each measured 14250mm X 2400mm and were installed with high-quality materials, they were up to the challenge of keeping staff and patients walking between the buildings dry in the rain.
Musgrove Park Hospital was impressed with its trio of cost-effective, covered walkways. They make daily life at the hospital a little easier for everyone in the community, especially in the unpredictable British weather. People are now better protected from the elements outside the hospital, thanks to the covered walkway systems, which is especially important for patients with health conditions. Would you like to hear more about our shelters? Email us at [email protected] today.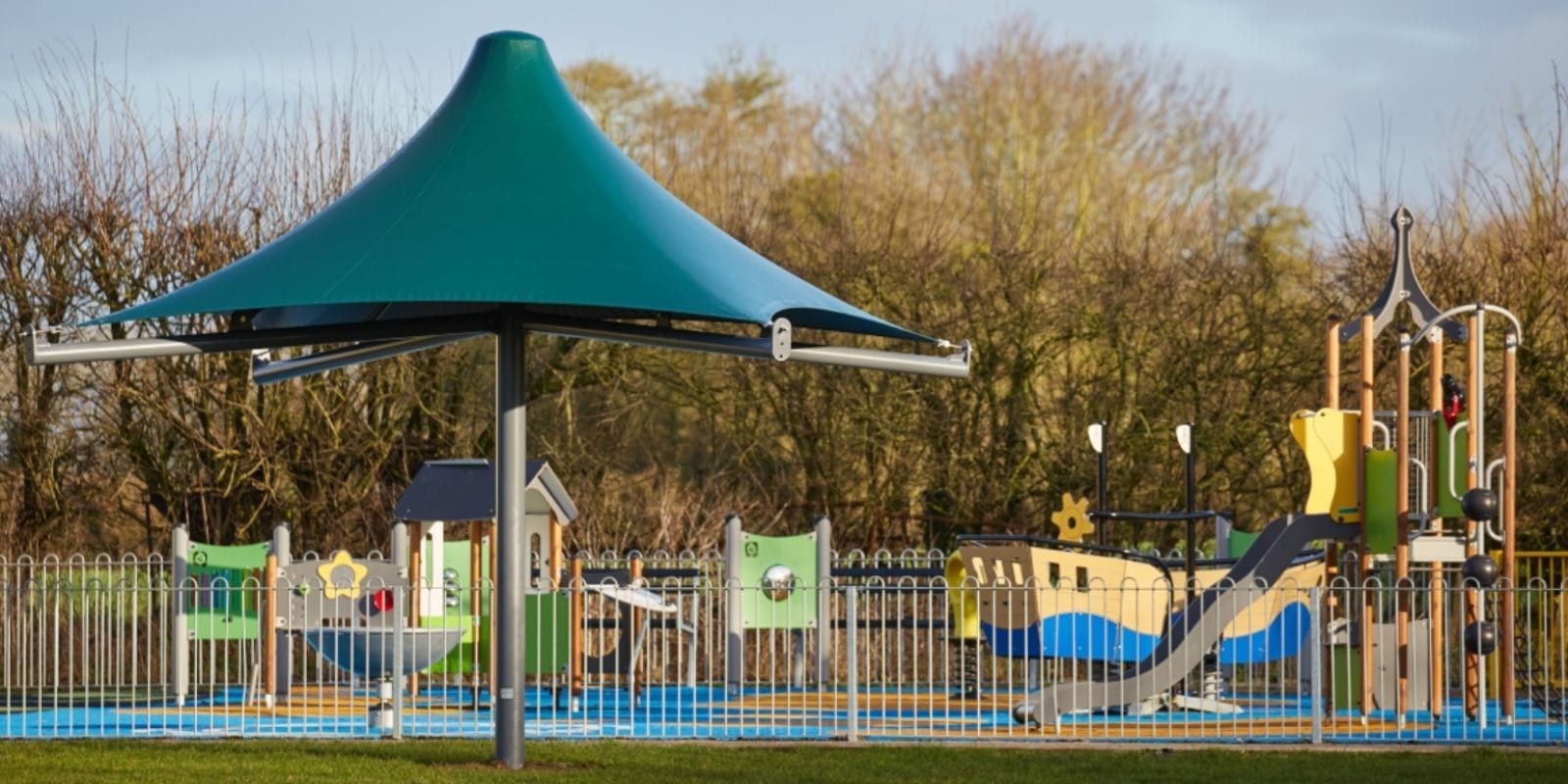 Send us your email and an idea of your requirements and we'll get back to you with a quick price.