Play Area Shade Sail at Somerton Primary School in Newport
What was the problem?
Somerton Primary School in Newport wanted to encourage their pupils to spend more time exercising outside during the day. However, the weather often meant breaks had to be spent inside the classrooms, and the children weren't able to get much fresh air. As with many other primary and secondary schools, the budget was tight and didn't allow for a shelter. Luckily, Newport City Home's community programme helped to fund this important project and improve the facilities at the site.
What was our shade solution?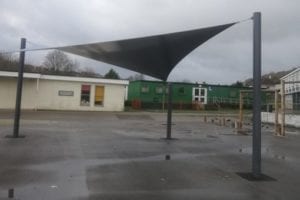 One fabric sail shade structure was installed in an area of the playground at the school. The Maxima Sail™ measured 5000mm x 5000mm, and so created plenty of covered space. The four uprights were finished in a slate grey colour, which works well with the dark blue fabric. A waterproof PVC material was used so that the sail could protect the pupils from the rain as well as the sun.
What was the result?
The staff and pupils are very happy with the new playground sail shade. Playtimes can now be spent outside, no matter the weather! This has allowed the pupils to let off steam and refresh ahead of their next lessons, leaving them motivated to learn.
The school could also install picnic benches under the sail and use this as an outdoor dining area too. This would also make a great place for storytimes and the pupils will love the alternative learning environment. Our versatile canopies and shade sails can be used for a wide range of applications for many years, making them a cost-effective and worthwhile investment.
A little bit about the client…
Based in Newport, Wales Somerton Primary School provides a great educational experience for the local children. The site features a dedicated nursery area, which is a purpose-built area for three to five year olds. It's great that these young children will also be able to benefit from the playground sail shade, receiving a great education from such an early and important age.
It's always great when we get to work with schools who play such a big role in the local community. It was a pleasure to contribute to this fantastic area and play a part in the education of many of the pupils now and in the future.
Why is outside play so important to primary school children?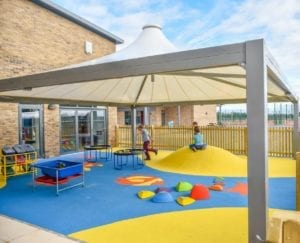 Spending time outdoors is a big part of our childhood and so it's crucial that future generations also get the same experience. Outside play is also a great source of exercise and helps children develop their physical skills. By spending time playing outdoors, children are more likely to run, jump, catch, skip and move their bodies.
Playing outdoors also helps children learn and understand the natural world by experiencing it for themselves, first-hand. Learning the names for different trees, plants and species is much easier when you can explore nature and see everything yourself. This is also a great way of encouraging children to learn about our environmental issues and how we can make a difference ourselves.
Children's imaginations are also developed and stimulated outdoors as they utilise the space around them during their playtimes. Our range of multicoloured polycarbonate roof canopies is also brilliant at creating a stimulating environment. When the sun shines through the coloured roofing, the light casts onto the ground making a beautiful effect.
How can A&S Landscape help you?
From your initial enquiry to the final sign off, we will help you through every step of the process. Our team of canopy and shelter specialists can offer you impartial advice to ensure that you get the right canopy for your needs. From our secure cycle stores to our dining area shelters, to entrance canopies, we have canopy systems to suit every school and nursery. We know how important it is for schools to use their limited budgets carefully, so we'll work with you to find the right design for the right price.
Have any questions? Take a look at our handy frequently asked questions page to find the answer to some of our most asked queries. Or contact us directly to discuss your plans on 01743 444100 or email us at [email protected].