John Taylor High School in Barton-under-Needwood Add Outdoor Dining Canopy
When John Taylor High School in Barton-under-Needwood, Burton Upon Trent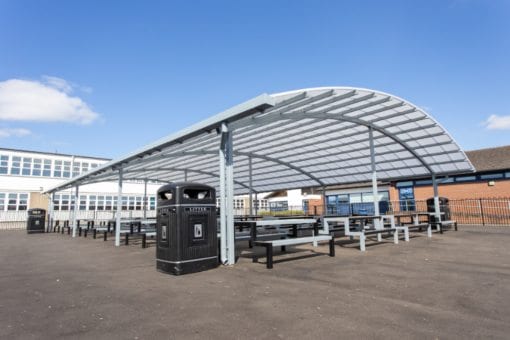 , approached us wanting to create an outdoor dining shelter with the 'wow factor', we jumped at the chance! Our team find it immensely satisfying to work with schools to deliver their vision for their pupils. This project enabled us to develop a scheme that not only included the design and installation of a shelter solution but also encompassed some fabulous new benches.
The area designated for the project wasn't small, so it was clear that the school wanted to create an area that would benefit as many of their pupils as was comfortable. The perfect solution to achieve this was our Motiva Duo™, a solid, steel shelter frame with symmetric curved roof design. This model looks fabulous as a freestanding canopy, but also fits perfectly as a steel walkway design.
But the canopy installation on its own without seating didn't create a dining area canopy with the 'wow factor' that John Taylor High School wanted. The finishing touch came in the form of our Hercules benches. Whilst there is an initial investment needed to install these sturdy benches with heavy-duty steel frame and extra-thick slats, it is well worth the financial commitment. Built to last and, once installed, extremely low maintenance, they mean that as soon as the installation has been completed, your new dining area canopy is up and ready to go.
Retractable Canopy Added to Grounds at Kingsmead School in Hednesford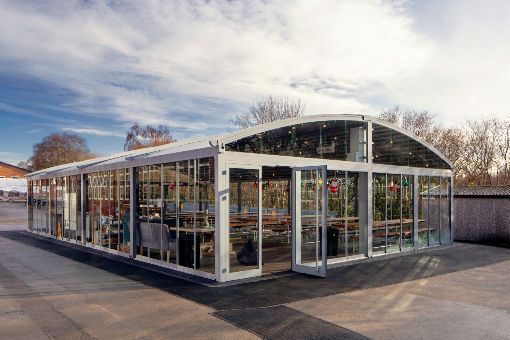 Kingsmead School in Hednesford, Staffordshire needed a dining canopy that could ease pressure on its current facilities and make better use of its outdoor areas. The staff at this institution – whose values include Resilience and Innovation – wanted an eye-catching, modern shelter that students would love to spend time in. They wanted the works: a fully enclosed model with lighting, heating and a retractable roof so it could be utilised all year round. We were delighted when the school approached us and we got to work creating the ideal canopy.
We carefully talked through the complexities, then Kingsmead School decided on a Maxima Retractable shelter. This was a great choice for a client wanting to get maximum use out of their canopy, because you can easily add or remove the roof to suit the weather. We installed the fully enclosed dining shelter with heating and lighting, which meant that students could eat there at any point in the school year. Plus, the team chose a Grey roof and Window Grey steelwork for a contemporary look that refreshed the outside space.
Everyone at Kingsmead School loves the outdoor dining shelter. The heating, enclosed design and retractable roof are invaluable because they make the canopy a comfortable space to relax, eat and socialise in all weathers. Even better, queues have been reduced at the existing dining facilities so lunchtimes are more enjoyable for students and staff alike. To discover more about our work as canopy and shelter specialists, call us on 01743 444100.
Two Matching Outdoor Shelters Added to John Taylor Free School in Tatenhill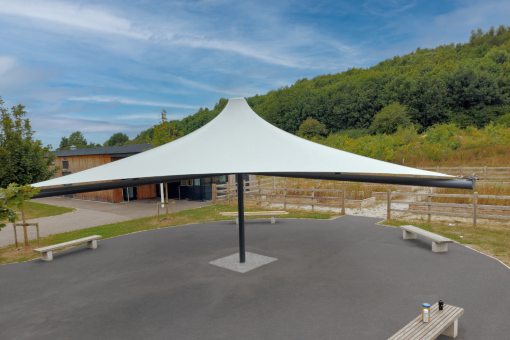 John Taylor Free School in Tatenhill wanted a pair of outdoor canopies to provide students with more options at break times, as they would allow them to socialise outdoors in all weathers. The staff were in search of models with identical and interesting designs to spruce up the space outside and create visual interest. Also, they had to be functional and robust in everything from wind to rain and be able to be used for different purposes.
A&S Landscape had previously supplied a canopy to the trust that John Taylor Free School is a part of – a dining shelter that enabled the children to sit outside in the fresh air, year-round – so they asked us to take on this project. We installed two Maxima Umbrella™ canopies, each with specifications of 8000mm X 8000mm to offer plenty of space for chatting and eating outdoors in different seasons. Matching White roofs and Slate Grey steelwork made for a contemporary look and structures that could be beneficial for many years to come.
Everyone thinks highly of the pair of hardy outdoor shelters, and they like how unpredictable weather now won't stop them from getting outside – and even learning there – during school hours. The grounds have been refreshed thanks to the models and made more usable in all sorts of situations, such as dining and catching up with friends during breaks. Call us on 01743 444100 to talk over your future project with canopy and shelter specialists.
Listen to What Kingsmead School Said About Working Us
Multicoloured Entrance Shelter Added to Queen's Hospital in Burton upon Trent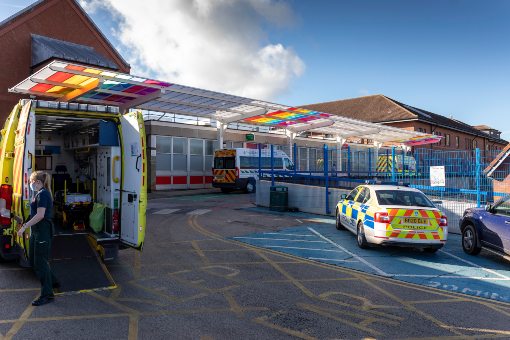 Queen's Hospital in Burton upon Trent had the idea to install an entrance canopy to shelter patients and ambulance staff when arriving at the emergency department. The team at the hospital – which serves about 360,000 people – wanted it to be able to fit several ambulances beneath it and have a rainbow-coloured design to match their existing walkway and celebrate their LGBT+ community. It was also essential that the area was kept accessible while the department was being refurbished, so the staff approached A&S Landscape as a reliable company that could adapt to their needs.
After talking about the various options, Queen's Hospital had a bespoke Motiva Cantilever™ added to its A&E entrance. Such a customised model fit the bill because it meant that A&S Landscape could build the shelter to meet all the client's requirements, and the Motiva Cantilever™ has an effective, attractive design that could easily protect patients and staff from the elements. The hospital team picked out White steelwork and an Opal and multicoloured roof to create a structure that mirrored their other canopy, plus their values of inclusivity and diversity. The 40500mm X 4500mm specifications were also large enough to shelter several ambulances.
Queen's Hospital loves the entrance canopy; it boosted the A&E refurbishments and the installation didn't interrupt operations at the site. The rainbow roof shows their support for the LGBT+ community and makes for an inviting first impression. Contact us on 01743 444100 to hear more about our work as canopy and shelter specialists.
Biddulph High School Add Large Shelter in Knypersley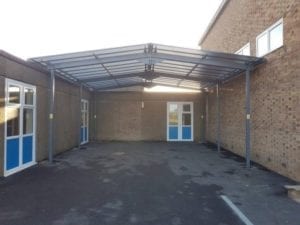 A Motiva Duo™ duopitch (symmetric) linear roof canopy was fitted to a size of 8284mm x 8211mm. A&S Landscape also fitted leaf guards to the top of the gutters to ensure that these were kept clear. This new canopy looks smart in Slate grey steelwork (RAL 7015) and the roof complements this in Moondust polycarbonate. All our colour options can be found here on our website.
A large area of the campus at Biddulph High School now has a new canopy. Pupils can choose to take activities outdoors, socialise, eat, enjoy some fresh air out of the sun or rain, depending on the time of year. Space inside growing schools will always be at a premium, so the ability to add more usable space without building a new extension was a great solution for this and many other schools across the UK!
From Shade Sails, Umbrellas and Tepees, to straight or curved roof steel canopies, we have a range which is sure to offer you something special. Our gallery has more than 1500 images to inspire you, see here.
Straight Roof Playground Shelter Manufactured for St Stephens Primary School
In collaboration with our building contractor client we produced a straight polycarbonate roof canopy at St Stephens Primary School Fradley, Lichfield. The contract included the supply and installation of one Motiva™ monopitch straight roof canopy measuring 8550mm X 4000m and included for our Alu-Tuff™ aluminium box profile guttering and downpipes in matching Dura-coat™ colour finish.
Edgecliff High School Add Fabric Umbrella Shade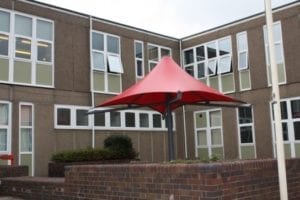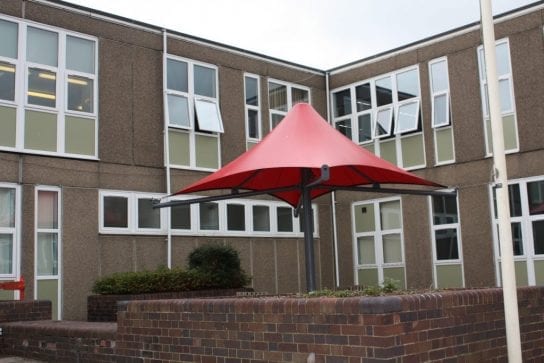 Edgecliff High School knew this so when they contacted A&S Landscape, they weren't just looking for shade protection, they wanted it to make the area look attractive too. Choosing a large, striking Maxima Umbrella™ at 4x4m meant that they were offering their students a really high level of sun protection but by choosing a smart grey steelwork with playful red fabric they also made sure this new addition made a lasting aesthetic impact too.
The result is that Edecliff have given their students a high-quality shaded area that means year-round protection from direct sunlight and adds a little design flair to campus.
Adding shade to outside areas makes them more accessible to students during poor weather or harsh sun. But it also protects delicate skin by giving them somewhere to shelter during especially sunny days. You can find out more about our Shade Sails and Maxima Umbrella online.
Covered Walkway Canopy at Aurora Hanley School in Stoke on Trent
A&S Landscape designed, manufactured and installed a straight roof shelter over a path at the site. The Motiva Linear™ features Slate Grey steelwork and clear polycarbonate roofing.
The finished product looks very smart and fits in well with the surrounding environment. Most importantly, the pathway is now covered and protected from the elements all-year-round. Now the students can arrive at their lessons happy and dry! The walkway canopy has made everyone's experience even better, and it has been a very successful project.
As well as straight roof designs, we also offer covered walkways with fabric, curved and even wave roof options. Our team of experts can help you to find the best product for your needs. Getting a quote couldn't be simpler either, just send us a photo of the area to [email protected] with any measurements you have. Or you can call us on 01743 444100 or fill out an online contact form.
Playground Shade Sail at Blessed William Howard School in Stafford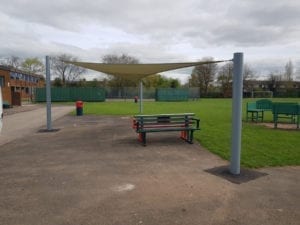 Blessed William Howard School wanted to add a large area of shade and so they chose a shade sail design. The sail was made of shade cloth, which offers UV protection but is not waterproof. It was a large size at 11700mm 7100mm x 7200mm, on 3 upright posts. Our Maxima range of products includes other designs of fabric roofed canopies such as the Umbrella, Tepee, StarSail which offer alternatives to the shade sail. The Steelwork was Grey (RAL 7000) and the fabric was Rivergum Green. A really smart combination that looks great.
This design has delivered a large shaded area in the yard, just as Blessed William Howard was hoping for. They may choose to add seating underneath to encourage students to enjoy some time underneath it. We were pleased to be able to work with this fantastic client and we are sure that the children will enjoy the canopy for many years to come.
With more than 1,000 images of our previous canopy installations, our gallery can give you some design inspiration. As canopy and shelter specialists, A&S Landscape has the expertise to make your project a success.
Curved Roof Dining Canopy At Thistley Hough Academy in Stoke-on-Trent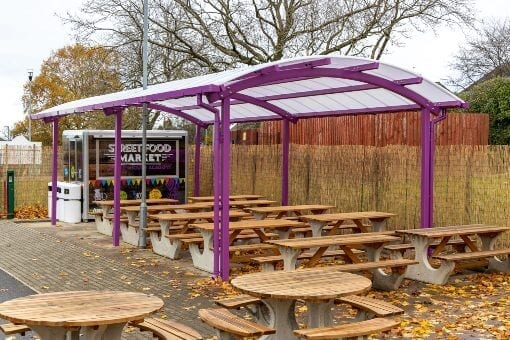 Thistley Hough Academy, in Stoke-on-Trent, Staffordshire wanted to transform their students' lunchtime experience. Having invested in a new 'food pod,' the school required a matching free standing canopy that would allow for students to eat outside – whatever the weather. The team contacted A&S Landscape to help with their project, and decided on the wonderful addition of a Motiva Duo™, which was built to a size of 10000mm X 5000mm, and finished in Signal Violet. Signal Violet is not a colour normally stocked here at A&S Landscape, however, the team were able to accommodate the school's needs, and so this canopy structure is truly unique.
Two other specific requirements the school outlined was the need for the structure to both look good, and be long-lasting. With the sturdy canopy architecture, provided by the solid steel framework and the polycarbonate roof panels, this structure is built to withstand all kinds of weather, from snow to sun. It also looks smart, matching both the school colours and the colour of the food pod.
Having the facilities to eat and socialise outside has been gratefully received by all attending the school – the children, teachers, and all the staff. There is no better way to eat your lunch than alfresco! To find out more about our dining area canopies, please call our friendly team on 01743 444100.
Some of Our Staffordshire Based Clients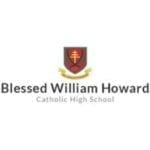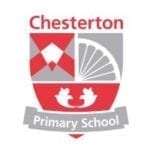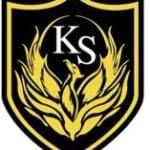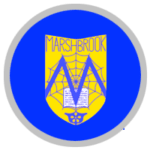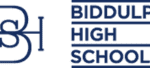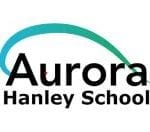 Large Outdoor Canopy Designed for Kingsbury School in Tamworth
Kingsbury School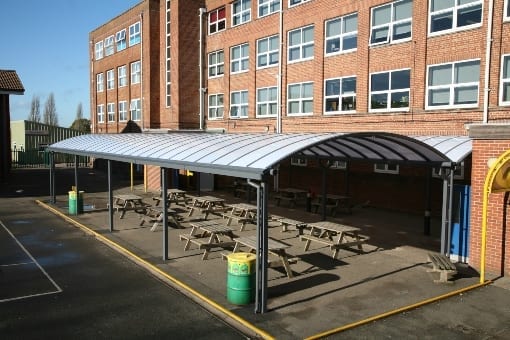 isn't just any school. Because they're a smaller than average they pride themselves on building close relationships with students and home, meaning they can help them develop their talents at a high level! That means they're always looking for ways they can enrich their student's education in and out of the classroom.
That being said, natural light is really important, boosting levels of Vitamin D, and after countless studies it's been proven time and time again that people who spend more time outside experience lower chance of depression and anxiety.
Have you ever heard the expression, 'you don't buy a quarter inch drill bit, you buy a quarter inch hole?' It's the same here, when you buy our Motiva Double Canopy, it's not really the structure you're buying, it's what it gives you. Kingsbury School weren't really buying an outdoor dining canopy, they just wanted to give their students the chance to spend more quality, social time outside.
After researching the market and looking at their options they decided to go for a quality A&S Landscape covered area solution that would also look great. After extensive design work and showing their team our proposals we got right to work, removing an existing walkway canopy and replacing it with a Motiva Double at 18000mm X 12000mm, with Alu-Tuff™ guttering and downpipes in matching Dura-coat™ slate grey from our colours range which gave Kingsbury School exactly what they needed (and it looks really smart too).
This work extended what had been a narrow walkway and provided a more expansive, more generous usable outdoor dining space for students, giving a chance to socialise outside and take advantage of all of those incredible benefits achieved from pupils eating outside.
A&S Landscape are canopy and shelter specialists. If you want to know more about any outdoor covered area, then our whole playground canopies range can be accessed online.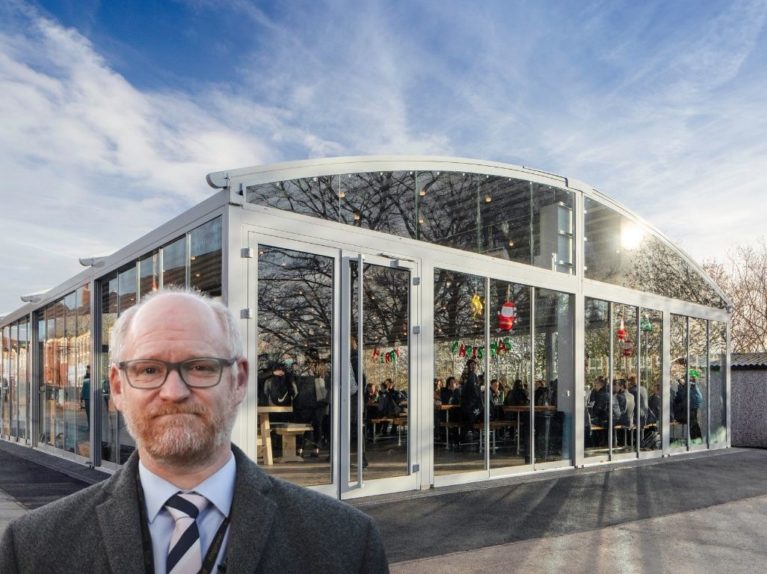 We used A&S Landscape because they were very competitive on price and so good at communication.
Business Manager - Kingsmead School
View Project
Weston Coyney Co-Op Add Straight Roof Shelter
In combination with our building contractor client A&S produced a straight polycarbonate roof canopy in Weston Coyney Co-Op Stoke-On-Trent. The full contract involved the supply and installation of one Motiva™ monopitch straight roof canopy measuring 6400mm X 5500mm and included for our Alu-Tuff™ aluminium box profile guttering and downpipes in matching Dura-coat™ colour finish.
Three Straight Roof Shelters Added to May Bank Primary School in Newcastle-under-Lyme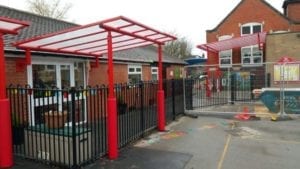 The Motiva range has a number of design options in steel and polycarbonate and the steel can be any RAL colour to match your building or logo colours or whatever you design theme might be. All the canopies at May Bank Primary were created with Red (RAL 3020) steelwork and clear polycarbonate roofing.
All the canopies matched beautifully and made the outside area coordinated and smart. The entrance canopies framed the doorways well, offering shade and the playground canopy created a new space for the children to play and learn. Now that this is in place the children have the opportunity to take to occasional lesson outside regardless of the weather. The children, staff and parents are pleased with the new canopies and we were delighted to be able to complete the project for May Bank Primary School. A&S Landscape has an extensive range of canopies. In our gallery, you will see more than 1,000 photos of our previously completed canopy installations. If you would like some inspiration, take a look at our gallery.
Marshbrook First School in Stafford Add Blue Fabric Tepee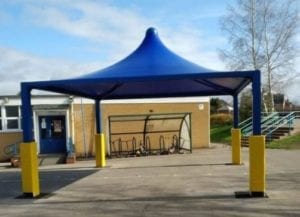 The staff decided to opt for a fabric canopy from the Maxima range. The Tepee model that they chose has four uprights and a fabric top. This one has PVC fabric which protects from UV and rain, so it really is an all-year-round solution. The structure measures 5m x 5m and on to each post, they put a post protector in yellow, just to complete the bright sunny design. The Blue (RAL 5002) PVC fabric against the yellow post pads really does look great, no wonder the children are so happy at playtime!
The new Tepee is a real hit with the kids, they love spending time outdoors even more now. Be it glaring sunshine or a spot of drizzle, the children have shade and shelter to enjoy. What a lovely addition to the playground.
If you are thinking about a similar project, take a look at our gallery which contains more than 1,000 images of canopy installations that we have completed. It is a good place to look for some inspiration. You can always call us directly on 01743 444100 if you would like to chat through the options, we would be glad to help.
Merryfields School Add Straight Roof Polycarbonate Canopy
Working for our building contractor client A&S built a straight polycarbonate roof canopy at Merryfields School Newcastle. The full contract involved the supply and installation of one Motiva™ monopitch straight roof canopy measuring 9375mm X 3600mm and six post protector pads.
Ryecroft School Add Straight Roof Playground Shelter
Working alongside our building contractor client our engineers created a straight polycarbonate roof canopy for Ryecroft School Denstone Road, Rocester. The full contract involved the supply and installation of one Motiva™ monopitch straight roof canopy measuring 3000mm X 2000mm and included for our Alu-Tuff™ aluminium box profile guttering in matching Dura-coat™ colour finish and additional 1m of drain-run to allow water to discharge over adjacent low roof.
Biddulph High School Add Fabric Tepee Canopies in Stoke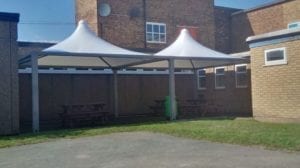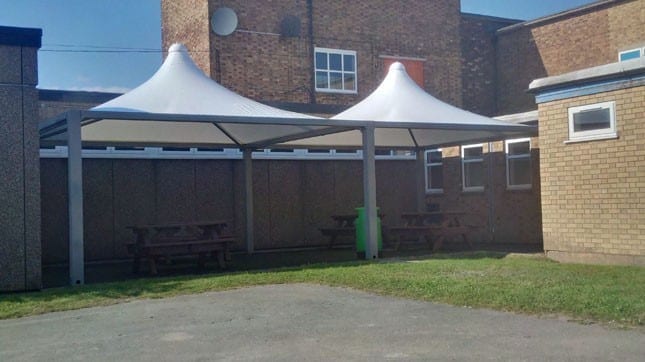 When Biddulph High School in Stoke-on-Trent contacted A&S they were looking to add an outdoor dining area. And why not? Outdoor dining is really important, studies showing conclusively that not only does time spent outside have a positive impact on engagement and mood but having additional options for outdoor activity, like dining, increases social engagement between students. Happy students perform better.
Transformational is the only way to describe the effect this Maxima Tepee™ has had on Biddulph High School. A modular structure comprising two modules on a common centre beam was constructed to cover the awkward area outside the existing dining area, taking outdoor space that was otherwise waster and creating a brand-new area for students to eat and socialise.
We're really proud of this outdoor canopy in Stoke. The space is now very much in use as an outdoor dining area. And remember, for students to perform at their best they need these opportunities to connect with each other outside of the classroom. The more, the better. And because of the powerful impact this outdoor canopy has had, both the building contractor and school declare themselves 'very happy'.
Do you have an awkward area that could become a wonderful new area within your school or college? We specialise in outdoor covered areas for schools and often install canopies for playgrounds, working to create space in unused areas where possible. Please see our product gallery for more images of similar canopies for schools.
Polycarbonate Roof Added to Cycle Store at Our Lady's and St Benedicts Primary School
Working with our building contractor client A&S constructed a canopy at Our Lady's And St Benedicts Primary School Stoke On Trent. The contract included one polycarbonate sheet to cycle store.
Chesterton Primary School Add Purple Frame Canopy in Stoke on Trent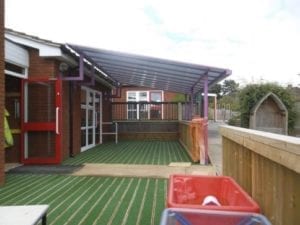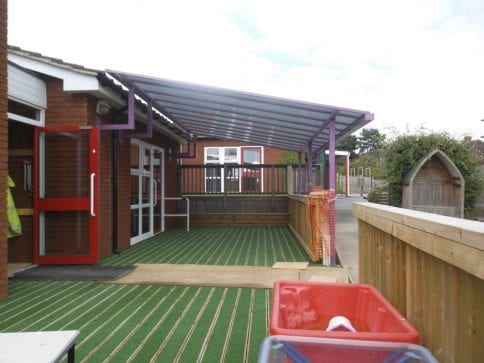 When builders working at Chesterton Primary came to us to discuss a new scheme, they had a very clear vision of a smart, accessible play area in a very specific colour scheme. To enclose a section of the playground, Chesterton Primary chose a Motiva Linear™ canopy in a tasteful purple steelwork with moondust grey polycarbonate roofing. The combination is stunning and complements the effortlessly smart play area beautifully.
The result is a playful but attractive area that gives pupils at Chesterton room to play and learn without having to stop because of a little rain. It also means that they can play safely in the direct sunlight. All of which was made possible because of an end user with a clear vision of where they wanted to be next.
If you have a vision of changes you want to make to your campus, whether that be an outdoor playground canopy or a dining zone shelter extension, get in touch. At A&S Landscape we thrive on helping our client's visions become reality and to do that effectively we like to give you a little inspiration upfront.
Take a look at our gallery pages online and then get in touch with us here so a member of our design team can walk you through the process to bring your vision to life.
Polycarbonate Roof Canopy Made for Golf Course at JCB
Working for our building contractor client A&S built a straight polycarbonate roof canopy in Golf Academy – Interim Clubhouse Jcb Rocester, Uttoxeter. The contract included one Bespoke Motiva Linear™ monopitch straight roof canopy complete with timber cladding.
Read about more of the locations we have worked in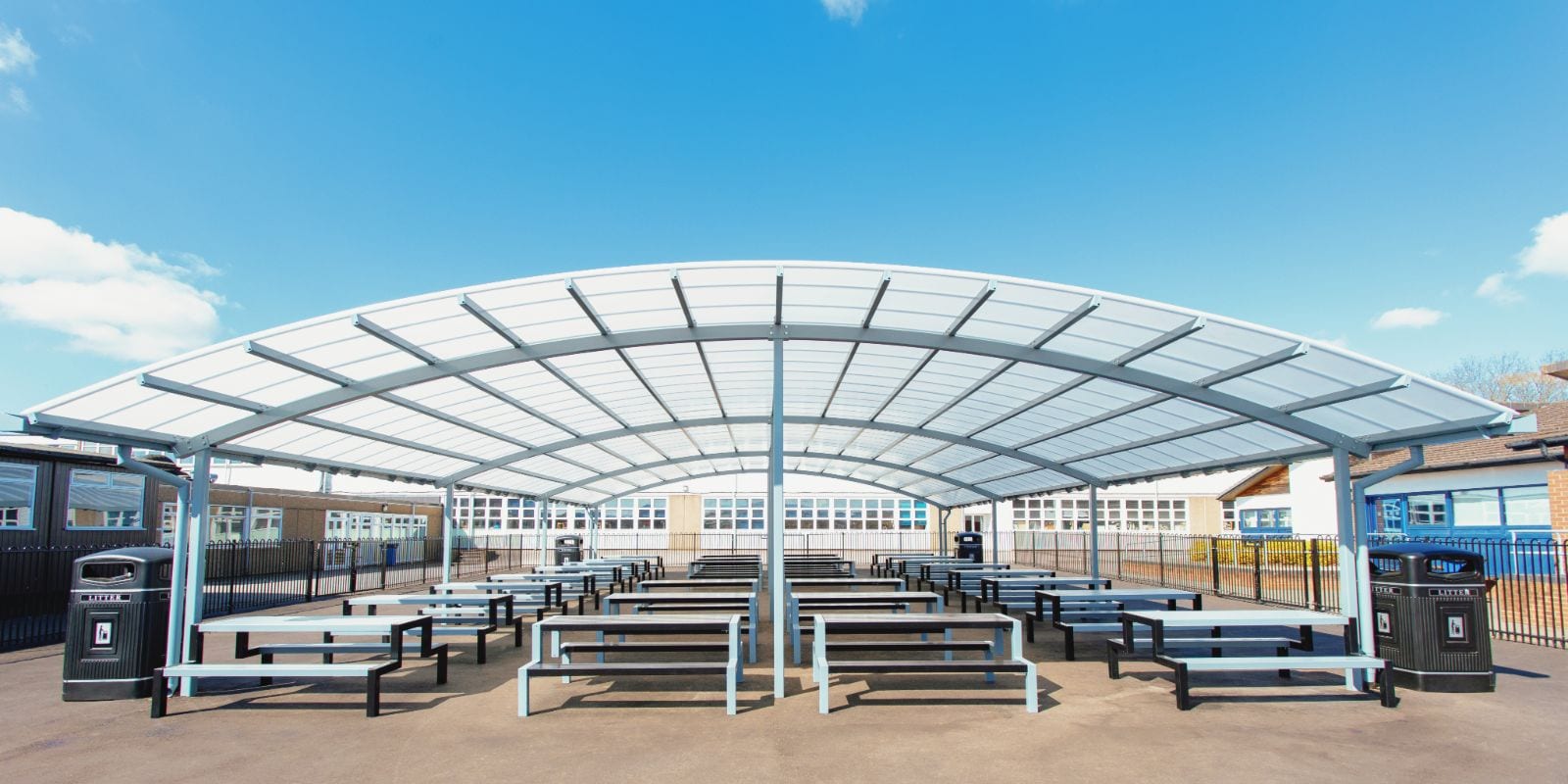 Send us your email and an idea of your requirements and we'll get back to you with a quick price.