Five Canopies and a Cycle Store at Rugby Radio School
The school campus is large and because it is a new school, shade, shelter and storage were considered very carefully at the planning stages. The canopies will provide shade from UV rays and shelter from the wet weather, all year round. The cycle store will provide an incentive for pupils and staff alike to get more exercise and jump on their bikes! We think that the matching canopies add a sense of identity as well as a smart aesthetic to the campus. A modern, attractive addition to the school which will stand the test of time. With aluminium guttering and downpipes, rainwater will be effectively managed as well.
A&S Landscape has a wide range of canopies. Our gallery contains over a thousand pictures of our work and you can view them here for some inspiration.
Play Area Canopy Built in Stratford-upon-Avon for Wilmcote C of E Primary School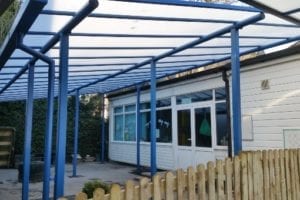 A&S Landscape installed a Motiva Linear™ canopy to a size of 10130mm x 5600mm, with Mid Blue RAL 5010 steelwork and Alu-Tuff™ (aluminium box profile) guttering and downpipes in matching Dura-coat™ colour finish. The roof was opal polycarbonate.
Now the children and staff have a repurposed area, which they can use for all sorts of things. Perhaps an outdoor music lesson or some messy play, perhaps an area for a staff meeting at the end of a hot summer afternoon. Whatever the situation, Wilmcote C of E Primary School has a bright and sheltered space added to their site. No more getting wet moving from one class to the next and no more underused areas, a canopy can bring together more than just buildings.
To read about our other kinds of school canopy projects, click here. If you feel you would just like more information, please call us on 01743 444100. The team will be happy to help you and can even have a proposal on your desk for your review!
Play Area Shelter in Nuneaton At Our Lady of the Angels Catholic Infant School & Nursery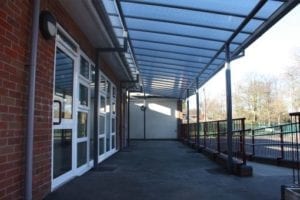 Messy art projects and music lessons so loud they can't always be conducted inside can have a new home instantly and outdoor play has a range of other benefits too. Fresh air, natural light and just the opportunity to change spaces can help to invigorate learning and keep students fully engaged.
It just requires a little imagination, something that is in abundance at Our Lady of the Angels Catholic Infant School & Nursery in Nuneaton who contacted A&S looking to create an additional flexible learning space with a canopy outside a classroom as well as a sizeable free-flow play area. Our Motiva Linear™ with straight roof canopy was exactly what the school needed, but as often happens in real life they needed a few adjustments to make sure it fit to perfection.
The Motiva Linear™ needed to be wider at one side to accommodate the recess into the school entrance, so we designed the playground canopy shelter 3000mm at its narrowest point and 5000mm wide to cover the recess and the result is a beautifully constructed outdoor teaching space shelter that provides the extra learning zone and play area they were looking for. And if you're only here for the details then take note, the steelwork colour is Grey RAL 7000 and the roof colour is Moondust.
The play area has since been fully resourced as part of the outdoor project and the school's Business Manager was delighted with the results, saying in her review 'The quality of the canopy is lovely, it's very simple and exactly what we wanted'.
Our job is to make sure you get the exact results you're looking for and that means manufacturing playground shelters for schools that suit the space, suit your needs and add real value to your students. Take a look at our Playground Shelter and our full range of products, here.
Wilmcote C of E School Add Cover to Walkway in Stratford-upon-Avon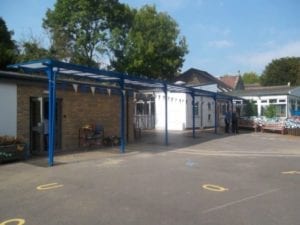 That's where covered walkways come in, offering a simple, attractive structure that provides shelter from the elements when moving between buildings. Wilmcote Primary School were looking for exactly that when they contacted A&S Landscape but the job itself provided a greater challenge than we first expected.
With varying angles and levels as well as doorways and an access ramp, installing at Wilmcote Primary School was a refreshing challenge for us. But with a smart design team, CAD experts and a professional and experienced installation crew, we were able to get the job done. Now Wilmcote Primary School have their very own Motiva Linear™ walkway in a smart blue steelwork with opal roofing.
The result can be measured in two ways. Firstly, Wilmcote Primary School now have a covered walkway that protects from the elements whilst also looking pretty great. But more than that, they have dry staff and students, happy in the knowledge they can make it from one building to the next without having to make a 'run for it'.
At A&S Landscape we are canopy and shelter specialists. From walkways to dining shelters, playground zones to cycle storage. There really isn't much we don't deal with. To get some inspiration and start making plans, have a look at our main gallery page here. If you like what you see, get in touch. We have a design team on hand are ready to help you get the shelter you really need.
St Michaels C of E Academy in Bedworth Add Straight Roof Shelter
We've become so used to considering that inside has a ceiling and outside doesn't that we forget we can bring the two together and create outdoor spaces that are usable all year round.
The great outdoors isn't just the place we traverse to get from one building to another either. The benefits of fresh air and natural light are huge, so creating areas that allow us to spend more time outside all year round is essential.
A&S Landscape installed a Motiva Linear™ at 14980mm x 4240mm. Blue steelwork (RAL5002) and opal polycarbonate roofing complete a smart design. The result is that St Michaels C of E Academy now have a larger footprint all year around. The additional outdoor space is smart, effective and will provide robust shelter from the elements for years to come thanks to the high quality of the materials used.
In our canopy installations gallery you'll find a large range of canopies for schools and these images can really fire your imagination. If you're looking to add some extra outdoor space to your building then we can have a proposal to you for your review, so contact our design team and let's start working with you to create the outdoor areas you really need.