Canopies in Warwickshire
Over the past 44 years, we have completed many projects across the country, including Warwickshire. We have installed our wide product range at schools and businesses, helping them to get better use out of their space.
We can help run the whole project, from start to finish to ensure you get the best finished result. From the initial design work to the installation, we have the expertise to seamlessly project manage your canopy works. We also know how tough school budgets can be, which is why we've produced a grants guide which is updated monthly and full of funding resources.
Fill out our online contact form to find out how we can help you or call us on 01743 444100. Our experienced team can offer you the best advice to help make your project a success.
Brand-New Outdoor Canopy Installed at North Leamington School in Leamington Spa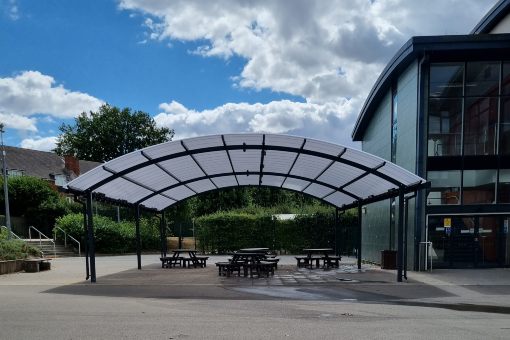 North Leamington School in Leamington Spa was looking for an outdoor canopy to expand its school provision and work in multiple situations – like for teaching and dining. The team thought it should have a simple but modern design that could protect staff and students from the unpredictable British weather, and be large enough to make a statement in the grounds and shelter many people simultaneously. They also loved the idea of added heating. We were excited when this client got in touch as they were enthusiastic about our designs.
After considering the way forward, representatives from North Leamington School settled on the Motiva Duo™. This was a fantastic choice as it has a classic curved roof and solid steel framework which are perfect for keeping out the rain and wind in style. We installed it with Anthracite Grey steelwork and Opal roofing for a classy, straightforward design, and heating to make it an enjoyable facility, even in colder months. The measurements of 14000mm X 10000mm also created plenty of covered space for an outdoor classroom or dining area.
North Leamington School loves the large outdoor shelter and how it has improved and expanded facilities for the good of all the community. Being able to use it as a dining canopy and get some fresh air during lunchtime year-round will benefit everyone's mental health, and the options are endless when it comes to other uses, such as outdoor learning. Email us at [email protected] to see how we can help you.
Large Cycle Shelter at Myton School in Warwick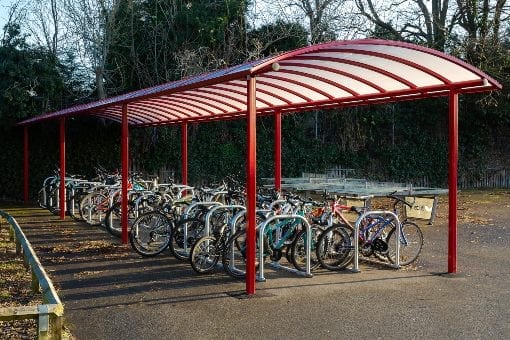 A&S Landscape, canopy and shelter specialists, proposed a 15000mm X 3600mm curved roof canopy. The Motiva Duo™ design was chosen as the best value for money ahead of other competitor's quotes. The large shelter features 30 cycle racks, which can accommodate 60 cycles. The steelwork was finished in a striking red, which complements the surrounding school buildings.
Now even more students chose to cycle to school as they know their bikes will be stored safely and under a shelter. This not only has a positive impact on the wellbeing of the students but on the environment too. It's no wonder that more and more schools are choosing to install cycle shelters.
A&S Landscape offers a range of cycle shelters, including the City, Bike and Buggy models. Why not take a look at our gallery to get inspiration for your project? Get in touch with our team today by calling us on 01743 444100 or by filling out an online enquiry form.
Middlemarch Junior School in Nuneaton Add Colourful Roof Canopy
A&S Landscape offers a wide range of canopy solutions, from shade sails and bicycle stores to tepees to linear canopies. It was decided that the Motiva Linear™ product would be most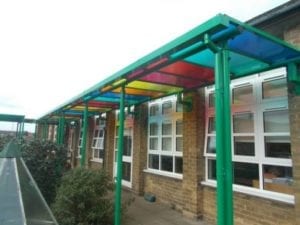 appropriate for this requirement. All steelwork was in Signal Green (RAL 6032) and the roofing was really bright in Poppy, Foxglove, Daffodil, Mandarin, Lagoon and Mint colour polycarbonate.
The result is a super addition to Middlemarch Junior School. A school shelter which is bright and adds a real sense of fun to the campus. Now the children and staff are sheltered when they walk around the school whether it is raining, or the sun is shining. Also, the sun's rays are not shining directly into classrooms, meaning that these rooms are not excessively hot on sunny days.
A&S Landscape can help you with inspiration and design expertise if you think your setting might benefit from something similar. Please get in touch using our online contact form and we will help you with some expert advice.
A&S Landscape is here to discuss the options if you would like to add some space to your campus. From Shade Sails, Umbrellas and Tepees, to straight or curved roof steel canopies, A&S Landscape has a range which is sure to offer you something special. Feel free to look through our gallery, which has more than 1500 images to inspire you.
Myton School in Warwick Add Cycle Shelter
So when Myton School in Warwick got in touch with us looking to add a shelter to their current bike rack we had a lot of solutions for them in our Cycle Shelter range. Myton School in Warwick is an 11-18 co-educational comprehensive school. Most students do live locally, although the school attracts students from outside the priority area.
To encourage more staff and pupils to cycle to school, they decided to invest in the bike shelter and our Cyclo City™ fitted the bill perfectly. With a straight roof and built to fit perfectly around the existing rack, the Cyclo City™ offered them a cheap cycle shelter. The school is obviously delighted with this straight roof shelter and it fully accommodates 10 bicycles, being put to full use every day. That means that for the kids that need to cycle in to school (and naturally reap the benefits of that exercise, too) their bikes are safe, secure and dry for the journey home. All this and the fact we were able to accommodate their existing shelter saved them money. Cycling to school can be a really great opportunity to get fitness and exercise into a busy schedule and all it takes to encourage this is a proper cycle storage shed. Whether it needs to fit around a rack that already exists, or you need a full cycle storage solution, we have a range of products that could really help.
And whilst you're at it, please see our product gallery for more images of similar cycle storage shelters for schools and contact us to speak to our spokes-person. Ok, puns over.
Early Years Shelter at Stockingford Primary School in Nuneaton
A&S Landscape designed, manufactured and installed a curved roof canopy at the school. The Motiva Mono™ shelter features Ultramarine Blue steelwork, which adds a splash of colour to the area. Measuring 8000mm X 300mm, plenty of covered space has been created. And because we installed Stockingford Primary School's previous canopy, the new structure matches perfectly.
The staff and children absolutely love their new shelter, and it has taken the fantastic facilities to another level. Break times can be spent outside, no matter the conditions. Teachers can also take their classes under the cover to create an engaging learning environment. Parents could wait under the shelter too, at the end of the school day. A&S Landscape, canopy and shelter specialists, has worked with nurseries across the UK, providing a range of playground canopies. From shade sails to multicoloured polycarbonate roof designs, we can help you find the best option for your needs. Why not take a look at our gallery for more ideas or give us a call on 01743 444100?
Entrance Canopy at Croft Primary School in Stratford-upon-Avon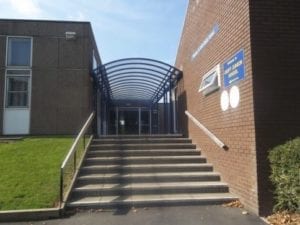 Croft Primary School had a tired, old solid flat-roofed walkway that didn't 'sell' the inspiring, modern and energetic vision that the school really stood for. Installing a Motiva Duo™ Duopitch Canopy in a cool, blue steelwork and with smart clear roofing has led to an instant transformation of the entrance area of Croft Primary School.
Moving from a 'past it's best' walkway to a fresh, clean and attractive structure means that Croft Primary School not only have a walkway that does a job, keeping people dry between the outside world and the front entrance, but it also does something else too; it sells the vision the school has of itself to anybody and everybody that comes by. It says 'we care about our appearance' which instantly means that others will care about it too.
Whilst we spend a lot of time installing brand new entrance canopies, we also do a lot of work in which we replace designs that are no longer fit for purpose. These jobs are invigorating because you can see, with a before and after photograph, the instantaneous difference to the way a space feels. So if you have a structure that is no longer serving its functional or aesthetic potential then take a look at our collection of projects and get in touch. Our design team can have a proposal with you the very next day.
A selection of our Warwickshire clients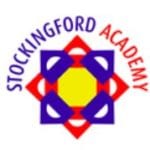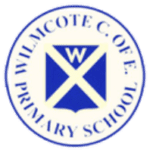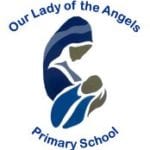 The Co-operative Launch New Store in Warwickshire and Add a Glass Entrance Canopy
A well-known brand throughout the UK, The Co-Operative has recently brought their community store and branding to Grendon in Warwickshire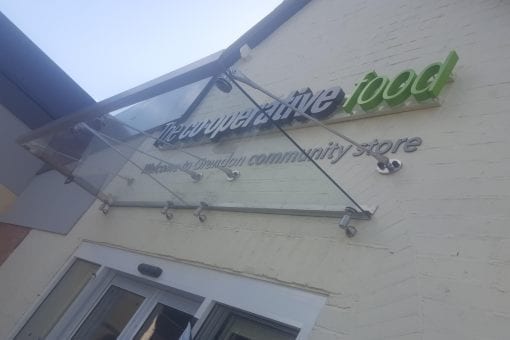 . The new store will be at the heart of a development which also includes the building of 56 new homes.
Utilising a former pub as the basis of the development for the new community shop, the branding plan was unmistakably The Co-Operative. With its organised layout and inviting produce displays, it was everything that you would expect to see from The Co-Operative. In order to make the entrance equally as welcoming and customer-friendly, they approached A&S Landscape for help in developing a tailor-made front door canopy. This would be the signpost, along with The Co-Operative logo, to where customers could find the store's entrance.
Being outside of our standard range of steel and fabric or polycarbonate canopies, this project was a great opportunity to work with glass. Our team, alongside The Co-Operative's building developers, devised a scheme for a steel and glass cantilever-style front door roof canopy. Completed in silver grey coloured steelwork, with a clear glass cover, the new structure provided a great location indicator of the shopfront entrance, as well as shelter for customers entering the shop on rainy days.
You will find a vast range of our completed projects on our website, but if you do not see exactly what you want, then please contact our team to discuss bespoke options for your project. In the meantime, feel free to browse past canopy installations to find the inspiration to get you started from the wide range of options.
Five Canopies and a Cycle Store at Rugby Radio School
The school campus is large and because it is a new school, shade, shelter and storage were considered very carefully at the planning stages. The canopies will provide shade from UV rays and shelter from the wet weather, all year round. The cycle store will provide an incentive for pupils and staff alike to get more exercise and jump on their bikes! We think that the matching canopies add a sense of identity as well as a smart aesthetic to the campus. A modern, attractive addition to the school which will stand the test of time. With aluminium guttering and downpipes, rainwater will be effectively managed as well.
A&S Landscape has a wide range of canopies. Our gallery contains over a thousand pictures of our work and you can view them here for some inspiration.
Play Area Canopy Built in Stratford-upon-Avon for Wilmcote C of E Primary School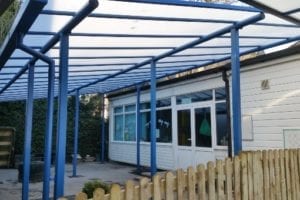 A&S Landscape installed a Motiva Linear™ canopy to a size of 10130mm x 5600mm, with Mid Blue RAL 5010 steelwork and Alu-Tuff™ (aluminium box profile) guttering and downpipes in matching Dura-coat™ colour finish. The roof was opal polycarbonate.
Now the children and staff have a repurposed area, which they can use for all sorts of things. Perhaps an outdoor music lesson or some messy play, perhaps an area for a staff meeting at the end of a hot summer afternoon. Whatever the situation, Wilmcote C of E Primary School has a bright and sheltered space added to their site. No more getting wet moving from one class to the next and no more underused areas, a canopy can bring together more than just buildings.
To read about our other kinds of school canopy projects, click here. If you feel you would just like more information, please call us on 01743 444100. The team will be happy to help you and can even have a proposal on your desk for your review!
Play Area Shelter in Nuneaton At Our Lady of the Angels Catholic Infant School & Nursery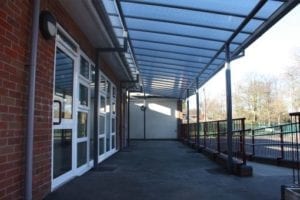 Messy art projects and music lessons so loud they can't always be conducted inside can have a new home instantly and outdoor play has a range of other benefits too. Fresh air, natural light and just the opportunity to change spaces can help to invigorate learning and keep students fully engaged.
It just requires a little imagination, something that is in abundance at Our Lady of the Angels Catholic Infant School & Nursery in Nuneaton who contacted A&S looking to create an additional flexible learning space with a canopy outside a classroom as well as a sizeable free-flow play area. Our Motiva Linear™ with straight roof canopy was exactly what the school needed, but as often happens in real life they needed a few adjustments to make sure it fit to perfection.
The Motiva Linear™ needed to be wider at one side to accommodate the recess into the school entrance, so we designed the playground canopy shelter 3000mm at its narrowest point and 5000mm wide to cover the recess and the result is a beautifully constructed outdoor teaching space shelter that provides the extra learning zone and play area they were looking for. And if you're only here for the details then take note, the steelwork colour is Grey RAL 7000 and the roof colour is Moondust.
The play area has since been fully resourced as part of the outdoor project and the school's Business Manager was delighted with the results, saying in her review 'The quality of the canopy is lovely, it's very simple and exactly what we wanted'.
Our job is to make sure you get the exact results you're looking for and that means manufacturing playground shelters for schools that suit the space, suit your needs and add real value to your students. Take a look at our Playground Shelter and our full range of products, here.
Wilmcote C of E School Add Cover to Walkway in Stratford-upon-Avon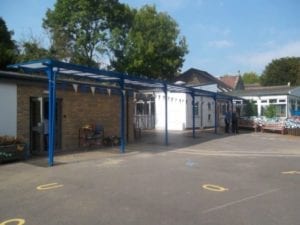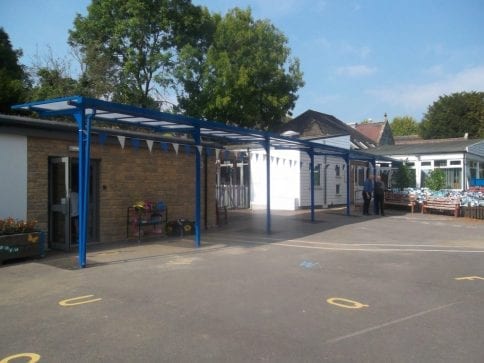 That's where covered walkways come in, offering a simple, attractive structure that provides shelter from the elements when moving between buildings. Wilmcote Primary School were looking for exactly that when they contacted A&S Landscape but the job itself provided a greater challenge than we first expected.
With varying angles and levels as well as doorways and an access ramp, installing at Wilmcote Primary School was a refreshing challenge for us. But with a smart design team, CAD experts and a professional and experienced installation crew, we were able to get the job done. Now Wilmcote Primary School have their very own Motiva Linear™ walkway in a smart blue steelwork with opal roofing.
The result can be measured in two ways. Firstly, Wilmcote Primary School now have a covered walkway that protects from the elements whilst also looking pretty great. But more than that, they have dry staff and students, happy in the knowledge they can make it from one building to the next without having to make a 'run for it'.
At A&S Landscape we are canopy and shelter specialists. From walkways to dining shelters, playground zones to cycle storage. There really isn't much we don't deal with. To get some inspiration and start making plans, have a look at our main gallery page here. If you like what you see, get in touch. We have a design team on hand are ready to help you get the shelter you really need.
St Michaels C of E Academy in Bedworth Add Straight Roof Shelter
We've become so used to considering that inside has a ceiling and outside doesn't that we forget we can bring the two together and create outdoor spaces that are usable all year round.
The great outdoors isn't just the place we traverse to get from one building to another either. The benefits of fresh air and natural light are huge, so creating areas that allow us to spend more time outside all year round is essential.
A&S Landscape installed a Motiva Linear™ at 14980mm x 4240mm. Blue steelwork (RAL5002) and opal polycarbonate roofing complete a smart design. The result is that St Michaels C of E Academy now have a larger footprint all year around. The additional outdoor space is smart, effective and will provide robust shelter from the elements for years to come thanks to the high quality of the materials used.
In our canopy installations gallery you'll find a large range of canopies for schools and these images can really fire your imagination. If you're looking to add some extra outdoor space to your building then we can have a proposal to you for your review, so contact our design team and let's start working with you to create the outdoor areas you really need.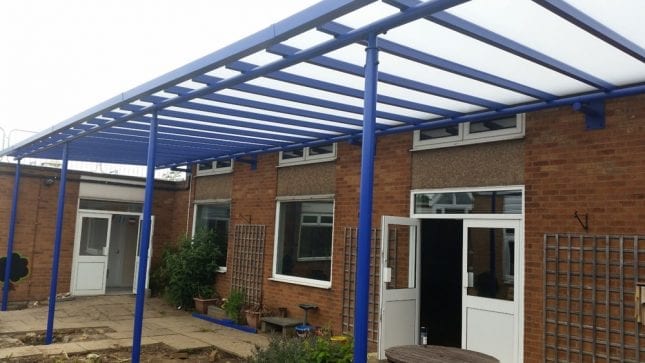 Middlemarch Junior School Add Overlapping Triangle Shade Sails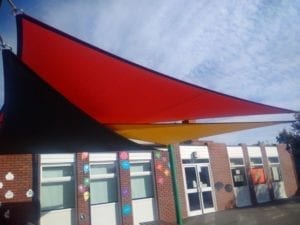 But as long as our ability to spend time outside is not in our control we may not be able to get the levels of natural light and fresh air we really need. Which is exactly where a quality outdoor playground canopy comes in, providing a shelter from poor weather and meaning children can spend more time outside all year round.
Middlemarch Junior School in Warwickshire wanted to make sure its students had excellent access to the outdoors so when they contacted A&S Landscape it wasn't to add a single shelter, it was to add three.
Working closely with Middlemarch we installed a Motiva Linear™ at 6700mm x 2000mm and another at 7200mm x 2000mm whilst also providing replacement polycarbonate roofing for an existing shelter. The colours chosen for the polycarbonate roofing were Foxglove, Daffodil, Mandarin, Lagoon and Mint and work together beautifully.
Not wanting to finish there, Middlemarch also requested a Maxima Sail™ at 6000mm x 6000mm with 3 triangle sales in Cherry Red, Yellow and Brunswick Green. The result is more time outdoors than ever before. With shade from direct sunlight and cover from the rain, students at Middlemarch now have more access to their playground all year round.
Spending quality time outside is very important for our health. We all feel the drain when we don't get enough natural sunlight and without changing scenery regularly our mind can get into somewhat of a rut. Outdoor school canopies offer year-round protection from the weather that makes playing outdoor more viable. So if you're looking to increase your outdoor facilities takes a look at our gallery of finished projects to get some ideas!
Looking for more of our locations?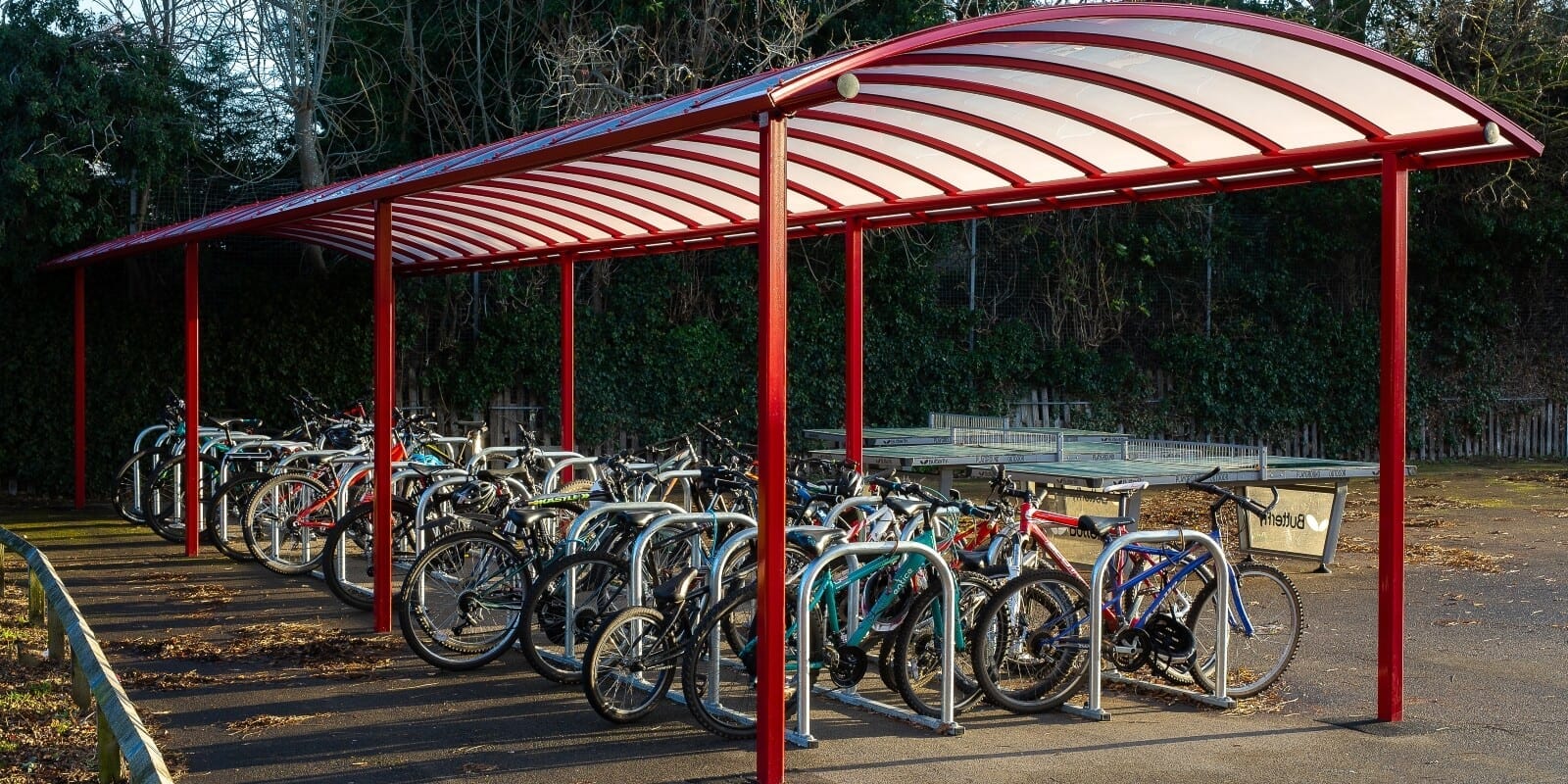 Send us your email and an idea of your requirements and we'll get back to you with a quick price.