Playground Canopy Extension Oundle Primary School Peterborough
Oundle Primary School is incredibly child-centred. If a decision needs to be made then they'll always ask if it is in the best interests of the children at the school or not. Ranked as 'outstanding' by Ofsted, they are rightly proud of their environment and they continue to deliver a first class education to their pupils. The whole school exudes a sense of purpose and has an exciting buzz.
Project Specification
Product:

Motiva Linear™

Sizes:

21700mm X 2960mm | 15800mm X 7950mm

Steelwork:

Slate Grey - RAL NO. 7015

Roof:

Post Pads:
It's that energy that is constantly translated into the school environment and means attention to detail is a big thing here.
All of this means that when A&S Landscape was asked to install a new Motiva Linear playground canopy extension, we had some high standards to meet!
We installed a Motiva Linear canopy at 21700mm x 2960mm and 15800mm x 7950mm to beautifully surround the outside of Oundle Primary School along two walls.
This shelter was also finished off with a vibrant and fun polycarbonate roof. In Clear, Mint and Daffodil, Oundle have themselves an outstanding canopy to go with their outstanding school.
You can find out more about the Motiva Linear here and browse a range of successful projects in our gallery here.
The rising issue of childhood obesity and what we can do to help children at home and in school
Children are typically not in charge of the food they eat or the exercise they take. What's more, when they exercise, the respiratory implications and body weakness can contribute to embarrassment amongst their peers as they find it difficult to move. Nonetheless, it is essential to endorse healthier eating, more exercise, and assist a child who lives with obesity in combating the depression, anxiety, stigma, and the health and academic issues related with obesity, which is a task much more critical than it first appears.
We can clarify some of the fixes Dame Sally Davies outlines in her report: Time To Solve Childhood Obesity into three factors.
• Children need to play outside.
• Children need access to healthy foods.
• Strategies need to be practised by schools, manufacturers, health services, town planners and politicians to create better opportunities for children to have access to outdoor play and healthy food regardless of their social-economic status.
Discover how we can accomplish these aims and more over on our full article page.
If you're looking to complete your own masterpiece then whether it is an outdoor dining shelter or a covered playground area, we have a solution. Contact us today to start working with our design team who will help you to decide which product will work best for you.
We've worked with other great schools and businesses across Cambridgeshire
North Witchford Lodge Add Curved Roof Canopy to Site
In collaboration with our building contractor client A&S erected a curved roof canopy at North Witchford Lodge Wimblington, March, Cambridgeshire. The job involved one Motiva™ Duo duopitch curved roof canopy measuring 4800mm X 3200mm and included for our Alu-Tuff™ aluminium box profile guttering and downpipes which were coated in a matching Dura-coat™ colour finish.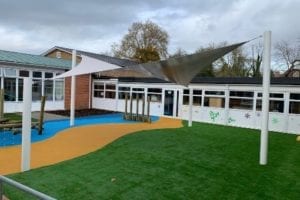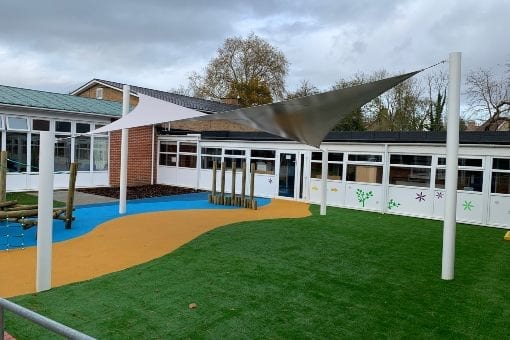 Playground Shade Sail Created for Stapleford Primary School
Working for the specialist building contractor we produced a sail structure for Stapleford Primary School Cambridge, Cambridgeshire. The job involved one 6000mm X 6000mm Maxima™ tensile waterproof fabric sail structure comprising one sail on  4 uprights including for all stainless steel fixtures and fittings.

Colourful Sail Shade Installed at City College Peterborough
We created a StarSail for City College Peterborough Western Avenue, Peterborough, Cambridgeshire. The job involved the supply and fitting of one Maxima™ StarSail tensile waterproof fabric structure supported on a single upright measuring 6000mm X 6000mm.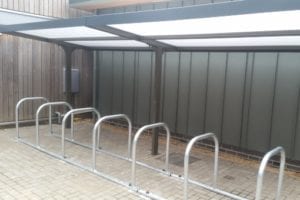 Jesus College at The University Of Cambridge Add Secure Bike Store
Our team constructed a cycle store at Jesus College University Of Cambridge Jesus Lane, Cambridge, Cambridgeshire. The contract included one Cyclo 'City' cycle store unit measuring 5500mm x 2000mm