Epsom College in Surrey Add Wall-mounted Shade Sail
The area designated for the Epsom College tensile canopy system was between two buildings. The area concerned was a courtyard outside an entrance to the building.
What was the project brief?
Epsom College, located in the Surrey town of Epsom itself, is a fantastic school with an illustrious history. With Her Majesty Queen Elizabeth II as their patron, the school is a special place with architecturally impressive buildings dating back to the 1850s.
2020 brought challenges for many schools. The COVID-19 pandemic required changes to everyday life that historic buildings were not necessarily able to support. In 2020, the need for social distancing and the limiting of indoor contact became two of the biggest priorities for organisations up and down the country. Epsom College wanted to create a waterproof, sheltered outdoor space that supported this need for social distancing, but that fitted unobtrusively with the beauty of the estate.
What was our tensile canopy solution?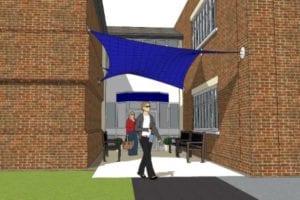 With over 40 years of experience in the industry, A&S Landscape has worked with clients from a wide range of sectors and a vast array of differing buildings and estates. Whether it involves working with architects to deliver bespoke, technical projects, or, like the Epsom College estate which involved historical buildings and specific requirements, our team of experts are on hand to advise.
The area designated for the Epsom College tensile canopy system was between two buildings. The area concerned was a courtyard outside an entrance to the building. The area had been designated for seating, and the design needed to take account of the space available and the best way logistically to deliver a waterproof awning.
After a full site survey, the shelter solution design best able to suit the very specific requirements of the project was the Maxima Sail™ from our Maxima Fabric range. This diverse product offers options for multiple configurations, from mounting on steel shelter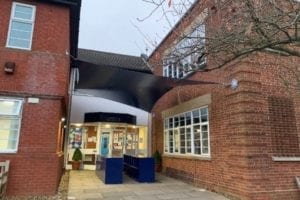 frame poles, to the frame-free installation needed for the Epsom College product. Without the support of a frame, our expert team were able to complete the canopy installation using six wall brackets. In keeping with the college's colours, the waterproof fabric sail was completed in Midnight Blue from our colour range.
What was the result of their new tensile canopy installation?
The final canopy installation delivered a subtly covered area of shelter. The waterproof fabric ensures that the area can be utilised in wet weather, but the sail cover also acts as a sun shelter for the summer months. Measuring in at 8000mm x 4000mm, it has created a substantial area of coverage for the seating beneath.
During the pandemic, Epsom College now has access to a discreet and dedicated area for socially distanced meetings in a well-ventilated area, as set out in Government guidance. But even beyond the pandemic, the college has created an asset that will benefit staff and pupils for years to come.
Should we treat eating outdoors as a necessity or privilege?
There are a variety of verified benefits to alfresco dining as a part of the school day. As young people spend the whole day in a classroom environment, it is vitally important that they are given time to breathe at lunchtime. In spending this break outdoors, it not only provides a calming atmosphere but can also bring down levels of hyperactivity in a child. If a pupil is to occupy their break indoors, it can mirror the classroom setting and prevent them from taking a suitable amount of time to relax. Outdoor dining is also an extremely sociable activity, unrestrained by the dining hall setting young people can chat with other year groups easily.
Over on our blog you can read how schools can help their pupils to eat outside regularly – click here.
About the client
With its royal patronage, originally bestowed by Queen Victoria, and with a history dating back 165 years, Epsom College has many interesting links with the past. Originally founded by Dr John Propert as the Royal Medical Benevolent College, there are historical archives that chart the inception of what is now a modern school delivering education to boys and girls aged between 11 and 18 years.
As well as having a rich and interesting history, Epsom College also delivers high-quality learning opportunities to its pupils. In 2019, the College was classed as excellent in all areas, following the Independent Schools Inspectorate (ISI) assessment. The ISI is the equivalent body to OFSTED and is responsible for inspecting, monitoring and evaluating the standards of independent schools like Epsom College.
Epsom College's link with high achievement is definitely clear in both current staff and past alumni. On the current athletics coaching staff is Jacob Paul, Team GB hurdler who has his sights set on the 2021 Olympic title. And in terms of past students, Tim Vine (comedian) and his big brother Jeremy (broadcast journalist) both attended the school!
Why invest in a tensile canopy installation?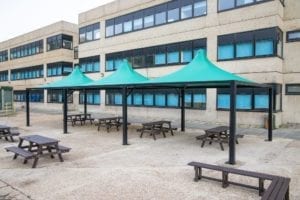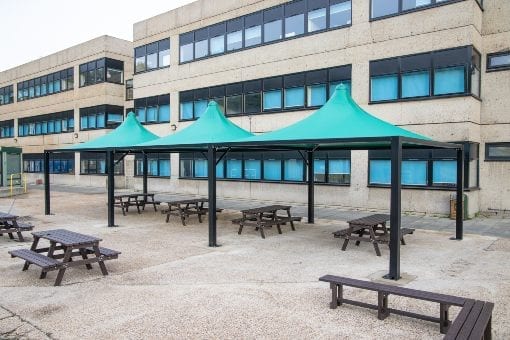 When space is limited, or there are other factors such as building constraints or logistical considerations that make installing a steel canopy framework problematic, a tensile canopy installation can represent a great alternative. Our range of fabric canopies offers a choice of shapes, sizes and configurations for any space. Amongst the benefits of installing one include:
Fully customisable design with a choice of steelwork and fabric colours.
The option to choose between shade cloth or a waterproof sail cover.
A range of design options from wall-mounting, cantilever style suspension or steel shelter frame.
Robust construction and installation that will withstand snow and wind.
How A&S Landscape can help you
Regardless of the size, configuration or installation type, our friendly team are on hand to advise you on the best options for your site. With a wide range of shade sails available within our range, the team can guide you through the requirements for each installation type. Whether your priority is shade from the sun, shelter from the rain, or both, we will survey your site and work alongside you to develop the optimum plan to deliver the shelter solution best suited to the circumstances.
For more assistance on the Maxima tensile canopy system options available in our range, contact our team who will be happy to help.
Read about more of our projects based in Surrey
Frogmore Infant School Add Shelter to Play Area
Our engineers built a straight polycarbonate roof canopy at Frogmore Infant School Camberley, Surrey. The job involved the supply and installation of one Motiva™ monopitch straight roof canopy measuring 9000mm x 4000mm and included for our Alu-Tuff™ aluminium box profile guttering and downpipes in matching Dura-coat™ colour finish and six post protection pads.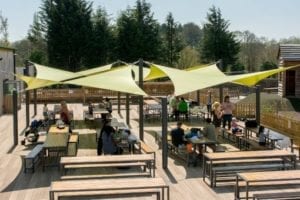 Covered Seating Area Created at Chobham Adventure Farm
Working with this valued client we created a sail structure for Chobham Adventure Farm Chobham, Chobham, Surrey. The contract included three 5000mm X 5000mm and one 5000mm X 4000mm Maxima™ tensile waterproof fabric sails on six uprights including for all stainless steel fixtures and fittings.
Fabric Sail Shade Designed for St Peter's C of E Primary School
Our engineers constructed a sail structure at St Peter's C Of E Primary School Little Green Lane, Farnham, Surrey. The job involved one 8000mm X 8000mm Maxima™ tensile shade cloth fabric sail structure comprising of one triangle sail on  uprights including for all stainless steel fixtures and fittings.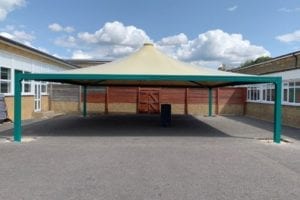 Large Fabric Tepee Shelter Installed at Queen Eleanors Junior School
We created a tensile fabric roof Tepee for Queen Eleanors Junior School Guildford, Surrey. The job involved the supply and fitting of one Maxima Tepee™ tensile waterproof fabric roof structure measuring 10000mm X 10000mm (100sqm's) and installation of 4m of Aco drain and for post protector pads.
Winterbourne Junior Girls School Add Fabric Roof Canopy
A&S designed a StarSail at Winterbourne Junior Girls School Winterbourne Road, Thornton Heath, Surrey. The contract included the supply and installation of one Maxima StarSail™ tensile waterproof fabric structure supported on a single upright measuring 5000mm X 5000mm.