Multiple Canopies for Ashmount School
This brand new special school opened its doors early complete with an impressive entrance canopy, alongside eight other canopies all installed by A&S Landscape.
Project Specification
Product:

Motiva Linear™

Steelwork:

Basalt Grey - RAL 7012

Roof:
It's out with the old and in with the new for Charnwood youngsters who have set foot inside their new school this year.
Pupils from Ashmount School in Loughborough have moved ultra-modern £9.3 million special school two months ahead of schedule. It offers places for 125 children and young people aged between four and 19 and includes a hydrotherapy pool, sensory area with interactive floor and artwork created by pupils.
Built by Leicestershire County Council, the school is located on Thorpe Hill campus next to Charnwood College.
Visual we created for Ashmount School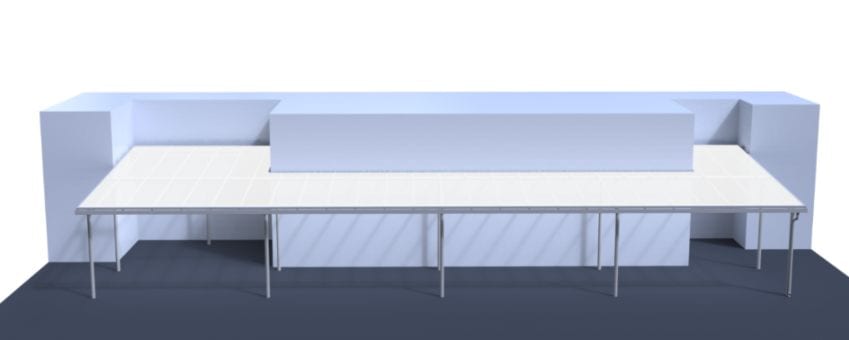 Ivan Ould, Leicestershire County Council's cabinet member for children and young people, said: "It's terrific news that the project has been completed on-budget and ahead of schedule."
"The new school features cutting-edge, modern facilities and will enrich the lives of young people and their families. It will also act as a valuable resource for other local mainstream schools with opportunities to share facilities and knowledge."
Ashmount School Headteacher, Dave Thomas, said: "The new building is a dream come true and our children and families deserve no less."
"It means that we can have a spacious, light, modern learning environment and enables us to expand our inclusive work with Charnwood College and other Loughborough schools."
"We aspire to become a National Teaching School and as such, the facilities at our new site will put us in a strong position to increase our training and school to school support functions even further."
Mark Sutton, Charnwood College principal, said: "Having watched the new special school take shape over the last year, we are very excited that Ashmount students will finally be joining us on Thorpe Hill."
"The facilities are state of the art and will provide the learning environment that really does meet their needs."
East-Midlands based Willmott Dixon created the new £9.35m purpose-built special education needs school located in the Charnwood College Campus on Thorpe Hill to replace the current Ashmount School on Beacon Road which comprises of an old main building and portacabins. Willmott Dixon has also worked closely with the school to ensure pupils were involved in the building's development at key stages since the project began in November 2012. As well as tours of the site, pupils also had the chance to take part in mosaic tiling workshops to help with the design of the hydrotherapy pool area.