Bishop Stortford College Installs New Shade Sail
Bishop Stortford College puts a lot of emphasis on spending time outside. They have a strong belief that there are a host of things that can only be experienced by spending time away from the classroom.
Project Specification
Product:

Maxima StarSail™

Size:

7000mm X 7000mm

Steelwork:

Squirrel Grey - RAL NO. 7000

Fabric:
Their pre-prep children spend every Thursday morning playing, learning & exploring the outdoors so it's no surprise then that Bishop Stortford put a lot of time into creating the right spaces for play.
When looking for some attractive protection from the sun, Bishop Stortford contacted A&S Landscape about our Maxima StarSail. They were looking to find the right blend of design and function and the Maxima StarSail gives them exactly that.
We installed this Maxima StarSail at 7000mm x 7000mm in grey (RAL 7000) steelwork with turquoise fabric shade cloth and it immediately strikes a powerful silhouette against the main building, offering softer lines that bring variety to the whole aesthetic.
Bishop Stortford's children can now enjoy even more time outside on the hottest Summer days with long-lasting sun protection that adds another layer of magic to the school.
How shelters can be used to combat rising intake figures and limited budgets at schools
As we know, the school-age population has been expanding. The quantity of five to ten year old children in primary schools increased by 446,000 (13%) within 2010 and 2016.
The Department for Education has the task to create the 420,000 new school places that are required between 2016 and 2021 and there are a large amount of ways that this can be completed. New schools are being constructed, free schools are being funded and current schools are being given capital funding to sustain, improve and develop facilities. With budgets being strained, one way that schools are using this capital funding is to make the most of their outside space. Whether to build more classrooms or to add sheltered spaces which can have a lot of different uses.
Some applications of outdoor sheltered areas include:
• All-weather sports pitches
• Outdoor classroom
• Cycle Storage
• Outdoor theatre
Want to see more? Read the rest of our blog to discover how you can utilise shelters to improve upon your school's facilities.
If you're looking for sun protection that also happens to look stunning then our Maxima StarSail is a great choice. You can find out more about it on our website.
Once your imagination has been fired and the ideas are bouncing around your head you should get in touch with our design team who are on hand to help you craft the perfect outdoor shade solution for your site and who can have a full proposal on your desk the very next day.
See more of our canopy projects based in Hertfordshire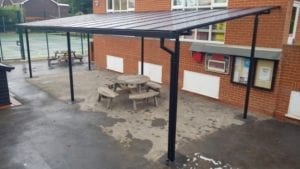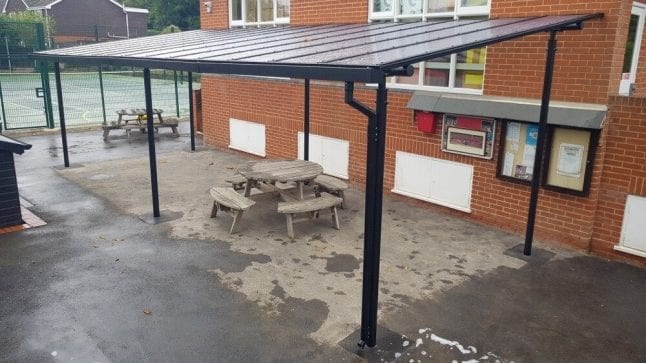 St Hilda's School Add Black Playground Straight Roof Shelter
We erected a straight polycarbonate roof canopy at St Hilda's School 28 Douglas Road, Harpenden, Hertfordshire. The full contract involved the supply and installation of one Motiva™ monopitch straight roof canopy measuring 9600mm X 2981mm complete with with Alu-Tuff™ aluminium box profile guttering and downpipes which were coated in a matching Dura-coat™ colour finish.
Enclosed Buggy Shelter Designed for Marsworth CE Infant School
We designed a cyclo buggy store in Marsworth CE Infant School Marsworth, Tring, Hertfordshire. The job involved one Cyclo 'Buggy' measuring 5000mm X 2400mm.
Tepee Canopy Installed at Millfield First And Nursery School
Our engineers designed an Elipse tepee structure at Millfield First And Nursery School Buntingford, Hertfordshire. The contract included the supply and fitting of one Maxima™ Elipse tensile waterproof fabric roof structure measuring 7500mm X 5000mm with splashplate and leg extensions to increase the height of the canopy.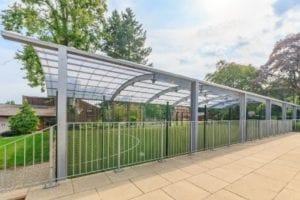 Large Cover Created for Multi Use Games Area at Haileybury College
A&S designed a dryMuga canopy at Haileybury Hertford, Hertfordshire. Full details are: one Motiva™ drymuga™ duopitch curved roof sports canopy measuring 32000mm X 13200mm including for steel guttering and downpipes, 868 twin wire rebound fencing, complete with built-in five-a-side football goals and a basketball hoop. We also carried out the surfacing with the supply and lay of real Turf 'Colours' curled anti-static sports turf to the pitch area and supply and inlay of white lines for layout showing five aside football/ hockey markings all onto a schmitz Proplay MP interlocking re-cycled polyethylene foam shock-pad.
Tudor Primary School Add Play Area Sail Shade
Working alongside an authorised reseller our team designed a sail structure in Tudor Primary School Hemel Hempstead, Hertfordshire. The job involved one 10000mm x 5000mm Maxima™ tensile waterproof fabric sail structure comprising of two square sails on six uprights including for all stainless steel fixtures and fittings.
Gilah Nursery School Create Cover with Fabric Sail Structure
Working with our trade partner we created a sail structure for Gilah Nursery School Elstree, Hertfordshire. The full contract involved one 6000mm x 6000mm Maxima™ tensile shade cloth fabric sail structure comprising of one square sail on four uprights including for all stainless steel fixtures and fittings.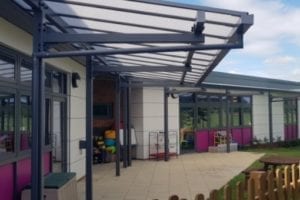 Grey Cantilever Canopy Install Roman Way First School
Our engineers created a cantilever canopy at Roman Way First School Burns Road, Royston, Hertfordshire. The contract included one Motiva™ Cantilever straight roof canopy measuring 19000mm X 2750mm with Alu-Tuff™ aluminium box profile guttering and downpipes which were coated in a matching Dura-coat™ colour finish.