Covered Walkway at Aurora Hanley School in Stoke on Trent
Posted on 17/02/2020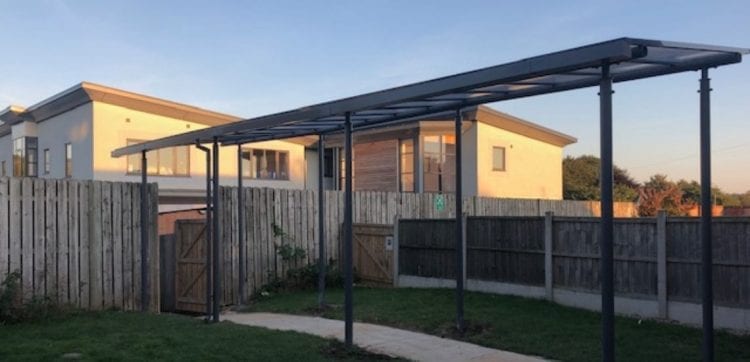 To prevent the pupils and staff from being exposed to the elements while they walked around the site, Aurora Hanley School installed a covered walkway. The canopy has further improved the existing facilities and has been a great addition.
Project – Aurora Hanley School add covered walkway in Stoke on Trent
Product – Motiva Linear
Requirement – While moving from building to building, the teachers and students would often get wet and cold as they didn't have any protection from the weather. Aurora Hanley School in Bucknall, Stoke on Trent decided to install a canopy to cover the pathway and make the journeys around the campus a more pleasant experience.
Solution – A&S Landscape designed, manufactured and installed a straight roof shelter over a path at the school. The Motiva Linear canopy features Slate Grey steelwork and clear polycarbonate roofing.
Result – The finished product looks very smart and fits in well with the surrounding environment. Most importantly, the pathway is now covered and protected from the elements all-year-round. Now the students can arrive at their lessons happy and dry! The walkway has made everyone's experience at the school even better, and it has been a very successful project.
Find Out More – As well as straight roof designs, we also offer covered walkways with fabric, curved and even wave roof options. Our team of experts can help you to find the best product for your needs. Getting a quote couldn't be simpler either, just send us a photo of the area to [email protected] with any measurements you have. Or you can call us on 01743 444100.