Fabric Canopy Installed at North Wales Playgroup
Posted on 08/08/2016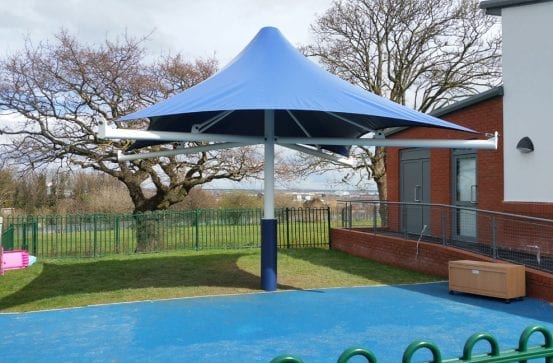 Our Maxima Waterproof Umbrella is very popular with the 55 children aged 2-3 years at the Jigsaw Playgroup. It gives them a catalyst for play, an opportunity to zone space and somewhere to get a little shade on a sunny day.
Project – Jigsaw Playgroup at Bryn Deva Flying Start Centre
Product – Maxima Umbrella
Requirement – We've said it before and we're going to say it again. Dividing space up into areas allows it to be used more effectively. Children have incredible imaginations and every single new play zone is a catalyst for another game. Giving them choices allows children to become inventors and creates a stronger bond and ownership of their space.