Gateshead NHS Facility at Spire House in County Durham Installs Shelter for Cleaning Ambulances
The Gateshead NHS staff at Spire House love the new ambulance shelter; vehicles can now be cleaned with ease in all weathers beneath the spacious polycarbonate roof with its practical and contemporary straight design.
Project Specification
Product:

Motiva Linear™

Size:

31200mm X 7500mm

Steelwork:

Squirrel Grey - RAL NO. 7000

Roof:
What was the project brief?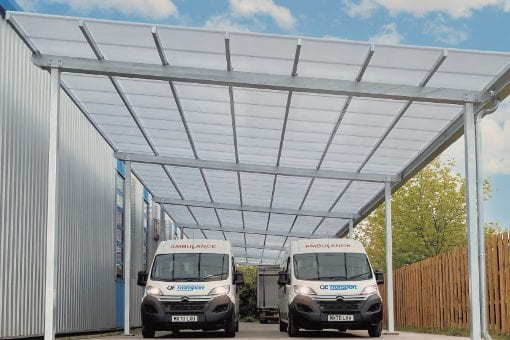 The Gateshead NHS site at Spire House in Washington needed a shelter in order to set up a covered space where staff could clean ambulances. They wanted it to provide excellent coverage for multiple vehicles, protect anyone beneath it from wind and rain, and have a modern and appealing design. A&S Landscape was thrilled to be contacted and quickly got to work on finding an affordable, effective solution.
What was our canopy solution?
Following discussions about the different types of shelter that could meet their requirements, the Gateshead NHS team decided that the Motiva Linear™ was the best fit. A&S Landscape provided them with a huge custom canopy measuring 31200mm X 7500mm – large enough to accommodate several ambulances at once, as well as cleaning staff. The monopitch asymmetric roof of this model was well-suited to the task, thanks to it having one side higher than the other which is ideal for shelters placed directly next to buildings. Plus, Squirrel Grey steelwork and an Opal roof came together to create a classic, attractive design. It looked fantastic alongside the existing facilities and offered efficient protection from bad weather.
What was the result of the shelter?
The Gateshead NHS staff at Spire House love the new ambulance shelter; vehicles can now be cleaned with ease in all weathers beneath the spacious polycarbonate roof with its practical and contemporary straight design, and the cleaners don't have to worry about braving the rain! A&S Landscape was pleased with the positive reception of the steel canopy and that the product provides a useful facility for people of such a hard-working profession.
Testimonial
"Thank you for the work carried out and by how professional your team were while on site. They were a credit to your company."
Gateshead NHS team at Spire House
About the client
Spire House is a warehousing, logistics and conferencing hub run by QE Facilities Limited and Gateshead Health NHS Foundation Trust. Customers can make use of the 37,000 square feet of storage capacity in the warehouse, or book the meeting room, board room, conferencing suite or training suite – in the latter, catering can also be provided. This multi-purpose facility offers many important services for the local community and A&S Landscape found the team there to be pleasant and easy to work with.
Spire House is located in Washington, County Durham, a town combining built-up villages which is equidistant to Newcastle, Sunderland and Durham. It is well-known for being the ancestral home of the family of American president George Washington, who lived in the manor house Washington Old Hall until the 16th century. Other nearby attractions include the WWT Washington Wetland Centre where you can visit everything from ancient woodland to otters and flamingos, and Anthony Gormley's stunning sculpture, the Angel of the North. Residents of Washington clearly live in a vibrant and exciting area of the country.
What are the uses of shelters for healthcare facilities?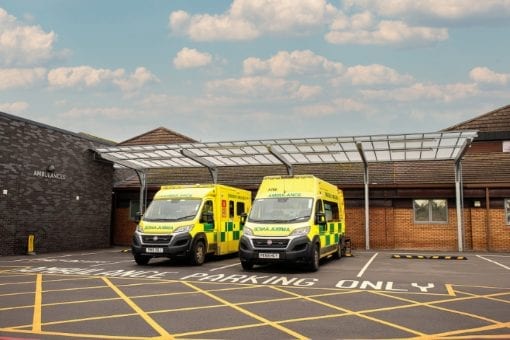 Canopies can have many benefits for healthcare sites, making outdoor spaces more accessible and improving the look of their environment. One way they can be used is as a dining shelter, in order to protect workers, patients and visitors from the elements while eating on breaks or at mealtimes. Entrance canopies signpost the way in to anyone who needs help navigating complex site layouts, while also modernising the architecture.
Healthcare sites can install covered walkways as queuing areas for prescription collections and vaccinations to ensure that anyone waiting isn't bothered by the wind or rain. Also, shelters can be incredibly useful when placed over ambulance loading bays and drop-off points; they protect vulnerable patients when moving between vehicles and facilities, and they make paramedics' and other medical workers' lives easier.
Cycle stores can add value to healthcare sites too by creating somewhere dry and secure for staff to keep their bikes, which can also encourage more green travel to and from work. Whatever they decide to use them for, it's clear that the healthcare sector can hugely benefit from canopies and their wide range of applications. Want to find out more about how our products can help you and your staff? Simply contact us by calling 01743 444100 today.
What makes A&S Landscape stand out from its competition?
We strive to be at the cutting edge of innovation in the canopy industry in order to fulfil the complex and differing needs of our customers. One way we have done this is by creating a range of clever, branded products which can adapt to various requirements and provide excellent shelter for many years. From the Motiva Duo™ to the Cyclo Bike™, we are proud to be able to provide something for everyone. If you're interested in installing a shelter, email A&S Landscape at [email protected] now.