Plas Meddyg Surgery in Denbighshire adds Entrance Canopy
The surgery decided to transform their building frontage with the classic Motiva Linear™, a monopitch, straight roof canopy that was finished in Slate Grey steelwork.
Project Specification
Size:

6000mm x 2500mm

Steelwork:

Slate Grey - RAL NO. 7015

Roof:
What was the project brief?
Located in the small, picturesque town of Ruthin, North Wales, Plas Meddyg Surgery wanted to add an entrance canopy, also known as a door canopy, to their healthcare premises. Realising the practical and aesthetic benefits of a shelter, they required a company with excellent knowledge of the wide range of canopies available, but was also trustworthy, reliable, and gave them clear, honest advice. They decided to call in shelter UK experts A&S Landscape, a family-led company with 44 years of experience, to help them find their perfect cover solution.
Each part of the project, design, manufacture, and installation was managed by specialised teams, who could offer the best possible advice. The first step was to decide on the shelter that would fit their needs and to talk through the range of styles and bespoke options available. Once this was decided, the team at A&S Landscape could quickly get to work with building the chosen canopy, and the final installation.
What was our canopy solution?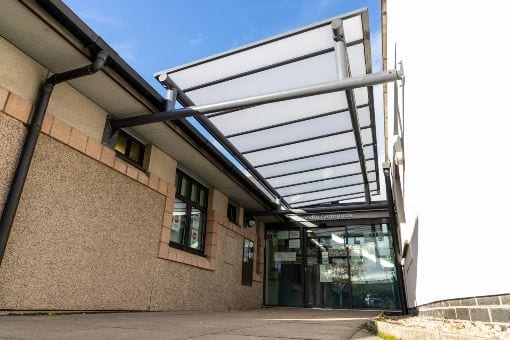 The surgery decided to transform their building frontage with the classic Motiva Linear™, a monopitch, straight roof canopy that was finished in Slate Grey (RAL 7015), with opal polycarbonate roofing. As with other canopy ranges, we offer a number of bespoke options for the Motiva Linear™, and their versatility means they can be built to very large widths (10000mm), and higher if additional design features are added.
At Plas Meddyg Surgery, the shelter was built to an impressive 6000mm x 2500mm, and the opal polycarbonate roofing ensures that everyone (and everything!) beneath benefits from maximum weather protection – including from harmful UV rays. Another option for design adaptation is a choice of colour for the roofing panels. In some instances, for example, a nursery, a coloured roof can be an excellent choice for the children! Or, if you're looking for a more simplistic look, a clear roof looks great too.
Visual we created for Plas Meddyg Surgery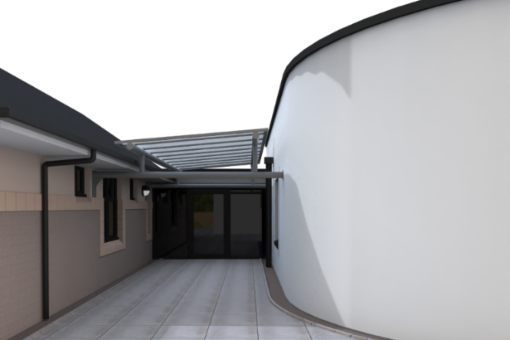 What was the result of their new entrance canopy?
The staff at the surgery are delighted with the wonderful addition to their healthcare facilities. From the moment a patient walks in, the surgery wants to ensure that they feel comfortable and at ease. Having the shelter means that once a patient arrives, they know they don't have to rush inside if the weather is unsettled outside. They can simply take a breath of calming fresh air before heading inside (and wipe their feet, to protect the carpet!). Similarly, on the way out of the surgery, patients can take a moment before they get back on with their day.
It also gives the staff the opportunity to go outside too, as we all know too well the benefits of spending time outdoors and away from the desk. Asides from these excellent practical benefits, the slate grey and opal roof together add a professional touch to the existing building – something that was commented on by a member of staff at the surgery, who kindly left us some wonderful feedback on the project.
How entrance canopies can create a good first impression and why you should consider installing one
Want an entrance canopy that extends your business's branding out to the front of your building? This can be an incredible way of making an impact on potential clients and passers-by while creating a professional and coherent visual style that shows you are a business that makes that extra effort. Your branding is your public image and it is key to how you promote and market yourself. Being able to extend this with wonderful door canopies and porch canopies is an superb opportunity for any company.
Read about the other reasons why businesses want to install entrance canopies here.
Testimonial / Client Feedback
"We are very happy with the entrance canopy, thank you. It looks very professional and like it has always been there.
May I take this opportunity to thank all of the A&S Landscape team, it has been a pleasure working with everyone all on this project. The team have all been so professional and thorough at every stage."
Jayne Reay, Quality Manager
About the client
Plas Meddyg Surgery is a medical surgery located in the small town of Ruthin, North Wales. From certain areas within the town, you will see lovely views of the Clwydian hill range, an area of outstanding natural beauty.
The team at A&S Landscape were delighted to visit this truly charming town and transform the outdoor spaces at this surgery. The staff were extremely helpful at each stage of the project and provided us with clear, specific requirements, that helped us to provide them with a suitable range of styles for their needs. We are glad that thanks to the new entrance canopy they are able to enjoy the fresh air of the beautiful Welsh countryside.
What's the difference between a straight roof canopy and a curved roof canopy?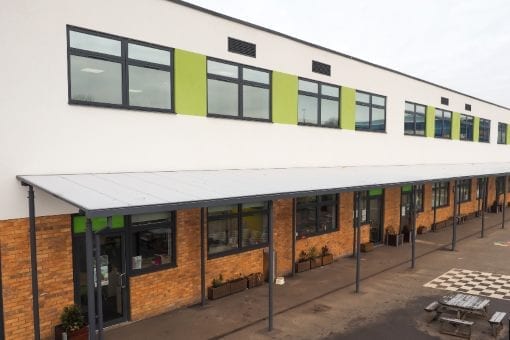 Like the one installed at the Denbighshire healthcare site, the Motiva Linear™ is our only flat roof variant from our extensive range of canopies. The flat roof is elevated higher on one side (monopitch), and so their usual configuration is against a building. This is why they make excellent door canopies, covered walkways, and classroom extensions. They also work just as well in open plan areas, where a freestanding canopy is required, and so are excellent for creating an outdoor dining area or covered outdoor spaces in general.
A curved roof canopy, on the other hand, has (as the name suggests), a curved roof. Despite being slightly more 'artistic,' these shelters still form a part of our range of polycarbonate canopies, and so are strong, long-lasting, and of the highest quality. They simply provide a wider range of styles to work with. Like the Motiva Mono™, which has a sweeping curve for the roof, and like its Linear sister, is monopitch, where one side is higher than the other. Again, this shelter is perfect when situated against a building.
Other curved roof shelters include the Motiva Duo™, Maxima Plaza™ and the Motiva Wave™. All polycarbonate roof canopies, they are united also by their solid steel framework, and their ability to be built to a wide range of sizes. All also have the option to add a coloured roof too, without losing any of the essential weather protection, including harmful UV rays. However, each one has its own unique 'curve' and wherever installed, they are sure to add some style and charm. This is why they are rapidly becoming one of the most popular choices for school shelters.
To find out more about our polycarbonate canopies, please call 01743 444100.
How can A&S Landscape help you find your perfect cover solution?
A&S Landscape has been leading suppliers for shelters in the UK for over 44 years, since we began as a small family-led business, with an interest in providing the means for spending time outdoors, even when the weather was poor. Since then we have built up a wealth of knowledge, and have developed multiple canopies as part of our range, all suiting the various requirements needed by our customers.
Whether you're looking for a straight roof canopy made from a polycarbonate roof or one of our fabric canopy structures, we will have a shelter that suits your needs. We're here to help you find the perfect solution.
If you'd like to know more about our product range, get in touch with our friendly team on 01743 444100 or at [email protected].
Read about some of our other canopy projects based in Wales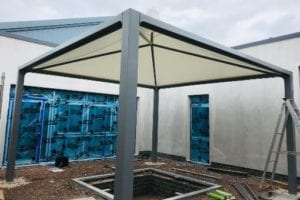 Cantilever Canopies and Fabric Tepee Made for Maes Ebbw School
In collaboration with our building contractor client our team designed six cantilever canopies and a tensile fabric roof Tepee for Maes Ebbw School Newport, Monmouthshire. The full contract involved six Motiva™ Cantilever straight roof polycarbonate canopies each measuring 6200mm X 2500mm and included for our Alu-Tuff™ aluminium box profile guttering and downpipes in matching Dura-coat™ colour finish and post protection pads. One Maxima™ Tepee tensile waterproof fabric roof structure measuring 5000mm X 5000mm including post protection pads.
Straight Roof Shelters We Installed at Manufactured for Coed Eva Primary School
Working for our building contractor client our team designed roofing to canopies for Coed Eva Primary School Teynes, Cwmbran, Monmouthshire . The contract included two straight polycarbonate (solid) roof measuring 48600mm X 3000mm.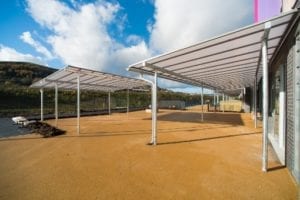 Polycarbonate Roof Shelter Made for Ebbw Fawr Learning Community
Our engineers made a straight polycarbonate roof canopy at Ebbw Fawr Learning Community Lime Avenue, Ebbw Vale, Blaenau Gwent. The contract included the supply and installation of one Motiva™ monopitch straight roof canopy measuring 14847mm X 12000mm with Alu-Tuff™ aluminium box profile guttering and downpipes which were coated in a matching Dura-coat™ colour finish.
Somerton Primary School Add Fabric Sail Shade to Playground
Working with a specialist firm of architects our engineers made a waterproof sail structure at Somerton Primary School Newport, Gwent. The contract included one 5000mm x 5000mm Maxima™ tensile waterproof fabric sail comprising of one square sail on four uprights including stainless steel fixtures and fittings.