Blackpool Aspire Academy add Outdoor Shelter
Blackpool Aspire Academy believe in success. They truly want their students to grow and develop into people who feel truly fulfilled. That attitude, that way of thinking translates into everything that they do, always asking 'what do our students need in order to be at their best'.
Project Specification
Product:

Motiva Linear™

Size:

38000mm X 6000mm

Steelwork:

Signal Green - RAL NO. 6032

Roof:
This means that Blackpool Aspire Academy never accept anything staying that same that really needs to grow. That includes their outdoor spaces.
When they called in A&S Landscape they were looking to improve their outdoor provision by providing an attractive but long-lasting canopy to protect their students from the weather.

We installed a Motiva Linear, 38000mm x 6000mm with Signal Green steelwork (RAL6032) and opal roofing. It's a canopy that looks professional and smart whilst also having a modern edge, meaning it looks great whilst doing its job brilliantly.
Also, because A&S Landscape uses only the best materials, Blackpool Aspire Academy will be using this outdoor shelter for years to come.
Should we treat eating outdoors as a necessity or privilege?
There are numerous recognised benefits to dining outside as a part of the school day. As students spend the whole day in a classroom environment, it is important that they are given time to breathe at lunchtime. In spending this break outdoors, it not only promotes a peaceful environment but can also reduce levels of hyperactivity in a child. If a pupil is forced to occupy their break inside, it can echo the classroom environment and stop them from taking a sufficient amount of time to relax. Eating outside is also an extremely sociable activity, unconfined by the dining hall setting pupils can mix with different year groups freely.
Over on our blog you can find out how schools can allow their students to eat alfresco regularly – click here.
You can find out more about the Motiva Linear here and browse a range of successful projects in our gallery here. Our download the datasheet for this straight roof shelter to see more information.
If you're looking to complete your own masterpiece then whether it is an outdoor dining shelter or a covered playground area, we have a solution. Contact us today to start working with our design team who will help you to clarify exactly which product will work best for you.
Have a look at some of the other featured projects we've completed in Lancashire
St Annes RC Primary School Add Straight Roof Shelter With Polycarbonate Roof
In collaboration with our building contractor client A&S built a straight polycarbonate roof canopy with roller shutter doors in St Annes RC Primary School Slater Lane, Leyland, Lancashire. The contract included the supply and installation of one Motiva™ monopitch straight roof canopy measuring 15050mm X 3075mm and included for our Alu-Tuff™ aluminium box profile guttering and downpipes which were coated in a matching Dura-coat™ colour finish. Also installed were electrically operated roller shutter doors and glazed panels to front and side elevations.
Fulwood St Peters CE Primary School Add Fabric Sail with Post Pads
Our engineers produced a sail and post pads for Fulwood St Peters CE Primary School Meadowfield, Preston, Lancashire. The contract included one 6784mm X 4916mm Maxima™ tensile shade cloth fabric sail and four post pads.
Secure Buggy Store Designed for Ditton Early Years Centre
A&S created a cyclo buggy store in Ditton Early Years Centre Dundalk Road, Widnes, Lancashire. Full details are: one Cyclo 'Buggy' measuring 4000mm X 2000mm. The job involved one Cyclo 'Buggy' measuring 4000mm X 2000mm.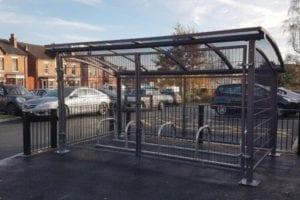 Robust Cycle Shelter Fitted at Fairfield Primary School
Our team made a cycle store in Fairfield Primary School Peelhouse Lane, Widnes, Lancashire. The job involved one Cyclo 'Bike' cycle store unit measuring 4200mm x 2400mm, which included for 5 cycle racks to accommodate 10 cycles with mesh panels to rear/side elevations and gates to front.
Straight Roof Shelter Installed at Woodlands School
Our engineers erected a straight polycarbonate roof canopy in Woodlands School Whitegate Drive, Blackpool, Lancashire. The full contract involved the supply and installation of one Motiva™ monopitch straight roof canopy.