Ranelagh School in Berkshire Install an Enclosed Dining Canopy
Ranelagh School in Bracknell, Berkshire is steeped in history, its majestic red brick buildings have been at the forefront of learning for over 100 years. As the school expanded, they wanted to add a comfortable, sheltered space for alfresco dining for their students to enjoy all year-round.
Project Specification
Product:

Motiva Linear™

Size:

18000mm X 6000mm

Steelwork:

Slate Grey - RAL NO. 7015

Roof:
What was the project?
To add a straight polycarbonate roof canopy to offer external dining at Ranelagh School in Berkshire
What was the problem?
With its stunning grounds, regal buildings and outstanding classification from Ofsted, Ranelagh School is home to some of the brightest young minds. The school had been considering increasing their dining provision for some time, and wanted to create a partially enclosed dining area that enabled students and staff alike to take their breaks in the great outdoors whilst also being protected from whatever was on the weather menu each day! The quality of the structure was as important to the school as the cost and they engaged with A&S Landscape to design a custom-made solution that ticked all of their boxes.
What was our solution?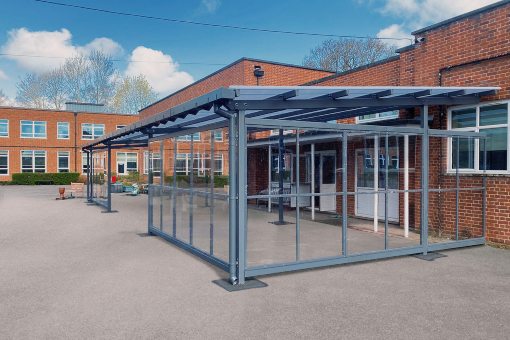 The school's brief was just the kind of project that our team love to get their teeth into. Sleek, modern and sturdy were the words of the day and we jumped at the chance to get cracking on a design we thought would fit the bill. Our Motiva Linear ™ straight roof canopy seemed like the perfect solution, working equally as well abutting the building as in an open space, it would enable the students to step right out of the building and immediately be protected from the elements which was a key point for the school. The straight monopitch roof would fit well with the existing buildings and by using the very popular and professional Slate Grey (RAL 7015) we could create a real juxtaposition between the traditional buildings and the modern, contemporary dining shelter.
What product did we use?
As soon as we sketched the straight-talking Motiva Linear ™ in situ both the school and the design team knew that this was the look they wanted to achieve. The Motiva Linear™ is not only the most cost-effective of our polycarbonate canopies, but it is also one of the most requested, its versatile and super strong design means it is much loved by nurseries right up to universities. Offering all year-round protection from the elements is what the Motiva Linear™ does best and by adding some unbreakable side panelling we could also shelter the students from the prevailing wind.
What was the result?
The finished result is striking, the cool, sleek grey really pings against the traditional red brick building adding a modern and contemporary twist. The canopy sits directly outside the building meaning there is no frantic dash to shelter in a sudden downpour. The students love the new addition and the staff are delighted to see their vision brought to life.
A little bit about the client…
The history of Ranelagh School is fascinating and entwined in everything they do, 'Seeking to build on the past, while looking to the future' is a key motto, with the school having been situated on the same site for over 100 years. Catering for secondary school age children, Ranelagh School also welcomes Sixth form students and is known for its academic achievements.
We really enjoyed working with this school and forged an excellent relationship with the Deputy Headteacher who led the project from its infancy right through to completion.
What is a straight roof canopy?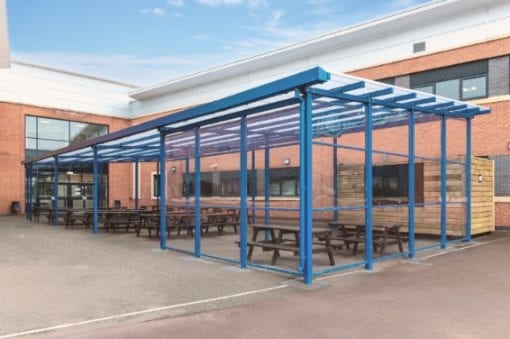 Our Motiva Linear™ is one of our longest-standing designs and it has stuck around for a very good reason! We can design and manufacture this ever-popular structure to any dimension. It works equally as well in the middle of the space as positioned up against a building meaning it is the design of choice for covered walkways, dining canopies, outdoor learning areas and many, many more. Our pallet of standard colours means it can be transformed from a primary school canopy offering fun and bold shelter to a minimalist and sleek college shelter in the blink of an eye. With multiple options to enclose this design it really does offer unrivalled all year-round protection.
Why are canopies perfect for senior schools?
We understand that many senior schools have an ever-increasing student intake. We have worked with hundreds of schools and colleges throughout the UK, to provide practical and economical solutions by expanding the use of their outdoor space. We have been lucky enough to partner with inner-city schools, small village schools and also vast, leafy schools located in Areas of Outstanding Natural Beauty and are proud to have found a workable solution for each and every one of them.
Whether your dining room is too cramped, and you can't stagger lunch breaks to reduce capacity or you need an undercover area for outdoor learning. Or if you are tired of soggy books and wet uniforms crowding your classrooms and think a covered walkway may be the answer then we have a design that will work for you. Our polycarbonate range of canopies can be manufactured to any dimension and even added to over time. And our range of fabric canopies adds a touch of artistic flair, whilst also providing robust and practical shelter from whatever the weather throws at us.
We would be glad to help you unlock the potential of your outdoor areas too, give our team a call on 01743 444100.
How A&S Landscape can help you
We have worked closely with the education sector for over 44 years and through this time we have listened to our clients to better understand the challenges they face. We have used this knowledge to develop a range of canopy solutions that are made from the highest quality materials and fit into the tightest of spaces or that can cover whole sports pitches.
Our flexible manufacturing processes and in-house design team means that we can tailor our package to your requirements, and if our designs don't quite fit what you are looking for we can develop a bespoke solution, just for you. If you would like to find out more then please do give us a call or drop us a line to talk to our friendly team.
Keep reading about more of our projects based in Berkshire
Loddon Primary School Add Straight Roof Shelter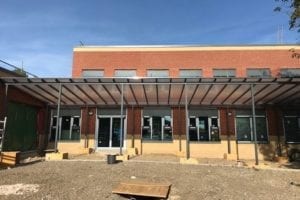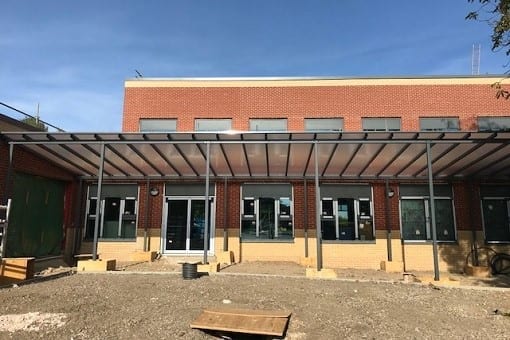 In collaboration with our building contractor client our team constructed a straight polycarbonate roof canopy in Loddon Primary School Earley, Reading, Berkshire. The job involved the supply and installation of one Motiva™ monopitch straight roof canopy measuring 8610mm X 3000mm and included for our Alu-Tuff™ aluminium box profile guttering and downpipes in matching Dura-coat™ colour finish.
Fabric Shade Sail Designed for Langley Academy Primary School
Working alongside our building contractor client our engineers built a sail structure for Langley Academy Primary School, Slough, Berkshire. The job involved three 4000mm X 4000mm Maxima™ tensile shade cloth fabric sail structures comprising of one square sail on four uprights including for all stainless steel fixtures and fittings.
Wall-mounted Fabric Shade Sails Designed for University of Reading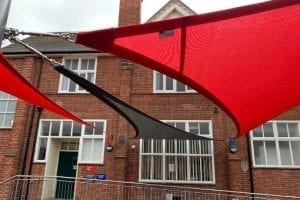 We constructed a sail structure in University Of Reading, Reading, Berkshire. The contract included four 4000mm x 4000mm Maxima™ tensile shade cloth fabric sails onsix uprights including for all stainless steel fixtures and fittings.
St Crispin's School Add Three Shelters to Site
Working for our building contractor client we built three straight polycarbonate roof canopies at St Crispin's School London Road, Wokingham, Berkshire. The full contract involved the supply and installation of three canopies. One Motiva™ monopitch straight roof canopy measuring 5800mm X 1600mm. Two Motiva Linear™ monopitch straight roof canopies to overall size of 3100mm x 2417mm and 5600mm x 5840mm all canopies included for our Alu-Tuff™ aluminium box profile guttering and downpipes which were coated in a matching Dura-coat™ colour finish.