Harrow Gate Primary Academy in County Durham Add Playground Canopy with Sides
The teaching staff at Harrow Gate Primary Academy wanted to make the most of their spacious outdoor patio. A canopy was suggested to protect the pupils, and play equipment, all-year-round
Project Specification
Product:

Motiva Linear™

Size:

8300mm X 6000mm

Steelwork:

Squirrel Grey - RAL NO. 7000

Roof:
What was the project?
To cover a large patioed play and learning area at Harrow Gate Primary Academy, Stockton-on-Tees.
What was the problem?
Harrow Gate Primary Academy in County Durham had a fantastic outdoor patio for pupils to play on and for teachers to extend learning facilities. Unfortunately, due to a lack of shelter, it wasn't really much use when it was raining. After a very helpful and responsive first meeting with A&S Landscape, the school decided to invest in a canopy to cover the patio and protect the pupils in bad weather.
What was our solution?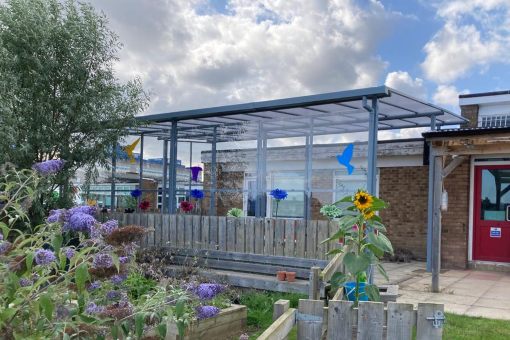 A linear canopy with a clear, glazed panel at the front was installed at the school. The glazed panel was decorated with a fun and colourful nature scene design made from vinyl.
The side sections of the canopy were installed with electrically operated shutters to create even more protection. Squirrel grey steelwork and opal polycarbonate roofing were used for a stylish and durable end product. This created a practical and modern solution to the issue of accessing the outside play area in bad weather, including high winds and harmful UV rays at the height of summer.
Which product did we use?
A straight polycarbonate roof Motiva Linear™ canopy was installed with a slight slope to ensure rainwater runs into the integrated guttering. The Motiva Linear™ is an all-weather product and is designed to withstand the elements. The Squirrel Grey steelwork looks stylishly subtle and the vinyl designs on the glazed panel wall further brighten the environment for the primary school children.
What was the result?
Staff and pupils at Harrow Gate Primary Academy were very pleased to have the chance to use their playground throughout the year. This sheltered space provides more opportunities to play outside as well as an extra classroom to ease overcrowding inside. School furniture and recreational and educational equipment can also now be left outdoors without it succumbing to the elements.
A little bit about the client…
Harrow Gate Primary Academy is an inclusive and welcoming community school in Stockton-on-Tees, County Durham. We loved the happy, safe and harmonious atmosphere and considered it a pleasure to be able to assist the staff, including Principal Mrs Vicky Galt, in their endeavours to raise achievement and aspirations for each and every pupil.
The whole team at Harrow Gate Primary Academy were lovely to work with and we were really proud of the canopy that has now been put in place above the outside patio play area.
What is a straight roof canopy?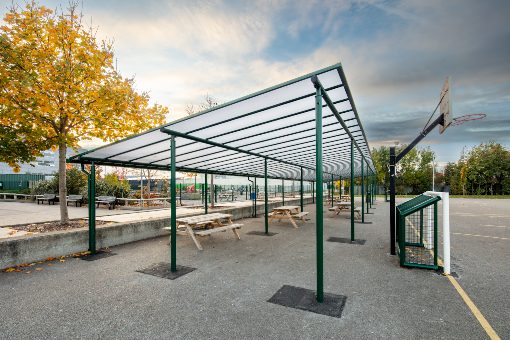 A straight roof canopy is often used as a shelter adjacent to an existing building. This style of canopy has a variety of uses ranging from covered walkways and communal areas to outdoor dining areas and additional classroom space. Straight roof canopies are designed to allow rainwater to run off without spoiling the colour of the polycarbonate roof. This is done by positioning the side that's against the building at a higher angle to form a slight slope down towards integrated guttering.
Why are canopies ideal for primary schools?
The majority of children, maybe after a little coaxing, enjoy being outdoors. This is certainly true during a day spent at school. Being outside at school isn't like being in a classroom; there's that added feeling of freedom as well as the natural health benefits associated with being in the fresh air.
The trouble is, in the UK, being outside all-year-round, isn't always an option. Rain, wind, and even extra bright summer days can cause us to stay inside. This is one of the main reasons that canopies for school playgrounds are ideal for primary schools. Creating sheltered areas outdoors is the best way to ensure primary school pupils get to make the most of their outside space, rain or shine.
Also, contemporary canopy designs can look rather cool and add that little bit of extra style to ensure children, and staff, take pride in themselves thanks to their upgraded educational environment.
From improving overall performance and children's health to providing additional learning and storage space, adding a canopy to a primary school is all about putting the pupils' wellbeing first.
However, don't just take our word for it. These testimonials from primary schools and other satisfied organisations are all you need to know about the benefits of protective canopies.
How A&S Landscape can help you
We've been creating, constructing and installing canopies for over 40 years. As a third-generation family business, A&S Landscape knows the importance of quality at a fair and honest price. We also value the relationship with our clients just as much as we appreciate our hard-working team. You're in safe hands with A&S Landscape.
Whatever you're hoping to achieve at your primary school, we can help you decide on the best possible canopy to suit your outside environment. No job is too small or too big. In the past we've worked with senior schools, sports centres and healthcare centres, to provide a massive range of canopies to cover an array of public and private sector areas.
If you want to find out more about our variety of canopies and learn more about our previous projects, please feel free to get in touch with one of our friendly and knowledgeable advisors on 01743 444100 or by email at [email protected].
Read about more of our projects located in County Durham
Rossmere Play Park Add Five Fabric Roof Tepee Structures
In combination with our building contractor client A&S made five tepees in Rossmere Play Park, Hartlepool, County Durham. The job involved the supply and installation of five Maxima™ Tepee tensile waterproof fabric roof structures each to overall sizes as follows: 1no. 4500mm X 5500mm linked to 2no. 4500mm x 4500mm linked to 2no. 3500mm x 3500mm.
Fabric Shade Sail Designed for Dawson Landscapes
Working alongside our trade partner our team created a shade sail at Dawson Landscapes Ltd, Hartlepool, County Durham. The contract included one 6000mm x 4000mm Maxima™ tensile shade cloth fabric sail including for all stainless steel fixtures and fittings.