Broadgreen Hospital in Merseyside Finds Ideal Shade Sail
Broadgreen Hospital loves the shade sail; it allows patients to use the therapy garden and enjoy the benefits of the outdoors for their mental health throughout the year. The sleek, fabric shelter has brought new life to the area without detracting from the surroundings.
Project Specification
Product:

Maxima StarSail™

Size:

6000mm x 6000mm

Steelwork:

White - RAL 9010

Fabric:
What was the project brief?
Broadgreen Hospital in Liverpool wanted to install a canopy in its therapy garden in order to shelter patients from the sun, wind and rain while they enjoyed spending time outdoors. The canopy needed to have an attractive, modern and calming design that reflected the purpose of the garden and made it an even more appealing space. It also needed to offer excellent coverage in all weathers. The team at Broadgreen Hospital wanted to work with a canopy expert on this project, so they contacted us – we were more than happy to help.
What was our shade sail solution?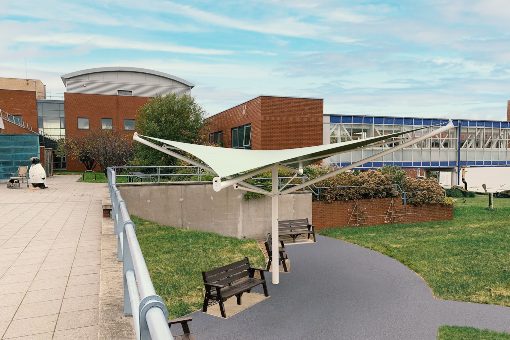 We talked to Broadgreen Hospital about the different shelters that could most benefit them and they decided on the Maxima StarSail™. This stunning model combines a shade sail and umbrella design, and its top-quality materials ensure that it has the longest guarantees in the market and can effectively shelter those beneath it. The staff chose white steelwork and a Moss Green roof, which made for a contemporary and relaxing look that worked perfectly in the therapy garden environment. The 6000mm X 6000mm canopy was also more than up to the task of withstanding the unpredictable British weather for the benefit of the hospital's patients.
What was the result of the new shelter?
Broadgreen Hospital loves the shade sail; it allows patients to use the therapy garden and enjoy the benefits of the outdoors for their mental health throughout the year. The sleek, fabric shelter has brought new life to the area without detracting from the surroundings and it's also an efficient rain and sun shade. The project was a huge success, and the staff were pleased with the finished product. A&S Landscape was thrilled that they could make a contribution to such a valuable part of Liverpool's community.
About the client
Broadgreen Hospital is part of the Liverpool University Hospitals NHS Foundation Trust. They say on their website that they 'aim to provide excellent, safe and accessible health care, supported by teaching and research'. Broadgreen Hospital has its patients' wellbeing at heart and it has ward facilities like a trolley service and Radio Broadgreen, which broadcasts from studios on-site. We found working with the staff to be a pleasure and wish them all the best for the future.
This client is situated in Liverpool, a popular and interesting city for local people – like patients of Broadgreen Hospital – and tourists alike. Music fans can explore The Beatles' connection to the area through attractions like the Cavern Club, while those eager to get their fill of the city's art and history can visit the Museum of Liverpool, Lady Lever Art Gallery and more. Plus, there are many outdoor spaces to experience, including the stunning Sefton Park, the largest Grade I listed park in the country.
What kinds of healthcare sites can benefit from installing canopies?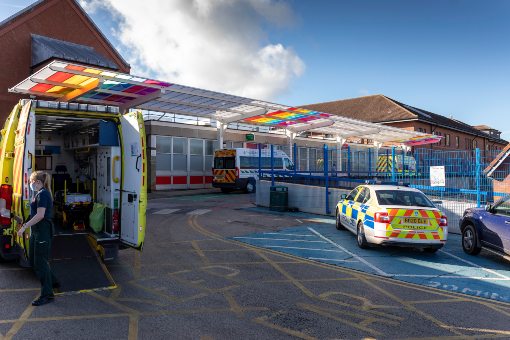 All sorts of healthcare sites should consider adding a canopy to their grounds, as the way they keep safety and wellbeing in mind aligns with the values of such facilities. A hospital could install a dining canopy to allow staff to eat in the fresh air in all seasons and take some much-needed time away from medical environments during breaks. A walk-in centre might add an entrance shelter to make the way in to its building more appealing and easy to spot, while a care home could look into covered walkway systems to keep residents and visitors dry when queuing or making their way to the car park.
As high temperatures and UV rays can affect those with underlying health conditions, single or multiple shelters can be incredibly useful for healthcare sites trying to further protect vulnerable people arriving at their facilities. They offer maximum protection in all sorts of weather. If you're interested in learning more about how canopies can help you and your patients, contact us now. Call us on 01743 444100 – we're ready to answer all of your questions.
In which locations does A&S Landscape provide shelters?
We are canopy and shelter specialists located in Shrewsbury, Shropshire – a central location in the UK that allows us to work across the country. This means that we can design, manufacture and install your canopy, no matter where you're based. We've previously provided shelters for customers in cities like London and Manchester, and rural locations as far from each other as Yorkshire and Somerset. You can be sure that we will offer you high-quality customer service and products throughout the entire process, whether you need your canopy installed at a school in a busy town or a park in the countryside.
Why not contact us for more information? You can email us at [email protected] today and we'll find you the perfect model for your needs.
Continue reading about more of our projects located in Liverpool
Monksdown Primary School Add Fabric Sail Shade to Playground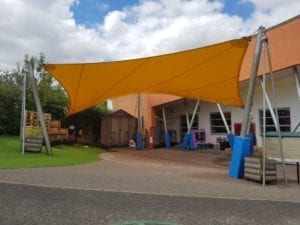 Our engineers built a sail structure at Monksdown Primary School, Monksdown Road, Liverpool. The full contract involved one 8000mm X 8000mm Maxima™ tensile shade cloth fabric sail including for all stainless steel fixtures and fittings.
Playground Shade Sail Designed for St Andrew The Apostle Primary School
We erected a sail structure in St Andrew The Apostle Primary School, Halewood, Liverpool. The job involved two 4000mm X 4000mm Maxima™ tensile triangle shade cloth fabric sail structures.
Covered Walkway Canopy Manufactured for Taskers Hunts Cross Garden Centre
Working with a prestigious client our engineers constructed a curved roof canopy at Taskers – Hunts Cross, Hunts Cross, Liverpool. The full contract involved one Motiva Mono™ monopitch curved roof canopy measuring 27000mm X 3000mm and included for our Alu-Tuff™ aluminium box profile guttering and downpipes which were coated in a matching Dura-coat™ colour finish.