Hoveton & Wroxham Medical Centre in Norfolk Add Canopy for Ambulance Bays
Hoveton & Wroxham Medical Centre was thrilled with their new ambulance bay canopy; paramedics don't have to worry about shielding patients in wet weather when getting them in and out of ambulances, and can instead focus on their essential work of caring for them.
Project Specification
Product:

Motiva Linear™

Size:

5500mm X 2000mm

Steelwork:

Slate Grey - RAL NO. 7015

Roof:
What was the project brief?
Hoveton & Wroxham Medical Centre in Hoveton, Norfolk needed a canopy to provide shelter for their ambulance bays. This would shield any patients being transferred from the centre to an ambulance – and vice versa – from the wind and rain, as well as protect the hard-working medical staff and paramedics helping them. A&S Landscape was delighted to be contacted by this organisation and soon got to work on helping them with this worthy cause.
What was our ambulance bay canopy solution?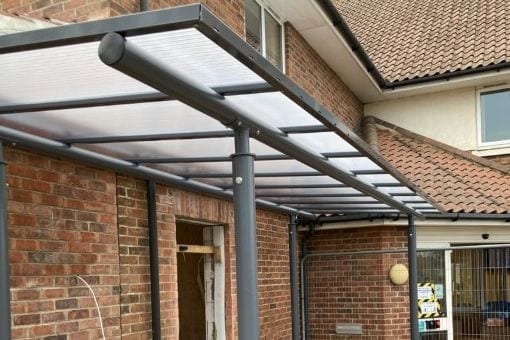 The team at Hoveton & Wroxham Medical Centre discussed a range of models with A&S Landscape, but eventually decided upon the Motiva Linear™. Their particular canopy cover was installed with measurements of 5500mm X 2000mm – this provided plenty of space in which to safely park ambulances and load or unload patients. This model has a monopitch (asymmetric) straight roof which means that one side is higher than the other, and it also works perfectly when placed right next to buildings like the medical centre. Hoveton & Wroxham Medical Centre chose an Opal roof and Slate Grey steelwork to achieve a subtle look that would blend well into their existing facilities, as well as offer high-quality shelter from the elements for medical staff and patients for years to come.
What was the result of their new shelter?
Hoveton & Wroxham Medical Centre was thrilled with their new ambulance bay canopy; paramedics don't have to worry about shielding patients in wet weather when getting them in and out of ambulances, and can instead focus on their essential work of caring for them. Plus, the medical staff can stay safe and dry themselves under the stylish, straight roof design! A&S Landscape was thrilled that the shelter met the centre's requirements and that it would help to make the jobs of many people in the medical profession a little easier.
About the client
Hoveton & Wroxham Medical Centre is a dispensing GP practice that provides health care for 9,000 patients in the local area. It supervises junior doctors as they train to become fully qualified GPs and is also a teaching practice for UEA medical students. The practice takes part in research studies and offers a range of services including routine vaccinations, maternity services, family planning and private medical examinations. In 2017, the Care Quality Commission reported that the centre was a Good provider in regards to standards of safety and quality. A&S Landscape found the staff there extremely pleasant to work with and was impressed by their dedication to their patients.
Hoveton & Wroxham Medical Centre is located in the village of Hoveton in Norfolk. It is twinned with Wroxham and the villages sit on either side of the River Bure, where they are known as the capital of the Broads. The area is frequented by visitors enjoying boating holidays and features many wonderful wetland trails. Local people, such as patients of Hoveton & Wroxham Medical Centre, are sure to find many outdoor options to boost their wellbeing in this beautiful landscape.
How can healthcare sites make use of canopies?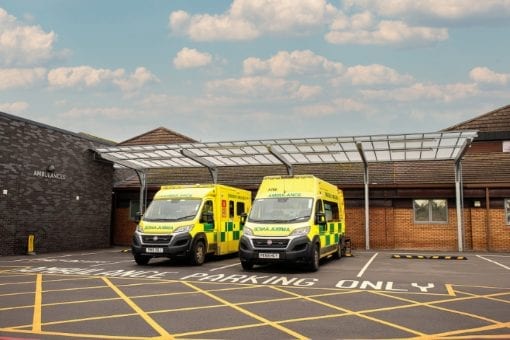 Sheltered outdoor spaces can often be spotted at healthcare sites such as clinics, care homes and hospitals, but how can they use them?
One reason they might be needed is to provide a canopy for ambulance drop-off points, so paramedics and patients can be shielded from the rain when moving in and out of vehicles and medical facilities. For centres with multiple buildings or complex layouts, a shelter might benefit them by identifying the main entrance. This can be effectively achieved with an entrance canopy, which can also offer protection from the elements for anyone waiting outside. Furthermore, outdoor queues for vaccinations or prescription collections can be more easily managed with a covered walkway, and staff can safely store their bikes in a cycle shelter.
Another way healthcare sites can benefit from canopies is by installing them to create an outdoor dining area. This can shield hard-working doctors, nurses, porters and cleaners on their breaks during all seasons and provide a safe space away from the hospital or clinic so they can take some time for themselves. It's safe to say that shelters can provide a wide variety of uses for healthcare settings, and A&S Landscape is proud to have worked with many such clients to improve facilities for staff and patients. If you'd like to find out more about installing your very own shelter, give us a call on 01743 444100 today.
Why should healthcare providers consider adding a shelter to their premises?
An increasing number of healthcare sites are opting to add canopies to their facilities, from ambulance depots to doctor's surgeries. But why are healthcare shelters rising in popularity so quickly? Shelters can have a great number of applications and bring a great number of benefits to healthcare sites, from providing a sheltered outdoor seating area for the patients to enjoy to creating covered walkways around large sites. Many site managers are recognising canopies as a cost-effective way of developing their sites and getting more use from their external areas.
Which locations does A&S Landscape install canopies in?
We are the leading provider of canopy systems in the UK and enjoy working with a range of businesses across the country. We have provided outdoor classroom buildings for secondary schools, transformed outside spaces for primary schools, shielded entrances of hospitals, installed dining shelters in parks, and more. So whether you're a school in London looking for a wooden outdoor classroom or a university in Wales looking for a cycle store, we can help you find the perfect model. Email us at [email protected] or call us on 01743 444100 now for more information.
Continue reading about more of our projects based near Norfolk in Cambridgeshire
Stapleford Primary School Add Shade Sail to Playground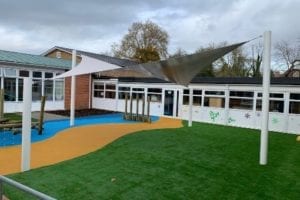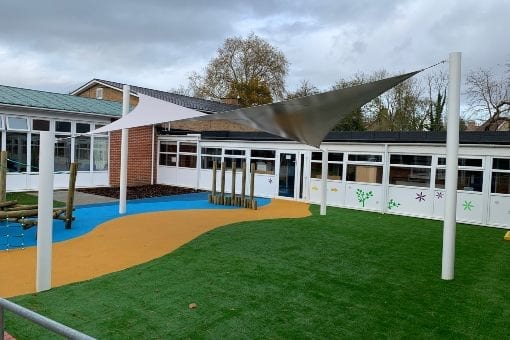 In combination with the specialist building contractor we produced a sail structure in Stapleford Primary School Cambridge, Cambridgeshire. The full contract involved one 6000mm X 6000mm Maxima™ tensile waterproof fabric sail structure comprising one sail on  4 uprights including for all stainless steel fixtures and fittings.
Curved Roof Shelter Installed at North Witchford Lodge
Working for our building contractor client A&S created a curved roof canopy at North Witchford Lodge Wimblington, March, Cambridgeshire. The contract included one Motiva Duo™ duopitch curved roof canopy measuring 4800mm X 3200mm and included for our Alu-Tuff™ aluminium box profile guttering and downpipes which were coated in a matching Dura-coat™ colour finish.
Fabric Canopy Designed for City College Peterborough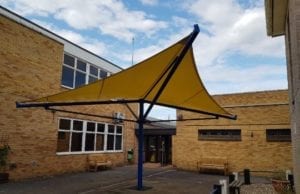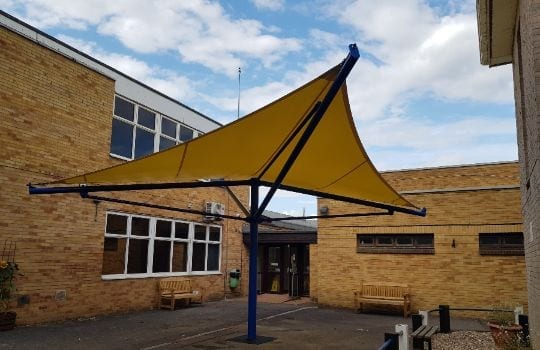 Our engineers made a StarSail in City College Peterborough Western Avenue, Peterborough, Cambridgeshire. The job involved the supply and fitting of one Maxima StarSail™ tensile waterproof fabric structure supported on a single upright measuring 6000mm X 6000mm.
Jesus College at the University of Cambridge Add Cycle Shelter
We designed a cycle store at Jesus College University Of Cambridge Jesus Lane, Cambridge, Cambridgeshire. The full contract involved one Cyclo 'City' cycle store unit measuring 5500mm x 2000mm.