Roecroft Lower School in Hertfordshire add School Canopy
The new sheltered outdoor area has brought countless benefits to the learning environment at Roecroft Lower School.
What was the project brief?
Roecroft Lower School in Hitchin, Hertfordshire, recognised the true value of having an outdoor canopy. Having already had a straight roof shelter installed in 2017 by A&S Landscape, they had seen first-hand the positive impact it brought to the pupils who attended the school. All-year-round access to the fresh air, numerous practical benefits, and not to mention the opportunities for outdoor education.
With the previous canopy exceeding all expectations, they knew that extending their covered outdoor spaces again would be another worthwhile investment. As A&S Landscape had previously supplied the school with a high-quality, efficient shelter, and been highly professional, they brought them on board once again to design and build an external canopy that matched the existing installation.
What was our school canopy solution?
The shelter matched the existing canopy, the highly popular monopitch Motiva Linear™. Built at an impressive 26300mm X 4600/1800mm, the flat roof canopy was elevated against a school building, and the steelwork finished to smartly match the green school colour (RAL 6005). The polycarbonate roof also offered choices in terms of colour and aesthetic, and in this instance, as they did before, the school decided on an opal roof, over the options for clear or coloured panels (a multicoloured canopy roof works great in a nursery or early years setting environment!).
Visual we created for Roecroft School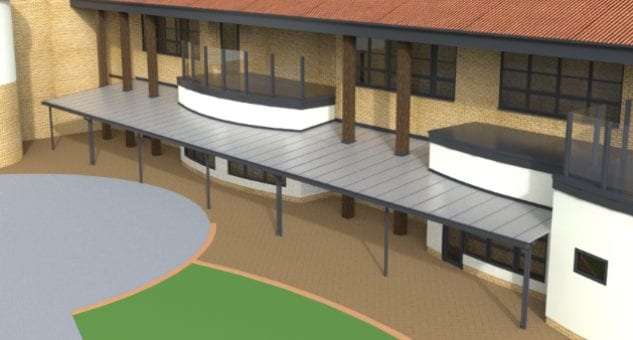 What was the result of their new shelter?
The new sheltered outdoor area has brought countless benefits to the learning environment at Roecroft Lower School. With the shelter extending along a wall which has multiple doors that lead into classrooms, it has meant that outdoor learning has become a norm. Teachers can easily switch between the indoor and outdoor classroom, and with the high-quality weather protection, their decisions are not dependable on the weather! It has spectacularly transformed the area into the ideal learning space.
The bespoke canopy also acts as a covered walkway, a place for parents to wait when picking up their children, and as a playground shelter. Naturally, the children are delighted with the latter – as it now means they are able to participate in outdoor play at all times of the year. This helps them to bond, create friendships, and socialise with each other, contributing to the holistic approach to learning, and to all-round good wellbeing. An effective shelter really does offer a multitude of advantages for young children, so to find out more give the friendly team at A&S Landscape a call on 01743 444100.
About the client
Roecroft Lower School is located in Hitchin, a market town in North Hertfordshire. The school caters for children from the ages of 4-11 and is a school rated 'Outstanding' by Ofsted. They are clearly passionate about their pupils reaching their full potential, and we were delighted to be involved with their latest canopy project. We thoroughly enjoyed the whole process, from the initial design discussions, right up until the final installation. We have no hesitation in saying that we hope to work with such a friendly team in the future, should they ever feel they want to further extend the covered areas within their school grounds.
What actions can we take against the issue of childhood obesity and why should we work to fix this crisis
Children are usually not in charge of the food they eat or the exercise they undertake. Furthermore, when they exercise, the respiratory implications and body weakness can result in embarrassment amongst their peers as they have trouble moving. However, it is important to promote healthier eating, more exercise, and help a child who lives with obesity in battling the depression, anxiety, stigma, and the health and academic repercussions linked with obesity, which is a task much more substantial than it first appears.
We can clarify some of the remedies Dame Sally Davies states in her report: Time To Solve Childhood Obesity into three factors.
• Children need to play outdoors.
• Children need access to a healthy diet.
• Policies need to be implemented by schools, manufacturers, health services, town planners and politicians to create better opportunities for children to have access to outdoor play and healthy food regardless of their social-economic position.
Discover how we can accomplish these goals and more over on our full article page.
What should you consider when choosing a canopy?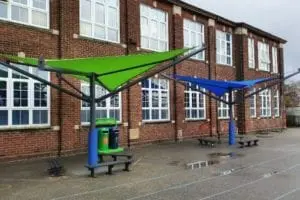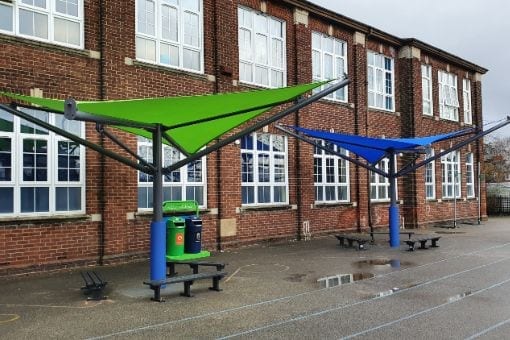 Choosing the right shelter for your needs is highly important; and deciding which features work best can seem like an overwhelming task, especially with the large range of options available. Fabric shelters, door canopies, a waterproof awning – how do you know which one is best for you? The answer is, you don't need to! When working with A&S Landscape, there is no need to know exactly what you want before you order, we are there to help you with every step of the process – including the design – and can transform your aspirations into a reality.
We may ask simple questions such as: are the overall aesthetics a focus for you? Does the canopy need to be both waterproof, or simply act as a sun shade during the summer months? What is your available budget (maybe you would benefit from reading our free funding guide)? These are all factors that we know will be important to you and are considerations that will help ensure that your outdoor space creates the perfect balance of outdoor and indoor.
That's why we will never present you with a predesigned canopy. We will take the time to create an overall design that fits perfectly with the surroundings, offers maximum protection and reaches its full potential i.e. achieving as many useful applications as possible (covered walkway, teaching area, dining area). From waterproof shade sails, to bike shelters, to canopies with shutters – whether you want stylish, or practical, or indeed both – we can find the perfect solution for you.
We are immensely proud of the high quality of work we provide to our clients – and look forward to helping you to find your ideal shelter. Don't hesitate, call us today on 01743 444100 or email us at [email protected], to speak with a member of our friendly team.
Take a look at some of our other projects completed in Hertfordshire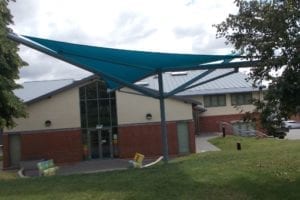 Fabric Shade Sail Structure Designed for Bishop Stortford College
We constructed a StarSail at Bishop Stortford College Bishops Stopford , Hertfordshire. The job involved the supply and installation of one Maxima StarSail™ tensile shadecloth fabric structure supported on a single upright measuring 7000mm X 7000mm.
Secure Buggy Store Manufactured for Marsworth CE Infant School
We erected a cyclo buggy store in Marsworth CE Infant School Marsworth, Tring, Hertfordshire. The full contract involved one Cyclo 'Buggy' measuring 5000mm X 2400mm.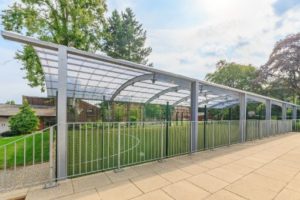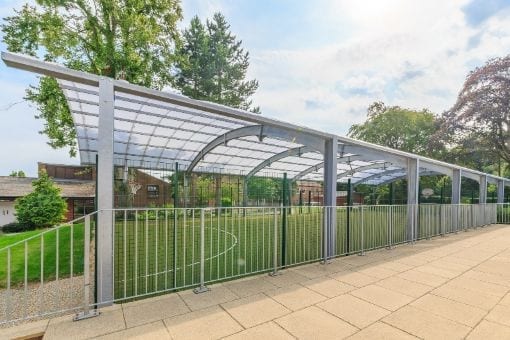 Haileybury College Add Cover to Multi Use Games Area
Our team created a dryMuga canopy in Haileybury Hertford, Hertfordshire. The full contract involved one Motiva™ drymuga™ duopitch curved roof sports canopy measuring 32000mm X 13200mm including for steel guttering and downpipes, 868 twin wire rebound fencing, complete with built-in five-a-side football goals and a basketball hoop. We also carried out the surfacing with the supply and lay of real Turf 'Colours' curled anti-static sports turf to the pitch area and supply and inlay of white lines for layout showing five aside football/ hockey markings all onto a schmitz Proplay MP interlocking re-cycled polyethylene foam shock-pad.
Roman Way First School Install Cantilever Shelter in Playground
Our team produced a cantilever canopy for Roman Way First School Burns Road, Royston, Hertfordshire . The job involved one Motiva Cantilever™ straight roof canopy measuring 19000mm X 2750mm with Alu-Tuff™ aluminium box profile guttering and downpipes which were coated in a matching Dura-coat™ colour finish.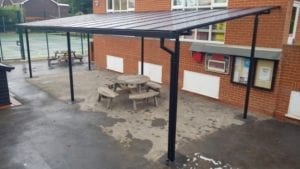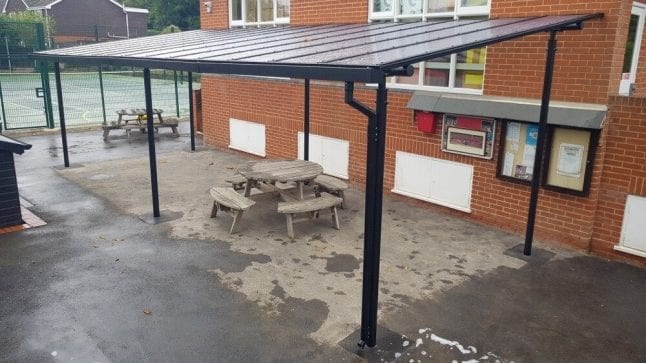 St Hilda's School Add Cover to Outdoor Play Area with Shelter
A&S made a straight polycarbonate roof canopy in St Hilda's School 28 Douglas Road, Harpenden, Hertfordshire. The full contract involved the supply and installation of one Motiva™ monopitch straight roof canopy measuring 9600mm X 2981mm complete with Alu-Tuff™ aluminium box profile guttering and downpipes which were coated in a matching Dura-coat™ colour finish.
Fabric Shade Sail Fitted at Tudor Primary School
In combination with an authorised reseller we designed a sail structure at Tudor Primary School Hemel Hempstead, Hertfordshire. The job involved one 10000mm x 5000mm Maxima™ tensile waterproof fabric sail structure comprising of two square sails on six uprights including for all stainless steel fixtures and fittings.