Sprouts Play Barn in Oxfordshire Add Yellow Fabric Play Area Shade Sail
To fit in with the bright and vibrant themes already in place, the perfect option was to install two Maxima Sails™.
What was the project brief?
The project at Sprouts Play Barn, Oxfordshire, was to create an area of shade and shelter for the outdoor play area. Sprouts Play Barn is a popular soft play centre for families with young children, and the indoor barn is often busy. Making the most of the outdoor play area was really important to the client so that they could enhance the customer experience for their visitors.
Already well-equipped, the only thing missing from the outdoor play area was a protected space where children could play even in the brightest sunshine.
What was our shade solution?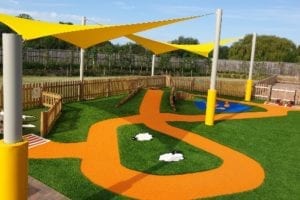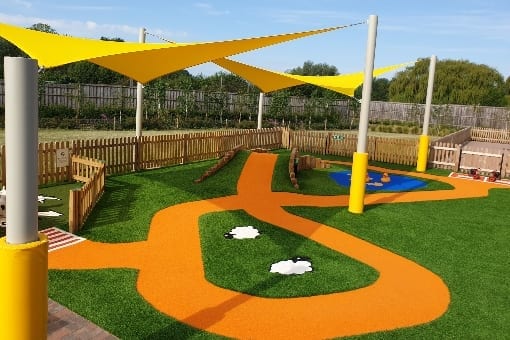 To fit in with the bright and vibrant themes already in place, the perfect option was to install two Maxima Sails™. The advantages of this type of shelter are that not only does it eradicate harmful UV rays, but it also reduces the temperature beneath making the play space comfortable even on the hottest days.
To achieve the best effect, A&S Landscape first visited the site to conduct a full survey. The design team could then to get to work on pulling together drawings to show the dimensions of the sails. This then informed where the supports would be positioned, and the configuration needed to create the maximum amount of shade.
What was the result of their new shade sail canopy?
The finished project was not just one shade sail but two. Both measuring 12 metres by 6 metres, the sails were made up in bright yellow which complemented the primary colours of the existing play area. The structure itself was constructed utilising six steel columns meaning that it was unobtrusive to the play area beneath. This made a safe and sturdy structure, enhanced with the addition of bright yellow post pads to match the sails.
For larger projects, A&S Landscape also offers the option of their Maxima StarSail™ canopy. This umbrella style canopy is a stunning alternative to other shelter options and can be used as a single unit or grouped together to create a real impact.
How playing outdoors can benefit school children with their development and how we can help them to spend more time outside
Multiple studies recognise that children's outdoor play is paramount for their healthy development and academic performance. This matter emphasises the benefits of outdoor play in early childhood on physical health, mental well-being, and social and cognitive development. It also identifies the need to change the trends so that children can have daily access to outdoor play. The extensive interventions required to reduce parents' concerns require practitioners' training, policy changes and improved urban planning for safer environments and natural play spaces.
Carry on reading to learn why outdoor play is so crucial for child development, why it is declining and how schools can respond.
About the client
Millets Farm Centre located just outside Abingdon-on-Thames in Oxfordshire is a destination centre offering everything from a family day out to a wedding venue, shops and pick your own fruit opportunities. One of their most popular attractions is Sprouts Play Barn which provides soft indoor play and an outside playground for young children.
Originally a 300 acre dairy farm, this family-run business is a much-loved attraction and even features in the 10 Best Things to Do in Abingdon-on-Thames on TripAdvisor. We thoroughly enjoyed the opportunity to work with such a great company, that also shares the same passion for encouraging outdoor play as we do. We hope we get to work with the fantastic team again, to further improve the facilities on offer at the play centre. A&S Landscape also worked with Gillotts School in Oxfordshire, where we added a curved roof white shelter.
Why invest in a shade sail canopy?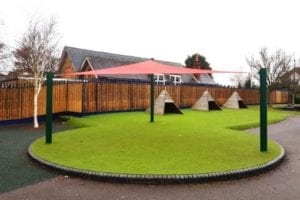 A shade sail can provide you with the ultimate flexibility. Choosing to have more than one sail as Millets Farm Centre did, offers the opportunity to cover a wider space. Multiple shade sails together also create an eye-catching look and add to this the variety of colours available for the canopy materials, you can get really creative. With a choice of shade cloth or waterproof PVC fabrics, a shade sail canopy can also provide an all-weather shelter for theme parks or other public attractions.
Installation can be achieved by either by root fixing the uprights, utilising base plates or through precast sockets. Shade sails can often be fitted to existing posts, and we can explore that with you in more detail. Full advice and support for the best options from design to fitting is available from our technical department. You can also download the Maxima Sail datasheet to find out more about this fabric sail canopy.
Why are canopies perfect for outdoor play areas?
Play is an integral part of learning, and research shows that learning outdoors adds to a child's experience. From increasing engagement to learning a wide variety of skills such as problem solving and resilience, being outdoors helps children to learn about themselves and others. Installing a canopy will open up more opportunities for children to experience the outdoor environment by providing shade and shelter. The fun design of a shade sail also adds to the convivial atmosphere of a great play area.
Our shelter solutions are also the perfect option for canopies for zoos and shelters at theme parks. You can read all about the different options available here. To help you pick the right shade solution, we have range of free downloadable resources including product brochures, datasheets and inspiration guides.
Why choose A&S Landscape?
Our diverse range of canopies, shade sails and shelters help businesses and schools to get better use out of their outdoor space. We've completed hundreds of successful projects across the UK, and building strong relationships with many companies and educational establishments. We pride ourselves on the fantastic feedback we receive from our long list of happy clients, which is ever-growing.
Start your next canopy project today by sending us your requirements to [email protected], or calling 01743 444100.
Take a look at other shelters we have installed across Oxfordshire
Chadlington CE Primary School Add Straight Roof Play Area Shelter
We made a straight polycarbonate roof canopy for Chadlington Ce Primary School Chadlington, Chipping Norton, Oxfordshire. The full contract involved the supply and installation of one Motiva™ monopitch straight roof canopy measuring 17000mm X 2050mm and included for our Alu-Tuff™ aluminium box profile guttering and downpipes in matching Dura-coat™ colour finish.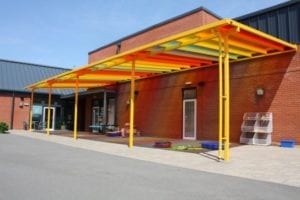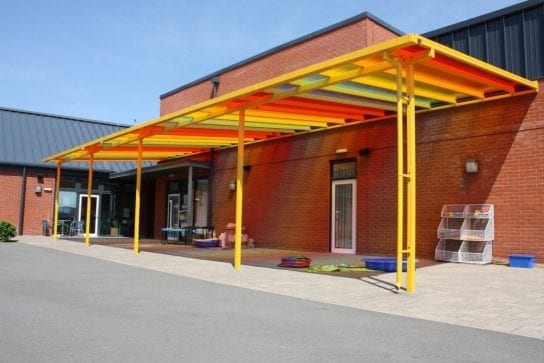 Colourful Canopy Installed at St Edburg's C of E School
Our team constructed a straight polycarbonate roof canopy in St Edburg's Cofe School Bicester, Oxfordshire. The job involved the supply and installation of one Motiva™ monopitch coloured polycarbonate straight roof canopy measuring 16000mm X 5000mm and included for our Alu-Tuff™ aluminium box profile guttering and downpipes in matching Dura-coat™ colour finish.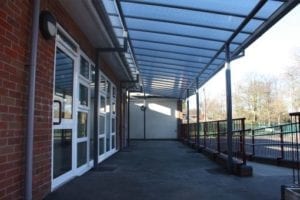 Our Lady's Catholic Primary School Add Straight Roof Playground Shelter
In collaboration with our trade partner we designed system 60 roofing in Our Lady's Catholic Primary School Cowley, Oxfordshire. The job involved supply and install two System 60 straight roof polycarbonate roofing including for all roofing bars and edge trims measuring 6000mm x 3000mm and 3000mm x 3000mm.
Wooden Planter Sail Designed for Barndao's, Summerfield Centre
Working for a prestigious client we built a planter sail structure for Barnado's – Summerfield Centre Abingdon, Oxfordshire. The job involved the supply and installation of one Maxima™ Planter Sail comprising of one 4000mm x 4000mm shade cloth fabric sail on 4 uprights including for all stainless steel fixtures and fittings.
Polycarbonate Roof Shelter Manufactured for Fitzwaryn School
Working with a commercial partner our team built system 60 roofing at Fitzwaryn School Wantage, Oxfordshire. The contract included supply a System 60 straight roof polycarbonate roofing including for all roofing bars and edge trims measuring 6m x 3.2m