Lord Derby Academy in Merseyside Adds Fantastic Dining Shelter to its Facilities
Everyone at Lord Derby Academy thinks that the dining canopy is a wonderful addition to their school. It has reduced pressure on indoor facilities and now the students have a choice of where to spend their break times.
Project Specification
Product:

Motiva Duo™

Size:

24000mm X 8000mm

Steelwork:

Wine Red - RAL NO.3005

Roof:
What was the project brief?
Lord Derby Academy in Huyton needed a dining canopy because they were lacking outdoor shelter for break and lunchtimes. They wanted to find a product with a colourful yet modern design that would revolutionise their outside space, while also protecting students eating beneath it from bad weather for many years. The school contacted A&S Landscape about this project and they soon got to work on finding the right shelter.
What was our canopy solution?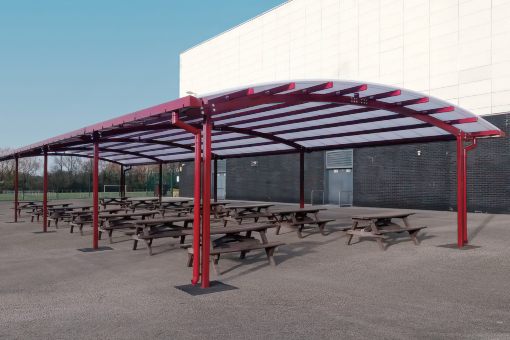 A&S Landscape has several products which can work well as a dining canopy but, after careful consideration, Lord Derby Academy decided on the Motiva Duo™. This model was a great choice because of its freestanding design, appealing curved roof and solid steel framework that offer long-lasting shelter from the elements. The Opal roof and Wine Red steelwork made for a vibrant, contemporary look that brought the school's grounds to life, and the 24000mm X 8000mm specifications created lots of space for benches to be installed underneath so children could enjoy meals and socialising with friends outdoors in all weathers.
What was the result of the dining shelter?
Everyone at Lord Derby Academy thinks that the dining canopy is a wonderful addition to their school. It has reduced pressure on indoor facilities and now the students have a choice of where to spend their break times. Being able to eat outside all year round will surely have a positive effect on their mental health. Furthermore, the canopy cover could even be used as an outdoor classroom to bring something new and exciting to lessons. A&S Landscape was thrilled to see how much the staff appreciated the completed project and hopes that this is just the start of their journey with installing outdoor facilities.
Testimonial
"The workforce has worked diligently and has been exemplary. The canopy has been well received by the school, has been installed to a high standard, the site has been kept to a high standard and nothing has been too much trouble for the workforce. They were courteous, kind and well informed."
Lord Derby Academy
About the client
Lord Derby Academy is part of the Multi-Academy Dean Trust and it caters for around 1,100 students from the ages of 11 to 16. The team there aims to develop the children's character with various enrichment opportunities and they encourage leadership and responsibility. The Dean Trust's mission is incorporated into all of their schools, which includes providing high-quality professional development for all staff, being fully inclusive and putting collaboration before competition. We found the team at Lord Derby Academy to be very welcoming and helpful during the installation project, and we are happy that the shelter will benefit everyone in their community.
Lord Derby Academy is located in Huyton in the Liverpool City Region. The city is packed with things for residents and visitors alike to do. There are many museums and galleries to explore – from the Merseyside Maritime Museum to the Tate Liverpool – a wonderful music scene that features the historic Cavern Club, and 200 acres of parkland in the Grade I listed Sefton Park. For any food and drink lovers, there are also countless restaurants serving a myriad of different cuisines and the Bordeaux Wine Festival takes place on Liverpool Waterfront annually. No matter your interests, you're sure to find something to enjoy in this vibrant city.
What should schools think about when designing an outdoor dining area?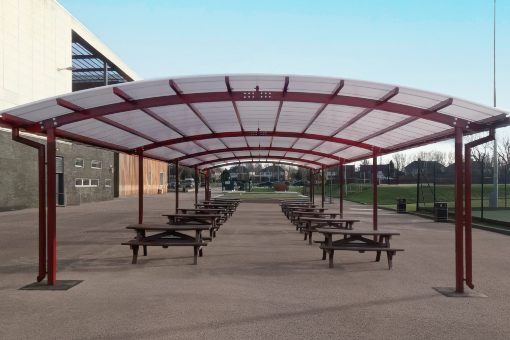 Creating the right space for dining outside at a school requires a lot of consideration, from obvious elements like size to factors like queuing areas. Institutions need to follow rules as set out by the Department for Education – here is some of the most important guidance that your facility needs to meet.
There are enough tables and seating for dining 'covers', which should be based on the estimated number of students who would eat lunch on-site divided by the number of 'sittings' at lunchtime.
There are adequate waste disposal facilities, bins, recycling points and clearance areas.
There is sufficient queuing space for staff and students while waiting to be served their food.
There is disabled and wheelchair access throughout the space.
The environment encourages a positive dining experience.
Whatever the amount of space available or the type of dining canopy you want to construct, A&S Landscape can help you to meet all of these requirements with affordable yet premium products that can revolutionise schools' outdoor areas. If you want to discover more about our company and how we work, give us a call today on 01743 444100. We look forward to hearing from you.
What makes A&S Landscape special within its industry?
A&S Landscape has been trading as canopy and shelter specialists for over four decades and remains steadfast in its connection to its family roots. We earn our clients' trust through hard work and achieving our commitments, and we always offer cost-effective shelter solutions because we understand how important value for money can be. We are also proud to hold many industry-specific accreditations, so you can be sure that by choosing us to install your canopy, you will receive the best possible service. Get in touch to have a conversation about your shelter needs by emailing us at [email protected] now.
Read more about our canopy installations near Merseyside in Liverpool
Covered Walkway Canopy Made for Taskers Home Store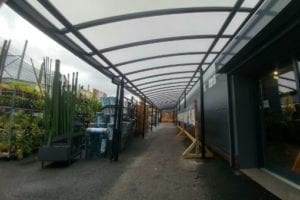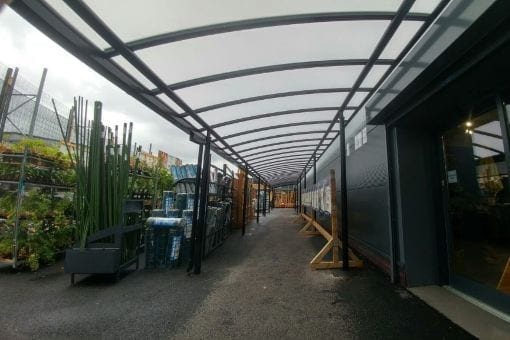 In combination with a prestigious client we built a curved roof canopy for Taskers – Hunts Cross Hunts Cross, Liverpool. The full contract involved one Motiva Mono™ monopitch curved roof canopy measuring 27000mm X 3000mm and included for our Alu-Tuff™ aluminium box profile guttering and downpipes which were coated in a matching Dura-coat™ colour finish.
St Andrew The Apostle Primary School Add Fabric Canopy to Playground
Our team produced a sail structure for St Andrew The Apostle Primary School Halewood, Liverpool. The contract included two 4000mm X 4000mm Maxima™ tensile triangle shade cloth fabric sail structures.
Monksdown Primary School Create Outdoor Covered Space with Shade Sail Structure.
A&S produced a sail structure in Monksdown Primary School, Monksdown Road, Liverpool. The full contract involved one 8000mm X 8000mm Maxima™ tensile shade cloth fabric sail including for all stainless steel fixtures and fittings.