Kings Hedges Educational Federation in Cambridge Install Two Straight Roof Canopies
Kings Hedges Educational Federation in Cambridge wanted to ensure that their pupils could enrich their daily experiences with outdoor play, regardless of the weather. The initial canopy, predominantly for the after-school club, was such a hit they decided to add another for the nursery children.
Project Specification
Product:

Motiva Linear™

Sizes:

11500mm X 5660mm | 11400mm x 4000mm

Steelwork:

Slate Grey - RAL NO. 7015

Roof:
What was the project?
To install two straight roof polycarbonate canopies directly outside the school buildings at Kings Hedges Educational Federation in Cambridge.
What was the problem?
Kings Hedges Educational Federation are proud to be right at the very heart of their local community. With a whole host of exciting after school clubs available to their pupils, they were finding that demand for slots was growing. Wanting to increase the space and capacity they had for book clubs, breakfast clubs and Friday clubs they decided that a crucial part of the programme was to offer the children a place to enjoy the latest Harry Potter or play with their friends in the great outdoors. Being outside is known to reduce stress levels and increase feelings of wellbeing, plus would assist with being able to increase capacity and with the weather in Cambridge renowned for being pretty damp, even in the summer, the school recognised the need to provide some additional shelter.
What was our solution?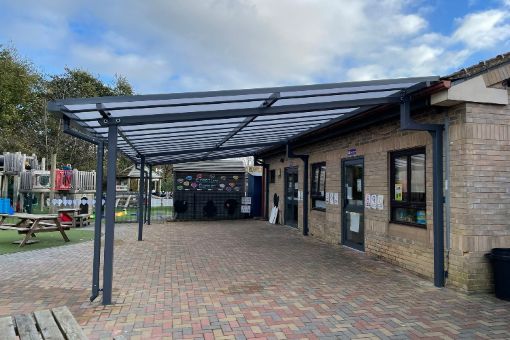 The school wanted a timeless, modern and sleek look that complemented the existing buildings without compromising on the quality. We suggested our ever-popular Motiva Linear™ straight roof canopy and offered the design with square posts to reinforce the chunky contemporary vibe. With the option to have the steelwork in any RAL colour we were confident that we could deliver exactly what the school had in mind.
What product did we use?
The Motiva Linear ™ is one of our best selling designs for very good reason, available in any size with a strong and durable straight monopitch roof, it is the ideal solution for abutting buildings. Featuring some of the longest guarantees on the market, this timeless classic now sits outside classrooms and in school playgrounds the length and breadth of the country. The endless colour choices mean that it is super versatile too!
What was the result?
The school were so happy with the finished result and the impact it had on daily life that they contacted A&S Landscape to draw up plans for an additional canopy for the nursery area. Opting for the same classic design, the drawings were swiftly approved, and the manufacture got underway.
Both canopies look striking, the cool and calm Slate Grey (RAL 7015) finish provides a stunning contrast between the lovely brick buildings of the school and the children are delighted that they can be outside in nature even on a damp and dreary day. The staff at the school no longer have to worry about arranging last-minute indoor activities if a sudden downpour occurs.
Following on from installation, we were delighted to receive the following feedback: 'A&S Landscape was professional from start to finish. From our first site meeting right to the sign-off. The installation team was very professional, friendly and a joy to have on-site, we look forward to working with you again in the future'.
A little bit about the client…
Kings Hedges Educational Federation believe in 'excellence achieved through care, creativity and challenge and this is at the core of everything they do. As a culturally diverse school, they recognise the importance of strong community ties and the school council are passionate about arranging regular charity events
The willingness by staff to go the extra mile is plain to see and the team at A&S Landscape loved working closely with them to bring this project to life.
What is a straight roof canopy?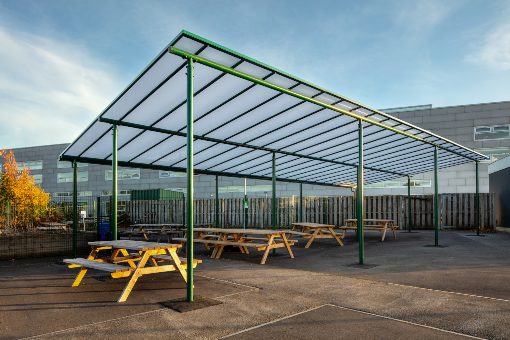 The Motiva Linear ™ is probably one of the strongest canopies on the market. Designed especially for the education sector, its versatile nature means that it is the perfect design to cover a walkway, offer a fun and cheerful place to play and even provide shelter for outdoor dining. With a range of options available to enclose this structure, it truly is one of our most popular designs for very good reason.
Not only is the Motiva Linear™ available in any RAL colour, but it also has the option to have a unique rainbow coloured roof. This provides a splash of colour and more than a sprinkle of cheer such as the multicoloured roof canopy we installed at Queen's Hospital Burton upon Trent.
Why are canopies perfect for primary schools?
Being outdoors is now more important than ever, not only does it offer a chance for little legs to run off steam, it also frees up capacity within the school building reducing the headache of indoor play on a wet day.
A&S Landscape is proud to have worked with primary schools and nurseries throughout the UK to design and install custom made canopies that provide shelter for queuing parents, storage for wet wellies and a safe and sheltered space for children to play outdoors.
The varied British climate offers many challenges to educational settings, those scorching hot days of June mean that UV protection is of vital importance and the everlasting damp and dreary winters can often hamper lunchtimes and break times. Whether you need a shade sail for your playground or a canopy to enable outdoor learning we are sure to have the solution for you. Our friendly and knowledgeable team look forward to hearing from you.
How A&S Landscape can help you
We are proud to have partnered with schools, nurseries, universities and colleges for over 44 years and by taking the time to listen, we have learnt all about the challenges that are faced daily, With this in mind, we have expertly designed a range of canopies and outdoor structures that provide the perfect solution.
We believe in close collaboration, an energetic and dynamic approach to design and in only using the most robust of materials to ensure that our structures will pass the test of time whilst enriching the outdoor lives of pupils and staff members alike. Give us a call on 01743 444100 to learn more about how we can help you.
Continue reading about more projects based in Cambridge
Robust Cycle Shelter Designed for Jesus College University of Cambridge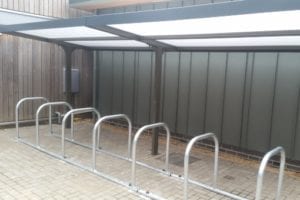 We designed a cycle store for Jesus College University Of Cambridge, Jesus Lane, Cambridge, Cambridgeshire. The job involved one Cyclo 'City' cycle store unit measuring 5500mm x 2000mm.
Curved Roof Canopy Installed at North Witchford Lodge
Working alongside our building contractor client we created a curved roof canopy in North Witchford Lodge, Wimblington, March, Cambridgeshire. The full contract involved one Motiva Duo™ duopitch curved roof canopy measuring 4800mm X 3200mm and included for our Alu-Tuff™ aluminium box profile guttering and downpipes which were coated in a matching Dura-coat™ colour finish.
City College Peterborough Add Fabric Shelter to Campus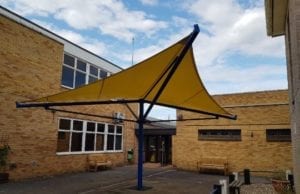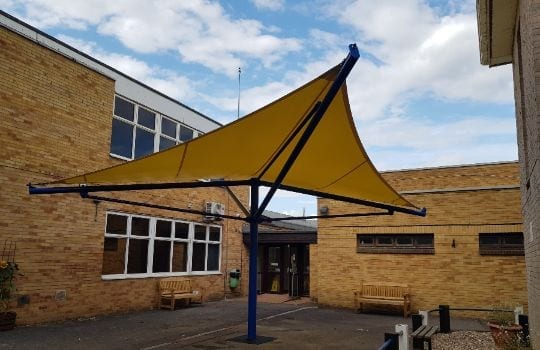 We created a Maxima StarSail™ at City College Peterborough, Western Avenue, Peterborough, Cambridgeshire. The full contract involved the supply and fitting of one Maxima StarSail™ tensile waterproof fabric structure supported on a single upright measuring 6000mm X 6000mm.
Outdoor Playground Shade Sail Made for Stapleford Primary School
Working with the specialist building contractor our team designed a sail structure for Stapleford Primary School, Cambridge, Cambridgeshire. The full contract involved one 6000mm X 6000mm Maxima™ tensile waterproof fabric sail structure comprising one sail on 4 uprights including for all stainless steel fixtures and fittings.