Bluebell Park School in Liverpool Refurbish Playground Shade Sail
With a wide variety of canopy covers on offer, we are able to give you lots of options when it comes to repairs or replacements. Our extensive choice of sail covers means that there is a whole range of configurations available for your new sail canvas.
What was the project brief?
When there is a tried and tested element of a school playground that is both popular and necessary, there is no question about whether or not to refurbish it if it falls into disrepair. That was what Bluebell Park School in Liverpool felt when their playground sun shield sail fabric cover needed to be replaced. A central feature of their fun, colourful play area, the tensile canopy system was still solid and robust, but the sail cover just needed a little bit of TLC.
It was the natural choice for Bluebell Park School to reach out to A&S Landscape for help when the time came to replace the fabric.
What was our sun shelter solution?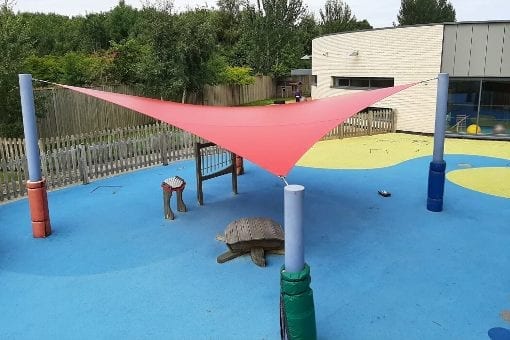 When you buy an A&S Landscape canopy cover, you are assured of a high-quality product and installation, and you also benefit from guarantees of up to 25 years. Once installed, there is little maintenance required, but we do recommend a periodic check and clean. Occasionally, there will be repairs needed, and as was the case for Bluebell Park School, a replacement part was required.
With a wide variety of canopy covers on offer, we are able to give you lots of options when it comes to repairs or replacements. Our extensive choice of sail covers means that there is a whole range of configurations available for your new sail canvas. In a playground situation where pupils have become used to the shade and shelter offered by an existing canopy cover, it really does make sense to ensure that this fabulous resource is kept in tip-top condition.
For our skilled and experienced installation engineers, the replacement of a sun shield sail is a quick and easy job with minimal disruption to you. Once you have selected your preferred fabric type and colour from our range, then it's just down to manufacture and installation. For Bluebell Park School the chosen colour was a vibrant red, which was perfect for contrasting with the primary colours of the existing post pads, as well as the colourful elements of the surrounding playground area.
The beauty of the A&S Landscape sun shelter range is that there is a great array of different options. Our range is specifically attractive as school playground shelters, and with the option to choose from fabric sail canvas or waterproof shade sail, you're spoilt for choice. As Bluebell Park School demonstrate, once installed and enjoyed by the school's pupils, it becomes an essential part of the playground infrastructure.
What was the result of their new sun shelter?
The colourful red of Bluebell Park School's brand-new tensile canopy cover is now a fun and eye-catching addition to the playground area. It fits beautifully in with the blue and yellow playground floor, and complements the play equipment, adding a real pop of colour to the area.
By investing in the maintenance of their existing sail cover, Bluebell Park School have also invested in the on-going enjoyment by their pupils of this lovely playground area.
About the client
Bluebell Park School was purpose built as a special school providing education to pupils with Educational Health and Care Plans and high level, complex medical needs. The needs of their children include severe learning difficulties, physical and medical difficulties as well as severe Autistic Spectrum Conditions and high need complex medical needs. Their mission statement reads: 'Learn about our world, care for others and celebrate achievement', and at their last Ofsted assessment, they were deemed to be a good school.
Benefiting from a strong community with a child-centred approach to promote individual achievement and independence, it's a much-loved school. That strong community feel certainly came through when Bluebell Park School was the victim of thieves who stole garden equipment in 2020. One mum took it upon herself to start a fundraiser to replace what was taken and smashed her target by more than double! That close relationship between school and parents certainly worked in a positive way in the face of this heartless crime.
Why invest in a sun shade?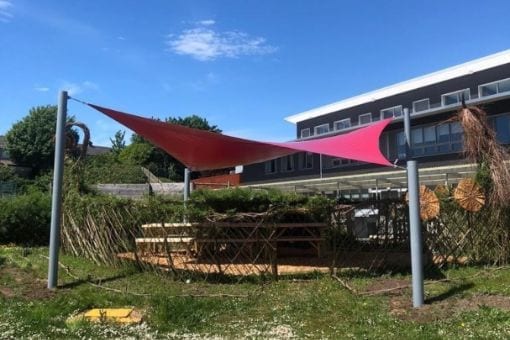 For many schools, the addition of a shade sail has resulted in a huge improvement in their outdoor areas. Whether you have an area of the playground with no shade, or if you are looking for outdoor classroom ideas, this type of shelter solution can offer many benefits.
A&S Landscape has worked with many schools over the years, from early years education providers to primary and secondary schools. We believe that there is a canopy type to suit every situation, and our past customers certainly agree! And with the fun and colourful options available for shade cover fabric, it's easy to see why your school's pupils will love having a shade cover in the playground.
What is a tensile canopy system?
The canopy architecture of the Bluebell Park School shade cover was based upon a tensile canopy design. This means that the design of the shelter is based upon a simple four post tensile structure system. This enables the sail canvas to be fixed in place, creating that eye-catching 'sail' effect of the fabric almost floating above. This creates a shaded space beneath that can eliminate harmful UV rays, as well as reducing temperatures and making for a really comfortable and safe place for children to play.
Why choose A&S Landscape for your sun shade?
By choosing A&S Landscape you are choosing an industry leader in the design, manufacture and installation of school canopy covers. With a track record spanning in excess of 40 years, choosing us means accessing our expertise and knowledge. To find out more about how we can help you, reaching out to us is simple. Complete our online enquiry form or call us on 01743 444100.
Read about more of our projects based in Liverpool
Large Playground Shade Sail Designed for Monksdown Primary School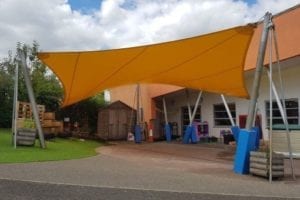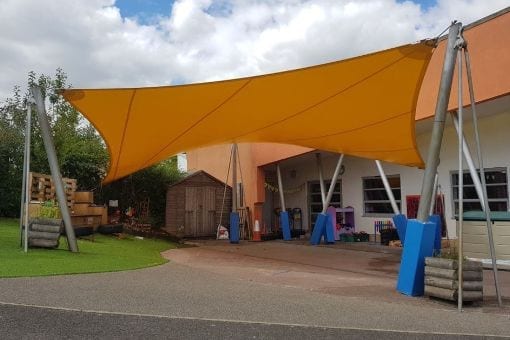 A&S designed a sail structure for Monksdown Primary School Monksdown Road, Liverpool. The job involved one 8000mm X 8000mm Maxima™ tensile shade cloth fabric sail including for all stainless steel fixtures and fittings.
St Andrew The Apostle Primary School Add Fabric Canopy
Our engineers designed a sail structure at St Andrew The Apostle Primary School Halewood, Liverpool. The job involved two 4000mm X 4000mm Maxima™ tensile triangle shade cloth fabric sail structures.
Curved Roof Covered Walkway Installed at Taskers Home Store
In combination with a prestigious client our engineers made a curved roof canopy at Taskers – Hunts Cross Hunts Cross, Liverpool. The contract included one Motiva Mono™ monopitch curved roof canopy measuring 27000mm X 3000mm and included for our Alu-Tuff™ aluminium box profile guttering and downpipes which were coated in a matching Dura-coat™ colour finish.