Play Area Canopy Installed at Bridlewood Primary School in Swindon
Posted on 30/10/2019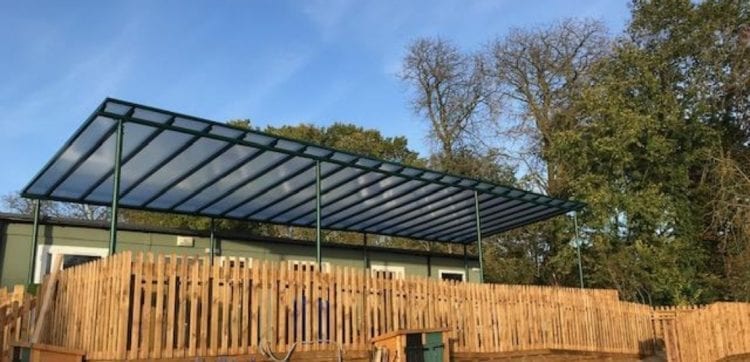 Bridlewood Primary School in Swansea wanted to add a covered play area outside of their new nursery classrooms. A&S Landscape was proud to have helped the school transform their outdoor space.
Project – Bridlewood Primary School add straight roof canopy in Swindon
Product – Motiva Linear
Requirement – The young children at Bridlewood Primary School couldn't play outside when the conditions were poor and had to stay inside. The staff decided to install a canopy which would allow the pupils to play outside, even when the conditions were poor. A&S Landscape worked with the school to design and install a canopy which met their requirements.
Solution – A straight roof canopy was built in front of the nursery classrooms, on the timber decking area. The Motiva Linear features Moss Green steelwork, which works perfectly with the surrounding buildings. The clear polycarbonate roofing also allows sunlight through but helps to protect the children from getting burnt. Measuring 15000mm X 6000mm, there is plenty of space under the shelter for the children to use.
Result – The nursery children at Bridlewood Primary School can play outside throughout the year. Come rain or shine, playtimes can be enjoyed in the fresh air on the decking. This gives the children more space to play and the chance to let off some steam.
Find Out More – From universities to nurseries, A&S Landscape provides canopies for a range of uses. Browse our gallery or recent projects for inspiration. Or you can get in touch with our friendly team on 01743 444100.