School Canopies in Wiltshire
When it comes to outdoor shelters for schools, A&S Landscape are professionals to turn to. With over 40 years of experience, our specialist team have completed projects across the country, including Wiltshire. From large dining canopies for colleges to shade sails for nurseries, our product range has something for every need.
As canopy and shelter specialists, you know you will be getting a high-quality structure when you work with us. It's our expert advice that gives the finishing touch to our jobs and ensures that every client is left happy and satisfied. From our friendly office team who will help with your initial enquiry to our installers, everyone at A&S Landscape is on hand to help make your project a success.
And you don't just have to take our word for it. Check out some of our latest client testimonials to read and hear what they have to say about working with us. Ready to get in touch? Email us at [email protected] or fill out our online enquiry form.
Curved Roof Canopy Designed for Covingham Park Primary School in Swindon
Covingham Park Primary School in Swindon, Wiltshire, was looking to provide their pupils with the best possible learning environment by expanding their facilities. This meant having access to the outdoors at all times of year – even when it was raining – and therefore, they required a practical primary school shelter solution. This is when they brought in A&S Landscape, a family-led business specialising in canopy design, manufacture and installation.
From tensile canopy systems to straight roof shelters, the school had an extensive range of canopies to choose from. However, with the knowledge and expertise from our designers, the school decided on the Motiva Mono™, the monopitch, curved-roof variant of the popular Motiva range. This means that one side is elevated higher than the other, and usually configurated against a building, as it was at Covingham Park Primary School. Finishing the traditional steel structure with post pads up to 1200mm high, and an opal polycarbonate roof, the structure is both practical, and sturdy.
This Swindon primary school has seen a hugely positive impact on their ability to teach effectively. Pupils now have the time to blow off steam during their break time, and teachers can even use the outdoor space as an outdoor classroom with the addition of simple equipment. To find out more about how A&S Landscape can help you find your perfect cover solution, please call our friendly team on 01743 444100 or use our contact form.
Duo of Entrance Shelters Supplied to Great Western Hospital in Swindon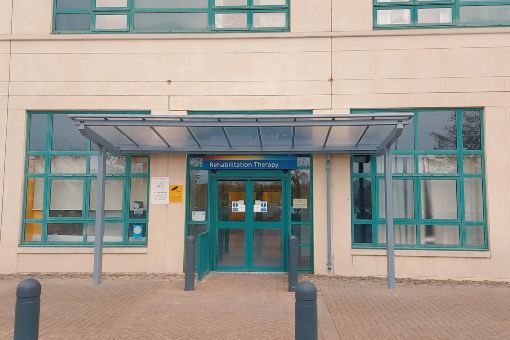 Great Western Hospital in Swindon wanted to improve the look of its site, focusing on the ways in, with two entrance canopies. The team at the facility – which offers many services, from emergency care to maternity – thought the products should make the entrances easier to find and more aesthetically pleasing, while protecting those in their community from the elements. We were pleased to be approached and took on this task with the determination to get it just right for our client.
Following talks with us about the different ways forward, Great Western Hospital chose a bespoke Motiva™ canopy for its first entrance shelter. This was an ideal pick to gain the benefits of a specially tailored, custom canopy. They also loved the Gullwing style, Opal polycarbonate roof and Anthracite Grey steelwork which looked striking and welcoming in situ. For the second canopy, the staff decided on a Motiva Entrada™ with Squirrel Grey steelwork and a Clear roof that has an attractive, angled roofline to efficiently shield people in the rain.
The duo of entrance shelters looks really at home at Great Western Hospital. The designs provide appealing variation without contrasting too much with each other, and they have boosted the positive feel of the site. Now, visitors can find the ways in without a second thought and are kept dry upon arrival in bad weather, so they can focus on their business at the facility. Find out more about A&S Landscape and our products by emailing us at [email protected].
Watch what the School Business Manager had to say about working with A&S Landscape
Cycle Shelter Built at St Joseph's Catholic School in Salisbury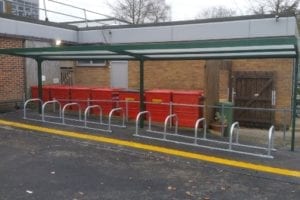 A&S Landscape installed a Cyclo City™ cycle store to the size of 8160mm x 2000mm, with Green RAL 6005 steelwork and clear roofing. The cycle store included 10 cycle racks which allow for up to 20 bicycles to be safely stored on campus. It looks rather smart too if we do say so ourselves!
Now there is no excuse; students, teachers and even visitors can now cycle to St Joseph's Catholic Primary School, safe in the knowledge that they can securely store their bicycle on site. People invest a large amount of money in their bicycles and they want to be sure that they have a robust cycle store to keep their investment safe.
To read more about our cycle stores, look online at our website. You can also see nearly 1500 images in our gallery, which shows the wide range of canopy, shelter and cycle store projects that we have completed for our clients. If you would like to discuss any requirements, please call a member of the team on 01743 444100.
Greentrees Primary School in Salisbury add Bright School Playground Canopy
A&S Landscape has been working with schools to transform their outdoor areas for more than 40 years so we knew that our wide range of products would have just the thing for the job. The Maxima Tepee™ was chosen as the best solution and we installed the canopy at a size of 6000mm x 6000mm, with waterproof PVC fabric. The posts were Grey (RAL 7037) and the fabric roofing was Green (RAL 6016).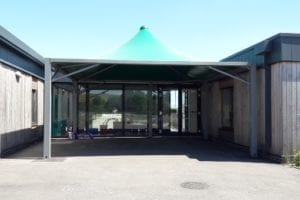 The resulting canopy looks really striking in the playground. It adds a large space for the pupils to enjoy and the school add "Fabulous, we are very happy. The children are delighted with the canopy and used it in the brief spell of sunny weather as well as on a couple of rainy days!" A&S Landscape has a wide range of canopies. In our gallery, you will see more than 1,000 photos of our previously completed projects. Take a look to get some inspiration at our gallery.
Multicoloured Shelter at Ashton Keynes C of E Primary School in Swindon
What was the problem?
Based in a Victorian school building, the children of Ashton Keynes Primary School loved learning in such an inspiring and unique environment. However, they often couldn't enjoy their outside spaces due to the unpredictable weather. To create an area of shade, the school contacted the experts in school canopies, A&S Landscape.
What was our solution?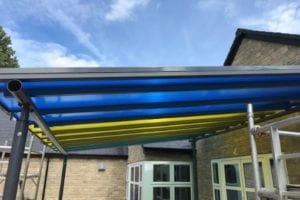 After reviewing photos of the proposed area and considering the school's requirements, it was decided to install a straight roof canopy from the Motiva Linear™ design. Often used to create covered walkways and entrance canopies in a school environment, this versatile shelter would be the perfect fit for the space.
To match the school colour scheme, we added a pattern of colours to the roof of the canopy. Daffodil and Lagoon Blue polycarbonate sheets were chosen, as they would create a colourful feature while providing UV ray protection.
What was the result?
It's safe to say that Ashton Keynes Primary School is thrilled with the new playground canopy! The pattern roof adds a splash of colour to the play area, encouraging the young pupils to play underneath the straight roof canopy.
Now the lucky pupils can enjoy their playground all-year-round, regardless of whether it is rainy or sunny. The teachers can also make use of the newly created covered area, by taking their classes outside. And with the addition of some street furniture, this structure could also be used as an outdoor dining space, saving room inside the existing hall.
A little bit about the client…
Ashton Keynes Primary School is located in the town of Swindon, in Wiltshire. Like many other local schools, this school places a huge emphasis on providing learning opportunities in and outside of the classrooms. With a range of great outdoor facilities, it's no surprise that the team also wanted to add a playground shelter to the site. We thoroughly enjoyed working with everyone at the school, and it's great to know that our canopy will play a part in the educational journey of the young pupils.
Where can our canopies be used?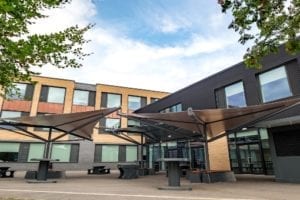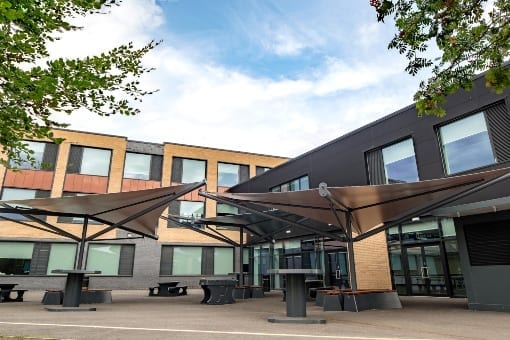 Our wide range of shelters and shade sails can be used at a variety of sites, not just at primary schools.
Stylish Yet Practical Solutions
For example, a tensile fabric structure, such as our Maxima StarSail™ would be ideal for creating a stylish design statement in a town centre, university campus or a leisure centre. Designed with a singular upright, this funky tensile fabric sail will maximise the amount of covered space it creates. You can also choose the colour of the tensile roof fabric to match your branding or logo.
Perfect for Public Attractions
We've also installed our popular Maxima Tepee™ tensile structure at several public attractions across the UK, including theme parks. The fabric ceiling creates an inviting environment for your guests to enjoy a refreshment or wait for a ride. Additional extras can also be added, like heating, lighting and curved benches to create a useable space throughout the year.
Versatile Curved Roof Designs
Or our curved roof canopies, like the Motiva Duo™, could the perfect product to create a covered performance area for outdoor plays. The curved ceiling panels help rainwater run off too, so there is little maintenance required to keep your canopy looking good as new. Our barrel vault shelters are also often used at secondary schools and sixth forms to create outdoor dining areas.
How can A&S Landscape help you?
We make it our aim to help you through your project from start to finish. We have a range of helpful guides and brochures to help you choose the right design, just click here to download documents you want. Or if you would rather speak to a member of the team, fill out a contact form with your details and we will get straight back to you.
When it comes to canopy installations, we are the experts and you can have peace of mind that your project will be a success. With over 40 years of experience, we have completed many projects across the UK, growing our list of happy clients from sports facilities to educational facilities.
Discuss your options with us today. Call us on 01743 444100, or email us at [email protected].
Tadpole Farm Primary School Add Multicoloured Polycarbonate Roof Shelters in Swindon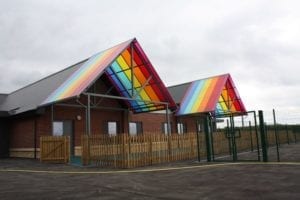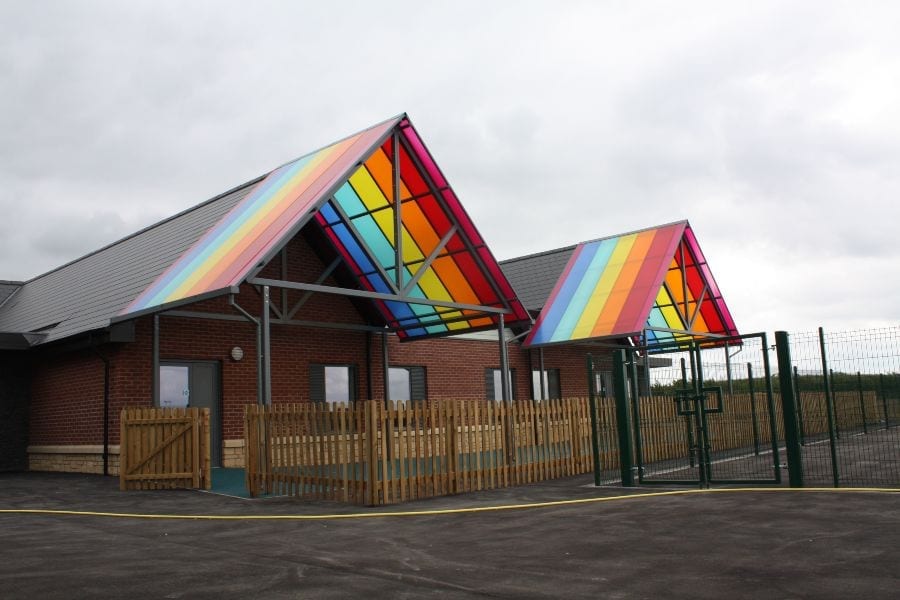 Willmott Dixon was looking for a playground school shelter solution for this new build school from a canopy company they could trust to undertake a large, seemingly impossible (that might be an exaggeration) project that would transform the exterior of the school. "After contacting A&S Landscape we began working together to design bespoke outdoor canopies that would match this building, make a real impact, and offer a practical solution to covered outdoor play." When you're working with a group with such ambition, nothing comes 'off the peg'. We were challenged to pull together a bespoke canopy design with brightly, coloured polycarbonate roofing.
With a tight area for installation and a confident, ambitious design it required cranes to lift these bright, playful and colourful canopies into place. Thanks to our talented CAD team and the fantastic management staff at Willmott Dixon, Tadpole Farm Primary School now have a striking, whimsical canopy that complements but also adds to the exterior.
A strong design like this is not just about its functional quality but also the personality it adds. When you see a design like this you know you're about to enter a creative and vibrant environment. Jobs come in many different shapes and sizes, and every installation is different. Our design department know that you might have some very clear ideas of what you want and that's why we specialise in bespoke shelters for schools. Alongside our skilled installation team, we can install in even the tightest of spaces.
If you'd like to see more example of bespoke canopy design then take a look at the gallery we put together, here.
Play Area Canopy Installed at Bridlewood Primary School in Swindon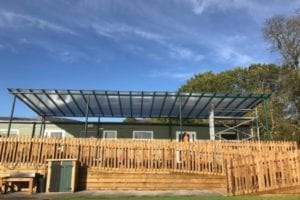 A straight roof canopy was built in front of the nursery classrooms, on the timber decking area. The Motiva Linear™ straight roof canopy features Moss Green steelwork, which works perfectly with the surrounding buildings. The clear polycarbonate roofing also allows sunlight through but helps to protect the children from getting burnt. Measuring 15000mm X 6000mm, there is plenty of room under the shelter for the children to use.
The nursery children at Bridlewood Primary School can play outside throughout the year. Come rain or shine, playtimes can be enjoyed in the fresh air on the decking. This gives the children more space to play and the chance to let off some steam and even enjoy some outdoor learning. The school could also store outdoor play equipment under the canopy too. From universities to nurseries, A&S Landscape provides canopies for a range of uses. Browse our gallery or recent projects for inspiration. Or you can get in touch with our friendly team on 01743 444100.
Looking for more of our canopy projects?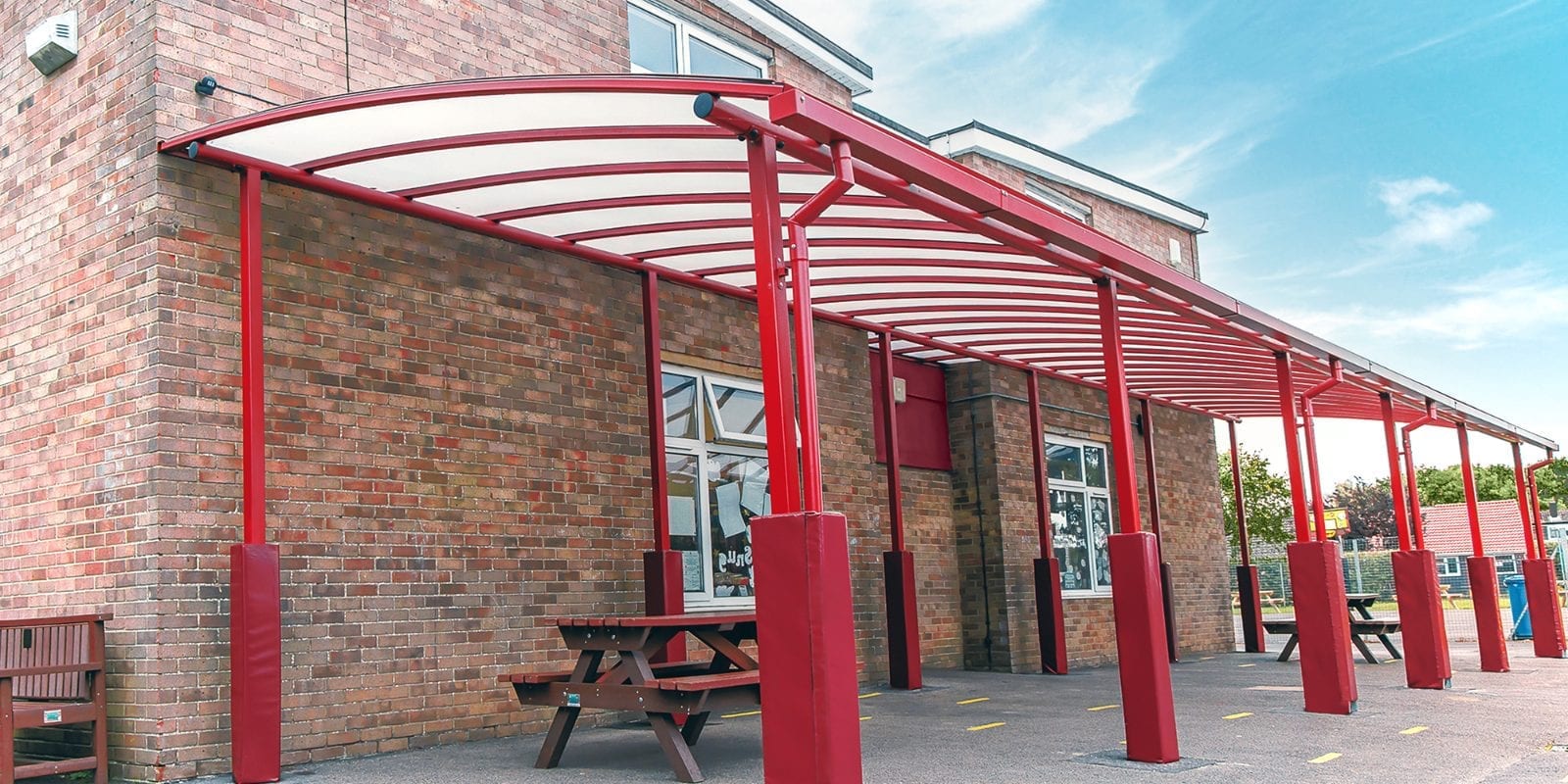 Send us your email and an idea of your requirements and we'll get back to you with a quick price.