Multicoloured Shelter at Ashton Keynes C of E Primary School in Swindon
What was the problem?
Based in a Victorian school building, the children of Ashton Keynes Primary School loved learning in such an inspiring and unique environment. However, they often couldn't enjoy their outside spaces due to the unpredictable weather. To create an area of shade, the school contacted the experts in school canopies, A&S Landscape.
What was our solution?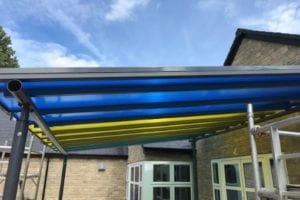 After reviewing photos of the proposed area and considering the school's requirements, it was decided to install a straight roof canopy from the Motiva Linear™ design. Often used to create covered walkways and entrance canopies in a school environment, this versatile shelter would be the perfect fit for the space.
To match the school colour scheme, we added a pattern of colours to the roof of the canopy. Daffodil and Lagoon Blue polycarbonate sheets were chosen, as they would create a colourful feature while providing UV ray protection.
What was the result?
It's safe to say that Ashton Keynes Primary School is thrilled with the new playground canopy! The pattern roof adds a splash of colour to the play area, encouraging the young pupils to play underneath the straight roof canopy.
Now the lucky pupils can enjoy their playground all-year-round, regardless of whether it is rainy or sunny. The teachers can also make use of the newly created covered area, by taking their classes outside. And with the addition of some street furniture, this structure could also be used as an outdoor dining space, saving room inside the existing hall.
A little bit about the client…
Ashton Keynes Primary School is located in the town of Swindon, in Wiltshire. Like many other local schools, this school places a huge emphasis on providing learning opportunities in and outside of the classrooms. With a range of great outdoor facilities, it's no surprise that the team also wanted to add a playground shelter to the site. We thoroughly enjoyed working with everyone at the school, and it's great to know that our canopy will play a part in the educational journey of the young pupils.
Where can our canopies be used?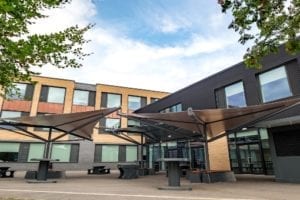 Our wide range of shelters and shade sails can be used at a variety of sites, not just at primary schools.
Stylish Yet Practical Solutions
For example, a tensile fabric structure, such as our Maxima StarSail™ would be ideal for creating a stylish design statement in a town centre, university campus or a leisure centre. Designed with a singular upright, this funky tensile fabric sail will maximise the amount of covered space it creates. You can also choose the colour of the tensile roof fabric to match your branding or logo.
Perfect for Public Attractions
We've also installed our popular Maxima Tepee™ tensile structure at several public attractions across the UK, including theme parks. The fabric ceiling creates an inviting environment for your guests to enjoy a refreshment or wait for a ride. Additional extras can also be added, like heating, lighting and curved benches to create a useable space throughout the year.
Versatile Curved Roof Designs
Or our curved roof canopies, like the Motiva Duo™, could the perfect product to create a covered performance area for outdoor plays. The curved ceiling panels help rainwater run off too, so there is little maintenance required to keep your canopy looking good as new. Our barrel vault shelters are also often used at secondary schools and sixth forms to create outdoor dining areas.
How can A&S Landscape help you?
We make it our aim to help you through your project from start to finish. We have a range of helpful guides and brochures to help you choose the right design, just click here to download documents you want. Or if you would rather speak to a member of the team, fill out a contact form with your details and we will get straight back to you.
When it comes to canopy installations, we are the experts and you can have peace of mind that your project will be a success. With over 40 years of experience, we have completed many projects across the UK, growing our list of happy clients from sports facilities to educational facilities.
Discuss your options with us today. Call us on 01743 444100, or email us at [email protected].