Secure Buggy Store Installed at Blakenhall Contact Centre
What was the problem?
Blakenhall Contact Centre in Wolverhampton didn't have a suitable space where the visitors could leave their pushchairs safely and securely. A&S Landscape was asked to design and install the buggy store at the healthcare site.
What was our solution?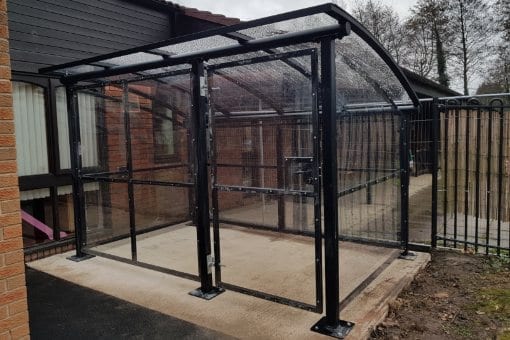 One Cyclo Buggy was installed outside of the centre, measuring 3.5m x 2.4m. The structure features black steelwork, which matches the fencing near the store. Clear polycarbonate is used on both on the side panels and roof.
What was the result?
The staff at Blakenhall Contact Centre are very happy with the new secure pram storage. It has saved valuable space inside the reception and waiting area, as visitors can leave their buggies outside. Because the doors can be closed and locked, people are happy to leave their pushchairs outside knowing they won't be damaged by the weather either.
A little bit about the client…
Blakenhall Contact Centre is located in the city of Wolverhampton, in the West Midlands. The site offers a range of social welfare and meditation services. Families often visit the centre, bringing along young children for check-ups. To improve the patient's experience, the staff wanted to add a dedicated area where parents and carers could leave their buggy securely.
The staff were fantastic to work with, they were engaged and enthusiastic throughout the process. It was great to collaborate with such a great organisation and know that our work would go to make the centre even better for the visitors.
What is a secure buggy store?
Our Cyclo Buggy store is made with steel framework and polycarbonate roofing and side panels. To make the structure secure, we can add a padlock system or a coded gate lock. This will give you the peace-of-mind that the buggies stored will be safe and protected. Alternatively, bikes and outside play equipment could also be kept in the pram store too.
How can our canopies be used in healthcare sites?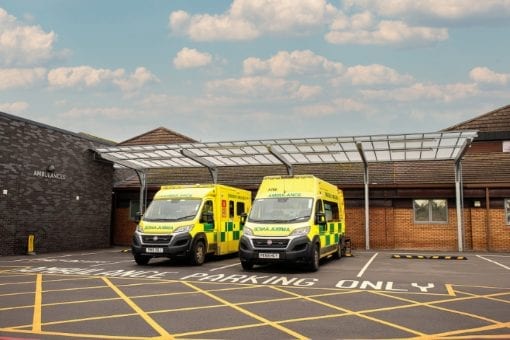 From covered walkways at care homes to shaded seating areas at hospitals, our canopies, shade sails and shelters can be used for a variety of applications in the healthcare industry. We've worked with a range of organisations, including the NHS, to improve patient and staff facilities across the UK.
On larger sites, our straight roof canopies could be the ideal solution to create a pathway from the car park to the building entrance. We also have a range of rapid deployment systems, which are ideal for creating shelters for ambulances and other emergency vehicles.
Our robust cycle stores also provide storage for patients, visitors and staff bicycles, keeping them dry and secure throughout the day. Our canopies could also be used as a smoking shelter, creating a designated area on the healthcare site.
The Maxima range of fabric canopies can create a valuable covered area for your patients and staff to spend time outside. This can have many benefits on your patient's mental health and wellbeing and will also help to make your outdoor space more accessible.
How A&S Landscape can work with you
With over 40 years of experience, we are regarded for our integrity, reliability and efficiency. Our friendly team will work with you to design a product which meets all of your requirements. Our canopies can be adjusted to suit your site too, by changing the colour of the steelwork frame, polycarbonate sheeting or fabric roof. We will also work to ensure your package is within your budget.
As we've expanded, we've created new solutions for an ever-changing market, founded new brands and grown our national coverage as we've developed our growing customer base. We don't just work within the healthcare industry either, we've worked with schools, hotels and sporting facilities too. We often find that clients return to us for new shade solutions as their business and site grows.
We have every outdoor experience covered with a range of canopies, shade sails and cycle storage solutions to meet every situation. It's our straightforward service that builds our ever-growing list of happy clients, and we would be thrilled to add you.
To transform your outdoor space and start your next project, email us with your requirements at [email protected] or call 01743 444100.