Enclosed Dining Shelter Purchased by Wednesfield High Academy in Wednesfield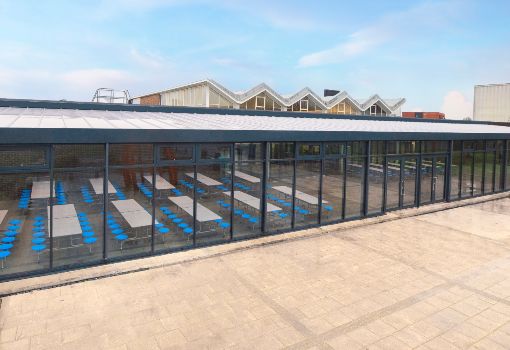 Wednesfield High Academy in Wednesfield wanted a dining canopy so they could create somewhere new outdoors for students to enjoy break times. They required something unique and exciting – a bespoke, fully enclosed model with lighting, heating, side panels and doors so it could be a year-round asset to the school, which has the motto 'Changing Lives, Shaping Futures'.  The shelter also needed to be large enough to ease pressure on indoor dining facilities. We were thrilled when the team got in touch.
There were several avenues to choose from but the University of Wolverhampton Wednesfield Academy eventually settled on a beautiful, enclosed, bespoke Motiva Linear™. Bespoke Motiva shelters are available in hundreds of configurations, so they're ideal for clients looking for something that can be adapted to suit their needs. We built the canopy to measure 40960mm X 7588mm to make long lunchtime queues a thing of the past, and added Slate Grey steelwork in a matt finish and an Opal roof for a modern look. It was the perfect place for everyone to spend breaks in comfort in all weathers, thanks to the installation of side panels, doors, lighting and heating.
Wednesfield High Academy adores the dining shelter; no-one has to worry about stretched services at lunchtime anymore, as students can eat outside undercover in the fully enclosed structure. The heating definitely comes in handy in cold and rainy weather! If you want to hear more about our bespoke shelter solutions, call us on 01743 444100 today.
Fabric Covered Walkway Created at Aldersley High School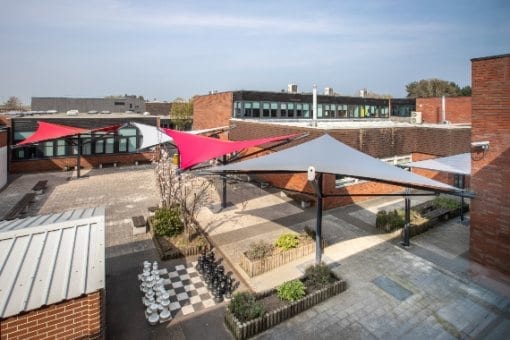 The four Maxima StarSail™ tensile waterproof fabric structures created a modern design feature as well as providing the shade and shelter that they sought in the quad area. The bright fabric colours look amazing in Boulder, Poppy, Concrete and Raspberry. In addition, a steel and polycarbonate Linear canopy from our Motiva range created the covered walkway alongside the building. The grey steelwork and opal roofing created a stylish addition to the school.
Aldersley High School has created a new space from a previously unloved area. Children can enjoy the quad in all weathers and maximise their time outside. Something that we all know is good for our health and wellbeing. If you would like to transform your outside space, we would be delighted to work with you on some design ideas. Take a look at our gallery which contains more than 1,000 images of projects that we have completed. It is a good place to look for some inspiration.
Rocket Pool Nursery Add Secure Buggy Storage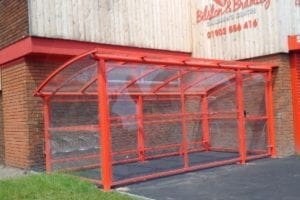 Rocket Pool Nursery had a range of staff and parents that wanted to travel to the Nursery on their bicycles but had expressed concerns that their bicycle might not be safe, so when we began working on the project we knew the storage needed to be effective. We installed a Cyclo Buggy™ to an overall size of 4800mm x 2400mm in a striking red (RAL 3020) steelwork and with clear polycarbonate roofing.
The result, like so many of our projects, is more than just the structure we installed. It's not just a place to store bicycles, it's parents and staff being confident enough to bring their bikes to Rocket Pool Nursery, knowing they will be safely waiting until they are collected. An aesthetically pleasing shelter, this Cyclo Buggy™ will last for a very long time.
If you're looking for cycle storage, then you'll struggle to find a better solution than our cycle storage range here. We looked at the competition and made sure that our shelters were as robust as they come so you can be sure that whatever is inside, stays inside. And if you want to install some cycle storage on your site get in touch with our design team who can have a proposal on your desk for your review.
Bespoke Cantilever Cover Designed for Manor Primary School
So when A&S Landscape were asked to complete a job for Manor Primary School there were some neat little details that made the job unique. A very specific space needed a canopy that would slot in perfectly and we had just the shelter in mind. Rather than a standard Motiva Cantilever™, we adapted this Motiva Cantilever™ into something bespoke, measuring 12200mm x 3200mm it fit the space perfectly with uprights at the rear, against the walls, to ensure there were no obstacles for little feet or heads to crash into.
With white steelwork (RAL9010) and opal polycarbonate roofing this is a smart and effective playground shelter that fits the space like a glove. The result is an outdoor playground canopy that looks like it was always meant to be there. A simple adaptation means a tight space is catered for with precision and shows that any one of our designs can be adjusted to fit even the most specific of environments.
We have a wide range of options to suit almost any application but also have bespoke variants that mean we can cater for the kind of tiny tweaks and adjustments that make an off the peg design feel tailor made. And for those jobs where an even more unique approach is required, we can offer a full bespoke service, meaning you can create exactly the space that you envision.
Playground Shade Sails Added to Dunstall Hill Primary School
A&S Landscape had just the right product. The Maxima range of fabric canopies have both shade cloth and PVC fabric to choose from and this time the waterproof fabric was selected. This meant that it offered shelter from sunshine as well as rain. Two square shade sails were installed at 5000mmm x 5000mm on curved uprights, to create the covered area. Wooden dining tables were added, and the space was complete.
A very modern addition to the playground. The stylish outdoor shelters have added a new dimension to the outdoor area. The children can enjoy eating at lunchtimes and socialising at break times, whatever the weather. We think they look really smart; we are sure you will agree. The builder was pleased too, saying "We are now using A&S Landscape on another project, they are a pleasure to work with."
A&S Landscape has a wide range of products for you to review. All the different designs make sure that you will be able to find something to meet your needs. Review our gallery which has over 1500 images, it is a great place to get some inspiration for your project.
Cantilever Canopy At Bilston Primary School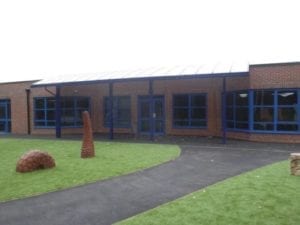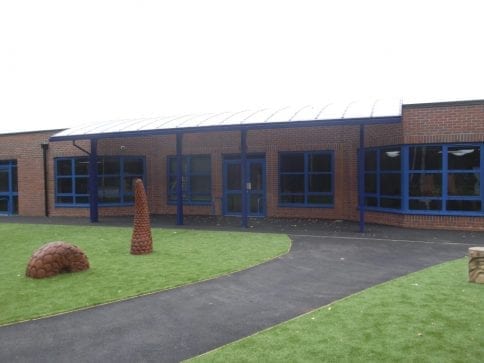 So when we were specified by Wolverhampton County Council and engaged by a leading high-quality building refurbishment company to provide an entrance design, we got to work with our design team to make sure we were adding real value.
Having said that, we weren't surprised to get the call given this was the fourth time we'd been to Bilston Primary School in as many years! Installing a Motiva Linear Cantilever Canopy in a smart blue steelwork with opal roofing really complemented the school building that already had an attractive blue theme throughout the surrounding doors and windows.
The result is a smart, professional entrance design that really frames the front of the building whilst also offering terrific shelter from the elements. Whether you are looking for an entrance canopy design or perhaps another outdoor shelter for schools and colleges, you'll find a lot of inspiration by looking at our main gallery.
From attractive but functional designs to styles with some real flair, there are options for every type of building and every type of message you can communicate through the structure you install on site. Working with our talented design team will also mean you get to craft your vision until it is a perfect fit for the space it will live in.
Secure Buggy Store Installed at Blakenhall Contact Centre
What was the problem?
Blakenhall Contact Centre in Wolverhampton didn't have a suitable space where the visitors could leave their pushchairs safely and securely. A&S Landscape was asked to design and install the buggy store at the healthcare site.
What was our solution?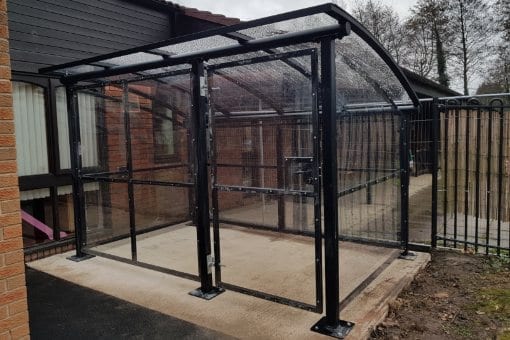 One Cyclo Buggy was installed outside of the centre, measuring 3.5m x 2.4m. The structure features black steelwork, which matches the fencing near the store. Clear polycarbonate is used on both on the side panels and roof.
What was the result?
The staff at Blakenhall Contact Centre are very happy with the new secure pram storage. It has saved valuable space inside the reception and waiting area, as visitors can leave their buggies outside. Because the doors can be closed and locked, people are happy to leave their pushchairs outside knowing they won't be damaged by the weather either.
A little bit about the client…
Blakenhall Contact Centre is located in the city of Wolverhampton, in the West Midlands. The site offers a range of social welfare and meditation services. Families often visit the centre, bringing along young children for check-ups. To improve the patient's experience, the staff wanted to add a dedicated area where parents and carers could leave their buggy securely.
The staff were fantastic to work with, they were engaged and enthusiastic throughout the process. It was great to collaborate with such a great organisation and know that our work would go to make the centre even better for the visitors.
What is a secure buggy store?
Our Cyclo Buggy store is made with steel framework and polycarbonate roofing and side panels. To make the structure secure, we can add a padlock system or a coded gate lock. This will give you the peace-of-mind that the buggies stored will be safe and protected. Alternatively, bikes and outside play equipment could also be kept in the pram store too.
How can our canopies be used in healthcare sites?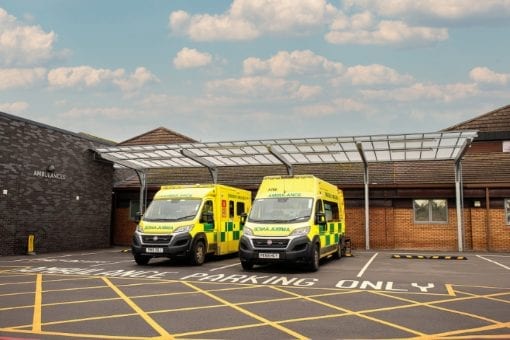 From covered walkways at care homes to shaded seating areas at hospitals, our canopies, shade sails and shelters can be used for a variety of applications in the healthcare industry. We've worked with a range of organisations, including the NHS, to improve patient and staff facilities across the UK.
On larger sites, our straight roof canopies could be the ideal solution to create a pathway from the car park to the building entrance. We also have a range of rapid deployment systems, which are ideal for creating shelters for ambulances and other emergency vehicles.
Our robust cycle stores also provide storage for patients, visitors and staff bicycles, keeping them dry and secure throughout the day. Our canopies could also be used as a smoking shelter, creating a designated area on the healthcare site.
The Maxima range of fabric canopies can create a valuable covered area for your patients and staff to spend time outside. This can have many benefits on your patient's mental health and wellbeing and will also help to make your outdoor space more accessible.
How A&S Landscape can work with you
With over 40 years of experience, we are regarded for our integrity, reliability and efficiency. Our friendly team will work with you to design a product which meets all of your requirements. Our canopies can be adjusted to suit your site too, by changing the colour of the steelwork frame, polycarbonate sheeting or fabric roof. We will also work to ensure your package is within your budget.
As we've expanded, we've created new solutions for an ever-changing market, founded new brands and grown our national coverage as we've developed our growing customer base. We don't just work within the healthcare industry either, we've worked with schools, hotels and sporting facilities too. We often find that clients return to us for new shade solutions as their business and site grows.
We have every outdoor experience covered with a range of canopies, shade sails and cycle storage solutions to meet every situation. It's our straightforward service that builds our ever-growing list of happy clients, and we would be thrilled to add you.
To transform your outdoor space and start your next project, email us with your requirements at [email protected] or call 01743 444100.
Our Wolverhampton based clients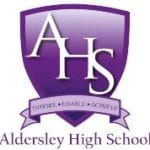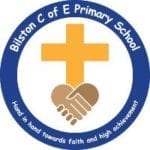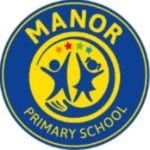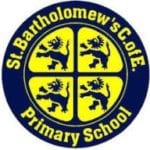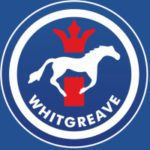 Two Sail Shades Designed for Holy Trinity Catholic School
In combination with our building contractor client our team created two StarSails in Holy Trinity Catholic School Bilston. The job involved two Maxima™ StarSail tensile waterproof fabric structures supported on a single upright measuring 8000mm X 8000mm.
Dunstall Hill Primary School Cover Play Areas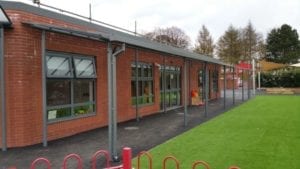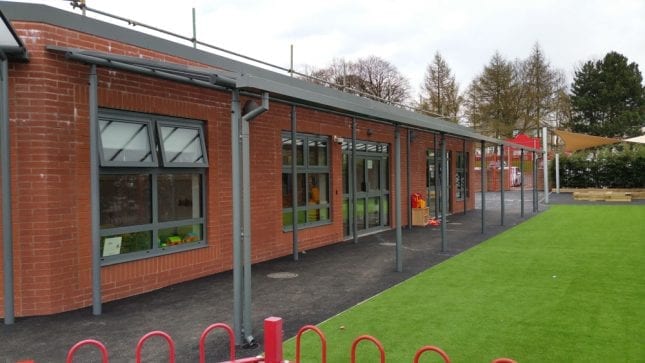 At A&S Landscape we have completed so many successful projects that our processes are like clockwork and, like clockwork, it doesn't matter what the outside conditions are, we get the job done. So when they needed some last minute canopy installation at Dunstall Hill Primary School, A&S Landscape was able to hit the ground running and ensure the project was completed just as well as any we could have planned for months in advance.
To complete the external areas of this building development, AM Griffiths brought in A&S Landscape to install three Motiva Linear™ canopies. Ranging in size from 2549mm x 1500mm all the way up to 19530 x 2800mm, these canopies were finished in a gorgeous Basalt Grey steelwork (RAL 7012) with matching Alu-Tuff™ guttering and smart opal polycarbonate roofing. For a job that was undertaken last minute, you would never know that from the pictures, which show an elegant addition to the building that appears to have been there the whole time.
Great design appears effortless, even if it wasn't. That's absolutely true of the installation we completed at Dunstall Hill Primary School. These Motiva Linear™ outdoor shelters offer smart and effective cover from the weather whilst also giving some additional outdoor learning space and were installed at the very last minute with the same precision and finesse as any other job.
To find out more about our Motiva Linear™ canopies take a look at the gallery of finished projects and if you find yourself feeling inspired you can speak to our design team by contacting us.
Whitgreave Primary School Add Straight Roof Shelter
We constructed a straight polycarbonate roof canopy for Whitgreave Primary School Low Hill. The contract included the supply and installation of one Motiva™ Mono straight roof canopy measuring 13000mm X 7700mm and 6300mmx 5300mm and included for our Alu-Tuff™ aluminium box profile guttering and downpipes in matching Dura-coat™ colour finish.
Blue Covered Walkway Added to Whitgreave Primary School in Wolverhampton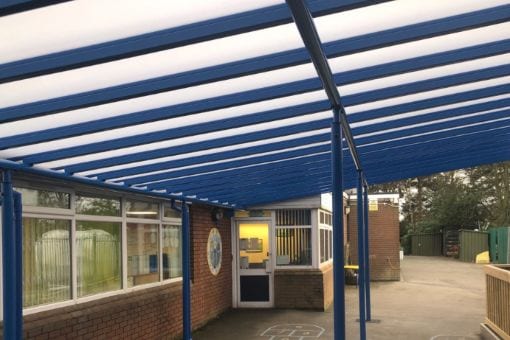 Whitgreave Primary School in Wolverhampton in the West Midlands wanted to find a shelter to create a covered walkway between two of their buildings, as they had recently installed a large, independent modular building. This would prevent their pupils from getting wet when travelling between the classrooms outside.
A&S Landscape worked closely with the school to figure out which product would work best for their needs. The Motiva Linear™ was the most appealing, due to its capacity to offer maximum protection for children walking beneath it and its contemporary design. The canopy structure that they opted for measured 13000mm X 7700mm and 6300mm X 5300mm and had an attractive Opal polycarbonate roof plus Traffic Blue steelwork. The A&S Landscape team thought that this was a great choice.
Pupils can now walk between the two buildings with ease and without worrying about the weather! The School Business Manager of this institution – that strives to 'provide all pupils with an equal opportunity to learn' – advised that the covered walkway looked amazing. Parents could even benefit from the shelter when waiting to pick up their children. This modern shelter added to our long list of primary school projects and we were thrilled to discover that staff and pupils alike had such a positive response to the brand new facility. If you're interested in adding any type of canopy to your school or business, contact us on 01743 444100 and our friendly team will be happy to help you.
Looking for more of our locations?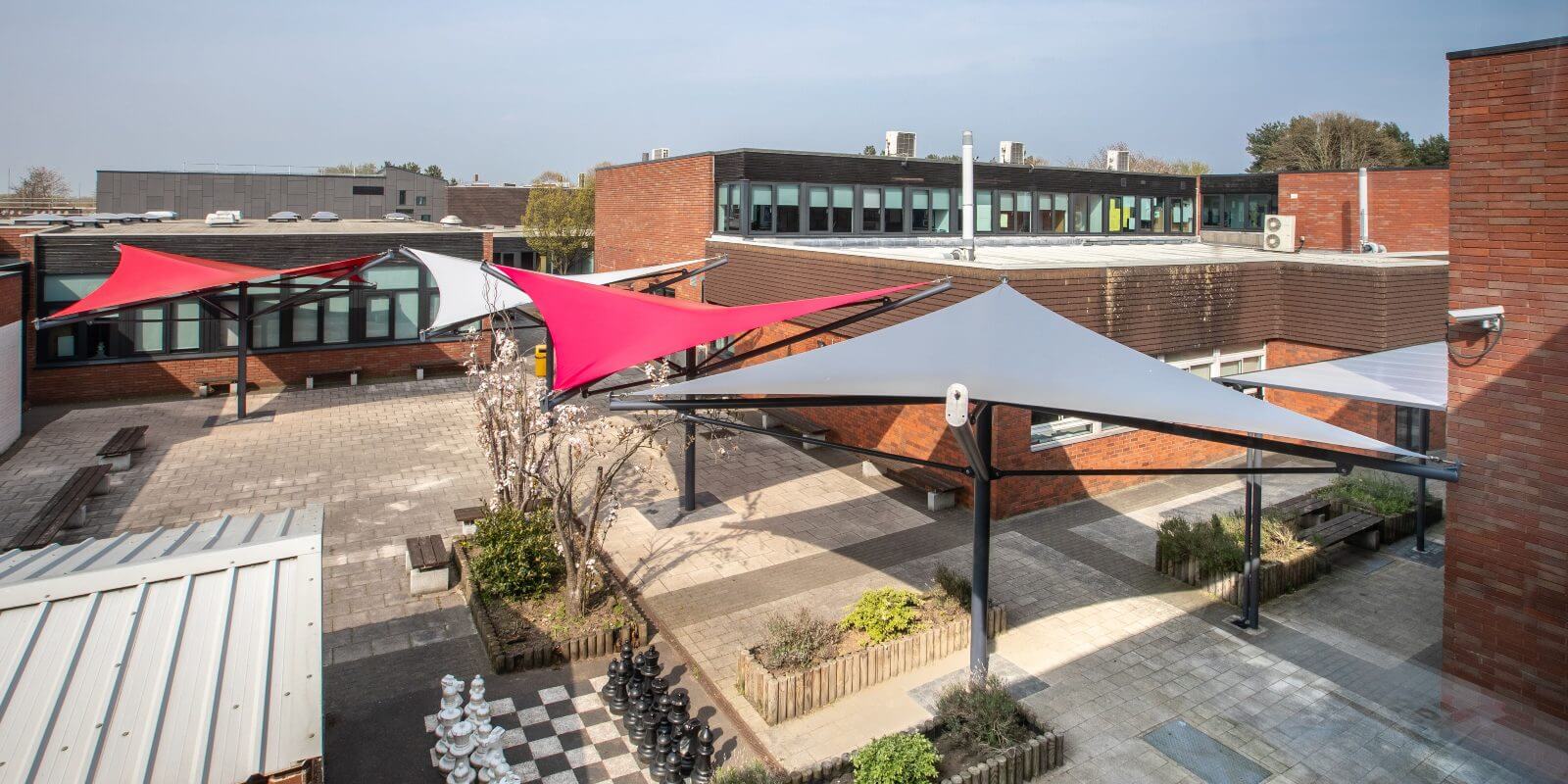 Send us your email and an idea of your requirements and we'll get back to you with a quick price.