Cross Arthurlie Primary School in East Renfrewshire Install a Selection of Shelters
The range of canopies that A&S Landscape provided really fit the bill for Cross Arthurlie Primary School. They loved their practicality and the matching designs brought more unity to the institution's facilities.
Project Specification
Product:

Cyclo Bike™

Steelwork:

Slate Grey - RAL NO. 7015

Roofing:

Side Panels:
What was the project brief?
Cross Arthurlie Primary School in Barrhead, East Renfrewshire wanted to install several different canopies to provide a variety of new facilities for their community, from pupils to staff and parents. They needed a large playground shelter with lots of coverage, a smart entrance canopy, a practical bike store and a space-efficient buggy store.
The school contacted A&S Landscape for help and they got to work right away on finding the right solutions.
What were our shelter solutions?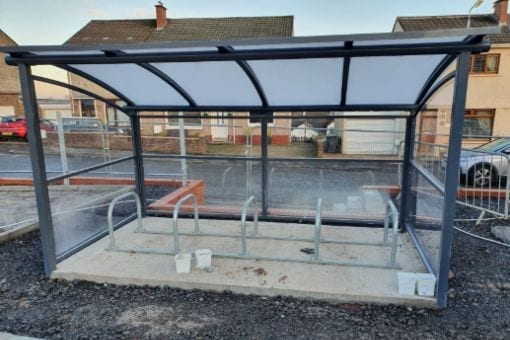 This project was complex as it involved multiple canopies, so A&S Landscape discussed all of the options in-depth with Cross Arthurlie Primary School before proceeding. For the playground canopy, they chose a curved roof Motiva Cantilever™. Built to measure a huge 20800mm X 3000mm, it offered maximum coverage. This model provides an array of options to cover playgrounds because it can be provided with a curved or straight roof and with back, front or central uprights. The school also chose a smaller version of the same model for their entrance canopy, measuring 4900mm X 2200mm.
The Cyclo Bike™ was the perfect bike shelter for Cross Arthurlie Primary School. They had a design built to specifications of 4200mm X 2400mm with clear sides and five racks to accommodate ten cycles – plenty of space for staff and pupil's bicycles. This model is ever-popular due to its unbreakable polycarbonate roofing and the fact that its material specification is much higher than standard bike stores. Finally, the school decided on a 4000mm X 2000mm Cyclo Buggy™ for their buggy store, as it could offer lots of room for parents' pushchairs and the clear sides would protect them from the rain. Its modular system meant that A&S Landscape could easily accommodate the size required. All of the shelters were installed with Slate Grey steelwork and Opal roofs, which looked fantastic alongside the school's existing architecture.
How big of an issue is childhood obesity and how can this be combatted by teachers and parents
Children are largely not in control of the food they eat or the exercise they undertake. What's more, when they exercise, the respiratory implications and body weakness can result in embarrassment amongst their peers as they find it difficult to move. Even so, it is important to promote healthier eating, more exercise, and help a child who lives with obesity in fighting the depression, anxiety, stigma, and the health and academic ramifications linked with obesity, which is a task much more critical than it first appears.
We can define some of the remedies Dame Sally Davies outlines in her report: Time To Solve Childhood Obesity into three factors.
• Children need to play outdoors.
• Children need access to healthy foods.
• Strategies need to be put into effect by schools, manufacturers, health services, town planners and politicians to create better opportunities for children to have access to outdoor play and healthy food regardless of their social-economic status.
Discover how we can achieve these aims and more over on our full article page.
What was the result of their new canopy selection?
The range of canopies that A&S Landscape provided really fit the bill for Cross Arthurlie Primary School. They loved their practicality and the matching designs brought more unity to the institution's facilities. Their entire community would get great use out of the shelters, and they would make the school day a little easier and a little more exciting for everyone. A&S Landscape was thrilled that this client was so pleased with their products.
About the client
Cross Arthurlie Primary School is an institution in Barrhead, East Renfrewshire. They say on their website that they 'aim to involve parents and the wider community in a variety of ways to enhance the learning experiences of the children'. They were also awarded Cycle Friendly School status in September 2010 and they encourage pupils to cycle to school and take part in events like The Big Pedal. A&S Landscape was delighted to work with this thoughtful institution, especially in providing them with a bike shelter to help them with their continuing cycling goals.
The school is located in the Scottish town of Barrhead, near Glasgow. It was historically a major centre of manufacturing but is now known as a commuter town. Visitors can enjoy the nearby Gleniffer Braes Country Park, which offers many beautiful walks and panoramic views – and local children like the pupils of Cross Arthurlie Primary School can enjoy it too!
How can schools benefit from installing multiple canopies?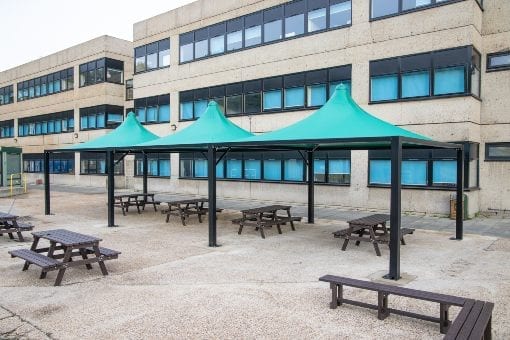 A single shelter can offer many uses and advantages to a school, but multiple canopies increase this tenfold. Here are some of the benefits of installing a selection of them, as Cross Arthurlie Primary School did.
You can enjoy a range of canopies with dedicated uses – having separate canopies for purposes like dining and play makes organising the use of them easier. And, once you've got the essential shelters under your belt, you can also look to explore further options like outdoor classroom ideas.
More pupils can use the shelters – multiple canopies equal more space and they increase the number of children that can use them at any one time. This is perfect for schools struggling to provide enough facilities for larger pupil intakes.
More pupils can benefit from spending time outside – it is well-known that getting children outside in the school day and learning outdoors is beneficial to their academic development, but it can also help their mental and physical health. Having more canopies allows a larger majority of your school's population to reap these rewards, no matter the weather, which is a fantastic asset.
Your school will have a greater feeling of unity – adding several canopies around school grounds, especially ones with matching designs, helps architecture and buildings to visually come together. Who wouldn't want to improve the look of their facilities?
Thinking about adding a selection of shelters to your institution or business? Why not give us a call today on 01743 444100? Our team is ready and waiting to advise you.
What makes A&S Landscape different from other canopy providers?
We have over four decades of experience and knowledge in providing the perfect canopy for every customer, from schools to health sites and commercial businesses. Whether you're looking to install outdoor classroom buildings or entrance canopies, we have a fantastic range of shelters to suit your requirements. Send us an email at [email protected] or call us on 01743 444100 and we'll be happy to help you find the right product for your organisation and needs.
Keep reading about more of the projects we have completed near Scotland in Northumberland
Morpeth First School Add Straight Roof Shelter to Playground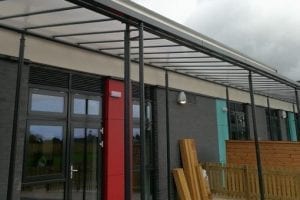 In combination with our building contractor client A&S built a straight polycarbonate roof canopy in Morpeth First School Morpeth, Northumberland. The full contract involved the supply and installation of one Motiva™ monopitch straight roof canopy measuring 31800mm X 3000mm and included for our Alu-Tuff™ aluminium box profile guttering and downpipes in matching Dura-coat™ colour finish.
Bespoke Fabric Tepee Canopy Designed for St Cuthberts Catholic High School
We created an octagonal tepee structure in St Cuthberts Catholic High School Fenham, Newcastle Upon Tyne, Northumberland. The contract included the supply and installation of one Maxima™ Octagonal Tepee fabric roof structure measuring 10000mm x 10000mm including for aluminium frames, windows, doors and laminate glass.
Vindolanda Hexham Add Fabric Canopy to Café Outdoor Seating Area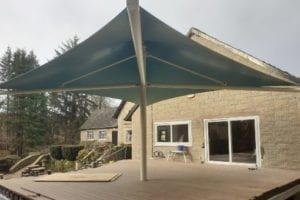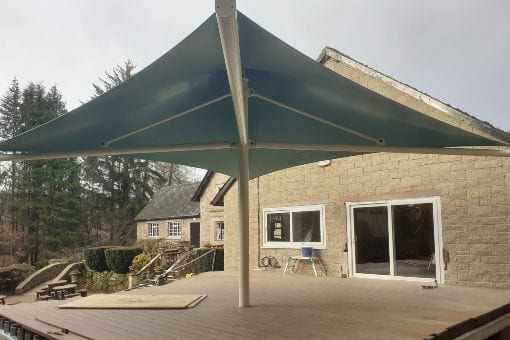 In collaboration with our building contractor client our engineers made a playground umbrella in Vindolanda Hexham, Northumberland. The contract included the supply and installation of one Maxima™ waterproof Umbrella structure supported on a single upright measuring 6000mm X 6000mm.
Wooden Planter Sail Manufactured for Hadrian School
Our engineers built a planter sail structure at Hadrian School Pendower, Newcastle Upon Tyne, Northumberland. The full contract involved one 4000mm x 4000mm Maxima Planter Sail™ including for fixtures and fittings.