Bowesfield Primary School in Stockton on Tees Add a Free Standing Shade Canopy
Bowesfield Primary School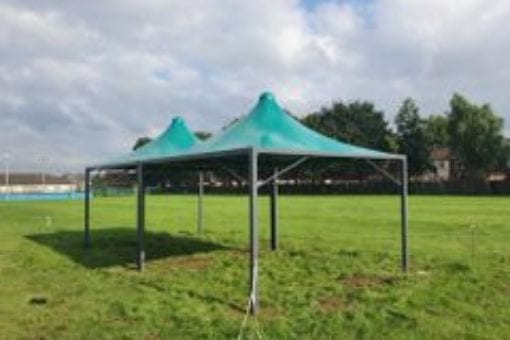 is located in the large market town of Stockton on Tees, County Durham. It is a school with an environment that fosters inclusivity and is warmly welcoming to new pupils from a variety of cultural backgrounds. Sport plays an important part in engendering inclusion, and the school encourages all children to take part.
Bowesfield Primary School has great outdoor facilities in the form of playing fields, but there was a definite lack of shade for the children to escape to during hot summers days. They approached us to see what options there might be to install a shelter solution to help with this problem.
After exploring where the playground shelter was to be located, and the overall size of shelter required, it was decided that the ideal solution was our Maxima Tepee™. With the versatility of being able to cover large spaces and the additional advantage of this product looking great in modular form, we installed two units measuring 8 metres by 4 metres each. The design was completed with coloured steel in Slate Grey (RAL 7015) and a waterproof, UV resistant canopy cover in Green, both selected from our comprehensive range of colours.
The Maxima Tepee™ is an excellent shade solution for public shelters in parks, leisure centres and open spaces, playground and outdoor dining areas for schools and colleges, and also for sports fields like the one at Bowesfield Primary School.
Multicoloured Polycarbonate Roof Shelters Designed for St Bede's RC Primary School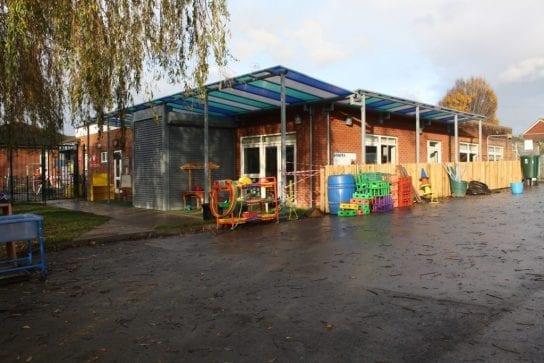 That's how St. Bede's felt when looking at their primary school building. Inside, everything felt just about right, but outside it was like the whole space was missing a little something special, something to finish it off and give their pupils the kind of space they really needed. After bringing in some leading local architects, A&S Landscape was brought in to provide the 'special'.
Installing a Motiva Linear™ canopy with grey steelwork and beautifully toned polycarbonate roofing in a three colour design, we were able to offer an attractive free-flowing outdoor space that could transform into a secure storage area thanks to the addition of three roller shutter doors. But we weren't finished there, adding a Maxima Umbrella™ in waterproof fabric brings that little bit of extra flair that St. Bede's were looking for and counters the sharp, hard lines with something a little more playful.
The result is St. Bede's can now boast the extra space they needed, a secure storage area and no longer need to keep moving the furniture around. That something that was missing is missing no longer.
If you're also looking around for outdoor classrooms or playground canopies, get in touch using our contact form. Our talented design team can walk you through the wide range of options that will add the most benefit to your school. You can stop googling playground equipment suppliers and look back at a job well done.