School Canopy Installations in County Durham
When it comes to canopies for schools in County Durham, A&S Landscape are the experts to turn to. With a range of products to choose from, we have helped hundreds of clients across the UK to transform their outdoor spaces with elegant canopy solutions. From luxury hotels to large car dealerships, our canopy design team can work with you to create the ideal shelter structure.
Many schools are now installing outdoor shelters on their site because of the wide range of benefits and uses they bring. From creating outdoor classrooms which teachers can use throughout the year to support outdoor learning, to play area canopies that enable pupils to get outdoors even in wet weather conditions.
If you're looking for a quote for your canopy project or need some advice, get in touch with our friendly team today by calling 01743 444100 or filling in our contact form.
Carmel College in Darlington Orders a Pair of Outdoor Shelters for its Courtyards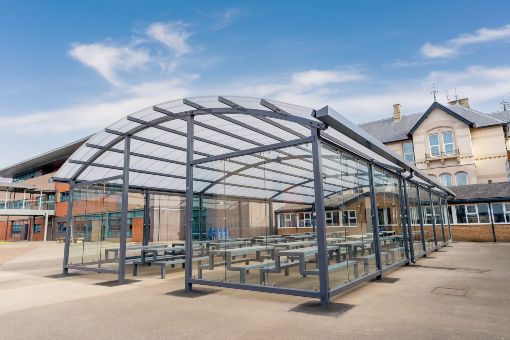 Carmel College in Darlington wanted two outdoor canopies – one each for its smaller and larger courtyards that could make the areas more useful at break times in all weathers. The staff were searching for sleek but simple designs that would reflect the institution's approach to modernisation, as well as a reliable model for multiple benches that they could have handily installed at the same time.
After approaching us and taking our expert advice, representatives from Carmel College picked a 9000mm X 6000mm Motiva Linear™ for their small courtyard. This model is ever-popular due to its easy adaptation to different spaces. For their large courtyard, the team chose a 20000mm X 10000mm Motiva Duo™ with glass panels for extra protection from the elements when students were dining or relaxing outside. Both came with modern Slate Grey steelwork and Opal roofs. Finally, we installed 30 robust Hercules Benches™ to complement the outdoor canopies and help the college create suitable seating areas.
Carmel College loves its new shelters; the students can enjoy many activities beneath them during breaks between lessons and get some fresh air at the same time. The benches have turned them into even more practical facilities and greater assets to the institution, and the stylish designs look right at home in the courtyards. Call us on 01743 444100 now to learn from our team how anything from a dining canopy to an outdoor classroom shelter can help you achieve your goals.
Gateshead NHS Site at Spire House in Washington Adds Ambulance Cleaning Canopy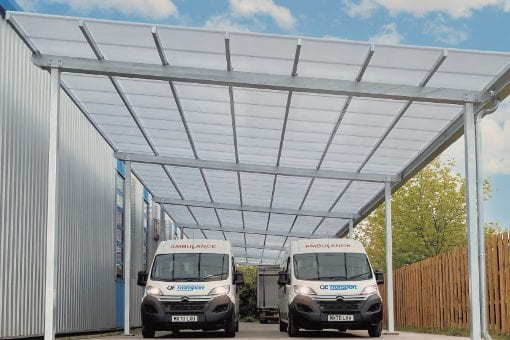 The Gateshead NHS facility at Spire House in Washington, County Durham wanted to install a shelter to allow staff to clean ambulances under cover. It had to protect those beneath it from bad weather, sport an attractive and innovative design, and be large enough to shield several vehicles at once. The team got in touch with A&S Landscape, who brought many ideas to the table to meet this client's requirements.
After considering all of their options, the Gateshead NHS staff chose the Motiva Linear™. This was the winning model because of its diverse range of applications, thoughtful design and modern monopitch roof. The Opal polycarbonate sheeting and Squirrel Grey steelwork complemented the existing buildings and added a classic, clean feel to the site. Also, the canopy structure was built to specifications of 31200mm X 7500mm, meaning that multiple ambulances could comfortably fit beneath it and cleaners could get on with their hard work without having to worry about the weather.
Everyone at Spire House thinks that the ambulance cleaning shelter is a fantastic addition to their already extensive facilities – which include warehousing, logistics and a training and conferencing hub. Staff can clean vehicles throughout the year in a safe, dry environment and the design of the canopy brings something special to the look of the area. To discover more about A&S Landscape and our products, send us an email at [email protected] today.
Haughton Academy in Darlington Install Two Waterproof Canopy Umbrellas
Haughton Academy is the high school sitting within The Village Academy Trust site located in Darlington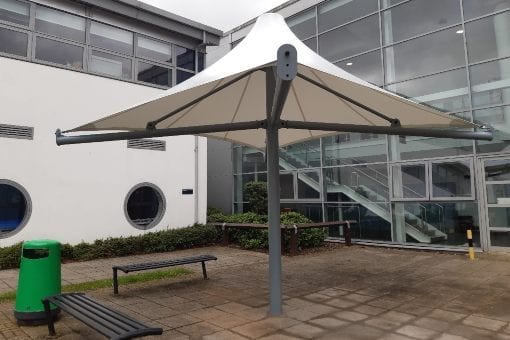 . The Trust provides education to primary and secondary school pupils, as well as children with additional educational needs.
This unique arrangement sees each school sharing an overall site where top-class facilities are available to all of the pupils. The campus was built in 2006 and, as would be expected of a relatively new building, there is a modern feel to the site. Haughton Academy wanted to make the most of the space on their part of the campus and further enhance the outdoor areas available to secondary pupils.
They did this by commissioning brand new custom outdoor canopies, especially designed and developed for the area in question. The plan for this new space was to give pupils a place to meet, socialise and enjoy lunch breaks in the outdoors. With the help of A&S Landscape's design and installation team, the school selected two Maxima Umbrella™ canopies from the range of fabric shelters available.
The Maxima Umbrella™ offers a stunning design that is customisable in terms of size, steelwork and fabric cover type. The square canopy cover offers great shelter protection beneath and can be installed in single or multiple units, which singles available in up to 8000mm x 8000mm. Both steelwork and fabric colours are also customisable. In the case of Haughton Academy, the canopy poles and supporting struts were finished in Grey (RAL 7000) and the waterproof fabric canopies in White, selected from our wide range of colour options.
Playground Canopy with Sides at Harrow Gate Primary Academy in Stockton-on-Tees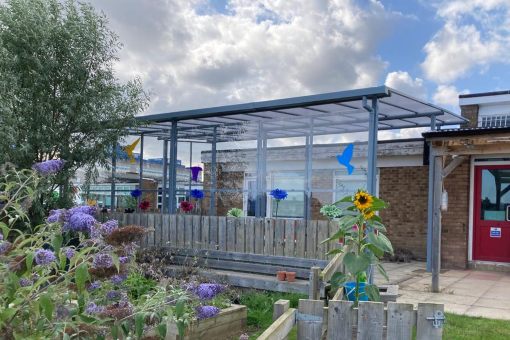 Harrow Gate Primary Academy, Stockton-on-Tees, County Durham, wanted to cover their outdoor play area so that the pupils and staff would have more space, even when it's windy and raining.
As soon as the school had been in touch with A&S Landscape, they were interested in installing a Motiva Linear™ straight roof canopy. The play patio was quite a substantial size and so the canopy was made to an overall size of 8300mm X 6000mm, featuring Squirrel Grey steelwork topped with an Opal polycarbonate roof.
The school were particularly happy with how helpful and responsive the A&S Landscape team were as well as the quality of the product, including the colourful vinyl designs that were added to the glazed panelling. Pupils, and staff, now have a fun outdoor space that can be used in all weathers.
Being able to play outdoors, even when it's rainy and windy, is a real plus for all schools. Mental health and wellbeing are taken very seriously at Harrow Gate Primary. This includes children, staff, parents and carers. The addition of the canopy may not solve all of the ups and downs of a school day, but it will certainly add to the overall feeling of positivity that comes from having the freedom, and space, to play outdoors.
To talk to one of the A&S team about your canopy project, please contact 01743 444100.
Bowesfield Primary School in Stockton on Tees Add a Free Standing Shade Canopy
Bowesfield Primary School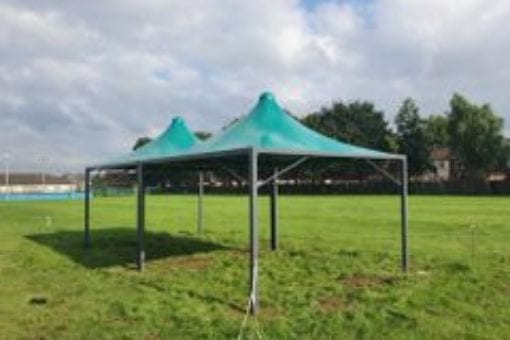 is located in the large market town of Stockton on Tees, County Durham. It is a school with an environment that fosters inclusivity and is warmly welcoming to new pupils from a variety of cultural backgrounds. Sport plays an important part in engendering inclusion, and the school encourages all children to take part.
Bowesfield Primary School has great outdoor facilities in the form of playing fields, but there was a definite lack of shade for the children to escape to during hot summers days. They approached us to see what options there might be to install a shelter solution to help with this problem.
After exploring where the playground shelter was to be located, and the overall size of shelter required, it was decided that the ideal solution was our Maxima Tepee™. With the versatility of being able to cover large spaces and the additional advantage of this product looking great in modular form, we installed two units measuring 8 metres by 4 metres each. The design was completed with coloured steel in Slate Grey (RAL 7015) and a waterproof, UV resistant canopy cover in Green, both selected from our comprehensive range of colours.
The Maxima Tepee™ is an excellent shade solution for public shelters in parks, leisure centres and open spaces, playground and outdoor dining areas for schools and colleges, and also for sports fields like the one at Bowesfield Primary School.
Five Fabric Tepee Canopies Made for Rossmere Play Park
Working for our building contractor client A&S built five tepees at Rossmere Play Park, Hartlepool, County Durham. The job involved the supply and installation of five Maxima™ Tepee tensile waterproof fabric roof structures each to overall sizes as follows: 4500mm X 5500mm, 4500mm x 4500mm, 3500mm x 3500mm
Dawson Landscapes Add Sail Shade to Site
Working with our trade partner A&S constructed a shade sail at Dawson Landscapes Ltd Hartlepool, County Durham. The full contract involved one 6000mm x 4000mm Maxima™ tensile shade cloth fabric sail including for all stainless steel fixtures and fittings.
Multicoloured Polycarbonate Roof Shelters Designed for St Bede's RC Primary School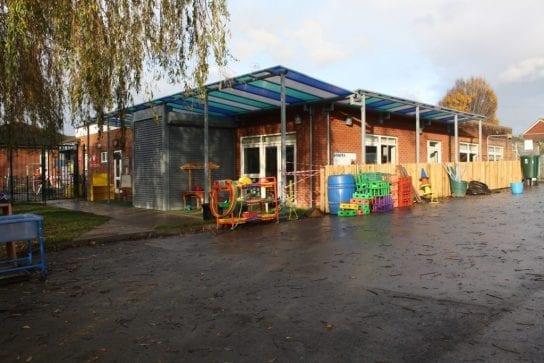 That's how St. Bede's felt when looking at their primary school building. Inside, everything felt just about right, but outside it was like the whole space was missing a little something special, something to finish it off and give their pupils the kind of space they really needed. After bringing in some leading local architects, A&S Landscape was brought in to provide the 'special'.
Installing a Motiva Linear™ canopy with grey steelwork and beautifully toned polycarbonate roofing in a three colour design, we were able to offer an attractive free-flowing outdoor space that could transform into a secure storage area thanks to the addition of three roller shutter doors. But we weren't finished there, adding a Maxima Umbrella™ in waterproof fabric brings that little bit of extra flair that St. Bede's were looking for and counters the sharp, hard lines with something a little more playful.
The result is St. Bede's can now boast the extra space they needed, a secure storage area and no longer need to keep moving the furniture around. That something that was missing is missing no longer.
If you're also looking around for outdoor classrooms or playground canopies, get in touch using our contact form. Our talented design team can walk you through the wide range of options that will add the most benefit to your school. You can stop googling playground equipment suppliers and look back at a job well done.
Find out more about where we work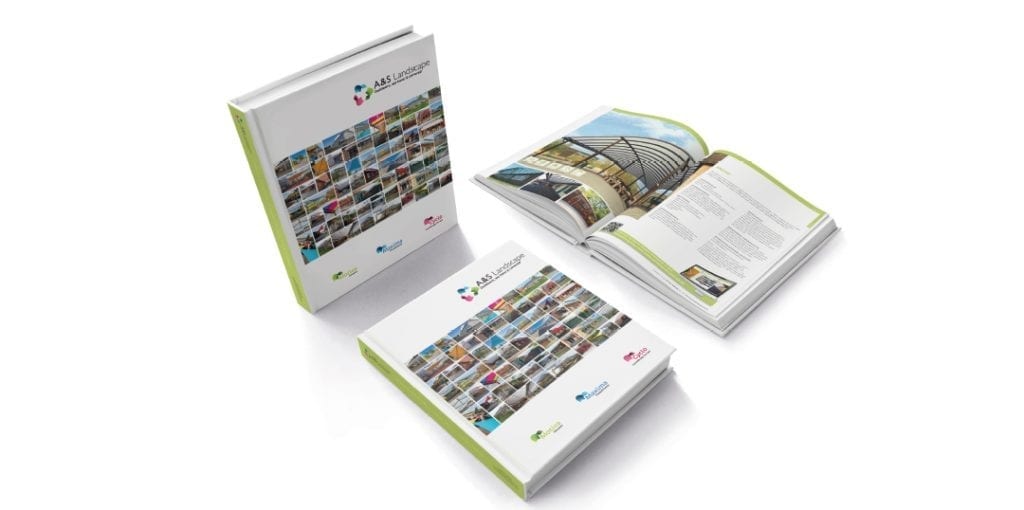 Get in touch to request a copy of our full, 160 page, hardback brochure with all the information you need to make the right choice.