School canopies in Birmingham
A&S Landscape has installed numerous canopies in Birmingham
Other Locations
Birmingham Based Projects
A&S Landscape works across the country, helping schools and businesses to get better use out of their external space, including Birmingham in the West Midlands. From a simple monopitch shelter to a large Covered MUGA™, we are the experts when it comes to canopy and shelter installation.
Our high quality range of standard and bespoke canopies suit a variety of applications, from playground shelters to covered walkways. We use the latest technology and processes to ensure that we deliver a superior product. Our expert team can guide you through your project, offering design, site surveys and installation as a complete package.
Below we have collected a range of our projects completed in Birmingham, at schools, care homes and play centres. Based in Shrewsbury, we regularly complete jobs across the West Midlands and normally return to install additional canopies too. Whether you are a small nursery or a large sixth form college, we will guide you through your project smoothly and seamlessly. With over 40 years of experience in the industry, we are known for our integrity, reliability and efficiency.
And don't just take our word for it! Check out our latest case studies and testimonials to find out what our customers have said about us. If you are looking for a covered solution, then look no further than A&S Landscape. Get in contact with our team by using the contact form on this page, to let us know of your requirements so we can give you a school canopy price.
Straight Roof Canopies at Harborne Primary School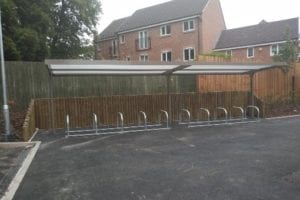 A Motiva Cantilever™ was added outside the main doors to create an entrance canopy. Next, a straight roof Motiva Linear™ model was built outside one of the classrooms, to form a covered play area. Lastly, a Cyclo City™ bike store was installed with enough room to cover 20 cycles. Every shelter features matt Beige Grey steelwork and clear polycarbonate roofing to create a sleek, modern look.
The three new school shelter canopies have been a great success at Harborne Primary School with both the staff and pupils. The outside space can now be used more often throughout the year during break and lunchtimes. Visitors are greeted by the smart, professional-looking entrance and the pupils are even encouraged to cycle to school thanks to the new store.
Our versatile products can be used for a range of purposes and help you to get better use out of your outside space. Why not take a look at our gallery for more information or read some of our testimonials? You can also talk to our friendly team to discuss your options on 01743 444100.
Covered Walkway Designed for Moor Hall Primary School
In collaboration with the builder our engineers produced a covered walkway in Moor Hall Primary School Sutton Coldfield, Birmingham, West Midlands. The job involved one Covered Walkway measuring 12660mm X 2500/3100mm and included for our Alu-Tuff™ aluminium box profile guttering and downpipes in matching Dura-coat™ colour finish.
St Alphege C of E School Add Curved Roof Shelter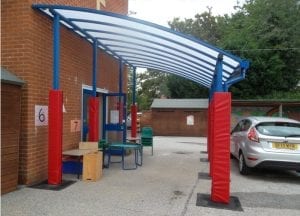 Your building will stay standing without them, but you instantly lose the ability to spend time outdoors and are dictated to by the weather. If you really didn't have an Umbrella, you may well change plans when the first raindrop landed. And that's what happens with schools that don't have suitable outdoor space. They are dictated to by the weather and are unable to either plan for sessions outside or offer those who do venture outside some protection from the rain with their fresh air and natural light.
This is exactly why St Alphege C of E School reached out to A&S Landscape, they wanted a suitable outdoor shelter to provide cover from the rain and ensure that the area at their entrance was suitable for any weather, all year round. A Motiva Mono™ was installed with opal roofing to give shelter from the rain and direct sunlight too. To complete this structure and make it suitable for little adventurers 1800mm post pads in a smart contrast red were added.
The result is a bright, playful entrance and play area that means nobody has to compromise due to the weather and means St Alphege C of E School has a brand new school canopy shelter that will last them for many years to come. To find out more about our outdoor shelters for schools take a look at our full range here.
Timber Frame Canopy Designed for Handsworth Wood Girl's Academy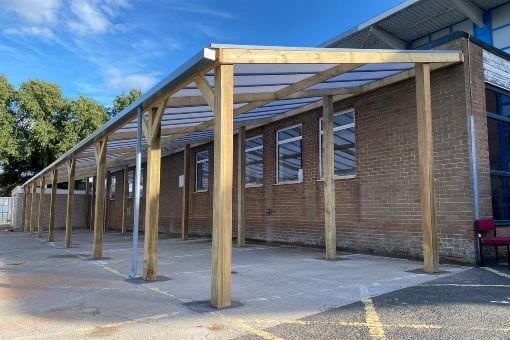 A&S Landscape was asked to propose a school canopy shelter for King Edward VI Handsworth Wood Girls' Academy in Birmingham. The academy wanted the shelter to protect the students from harmful UV rays while still allowing a safe level of sunlight through. Our team suggested we use our Motiva Linear™ product with a timber frame, which features a roof made of unbreakable polycarbonate sheets.
The academy is delighted with the finished wooden structure, it has been the perfect addition to the site. Now the students can enjoy some fresh air during their busy day, which will help them to refresh and unwind. The covered space can be used throughout the year as a dining area, outdoor classroom or social space. The entire A&S Landscape team worked hard to get this shelter installed before the students returned from the summer break to be safely welcomed back to school.
We knew that the cost of the project was a key factor in the academy's brief, which is why we suggested using a timber frame. But as with all of our products, we only used the highest-quality materials to ensure the school can use the structure for many years to come. We always strive to find a shade solution which works for your budget as we know how beneficial our shelters are to schools.
Entrance canopy at University of Birmingham, Edgbaston, West Midlands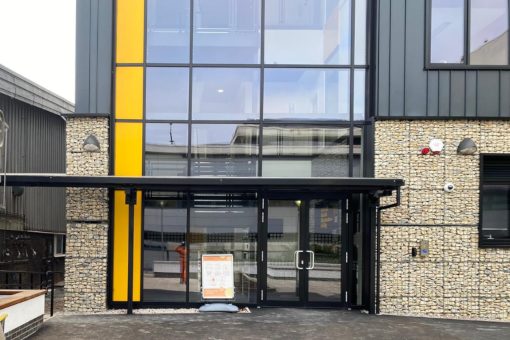 The University of Birmingham is located in the suburban district of Edgbaston in Birmingham city centre. The UoB was looking to create a stylish and durable entrance for students, staff and guests that would be in keeping with the university's existing red brick architecture.
Upon meeting A&S Landscape, the University of Birmingham representatives became interested in creating a bespoke Motiva Linear™ entrance canopy.
The bespoke canopy was designed in graphite black steelwork and completed with a clear polycarbonate roof. The bespoke size was 9444mm x 3500/900mm. The university is now the proud owner of their very own entrance canopy that's not only durable enough to withstand all weathers but also stylish and chic to represent the modern student faculty.
Creating an additional area for students to use outside space and take a break from the lecture theatre is fundamental for promoting well being on campus. The relationship between getting outside and fostering positive mental health is well documented and the University of Birmingham is at the forefront of ensuring students' well being is treated with the seriousness that it deserves.
If you'd like to talk to one of our friendly and knowledgeable team about all aspects of canopies, you can contact us on 01743 444100.
Some of our Birmingham based clients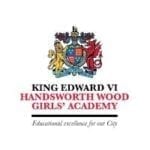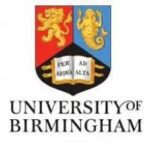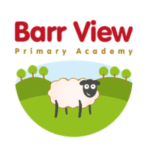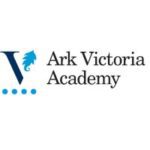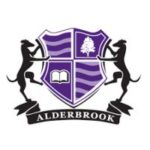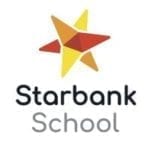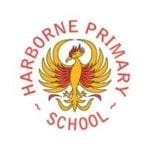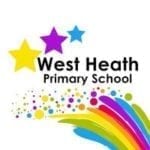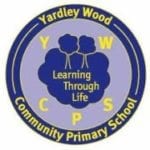 Holy Trinity Catholic School Add Fabric Playground Shade Sails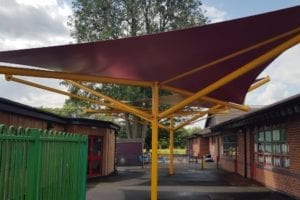 It's that kind of flexibility that's so important because no two schools are exactly the same so it's essential that whatever their tastes, there's a product to suit. When A&S Landscape, a school canopy supplier, was asked to add some imaginative outdoor playground shelters at Holy Trinity Catholic School we had quite a few options to choose from.
Installing a Maxima StarSail™ will always have an impressive effect on a site, but installing two? That creates something really special. We installed two Maxima StarSails™ to an overall size of 8000mm x 8000mm to the playground area at Holy Trinity. With bright yellow paintwork (RAL1003) and velvet red waterproof fabric they cut quite a striking silhouette, adding a playful edge to the straight edges of the playground.
The result is a gorgeous and effective outdoor playground shelter that means children can stay dry on a wet day whilst also getting great cover from the sun on a hot summers day. The Maxima StarSail™ is a popular choice with schools and colleges that want to create a less formal look with their outdoor playground shelter. It offers a high level of shade at the same time as being waterproof and keeping the rain at bay on those less generous days. You can find out more about A&S Landscape's Maxima StarSail™ by looking at our gallery of finished projects and if you have your own project you'd like to discuss, get in touch!
Coloured Roof School Canopy Shelter Made for Wyndcliffe Primary School
A straight roof canopy was selected as the best option for this job. The Motiva Linear™ measures 8750mm X 3915mm, so there is plenty of space for the pupils to play and have fun underneath. But the real feature is the fantastic multicoloured polycarbonate roofing. As well as clear panels, Wyndcliffe Primary School chose the RAL colours Moondust, Daffodil and Mandarin to create a truly inspiring area. Because A&S Landscape offers such a wide choice of colours, the school was able to tailor the design to match their exact vision.
The finished product is the perfect addition to the site. The young pupils can enjoy playtimes in the fresh air, no matter the weather. Teachers can also hold lessons outside as the canopy offers an engaging, alternative learning experience. And if the rain starts to pour, parents now have a sheltered area where they can wait for their children. A&S Landscape manufactures a wide range of canopies for a variety of uses. From Covered MUGA™s to StarSails, you will be able to find the perfect product for your next project. Get in contact with us today on 01743 444100.
Rainbow Coloured Canopy with Roller Shutters Designed for Al-Furqan Primary School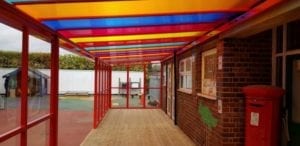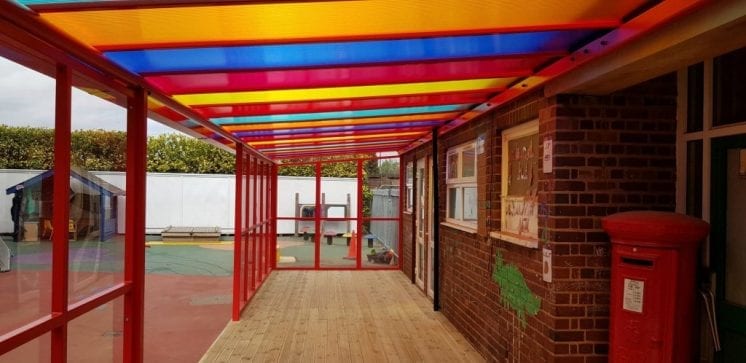 The school canopy product that they designed came from the Motiva range. The Motiva Linear™ is made from steel and polycarbonate and this one measures 14m x 3m. The colourful school canopy runs alongside one of the classrooms to create an extension. In bright Red (RAL 3020) steelwork with a rainbow coloured polycarbonate roof, it creates a bright, fun space which has delighted the children and teachers alike. Glazed panels have been added to the sides to make it secure and to add protection from the elements. The really clever part is the electrically operated roller shutter doors which have been installed to the front elevation.
All these lovely features, including decked flooring, have made a wonderful new space for the children. They can learn, eat, socialise and enjoy this new canopy in all weathers, safe from sun, wind and rain. The space can be used to store items given it has glazed panels and doors and as we all know, you can never have enough storage space. Al Furqan's children are very pleased with their new school canopy shelter and we think it looks great too.
If you are thinking about a similar project, take a look at our gallery which contains more than 1,000 images of projects that we have completed. It is a good place to look for some inspiration. You can always call us directly on 01743 444100 if you would like to chat through the options, we would be glad to help.
Large Umbrella Shade Added to Summerhill School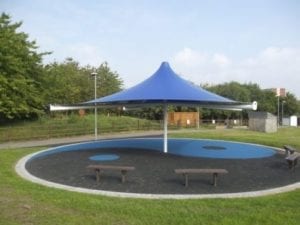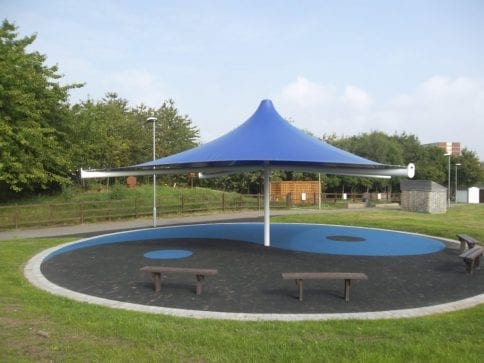 At Summerhill School in Birmingham, they know all about this. Having just completed a total reinvention of their play space, spearheaded by a large landscape and groundwork company, A&S Landscape was brought in to complete the look and ensure everything was in balance.
Installing an attractive rubber flooring, complete with a Ying Yang marking, A&S Landscape also installed benches before the final piece was brought in. A large, 8000mm Maxima Umbrella™, with clean white steelwork and a striking, complementary blue fabric mean that the space is not only functional but also strikingly attractive to look at.
After numerous studies, it has been confirmed time and time again that the space we inhabit has an impact on our behaviour and our mood. Spaces that marry clean, purposeful lines with less structured, flowing design help to connect us to nature and mean play areas like this are very inviting indeed.
To see other examples of Maxima Umbrellas™ in action, take a look at our gallery here. If you are ready to take the plunge and strike your own unique balance, then our team are on hand to discuss every element of your project. Contact us today.
Rubery Nursery School Add Straight Roof Shelter to Play Area
Our team made a straight polycarbonate roof canopy in Rubery Nursery School Rednal, Birmingham, West Midlands. The job involved the supply and installation of one Motiva™ monopitch straight roof canopy measuring 14000/9000mm X 3000mm and included for our Alu-Tuff™ aluminium box profile guttering and downpipes in matching Dura-coat™ colour finish along with dismantling and removal of existing structures.
Fabric Sail Shade Manufactured for Thornton Junior School
A&S created a shade sail in Thornton Junior School Ward End, Birmingham, West Midlands. The contract included one Shade Cloth Fabric including for tension mechanisms.
Two Curved Roof Canopies Installed at Kingsland Primary School
We created two curved roof canopies for Kingsland Primary School Birmingham, Birmingham, West Midlands metropolitan. The full contract involved one Motiva™ Duo duopitch curved roof canopy to an overall size and one Motiva™ Duo duopitch curved roof canopy to an overall size. Both canopies included for our Alu-Tuff™ aluminium box profile guttering and downpipes in matching Dura-coat™ colour finish.
Coronation Road Play Centre Add Fabric Shade to Play Area
You see, the spaces we choose for our children to play in can give them that freedom. The freedom to play, to realise that life isn't all about containers, boxes and boundaries. It can fun too! It's from that space that our Maxima Umbrella™ was originally designed and every time we install one, we're not just installing the steel and fabric. We're installing permission to play.
Coronation Road Play Centre were looking for a statement piece to finish off their play area so when they contacted A&S Landscape, we knew just the thing. Bet you can't guess what it was? A bright, engaging Maxima Umbrella™, designed to fit the space perfectly at 8m wide, this gorgeous statement piece in red steelwork with yellow fabric is located right in the centre of the play area within a circular mosaic feature. Which means and please look at the picture again after reading this, it looks as though it was always meant to be there. You did look didn't you?
This installation more than met the needs of the client, taking an already pretty space and turning it into something fun and functional at the same time. Whilst the Maxima Umbrella™ does add a layer of the playful, it's also a waterproof structure that means play can continue all year round. To find out more about how A&S Landscape can inject 'permission to play' into your school, take a look at some of our designs here. Then speak to our team who can help take your dreams and turn them into a reality with a proposal landing on your desk.
Covered Rampway at Reynalds Cross School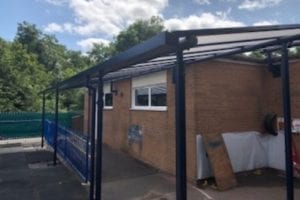 A straight roof canopy was installed alongside one of the buildings, covering the ramp. The Motiva Linear™ features Steel Blue coloured steelwork, which adds a splash of colour to the area. The Opal coloured polycarbonate roofing also provides protection against the harmful UV rays too.
The students waiting to go into their classroom are now sheltered from the rain, wind and sun. This will greatly help to improve their day, and the canopy has been a real asset to the campus. Already the staff and children love the shelter and it has become a very popular addition. Parents can also wait under the cover at the end of the day without getting too wet, cold or hot. A&S Landscape has worked with many schools all over the country, helping them to get more out of their outside space. Take a look at our past projects or browse our gallery too. Our friendly team are ready to help you every step of the way, call us on 01743 444100.
Wheelers Lane Primary School Install Straight Roof Cover
That's right, outside. We mostly forget the immense opportunity that our outside spaces offer us and treat them as luxuries, only truly available during especially good weather. But the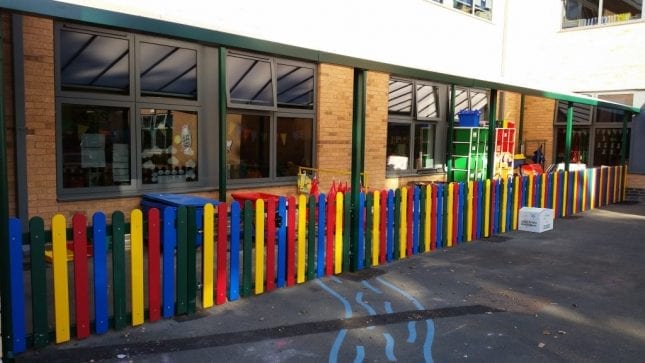 benefits of spending time outside are so great that finding a way to utilise this space year-round is very important. Outdoor covered shelters can take otherwise unusable space and give it purpose, opening it up for use as an additional area for learning, play and storage.
Wheelers Lane Primary School were looking for exactly that, a space they could use as an extra learning and play zone and when they contacted A&S Landscape, we had exactly the product in mind. Installing a Motiva Linear™ with a smart green steelwork and opal roofing has given Wheelers Lane Primary School a fantastic new option for year-round useable space.
The Motiva Linear™ provides not only a wonderful shelter from poor weather but also shade from direct sunlight. The inclusion of a colourful fence has also added a spark of fun and imagination that truly complements the identity of the school.
The result is simple. Wheelers Lane Primary School just got a bigger useable footprint without us having to build a single wall. By taking space outside that was unavailable during imperfect weather conditions A&S Landscape have ensured that Wheelers Lane is now home to a superb new area for learning and play. We also installed an entrance canopy at this school too.
Whether you are looking for additional outdoor learning space like Wheelers Lane, or you want a covered outdoor dining shelter or walkway, A&S Landscape have a variety of options for you. By getting in contact with us, our design team will begin working with you to identify the most suitable spaces and can put a proposal together for you that will be on your desk the very next day. If Wheelers Lane has inspired you, then take a look here, to see more inspiring examples of the change an outdoor playground canopy can make to you.
Break Time Canopy Installed at Ark Victoria Academy in Birmingham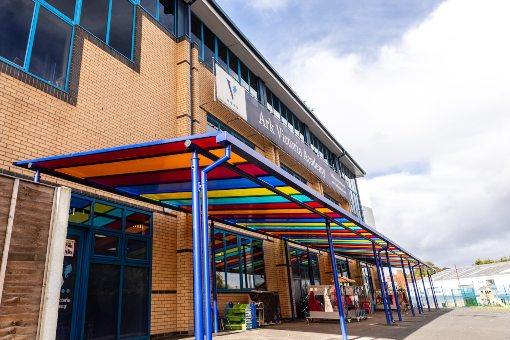 Ark Victoria Academy in Small Heath, Birmingham had the idea to add a shelter to its facilities to shield its pupils from the elements at break times. The team at this institution – which works hard to help realise the ambitions of the children and their families – wanted it to have a colourful look that would bring positivity to the area, stretch alongside the school building, and be able to withstand rain, sun and wind. We were thrilled when they got in touch with us and we worked hard to discover the ideal solution.
Following lengthy discussion, Ark Victoria Academy selected a Motiva Linear™ for its break time shelter. This model has an adaptable, durable straight roof design that offers excellent coverage in all sorts of weather. We built the canopy to measure 28280mm X 4000mm, which was perfect for running along the length of the building, and we added Ultramarine Blue steelwork and a multicoloured polycarbonate roof to bring cheer and creativity to the outdoor space. This made for an exciting shelter where children could take time away from their lessons.
The pupils and staff make great use of the break time canopy. It's a fantastic, colourful undercover space for children to hang out with friends or relax during their breaks year-round, and it could also be used as an outdoor classroom shelter. Call us on 01743 444100 today if you'd like to hear more about our products.
Take a look at some of our entrance canopy projects in Birmingham
Willowbrook Care Home adds Stylish New Entrance Canopy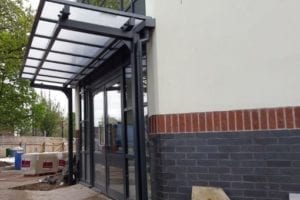 Our Motiva range has a number of different canopies and the Motiva Entro™ was selected for this project. Installed in smart Grey steelwork (RAL 7016), the entrance is now covered, meaning that residents and visitors can see clearly where the entrance is located as well as being sheltered from the elements.
The new extension is completed with a smart new entrance canopy which adds to the overall aesthetic of the modern extension project. Every detail has been painstakingly planned and designed so that residents and families have a pleasant environment in which to live or to visit loved ones. Sometimes it is the small details that can make a difference, and this is definitely the case here.
A&S Landscape can help you with inspiration and expertise if you think your setting might benefit from something similar, please talk to us today. From Shade Sails, Umbrellas and Tepees, to straight or curved roof steel canopies, A&S Landscape have a range which is sure to offer you something special. Feel free to look through our gallery, which has more than 1500 images to inspire you.
Turves Green Boys School Add Straight Roof Entrance Cover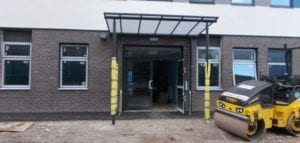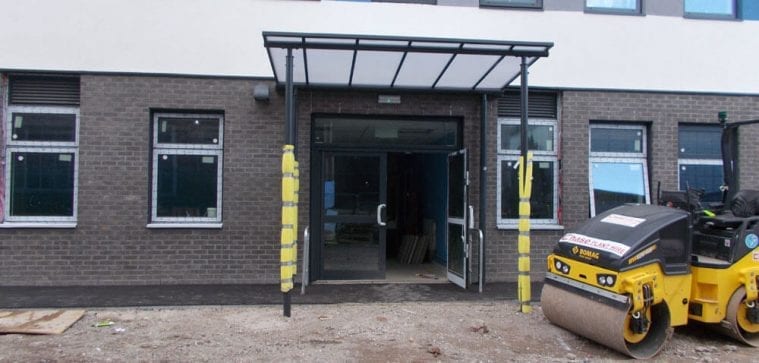 What happens, whether we consider it or not, we tell stories with our words, our body language, our clothes. Everything. And the same is true for our buildings. We instruct people how to feel by the story we tell them with our building design and no element of building design is more powerful on a first impression than entrance canopy design.
So when A&S Landscape was instructed to add an entrance canopy to Turves Green Boys School, we knew we weren't just adding a shelter, we were telling a vital part of their story. We installed this Motiva Linear™ at 3600mm x 2000mm in a gorgeous anthracite grey (RAL 7016) with matching Alu-Tuff™ box profile guttering in Dura-Coat™ paintwork. This small but perfectly formed entrance canopy in Birmingham looks great whilst also providing cover for those waiting outside.
The result is a better story. A story that reflects the ambition and professional attitude of everybody at Turves Green. Because you see, whether we do it on purpose or not, we're always communicating with people and they're not making judgements consciously, it's often quite automatic so it is essential you control the story you tell. If you want to tell a better story with entrance canopy design then look no further than our Motiva Entro™. Actually, do, because our Motiva Linear™ is also a really popular choice for larger entrance canopies and you can see a gallery of finished projects online to give you some inspiration.
Great Barr Primary & Nursery School Add Covered Walkway and Entrance Canopy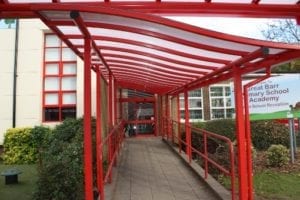 Before this installation, the area was entirely open so moving from one building to the next on a rainy day meant one thing, getting wet. Great Barr selected a Motiva Wave™ finish for their design which we brought together in three sections. In a range of sizes from 11300mm x 2930mm to 27500mm x 3200mm, this Motiva Wave™ was finished smartly in a bold red steelwork (RAL 3020) with matching Alu-Tuff™ box profile guttering and downpipes in Dura-Coat™ paint. Opal roofing means students can stay dry and out of direct sunlight when making their way from one building to the next.
The result must be like a whole new world. Being able to go from one area of the site to another without getting drenched is a huge benefit which everybody at Great Barr is very happy about! You can find out more about our Motiva Wave by looking at a gallery of finished projects. It offers a little something more playful than our other Motiva variants but is just as robust and effective.
Entrance Canopy at Wheelers Lane Primary School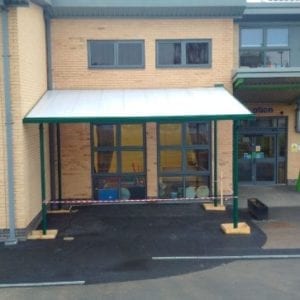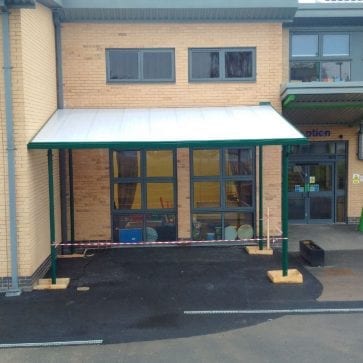 When Wheelers Lane Primary School were looking to add an entrance canopy for parents to wait under when the weather is poor, as well as a shelter providing outdoor learning space for their reception children, they knew exactly who to call. We installed a Motiva Linear™ at 5900mm x 4000mm which included Alu-Tuff™ guttering and downpipes in Dura-coat™ paint that matched the green steelwork throughout (RAL6005). The addition of opal roofing gives a neat and attractive finish as well as letting natural light in whilst protecting from direct sunlight on those rare Summer days.
The result has been very warmly received, with parents grateful for the space to wait in poor weather and the team at Wheelers Lane Primary School describing the canopy as 'lovely' and noting how it has provided the additional outdoor learning area for their reception children that they were looking for. We also installed a playground canopy with a coloured fence at Wheelers Lane Primary School.
From dining area shelters to outdoor classroom extensions, A&S Landscape have a range of products that can help make your outdoor areas more accessible all year around. Take a look at a gallery of our finished products here. If you have an idea for an outdoor canopy that you want to incorporate on your site, then contact our team who can have a full proposal ready for you to review.
Straight Roof Playground Shelter Designed for West Heath Primary School
What was the problem?
West Heath Primary School are passionate about providing the best educational experience for their pupils, from the early reception children up to year six classes. The staff knew that ensuring the children could spend valuable time outside was a big part in the daily experience, and so they concluded they should add an area of shade to the playground. A&S Landscape worked alongside the building contractor to agree upon a design and smoothly and seamlessly install the playground shelter.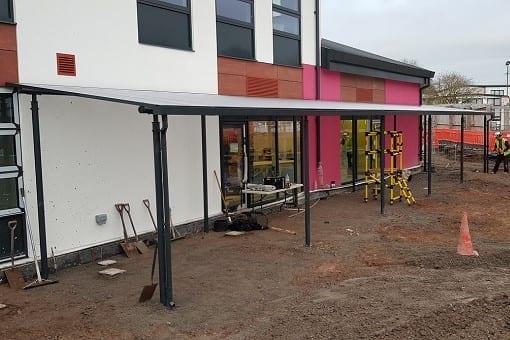 What was our solution?
One straight roof play area canopy was added to the primary school. The steelwork was finished in a subtle grey colour, which helped the structure blend into the surrounding environment. Clear polycarbonate sheets were used on the roof to provide essential protection from UV rays, while still allowing sunlight to shine through.
What was the result?
It's safe to say that the new canopy has been a huge success. Both the teachers and the pupils are over the moon with the shelter. Wet breaks are a thing of the past too, as the children can gather under the roof if it does start to rain. Plus, the shade will become invaluable during the summer months when the sun can become dangerous.
A little bit about the client…
As we are based in Shropshire, we often get to work with schools around the West Midlands and it was a treat to get to collaborate with West Heath Primary School in Birmingham. It was clear to us that every member of staff was excited about the opportunity to further improve the facilities on offer, and our own team matched this energy too. It's always a highlight when we get the see the finished product and know that it will make a difference to the daily lives of many local children.
Why add shelter to your playground?
More and more primary schools are choosing to add areas of shade to their play areas. This is because more research and studies are proving the fantastic benefits of not only playing outside but also learning too. In fact, our range of school canopies provides the perfect environment for both of these uses.
When children play outside, they get the opportunity to let off steam, stimulate their imaginations and exercise more regularly. This all helps them to refocus and refresh ahead of their next activity or lesson. And when classes are held outdoors, the alternative learning environment creates an engaging and memorable lesson. Thanks to our all-year canopies, teachers won't have to plan around the unpredictable weather ever again.
What range of primary school canopies do we offer?
Our versatile range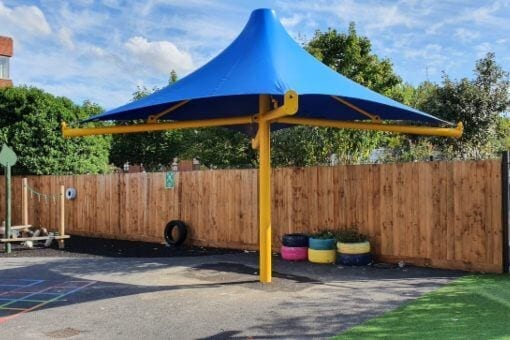 has something for every application and requirement and our team will help you to pick the best one for your needs. Our multicoloured polycarbonate roof canopies are perfect for adding a cheerful element to playgrounds. When the sun shines the colours stream through and reflects on the floor, creating a magical effect.
We also have several fabric options too, a stylish and practical addition to every site. These canopies can be made with a waterproof PVC material, so they're still ideal for all types of weather. Or if you have specific requirements, we have the capability to defer from our standard design to create a bespoke solution. Change the dimensions, colours and even material to create the ideal shelter for your needs.
How can A&S Landscape help you?
With over 44 years of experience, we're known within the industry for our high-quality range of shelters, shade sails and canopies. As well as primary schools, we also work in higher education settings and with other businesses including garden centres, sporting facilities and public attractions.
Our friendly team will help you along the project each step of the way, from the first concept idea to the final sign off of the product. We're always here to answer any of your questions and make the process as simple and straightforward as possible. Call us today to discuss your options on 01743 444100 or email [email protected].
Montgomery Primary Academy add Striking Shade Sail Canopy to Playground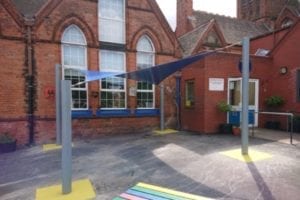 A&S Landscape were delighted to help. Our range of different outdoor canopies from fabric to steel and polycarbonate meant that there were plenty of options to choose from. The option that was chosen was a fabric shade sail from our Maxima range. At 4100mm x 4100mm, the waterproof fabric sail was installed on four uprights and four post pads were added, offering extra safety for the children.
The children of Montgomery Primary Academy are rightly delighted with their new canopy. The space offers shade from the sunshine and cover from the weather. This gives the children somewhere to be all year round, no matter what the weather has in store. Perhaps they might even decide to read outdoors or have an outdoor lesson now and again. The flexibility is one of the great things that a canopy can offer schools.
A&S Landscape has a wide range of products for you to review. We have many different designs for you to choose from. We are sure that you will be able to find something to meet your needs. Review our gallery which has over 1500 images, it is a great place to get some inspiration for your project.
Yardley Wood Community Primary School Create Outdoor Learning Area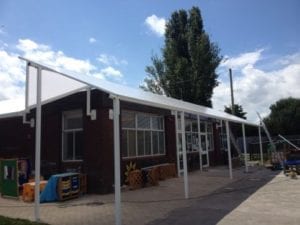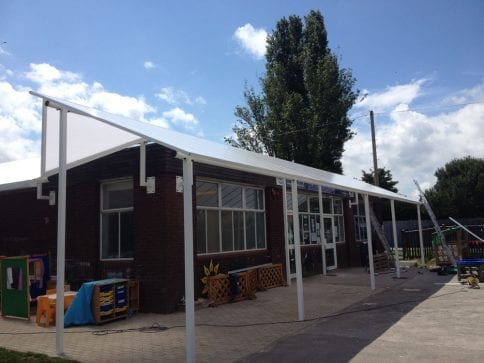 Yardley Wood Community Primary School has an incredible focus on building a site that provides the start in life their children deserve, but like most primary schools space is at a premium and they want to find smart ways to use every available inch they can.
They came to A&S Landscape looking to extend an existing canopy & provide additional cover with a larger learning area for their children. Yardley Wood wanted to make this space available all year round and for that to happen they needed to put a cover on it!
We installed a Motiva Linear™ free standing mono pitch canopy at 15000mm x 3000mm, integrating it perfectly with an existing structure and colouring it to match in a white (RAL 9010) steelwork with opal roofing. The result is a seamless addition to the site. Our Motiva Linear™ canopy blends effortlessly with the existing structure and extends the useable outdoor space considerably whilst also offering generous cover from the weather.
There is always more space available to you than you first realise. Whether it takes moving the furniture around, installing moveable walls or turning unused outdoor space into additional learning areas, that are available all year round, there's a solution. At A&S Landscape we specialise in providing outdoor shelters for schools that create space out of thin air by taking under-used outdoor areas and putting stunning yet functional covers over them. If you're considering a playground extension canopy or dining shelter for schools or colleges then take a look at our full gallery of projects and talk to us today.
Starbank Junior & Infant School Add Covered Waiting Area
As it stood, they had no space outside that offered protection from the rain, which meant no space for parents to wait or anywhere to duck and get some cover when the heavens opened during playtime. However, it was really important to Starbank Junior that any new canopy matched the aesthetic of the building.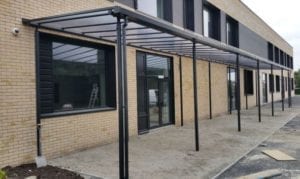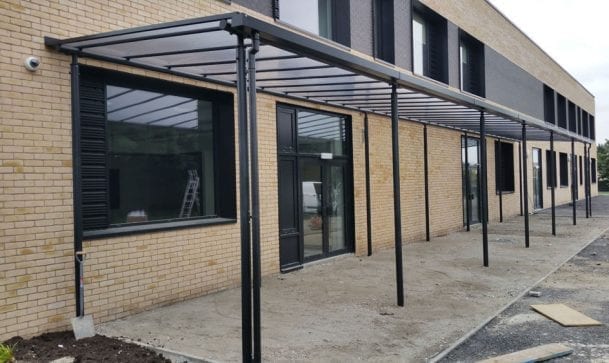 The flexibility of our Motiva Linear™ isn't just in the size, we also have a huge variety of colours on offer that means the mix of steelwork and roofing can leave your new canopy feeling like it's part of the family. We installed this Motiva Linear™ at 21000mm x 3000mm, giving a long-covered area out of the rain. To match the current look of the building we finished in black (RAL 9004) Dura-Coat™ paintwork and included matching Alu-Tuff™ box profile guttering. Clear roofing gave it a sharp look and meant the whole thing felt like it had been designed to be there.
Now Starbank Junior has some extra protection from the rain and a place for parents to wait on unpleasant days. Not only that, they've extended their bold aesthetic that continues to look really professional and attractive.
Whatever your branding or style, we can make sure your new canopy will match. So, whilst providing long-lasting weather protection, an A&S Landscape outdoor shelter can also look great, fitting in with the overall aesthetic or standing out on purpose to offer a little flair. Take a look at more finished Motiva Linear projects and if you have any questions or want a canopy shelter price, get in contact.
St. Anne's Catholic Primary School Add Playground Shelter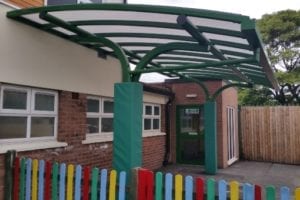 As it turns out, the simplest solution is often the right one. We might not be able to stop the rain from falling but we can certainly make sure it doesn't have to stop play. A playground canopy gives you protection from the elements and means that children can continue to play and learn the whole year round, giving them incredible access to fresh air, natural light and free flow play. So when St. Anne's Catholic Primary School in Birmingham decided to install a playground canopy extension they called in A&S Landscape to have it covered.
We installed a Motiva Cantilever™ curved roof canopy at 6500mm x 3500mm, with Alu-Tuff™ box profile guttering and downpipes, all in Dura-Coat™ smart green steelwork (RAL 6002) with high, wide and effective post protectors in matching green to protect little warriors from bumps and scrapes.
The result is a playground brought back into action on even the rainiest of days and a shelter that will last St. Anne's Catholic Primary School for many years. This Motiva Cantilever™ will protect from the rain and provide outdoor access all year-round meaning rain never needs to stop play again. To see our whole range of playground canopies for schools, take a look online. You'll also find a range of products being shown off in our gallery and if you have any questions you can speak to our team by getting in touch today.
Entrance Canopy Designed for Great Barr Medical Centre
What was the problem?
Great Barr Medical Centre in Birmingham was undergoing further improvements and decided that installing an entrance canopy would also be beneficial to the site. This would provide a place for the patients to wait outside, under a cover. It would also help to frame the main entrances and make a great first impression for the visitors.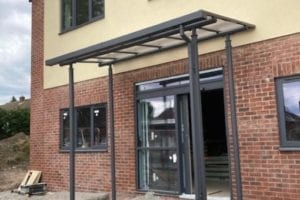 What was our solution?
Our team worked with the client to agree upon the drawings of two Motiva Linear™ shelters. The canopies would feature Slate Grey steelwork to create a sleek effect, which would also work with the surrounding environment. Clear polycarbonate roof sheets were also used on the shelter, which allows a safe level of sunlight through while blocking UV rays.
What was the result?
Both the staff and the patients of Great Barr Medical Centre are very happy with their new entrance canopies. Now the patients are greeted with a smart and professional looking entranceway, which gives an indication of the fantastic level of care they will receive inside.
The shelters also give the staff the opportunity to enjoy some fresh air during their breaks, no matter the weather. This is will have many benefits for their mental health, something which is especially important in such a busy and skilled occupation.
Feedback / Testimonial
"The installation team was courteous and tidy. They were nice guys to deal with."
Great Barr Medical Centre
A little bit about the client…
Great Barr Medical Centre prides itself on the high quality of care it gives their local community. And they don't just stop there, with the Patient Representative Group they work to continue extending and improving their services and facilities. It's important that a medical centre helps the patients to feel welcome and comfortable, and we were glad we could be part of this with our entrance canopies.
Why add an entrance canopy to your site?
From hospitals to nurseries, we have installed entrance canopies at a whole host of sites and sectors. With specially designed products like the Motiva Entro™ and Motiva Entrada™, we can help you to choose the perfect cover for your entrance. Below are just a few reasons why you may consider installing an entrance shelter or door canopy with A&S Landscape.
First Impressions
It may be a cliché, but first impressions really do matter and what better way to impress your visitors than with a smart-looking entrance canopy. This not only frames and signposts your entranceway but also shows that you are invested in making a good impression, whether you are a school or business.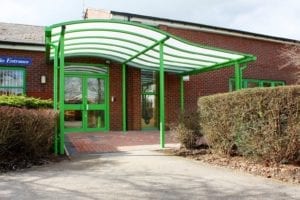 Different Designs
When you install a shelter with A&S Landscape, you will be getting a wide variety of designs to choose from. Make a real statement with a bespoke fabric structure or choose something more subtle with a straight roof shelter. Our Motiva Wave™ is also a popular choice as an eye-catching feature at receptions.
Additional Space
Whichever design you choose, one added benefit of installing an entrance cover is the covered space which is created. This area could be used to store outdoor play equipment, display notices or benches could even be added. There are also optional extras to turn give this space even more functionality, like side panels, heating and lighting.
How can A&S Landscape help you?
With over 44 years of experience and hundreds of completed projects, we are the experts when it comes to canopies for schools and businesses. Our team will guide you through your project, from the initial design to the installation service. We pride ourselves on the exceptional service we deliver and helps us to continue growing our list of successful projects.
Whether you need a secure bike store for your medical centre or a covered seating for a café, we can help make your project a success. Get in touch with us today by emailing [email protected] or call us on 01743 444100.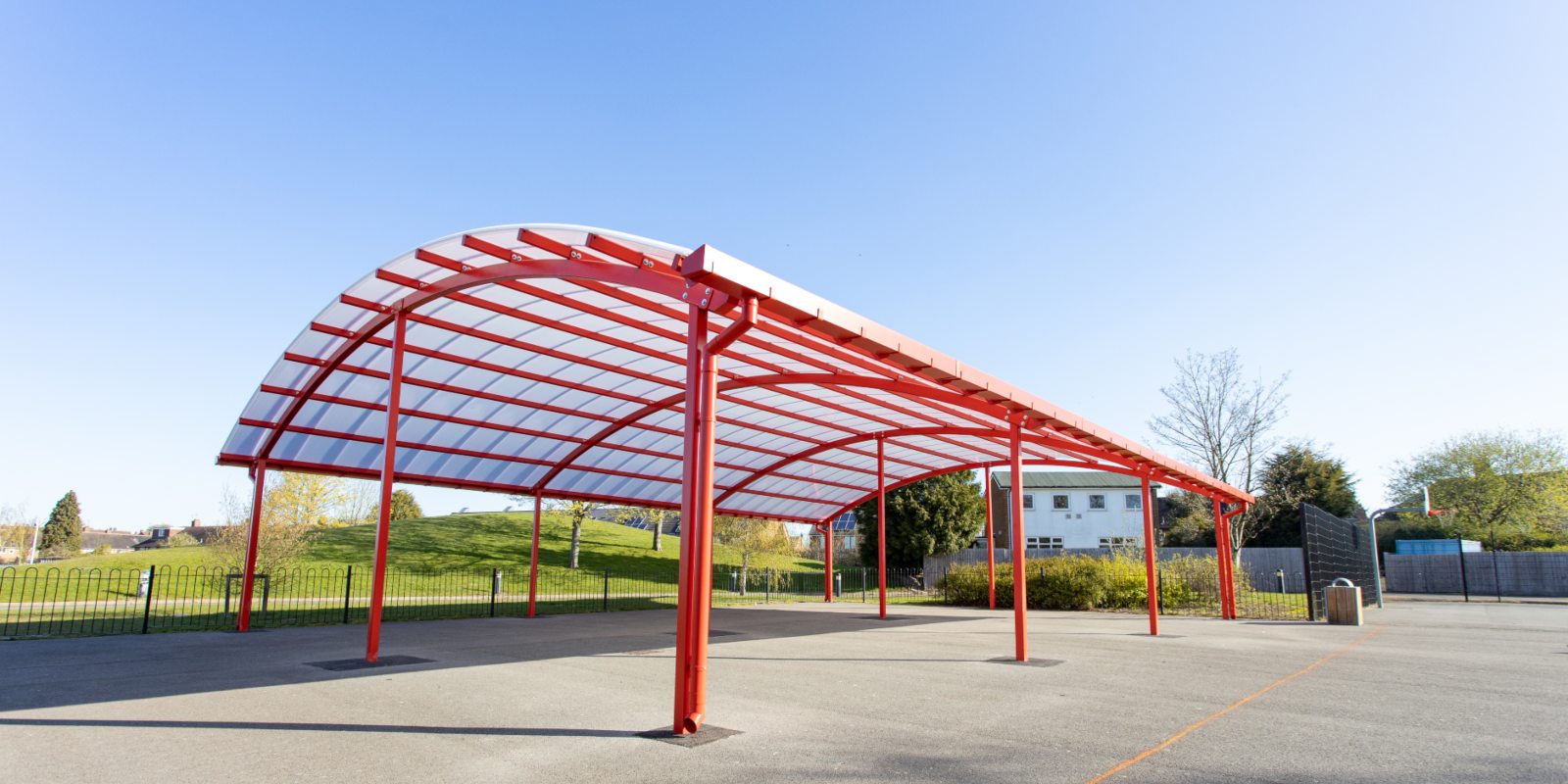 Send us your email and an idea of your requirements and we'll get back to you with a quick price.