Entrance Canopy Designed for Great Barr Medical Centre
What was the problem?
Great Barr Medical Centre in Birmingham was undergoing further improvements and decided that installing an entrance canopy would also be beneficial to the site. This would provide a place for the patients to wait outside, under a cover. It would also help to frame the main entrances and make a great first impression for the visitors.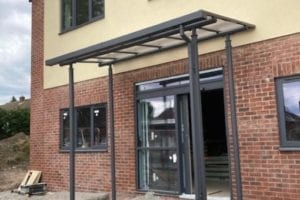 What was our solution?
Our team worked with the client to agree upon the drawings of two Motiva Linear™ shelters. The canopies would feature Slate Grey steelwork to create a sleek effect, which would also work with the surrounding environment. Clear polycarbonate roof sheets were also used on the shelter, which allows a safe level of sunlight through while blocking UV rays.
What was the result?
Both the staff and the patients of Great Barr Medical Centre are very happy with their new entrance canopies. Now the patients are greeted with a smart and professional looking entranceway, which gives an indication of the fantastic level of care they will receive inside.
The shelters also give the staff the opportunity to enjoy some fresh air during their breaks, no matter the weather. This is will have many benefits for their mental health, something which is especially important in such a busy and skilled occupation.
Feedback / Testimonial
"The installation team was courteous and tidy. They were nice guys to deal with."
Great Barr Medical Centre
A little bit about the client…
Great Barr Medical Centre prides itself on the high quality of care it gives their local community. And they don't just stop there, with the Patient Representative Group they work to continue extending and improving their services and facilities. It's important that a medical centre helps the patients to feel welcome and comfortable, and we were glad we could be part of this with our entrance canopies.
Why add an entrance canopy to your site?
From hospitals to nurseries, we have installed entrance canopies at a whole host of sites and sectors. With specially designed products like the Motiva Entro™ and Motiva Entrada™, we can help you to choose the perfect cover for your entrance. Below are just a few reasons why you may consider installing an entrance shelter or door canopy with A&S Landscape.
First Impressions
It may be a cliché, but first impressions really do matter and what better way to impress your visitors than with a smart-looking entrance canopy. This not only frames and signposts your entranceway but also shows that you are invested in making a good impression, whether you are a school or business.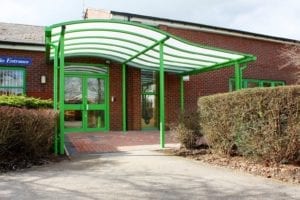 Different Designs
When you install a shelter with A&S Landscape, you will be getting a wide variety of designs to choose from. Make a real statement with a bespoke fabric structure or choose something more subtle with a straight roof shelter. Our Motiva Wave™ is also a popular choice as an eye-catching feature at receptions.
Additional Space
Whichever design you choose, one added benefit of installing an entrance cover is the covered space which is created. This area could be used to store outdoor play equipment, display notices or benches could even be added. There are also optional extras to turn give this space even more functionality, like side panels, heating and lighting.
How can A&S Landscape help you?
With over 44 years of experience and hundreds of completed projects, we are the experts when it comes to canopies for schools and businesses. Our team will guide you through your project, from the initial design to the installation service. We pride ourselves on the exceptional service we deliver and helps us to continue growing our list of successful projects.
Whether you need a secure bike store for your medical centre or a covered seating for a café, we can help make your project a success. Get in touch with us today by emailing [email protected] or call us on 01743 444100.