Lincroft Academy in Oakley Expand Their Facilities With a Dining Area Canopy
Although Lincroft Academy is situated in the rural parish of Oakley in Bedfordshire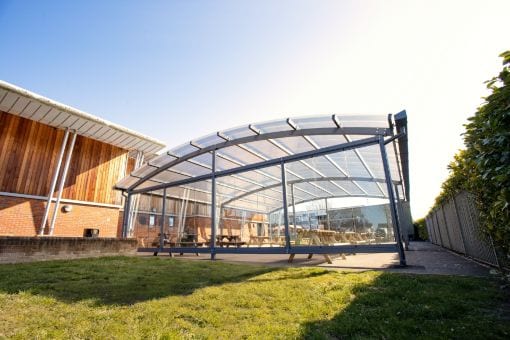 , the site is far from a quiet village school. It's a popular choice which, as a consequence, sees demand for places and strain on the existing facilities.
The management team at Lincroft Academy reached out to A&S Landscape to explore what options there might be for installing an outdoor dining area canopy. This is a popular choice for growing schools, colleges and universities because it delivers on a sheltered space for pupils and students to use at lunchtime, as well as creating an additional resource for learning and recreation.
For the Lincroft Academy project, our expert team devised a proposal for a Motiva Duo™ canopy. The canopy architecture of the Motiva Duo™ has a symmetric curved roofline giving it a streamlined and attractive look. Being a village school, the estate sits in the midst of neighbouring houses, and it was important for the Lincroft Academy to hit the right look for this job. Measuring in at 12500mm x 10000mm, a glazed end panel was added to one side creating a large, super-sheltered spot for a good number of students to utilise at any one time. The custom canopy was completed in Slate Grey (RAL7015) steelwork with an Opal polycarbonate roof, to finish off the look in a way that fitted with the surroundings.
Our Featured Umbrella Canopy Projects
Outdoor Shelter in Luton at Someries Junior School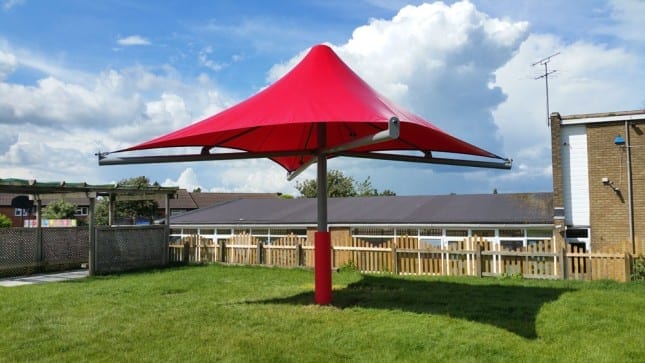 When we install a new outdoor playground canopy it's done with love. Every single detail has been crafted to make sure you don't just get something that does the job on paper, you receive an incredible shelter that will last for years and leave a striking impression on anybody that uses it.
So when Someries Junior School in Bedfordshire contacted A&S Landscape to add a new playground shade canopy we knew we'd be giving them something they'd fall in love with too. Working with Someries Junior School, we installed a Maxima Umbrella, supported on a single upright, at 5000mm x 5000mm with striking grey steelwork and Alu Tuff guttering (RAL 7037) and poppy red fabric that cuts a playful yet stylish figure on the grassy play area.
The result is a crisp red line against a blue sky, a lovely place to seek cover. Because here's the important part of this tale… It may seem over the top to talk about outdoor shelters for schools in these glowing terms, but you have to ask yourself, why would it be any other way? When choosing something as significant as a new school playground canopy it's important you know it was crafted to add as much value as possible, which is to say, crafted with love.
If you're looking for an outdoor playground canopy or a playing field shade shelter, then there are lots of places to find them. However, we're not convinced you'll find them put together with more precision or care than at A&S Landscape. Take a look at more Maxima Umbrellas here and if you are ready to start your own shade shelter love affair, contact us.
Sharnbrook Academy Federation adds Umbrella Shades
A&S Landscape has a wide range of products and we were pleased to install two PVC fabric Umbrellas from our Maxima range at Sharnbrook Academy Federation. One in Buttercup, near to the amphitheatre and one in Victoria Blue in a flat area. Both look really smart and have given some much-needed protection from the elements. The bright design of the Umbrellas has complemented the campus at Sharnbrook Academy Federation. The new sheltered areas mean that the pupils have yet more outdoor spaces to enjoy at break times or even during lessons if the teachers are feeling adventurous. Outdoor learning has a lot of support, a new environment being cited as yet another way to engage pupils.
A&S Landscape has more than 40 years' experience working with clients to transform their outdoor areas. We would be pleased to help you with any school canopies that you are considering. Please review our gallery which has over 1500 images.
Cantilever Canopy Manufactured for Cardinal Newman School
Working for our contractor client we erected a cantilever canopy for Cardinal Newman School Luton. The full contract involved one Cantilever straight glass roof canopy measuring 3000mm X 1500mm and included for our Alu-Tuff™ aluminium box profile guttering and downpipes which were coated in a matching Dura-coat™ colour finish.
Courtyard Canopy Completes Outdoor Area at Biddenham International School and Sports College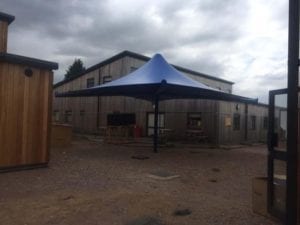 You can see how the campus itself is important as part of the learning environment for students. With many buildings, there are often times where pupils are moving from one to another and sometimes the elements will be less than kind. One courtyard area, in particular, was crying out for some shelter from the elements and this is when A&S Landscape came on board.
With more than 40 years' experience working with our range of clients, we were very pleased to come up with a solution for the courtyard area. Our Maxima range has an Umbrella which was perfect. With one post this was an ideal design for the area. The fabric chosen was waterproof Victoria Blue which looks in keeping with the site and reflects the school colours.
The result is a courtyard area with purpose and a smart new canopy. The pupils have shade depending on the time of year and the option to move easily between classrooms. We are pleased to have helped create additional outdoor space.
A&S Landscape can help you with inspiration and design expertise if you think your setting might benefit from something similar. Please get in touch. From Shade Sails, Umbrellas and Tepees, to straight or curved roof steel canopies, A&S Landscape have a range which is sure to offer you something special. Feel free to look through our gallery, which has more than 1500 images to inspire you.
Roecroft Lower School in Stortford Add Wave Roof Canopy
A&S Landscape has more than 40 years' experience working with schools and other commercial buildings, installing canopies and tensile fabric structures, so we knew that we would have the perfect solution for Roecroft Lower School. Our Motiva range includes the Motiva Wave which worked perfectly in the playground area. Fixed on one side to the building and with posts on the other, the canopy was installed with Opal polycarbonate roofing and Green steelwork which matched the existing guttering.
The result is a flexible and smart outdoor area. The pupils have the option to play and learn outside all year round. The canopy covers a portion of the playground so that pupils can still enjoy the sunshine but can also enjoy the shade in the summer months. Strong UV rays in the summer months can stop play as often as rain in the winter, but now being outside is something the pupils can do regardless of the weather. It looks smart too we are sure you will agree!
From Shade Sails, Umbrellas and Tepees, to straight or curved roof steel canopies, A&S Landscape have a range which is sure to offer you something special. Feel free to look through our gallery, which has more than 1500 images to inspire you.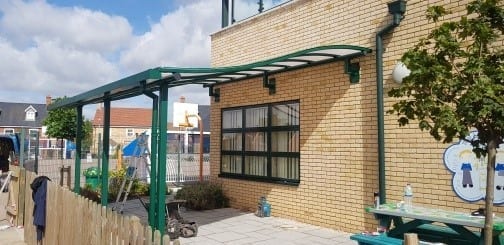 Polycarbonate Roof Canopy Installed at Challney High School
Working with our contractor client A&S made system 60 roofing in Challney High School Stoneygate Road, Luton, Bedfordshire. The full contract included System 60 roofing measuring 31960mm X 2258mm and included for our Alu-Tuff™ aluminium box profile guttering and downpipes which were coated in a matching Dura-coat™ colour finish.
Canopy Cover Installed At The Mary Bassett Lower School in Leighton Buzzard
The finished result needed to complement the existing lawned areas, as well as being sympathetic to the fact that there were windows and doors on the side of the building. As A&S Landscape worked with The Mary Basset Lower School, plans began to come together for a linear, straight roof canopy.
What was the problem?
The problem boiled down to a lack of cover and protection from the elements in the existing grounds. The site offers lots of different areas, textures and activities for the pupils and students and students to get on board with. But these activities were limited on some days when the weather simply couldn't support the children being outdoors.
What was our solution?
The A&S Landscape solution to this problem came in the form of our Motiva Linear™ straight roof canopy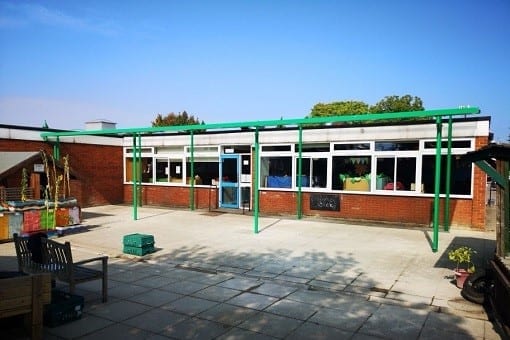 . This design fitted well with the existing roofline of the building. The pitch of the Motiva Linear™ canopy cover is asymmetric, which essentially means that one side is higher than the other. It's a design that fits well for outdoor canopies to be situated next to buildings. It also offers great flexibility in terms of size, and with The Mary Bassett Lower School project, the canopy was to run alongside the windows of some of the classrooms. What a fantastic choice!
What product did we use?
Once the right option for this job had been selected, the client was able to customise the design themselves.
The Motiva Linear™ enables clients to select from a wide range of steel colours. The Mary Bassett Lower School management selected Signal Green (RAL 6032) from our extensive colour range for their steelwork and Alu Tuff guttering. From there it was a case of choosing a colour for the polycarbonate roof. Again, A&S Landscape offers a range of options, but for this project, The Mary Bassett Lower School chose a clear roof, although they could have chosen any colour from our range, and even gone for more than one colour if they'd wanted to!
What was the result?
The feedback received from The Mary Bassett Lower School team, which you can see below, speaks for itself! At the end of the day, the brief to create a multi-functional space for outdoor learning and play was absolutely achieved. As you can see from the photograph, some play equipment items have been located beneath the canopy cover, showing that it is in use as an accepted part of the school's outdoor spaces.
Feedback & testimonials
We are proud to say that The Mary Bassett Lower School were extremely happy with their new canopy cover. They told our team:
'We are really thrilled with the work completed by A&S Landscape. The team who came to install the structure were so friendly, polite and considerate.'
A bit about the client
The Mary Bassett Lower School aim to ensure that all of the pupils who attend are healthy, happy and that they develop positive relationships. This commitment is borne out by their accreditation to the Nurture Group Network Quality Mark, Healthy School status.
Based in Leighton Buzzard, The Mary Bassett Lower School is located close to the Chilterns Area of Outstanding Natural Beauty. This part of the country is well connected to the home counties, and it's a great place from which to visit many interesting attractions in neighbouring districts.
What is a monopitch canopy cover?
The Motiva Linear™ canopy cover that A&S Landscape installed at The Mary Bassett Lower School is technically what is called a monopitch roofline. What this means is that one side of the roof is higher than the other. It can run one way or the other, and the angle at which it is fitted will depend upon where it is being installed. If it is next to an existing building, the angle will be dictated by which side of the building the canopy is to be located.
The design of this particular model, however, means that it is adaptable not just to being a canopy cover. The steel shelter frame can be designed to provide a covered walkway, for instance.
How A&S Landscape can help you
There are many ways that A&S Landscape can help you. Perhaps you are at the information gathering stage? If so, then you will find some very useful resources on our website, such as:
If you have already earmarked the financial resources for your canopy cover but now need some help to navigate the next steps, then our team are on hand to chat the options through with you. Or if you'd like to discuss how we can help you find the right outdoor canopy cover or quality school awnings, get in touch with our friendly team on 01743 444100 or by filling out our contact form.
Looking for more locations?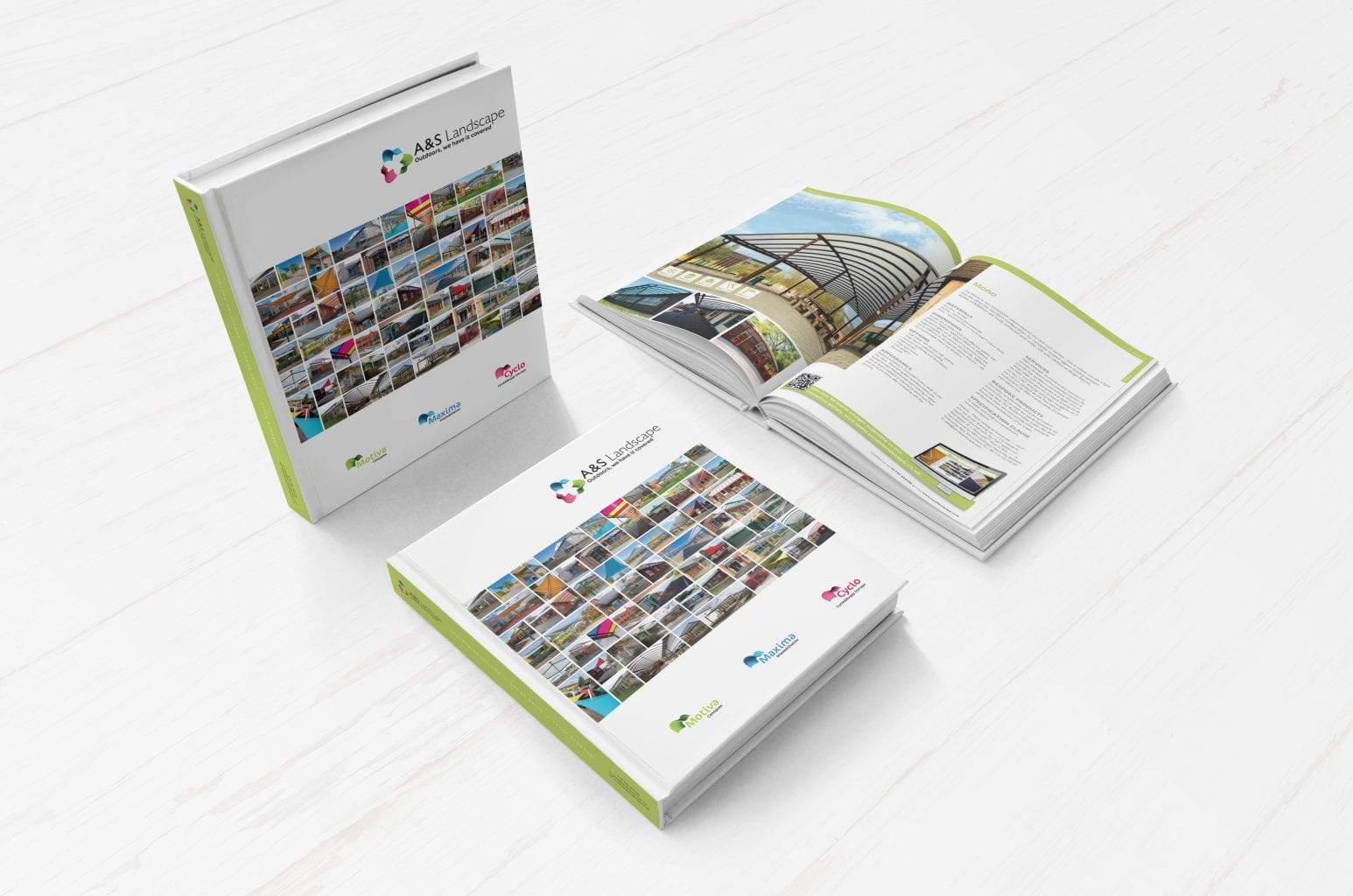 Get in touch to request a copy of our full, 160 page, hardback brochure with all the information you need to make the right choice.