School Shelters in Buckinghamshire
A&S Landscape has over 44 years of experience with working with schools and businesses across the country, including Buckinghamshire. We have installed a range of canopies, shade sails and cycle shelters, helping our clients get better use out of their external areas – all year round. Whether you need a dining area canopy, a covered walkway or a shelter for your playground, we have the perfect product for you.
From our first conversation to the final sign off, our team will guide you through the project smoothly. We have an experienced design team who will be able to suggest options and structures which will meet all of your requirements, all the while working with your budget in mind. Then we will manufacture the parts using the latest technology and processes. Lastly, our skilled installation team will fit the canopy at your site, taking into account any restrictions you have.
And you don't just have to take our word for our service. Find out what our clients have said about us on our testimonial page which is full of videos and quotes. We strive to make every project a success, and we are always growing our list of complete jobs and happy customers. We would love to add you to the collection.
Below we have gathered some of our featured canopy installations to give you inspiration. If you have any questions at all, please get in touch with us by emailing [email protected] or calling 01743 444100.
The Beacon School in Amersham Add Curved Roof Play Area Canopy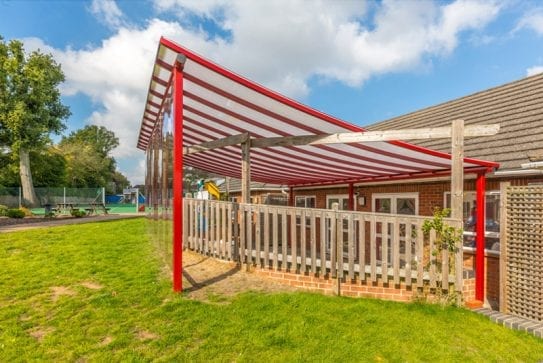 Price is a big deal when you aren't sure how something will look. So when The Beacon School got in touch looking for a canopy for the patio area outside the art rooms we were able to give them a little peek into their future. Utilising photorealistic visualisation software, we showed The Beacon School an image of exactly how their new canopy would look. Which meant by the time we installed this Motiva Wave™ Monopitch Canopy in striking red steelwork with opal roofing, they already knew what it would look like. The day they saw it for the first time must have felt just a little like déjà vu.
The result is a robust, attractive and quite striking design. Completed with a polycarbonate panel front that works with the stepped area outside the art rooms. A gorgeous addition to the space.
If you're interested in outdoor shelters for schools but have also spent time googling 'playground canopy prices uk' then know this – as part of the design process, we produce outstanding, high-quality visualisations that mean you get to see the finished design before there has been any construction at all.
Wash Area Canopy and Picnic Area Shelter Added to Brushwood Junior School in Chesham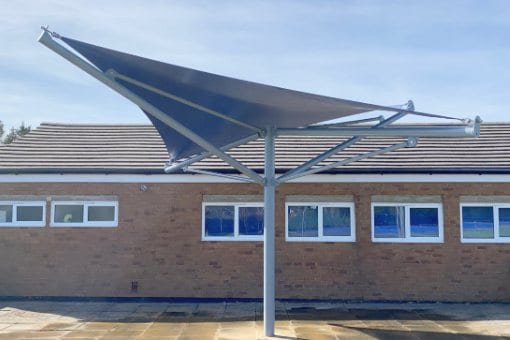 Brushwood Junior School in Chesham, Buckinghamshire needed two canopies to improve their facilities. They wanted a wash area canopy to adjoin the building so their pupils could easily keep up good hygiene in any weather, as well as a picnic area shelter so everyone could eat outdoors throughout the year. A&S Landscape was pleased to be contacted and endeavoured to make this project as beneficial as possible for all involved.
After discussions about various models, Brushwood Junior School chose the Motiva Mono™ for the covered wash area. Built to measure 5000mm X 3000mm and sporting Ultramarine Blue steelwork and an Opal roof, it was large enough to allow several children to wash their hands at once before entering the school – even in wet weather. Plus, the model was well-suited to being placed next to the building due to its asymmetric design. The staff decided on a 5000mm X 5000mm Maxima StarSail™ for the picnic area canopy, because they loved its modern look and its durability that would encourage more outdoor dining for years to come. It was installed with a Midnight Blue roof and Squirrel Grey steelwork to bring more colour to the school grounds.
Brushwood Junior School loves the new shelters. The wash area canopy helps everyone to maintain good hygiene and the picnic area canopy provides space for eating outside in all weathers. This institution – which strives to develop a passion for lifelong learning in its pupils – can now enjoy having wonderful new facilities, thanks to A&S Landscape.
Coloured Roof Canopy in Milton Keynes For Shepherdswell School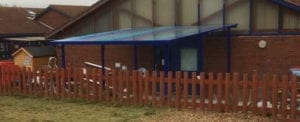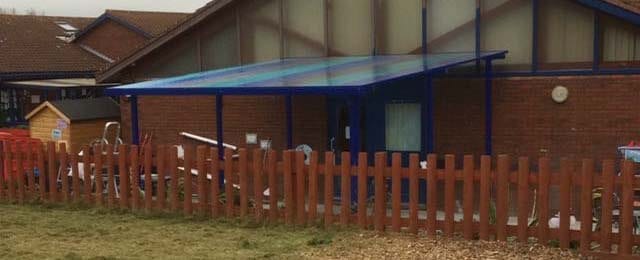 A&S Landscape specialises in working within the education sector, and have worked on a number of projects where coloured polycarbonate has been used to great effect, these can be seen here. A&S Landscape added a smart new entrance canopy using a Motiva Linear straight roof canopy, installed at 5000mm x 5000mm, with Marine Blue (RAL5002) steelwork and ALU-Tuff (aluminium box profile) guttering and downpipes in a matching Dura-coat finish and coloured polycarbonate roofing.
It was the roofing choice that really pleased the children, they chose Mint, Lagoon and Moondust coloured polycarbonate roofing which gave the area a sense of fun. The result is a sheltered area which has the added benefit of generating bright stripes of light on the floor on sunny days. What fun!
From Shade Sails, Umbrellas and Tepees, to straight or curved roof steel canopies, we have a range which is sure to offer you something special. To look at our full range of finished projects take a look at our case studies page. If you feel yourself getting inspired and want more information, please call us on 01743 444100.
Beechview Academy Add Straight Roof Shelter in High Wycombe
Working alongside a leading builder our team constructed a straight polycarbonate roof canopy for Beechview Academy High Wycombe. The job involved the supply and installation of one Motiva™ monopitch straight roof canopy measuring 13000mm X 4000mm and included for our Alu-Tuff™ aluminium box profile guttering and downpipes and for coloured polycarbonate.
Dining Area Canopy Added at Chesham Grammar School in Chesham
A large curved roof canopy was installed at Chesham Grammar School, measuring 15000mm X 15000mm. The Motiva Duo shelter was finished in Anthracite Grey steelwork, which complemented the surrounding buildings perfectly. The Opal polycarbonate roofing also provided protection from harmful UV rays, while allowing some sunlight through.
During lunchtimes, the students now have more choice of where to sit and eat their food. The existing dining hall now has reduced queues, as the outside serving pod offers an alternative option. Students can also enjoy some fresh air during their breaks, which has many benefits. A&S Landscape has provided dining area canopies for schools across the UK. With fabric canopies, straight roofs or curved canopy options, you can find the perfect product for your space. Our expert team can help you every step of the way, from the initial concept to the final sign off. Get in touch today and call us on 01743 444100.
Large Playground Canopy in High Wycombe Designed for Millbrook Combined School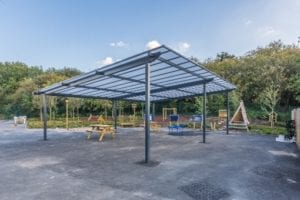 In combination with a leading builder A&S produced a straight polycarbonate roof canopy for Millbrook Combined School Mill End Road, High Wycombe. The full contract involved the supply and installation of one Motiva™ monopitch straight roof canopy measuring 8280mm X 3890/2000mm and included for our Alu-Tuff™ aluminium box profile guttering and downpipes which were coated in a matching Dura-coat™ colour finish.
Some of our Buckinghamshire based clients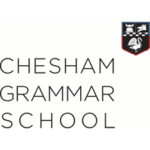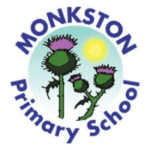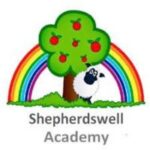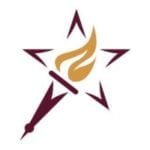 Striking School Shade Sail in Milton Keynes at Monkston Primary School
Monkston Primary School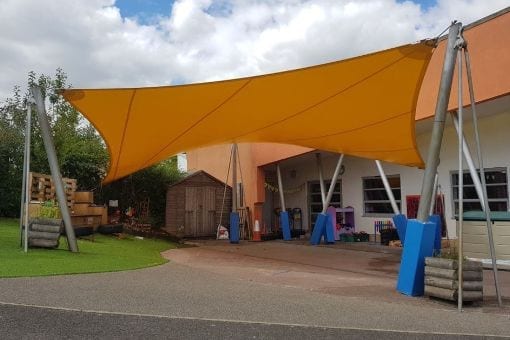 had an area outside one of the classrooms which needed a replacement sail. They already had steelwork, so we were more than happy to provide them with a high-quality, waterproof shade sail to fit, measuring 7300 x 5220 x 7220 x 5120 x 6270 mm. A&S Landscape also offer a complete product; our Maxima range has a shade sail which can be configured in triangle or square designs.
Now, the children are even more keen to be outside. They can shade from the sunshine under the bright new canopy, or they can seek refuge from the wet weather and still have some outside playtime. The whole outdoor area has benefited from this new canopy. It looks smart, adds a new option for play and learning and means that the space can be used all year round.
A&S Landscape can help you with inspiration and design expertise if you think your setting might benefit from something similar. Please get in touch. From Shade Sails, Umbrellas and Tepees, to straight or curved roof steel canopies, A&S Landscape have a range which is sure to offer you something special. Feel free to look through our gallery, which has more than 1500 images to inspire you.
Fabric and Polycarbonate Roof Canopies added to Chesham Grammar School in Chesham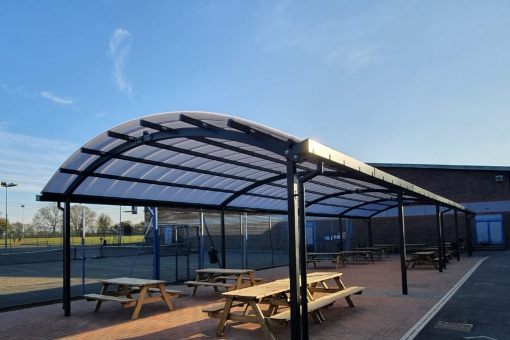 Chesham Grammar School in the market town of Chesham, Buckinghamshire, were so pleased with a recent dining canopy that A&S Landscape had installed they wanted three more canopies to cover outdoor areas adjacent to the Maths, Modern Foreign Languages and Textiles and Gym departments.
Following on from the dining area canopy already installed by A&S Landscape, the school decided that they wanted to install three more canopies. These included a Motiva Linear™ straight roof canopy, a Motiva Duo™, and a Maxima StarSail™. The canopies were to be added to the outside areas alongside the Maths, MFL, and Textiles and Gym departments. All three structures were finished Anthracite Grey steelwork and topped with a polycarbonate opal roof (curved and linear) or a fabric canopy.
The size and positioning of the structures varied to suit the different areas, the Motiva Duo™ was made to an overall size of 25500 x 700mm, the Maxima StarSail to 6000mm x 6000mm and the Motiva Linear to 10000mm x 4000mm. Students and staff, now have their own stylish and practical covered outdoor areas adjacent to their own departments. This provides a place to socialise and sit before and after lessons with other students.
Being able to make the most of outdoor space, all-year-round, is a very important aspect of promoting student health, happiness and mental wellbeing at school. All schools will also be well aware of how extra outdoor space can be utilised to ease overcrowding indoors. This especially applies for implementing actions related to COVID-19, as published by the Department of Education.
To find out more and to talk to a member of the A&S Landscape canopy team, please call 01743 444100.
Some more of our featured locations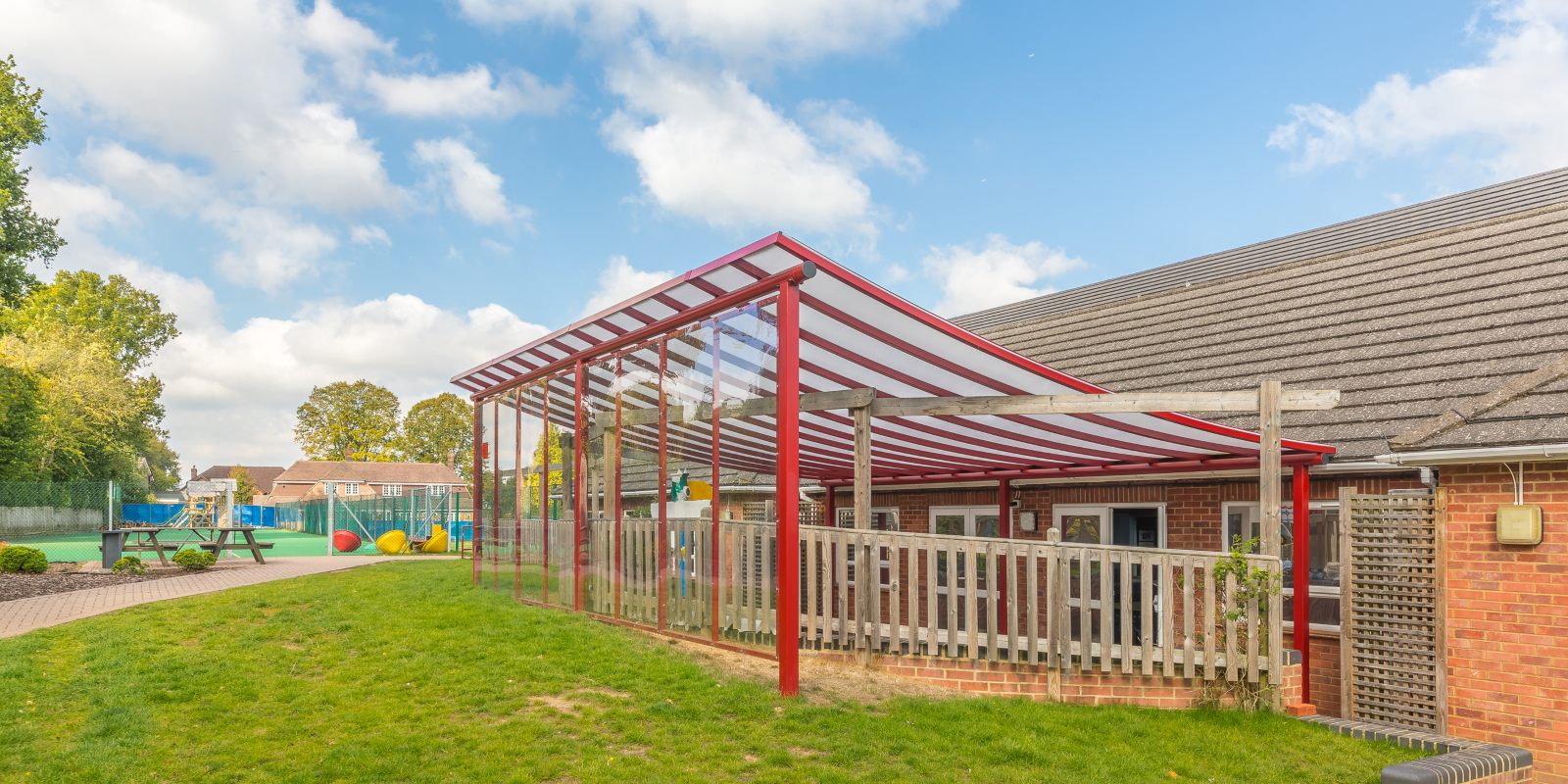 Send us your email and an idea of your requirements and we'll get back to you with a quick price.