The Beacon School in Amersham Add Curved Roof Play Area Canopy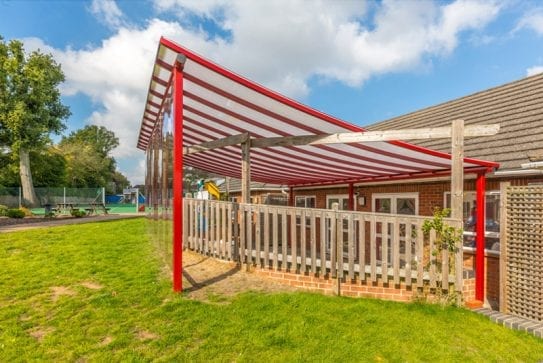 Price is a big deal when you aren't sure how something will look. So when The Beacon School got in touch looking for a canopy for the patio area outside the art rooms we were able to give them a little peek into their future. Utilising photorealistic visualisation software, we showed The Beacon School an image of exactly how their new canopy would look. Which meant by the time we installed this Motiva Wave™ Monopitch Canopy in striking red steelwork with opal roofing, they already knew what it would look like. The day they saw it for the first time must have felt just a little like déjà vu.
The result is a robust, attractive and quite striking design. Completed with a polycarbonate panel front that works with the stepped area outside the art rooms. A gorgeous addition to the space.
If you're interested in outdoor shelters for schools but have also spent time googling 'playground canopy prices uk' then know this – as part of the design process, we produce outstanding, high-quality visualisations that mean you get to see the finished design before there has been any construction at all.
Wash Area Canopy and Picnic Area Shelter Added to Brushwood Junior School in Chesham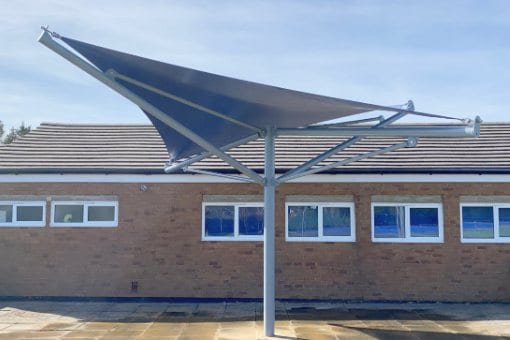 Brushwood Junior School in Chesham, Buckinghamshire needed two canopies to improve their facilities. They wanted a wash area canopy to adjoin the building so their pupils could easily keep up good hygiene in any weather, as well as a picnic area shelter so everyone could eat outdoors throughout the year. A&S Landscape was pleased to be contacted and endeavoured to make this project as beneficial as possible for all involved.
After discussions about various models, Brushwood Junior School chose the Motiva Mono™ for the covered wash area. Built to measure 5000mm X 3000mm and sporting Ultramarine Blue steelwork and an Opal roof, it was large enough to allow several children to wash their hands at once before entering the school – even in wet weather. Plus, the model was well-suited to being placed next to the building due to its asymmetric design. The staff decided on a 5000mm X 5000mm Maxima StarSail™ for the picnic area canopy, because they loved its modern look and its durability that would encourage more outdoor dining for years to come. It was installed with a Midnight Blue roof and Squirrel Grey steelwork to bring more colour to the school grounds.
Brushwood Junior School loves the new shelters. The wash area canopy helps everyone to maintain good hygiene and the picnic area canopy provides space for eating outside in all weathers. This institution – which strives to develop a passion for lifelong learning in its pupils – can now enjoy having wonderful new facilities, thanks to A&S Landscape.