Canopy Projects in Cheshire
Many schools across Cheshire have worked with A&S Landscape to add cover and shelter to their outdoor areas. With a wide range of covered options, we have a product to suit every type of client, including schools, universities and commercial venues. Our specialist team has the expertise to guide you through your project, smoothly and seamlessly.
Whether you want to add cycle shelters to your site, or perhaps a playground umbrella, our product range has something for everyone. By adding outdoor shade to your school, you can create covered space which can be used all year round. Our versatile shelters can be used for a range of applications, including:
Covered walkways
Outdoor dining areas
Entrance canopies
Playground shelters
Multi-use games area covers
On this page, you will find a selection of our completed jobs in Cheshire. Including a fabric shade sail at Carden Park Hotel and a cantilever shelter for Countess of Chester Hospital. Contact us today to arrange a free, no obligation quotation.
Ashton on Mersey School in Sale Purchases Two Waiting Area Canopies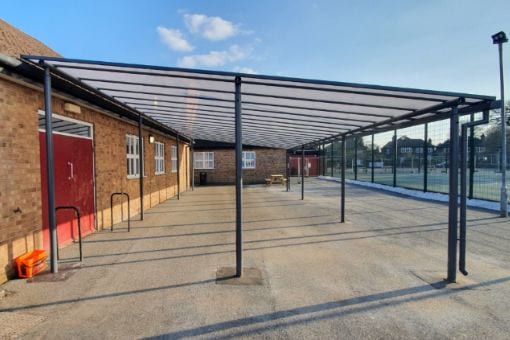 Ashton on Mersey School in Sale wanted to install a pair of shelters to create some covered waiting areas for their students. They needed to be strong and durable, as well as provide excellent protection from the wind and rain. The school contacted A&S Landscape, who was more than happy to help them find the ideal shelter solutions.
The staff chose two different models which met their needs with style and practicality. One of these was a straight roof Motiva Cantilever™ measuring 3500mm X 1500mm; the solid steel framework and customisable design allowed them to combine a long-lasting, sturdy model with the freedom to choose colours that reflected the school's branding. The second shelter was a 13500mm X 6000mm Motiva Linear™ which provided great coverage and lots of space for students waiting to enter or leave the building. Both canopies sported Slate Grey steelwork and Opal roofs to add a modern feel to the school's architecture.
The staff and students make excellent use of the two waiting area canopies, and everyone enjoys having somewhere safe and dry to take shelter in wet weather before and after lessons. They could even be used as outdoor classroom buildings. A&S Landscape loved working with this school – which has 'a commitment to opening up a future of choice for our young people' – and is pleased that they will enjoy their high-quality shelters for years to come. Call us on 01743 444100 to start your canopy journey today.
Entrance Canopy at Haslington Primary Academy in Haslington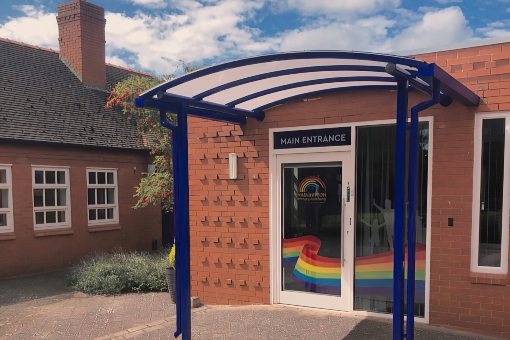 Haslington Primary Academy, in Haslington, Cheshire wanted to ensure their visitors, parents and pupils had some shelter whilst waiting outside the school, especially during busy periods. With Covid restrictions easing, the entrance canopy proved to be the perfect addition, as it not only provided shelter but also space for social distancing. They reached out to A&S Landscape to work on this project, choosing the beautiful Motiva Entro™, which was built to a size 3000mm x 2000mm, finished in Ultramarine Blue.
With the entrance canopy being the very first thing everyone would see when entering the school grounds, the school requested they wanted it to look appealing and serve as a good first impression. Additionally, they wanted something durable and long-lasting. With a solid steel framework and genuine polycarbonate roofing, this canopy serves as protection for all types of harsh winter weather, even including protection from strong UV-Rays on those hot summer days.
Having a lovely entrance that is both beautiful in design and useful in its purpose, has been thoroughly appreciated by everyone attending Haslington Primary Academy, including visitors. To find out more about our entrance canopies, please call our friendly team on 01743 444100.
Winsford High Street Primary School in Winsford Add Playground Shade Sail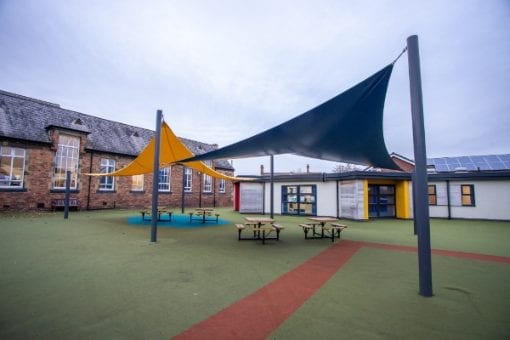 The pupils of Winsford High Street Primary School, Cheshire, were celebrating their good luck after the school's bid for a cancelled order was chosen as the winning proposal. This was great news for this ever-growing school because it has meant a new lease of life for their playground.
Occasionally, a customer will have to cancel their order. This happens for a variety of reasons, and after the manufacturing process has been completed this means that there is a brand-new canopy cover available. When this happens, A&S Landscape will open up bidding so that another customer can benefit. We also open up the opportunity to bid on used canopies. This also means that customers with smaller budgets can have the chance to benefit too.
Winsford High Street Primary School's bid was for a Maxima Sail™ with dimensions of 14000 mm x 7000 mm. This product is great for primary school playgrounds as it has a fun look, but also an extremely practical use in offering shade from the sun and shelter from the rain. The sail canvas of the Winsford High Street Primary School's new canopy cover was completed in Buttercup and Victoria Blue sail canvas affixed to Slate Grey (RAL 7015) steel canopy poles.
Covered Walkway Canopies Installed at The King's School in Macclesfield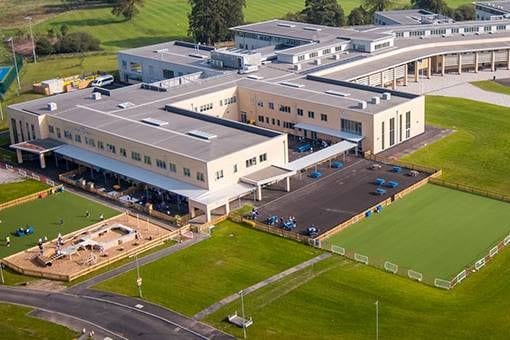 The King's School in Macclesfield, Cheshire required two covered walkways to shelter their busy student population when travelling outside between buildings and classrooms, both for lessons and in break times. This institution – which prides itself on its exceptional pastoral care and extra-curricular opportunities – wanted the canopies to add a modern touch to their facilities and provide maximum coverage to protect those walking beneath from the elements. After being contacted, A&S Landscape quickly got to work on finding the ideal designs for this school.
The team at The King's School in Macclesfield decided that the Motiva Linear™ would be the best model for their needs. One canopy was built to specifications of 54630mm X 3000mm, and the other measured 41210mm X 3000mm. The Squirrel Grey steelwork and Opal roofs created a fantastic colour combination that looks stylish and complements their existing buildings. The straight roof designs also offer protection from wind, rain and UV rays for pupils walking underneath, so staff don't have to worry about wet umbrellas or coats in their classrooms.
The King's School in Macclesfield loves their new covered walkways and the classic feel that they bring to their facilities. Now students can stay dry when moving between lessons and buildings in wet weather. Whether you're looking for a walkway, dining canopy or outdoor classroom buildings, contact A&S Landscape on 01743 444100 today to find your shelter solution.
Hear from the Headteacher of Winsford High Street Community Primary School
Outdoor Playground Shelter at Bunbury Aldersey Primary School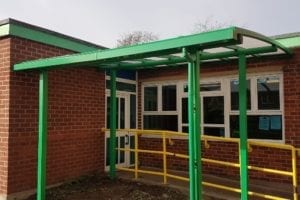 However, flexibility takes preparation. Instead of preparing for a result, you're preparing to be able to change direction whenever necessary. That's a good way of living life but also a good way of looking at outdoor playground shelter design (you were wondering how we'd get there, weren't you?) because an outdoor canopy is not about knowing when it will rain, it's about being ready whether it rains or not.
Bunbury Aldersey CE Primary School contacted A&S Landscape for exactly that reason. They wanted to be ready, whatever the weather. We worked closely with Bunbury Aldersey to install a smart Motiva Mono at 4000mm x 4000mm in green (RAL 6032) steelwork with matching Alu-Tuff™ box profile guttering and downpipes to match in Dura-Coat™ finish. Completing the job with opal roofing meant that Bunbury Aldersey also has some decent sun protection during the long hot summer we've been waiting for (for decades).
The result is a state of readiness. In life as in outdoor playground canopy design, it's important to be flexible, in a state of readiness for whatever the world throws at us. Instead of being fixed and without options, we must be able to shift. Which is exactly what a great outdoor canopy offers, a state of readiness, no matter what the weather is doing! You can find out more by looking at our full gallery of finished projects and if you have any questions just get in touch.
Wistaston Academy Add Straight Roof Shelter with Polycarbonate Roof
We designed a straight polycarbonate roof canopy in Wistaston Academy Crewe, Cheshire. The contract included the supply and installation of one Motiva™ monopitch straight roof canopy measuring 7000mm X 4000mm and included for our Alu-Tuff™ aluminium box profile guttering and downpipes in matching Dura-coat™ colour finish.
StarSail Canopy at Royal Mail in Warrington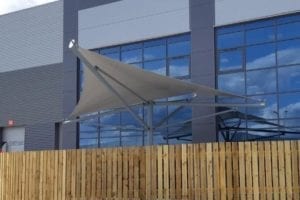 Royal Mail wanted to add a fabric canopy and there are a number of different options within our Motiva range; Umbrellas, Tepees, StarSails and Shade Sails. On this occasion, the StarSail was chosen. With only a single post, it makes the most of the available space and allows for seating to be fitted underneath to best effect. The StarSail was installed at 5m x 5m, with Grey (RAL 7000) steelwork and finished off with the fabric StarSail in Boulder, which matches the existing building.
The canopy looks like to it has always been there, fitting perfectly into the design of the surrounding buildings. With seating underneath, the StarSail has created a purpose for this outdoor area, creating a space where staff can come and sit to take a break and recharge.
From Shade Sails, Umbrellas and Tepees, to straight or curved roof steel canopies, A&S Landscape have a range which is sure to offer you something special. We can help you from the beginning planning stages, right through to installation. Feel free to look through our gallery, which has more than 1,000 images to inspire you.
Winsford High Street Community Primary School Install Play Area Sail Shade
Our team produced a sail structure for Winsford High Street Community Primary School Winsford, Cheshire. The full contract involved one 14000mm x 7000mm Maxima™ tensile waterproof fabric sail structure comprising of two square sails on six uprights including for all stainless steel fixtures and fittings.
Malpas Alport Primary School Add Playground Shade Sails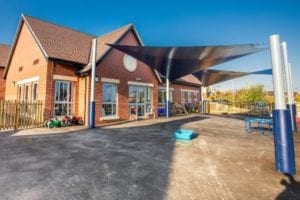 The fabric chosen was PVC, meaning that it offers both UV protection as well as shelter from the rain. Two square sails were installed using six posts, to create an area of 1200mm x 6000mm. The steel posts were Grey (RAL 7000) and the fabric sails were Midnight Blue.
The resulting area looks very smart indeed. The playground is visible from the road and sets the tone for the high quality and stylish works that have been completed at the school. The children are pleased to have such a special outside space which they can use all year round, protected from the sun and also the wet weather. We all know how important it is for young children to be able to run off steam and now they can without having to check the weather forecast!
If you are thinking about a similar project, take a look at our gallery which contains more than 1,000 images of projects that we have completed. It is a good place to look for some inspiration. You can always call us directly on 01743 444100, if you would like to chat through the options, we would be glad to help.
Wilmslow High School add School Canopy to Campus
A&S Landscape has been working with schools to transform their outdoor spaces for more than 40 years so we knew that our wide range of products would have a solution for Wilmslow High School. The Maxima Shade Sail was the product which we decided on and the design was a bespoke sail, specific to the area. This was installed at an overall size of 28000mm x 4768mm/8078mm. There were 18 uprights on the structure which looks incredible with Natural fabric and White (RAL 9010) steel.
The canopy looks amazing, it covers a large area, offering shade from UV rays as well as a striking design feature. The canopy is visible from the road so the school can use it to direct people as well. Staff, children and parents are rightly very pleased with the installation. We think it creates a new space for students to use perhaps for learning as well as break times. We are delighted to add Wilmslow High School to our growing list of satisfied school customers. A&S Landscape has a wide range of canopies. In our gallery, you will see more than 1000 photos of our previously completed projects. Take a look to get some inspiration at our gallery.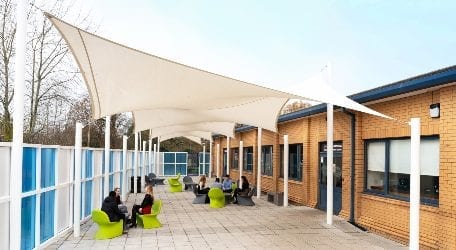 Our Cheshire Dining Area Canopy Projects
Outdoor Dining Canopies at Bishop Heber High School In Malpas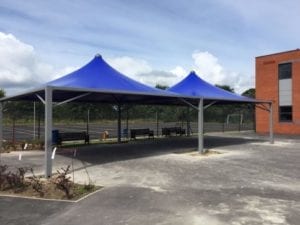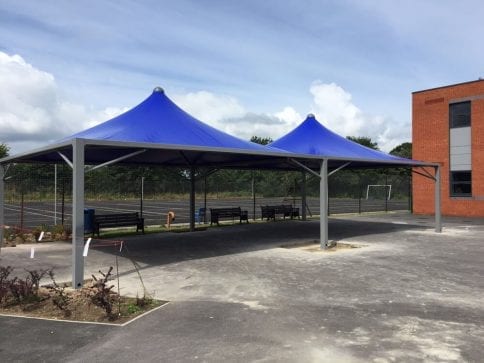 Study after study has confirmed something that is really just common sense. Human beings weren't born to stay inside and a lack of natural light can have an adverse effect on mood. However, what's also true is that coming in from the outside soaking wet can have a pretty instant impact on our mood too! So the answer, surely, lies in having suitable outdoor shelters.
Bishop Heber School felt the same way and contacted A&S Landscape to add a long-lasting outdoor dining area to their campus. We installed a large Maxima Tepee, comprising of two modules at an overall size of 14000mm x 7000mm with grey (RAL 7037) steelwork and smart, playful blue waterproof fabric roof. Whilst eating outside is always possible, staying dry at the same time can be an issue. Bishop Heber now has a large outdoor dining canopy that will stand the test of time and provide their students with an outstanding outdoor area in which to eat their lunch and get a dose of Vitamin D at the same time.
We're all about creating high-quality outdoor spaces that can be used the whole year-round. From outdoor dining canopies to playing field shade shelter, we have a huge range of options and you can look at each one by browsing our gallery of finished projects here. If you have any questions, then just get in touch with our design team who can find out exactly what you need.
Outdoor Dining Canopy at Congleton High School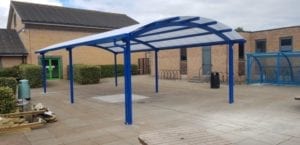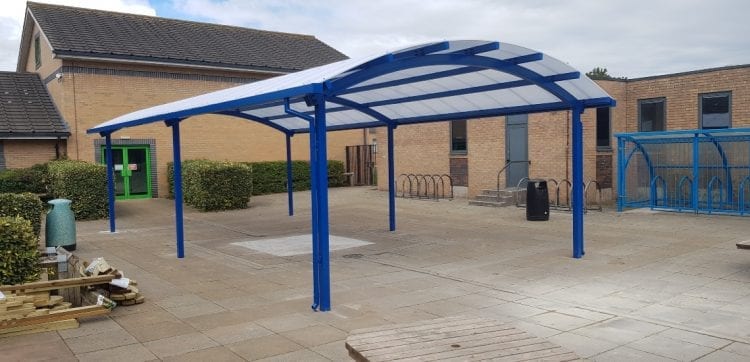 An outdoor dining canopy allows schools to extend the dining provision often without the need for planning permission or the work of a traditional building extension. The costs compare favourably as well. The canopy chosen by Congleton High School was from the Motiva range at A&S Landscape. The Motiva Duo structure was made of steel and polycarbonate with aluminium gutters and downpipes. The steel was Mid Blue (RAL 5010) and the polycarbonate roof was Opal.
The dining canopy has created a large sheltered space of 11m x 6m and has completely transformed the outside area. The new space will have seating installed and then students will be able to socialise and dine together whatever the weather has in store. No more crowded dining rooms or lack of seating. More and more schools are adding these outdoor dining areas and they can incorporate heating, lighting, side panels and even logos on the panels, there are plenty of options available.
If you think that you would like something similar you can look through our gallery which contains more than 1,000 images of projects that we have completed. It will give you plenty of inspiration. Or, you can contact us directly on 01743 444100 and we can chat through your requirements, we would be glad to help.
Outdoor Dining Canopy at Lymm High School in Warrington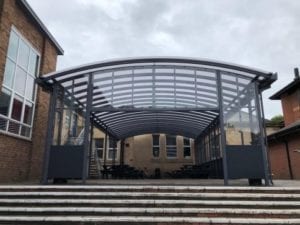 Working together with the architects, A&S Landscape built a steel and polycarbonate canopy from the Motiva Duo range. The curved roof canopy was constructed from steel and polycarbonate, with aluminium box profile gutters and downpipes. The sides of the canopy were glazed to give it an enclosed feel and ensure that the children could use it even in wet and windy weather. The steelwork was Slate Grey (RAL 7015) and the roofing was Opal polycarbonate. This smart combination has created a modern and stylish dining canopy at Lymm High School, which is enjoyed by students all-year-round.
Students no longer need to wonder if there are enough seats at lunch and break times. No more wanting a breath of fresh air but not wanting to be out in the weather. The new canopy has created additional seating and dining space and made the most of the previously unloved courtyard. All schools know that children enjoy the outdoors and now there is another lovely space for the pupils at Lymm High School to use.
If you are thinking about a similar project, take a look at our gallery which contains more than 1,000 images of projects that we have completed. It is a good place to look for some inspiration. You can always contact us directly on 01743 444100 if you would like to chat through the options, we would be glad to help.
Dining Canopy Built for Poynton High School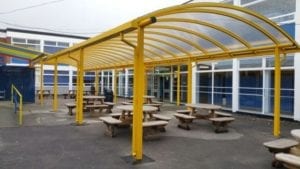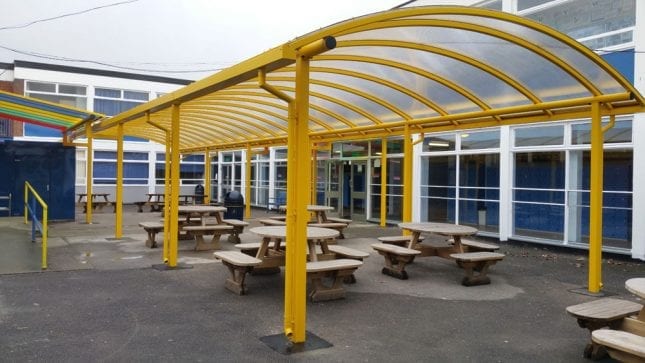 A&S Landscape proposed a product from their Motiva range. The Motiva Duo is ideal for a variety of applications. At Poynton High School they installed a Motiva Duo canopy in Yellow (RAL 1021), with Alu-Tuff™ (aluminium box profile) guttering and downpipes. They also added two Motiva Linear canopies to complete their vision for more outside space at the school.
Now the children have space to socialise, eat lunch, play games and shelter from the best and worst of the Great British Weather. The large canopy areas are a real feature, adding more options for the children to enjoy during break times and lesson times, should teachers feel that an outdoor lesson would add to the curriculum. The school canopies will bring shade and shelter to the pupils for many years to come.
Watch our case study video we filmed at Poynton High School to see more about this dining area canopy. From Shade Sails, Umbrellas and Tepees, to straight or curved roof steel canopies, we have a range which is sure to offer you something special. To look at our full range of finished projects take a look at our gallery here. If you feel yourself getting inspired and want more information, please call us.
Listen to the Site Manager of Poynton High School talk about working with A&S Landscape
Some of our featured Cheshire based clients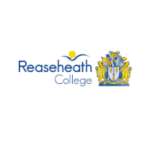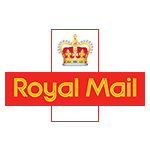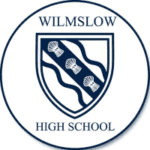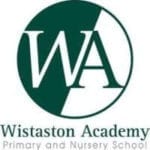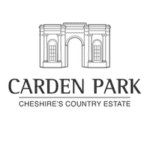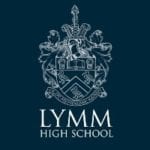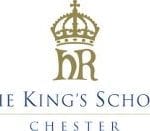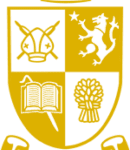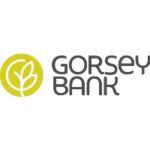 Playground Canopy Installed at Monks Coppenhall Academy in Crewe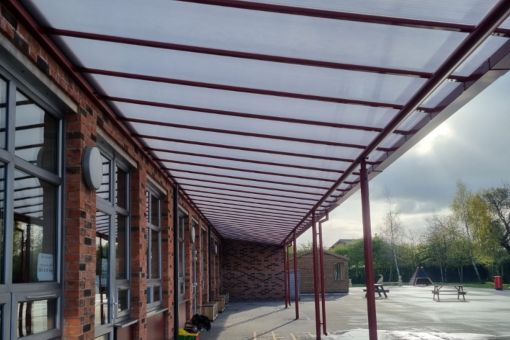 Monks Coppenhall Academy in Crewe wanted to find a playground canopy that could give its pupils the opportunity to get outdoors every break time, if they wished. It had to therefore be able to withstand and shelter them from the unpredictable British weather, and they needed it to be installed right next to the building. The team also thought a design matching the school colours would be a fun and identity-confirming idea, and they decided to approach us to see if we could meet their brief.
We worked closely with Monks Coppenhall Academy and the final result was a 23500mm X 3000mm Motiva Linear™ that we built adjoining the building. This model offers excellent coverage in the rain due to its clever, straight roof design and durable materials. Plus, the staff selected Brown Red steelwork and an Opal roof which reflected their brand colours well and injected some brightness into the outdoor space. It has created an excellent area where the children can enjoy all sorts of play without being restricted by the weather.
Monks Coppenhall Academy was really pleased with the playground shelter. Being able to spend more time in the fresh air year-round will have a range of benefits for the pupils, and playtimes will always be full of enjoyment and more options of where to go and what to do. Send us an email at [email protected] to talk about your future project today for anything from playground shelters to tensile fabric canopies.
Wistaston Church Lane Academy Wow with School Shade Sails in Crewe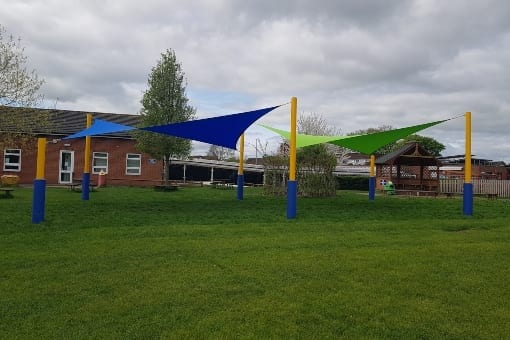 "Wistaston Academy offers a warm and vibrant environment in which to nurture your child". This lovely school have a delightful school field and it was here that they wanted to add some shade. When the sun does shine, the children need to have some protection from the UV rays so that they can enjoy the great weather safely. What could be better than a fabric shade sail canopy…well, what about two shade sail canopies!
Two shade cloth fabric sails were erected at 12000mm x 6000mm on to six steel uprights. This created a large space and a spectacular design feature on the field. One sail was green and one blue, with the steel posts being yellow (RAL 1003). The lovely bright colours make a strong statement and a bright addition to the playground.
The canopies are a real talking point and visitors to the school often comment on them. The children are happy because they can use the new shaded space to enjoy the outdoors even on the hottest days of the year. Imagine sports day without some shade for waiting and cheering children. This worry is now a thing of the past at Wistatston Academy. A&S Landscape was delighted to work with the school on this project and we are very pleased with how the project has turned out.
If you are thinking about a similar project, take a look at our gallery which contains more than 1,000 images of projects that we have completed. It is a good place to look for some inspiration.
Meadow View Care Home add Straight Roof Canopy in Penketh
Outdoor space is important for everybody. Connecting with nature, whether that be spending time in the wonderful English countryside or else just getting access to natural light all year round is valuable for our mental and emotional health. But with unpredictable weather our nation's superpower, we have to take things into our own hands if we want to provide sustainable access to the outside for those around us. At Meadow View, we feel we have done that wonderfully. Shelters for all!
There really is not a business that would not benefit from appropriate use of outdoor space, so whether it's playground classroom extensions or care home outdoor canopies we have solutions that will keep you dry and out of direct sunlight for many years.
Take a look at our gallery of completed projects and keep an open mind, we can work with any business to provide the space they need.
Bespoke School Shelter With Roller Shutters at Lacey Green School
When Lacey Green School got in touch with us to enquire about a very specific vision they had, we knew we would have to go bespoke, designing a very tailored shelter that would meet their needs exactly. This bespoke canopy is finished with a soft, yet playful green steelwork and opal roofing that means it is usable the whole year round. But the most impressive element of this design has to be the six (that's right, six) roller shutter doors which are operated electronically and mean that Lacey Green School is incredibly secure after hours.
This is the very definition of flexible, functional space. Offering a light, airy open space during the day that means the pupils can take cover in heavy rain but still continue the planned activities, this shelter is also very secure. When those shutters roll down each evening, Lacey Green have a robust and impenetrable fortress as well as a secure storage area, should they need to keep anything safe.
If you have a very specific vision that is not catered for by our standard range, remember we also offer bespoke canopies that can cater for almost anything your heart desires. If you're also looking for additional secure play space, then we can work with you to define the lines were function meets flexibility and ensure you get exactly the outdoor shelter you need. Take a look for more inspiration.
Covered Dining Area at Penketh High School in Warrington
One large Maxima Tepee™ comprising of three modules was installed at Penketh High School. The overall size of the structure measures 21000mm X 7000mm so there is plenty of room for the students to sit underneath. The steelwork is featured in a classic blue colour, which contrasts perfectly with the Light Grey fabric roofing.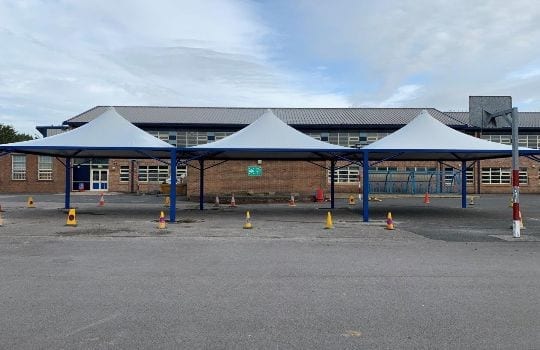 Lunchtimes are much improved for everyone at the school now. The students have more choice of where to sit with their food and the existing facilities are relieved and much less busy. There are many health and wellbeing benefits to eating alfresco too, so the entire school will be positively impacted by the new Tepee.
A&S Landscape has installed a range of dining area canopies at schools across the UK. With school intake figures rising every year, installing a canopy is often the best solution to busy dining halls. View our gallery for inspiration or get in touch today to discuss your requirements on 01743 444100.
Weaverham High School Add Green Fabric Umbrella Shelter in Northwich
A fabric Maxima Umbrella™ canopy was installed at the school, measuring 5m X 5m. The Slate Grey steelwork on the single upright works perfectly with the Olive coloured roof. Made with a PVC waterproof material, the umbrella can be used in all weather conditions, come rain or shine. To help the council decide on the colours, we even sent out samples our of Maxima fabric range.
The new space has been a very popular addition, and the students already love their new social area. During breaks, they can gather underneath to socialise and refresh ahead of their afternoon lessons. This could be the perfect place to relax before exams too.
A&S Landscape offers a wide range of canopies, shade sails and shelters. Our products can be used for dining areas, playgrounds, walkways and much more. Our friendly team will help you every step of the way, offering expert advice based on your situation. Get in touch with us today by emailing [email protected] or calling 01743 444100.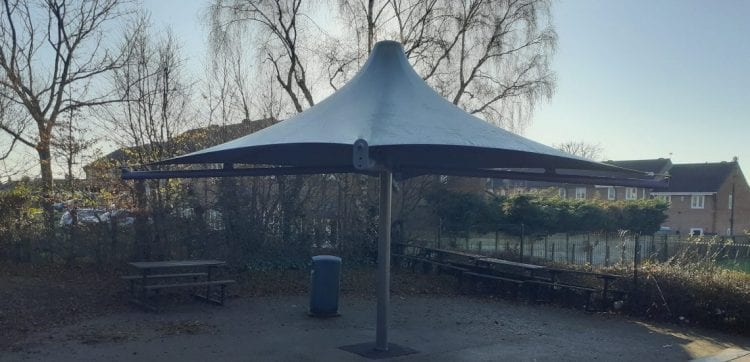 Fabric Umbrella Canopy at Reaseheath College in Nantwich
What was the problem?
Reaseheath College in Cheshire has fantastic outdoor facilities which are enjoyed by the students. However, when the weather was poor the students had to spend much of their break and lunchtime inside, instead of enjoying the outside space and fresh air. The A&S Landscape specialist team was brought on board to advise on the design of the canopy to ensure it would work in the courtyard area.
What was our solution?
One fabric umbrella canopy was installed at the college. The Maxima Umbrella™ was finished with Signal Yellow coloured steelwork, which contrasts well with the neutral Boulder fabric used. The canopy provides protection from both the sun and rain, as it was made with a waterproof fabric.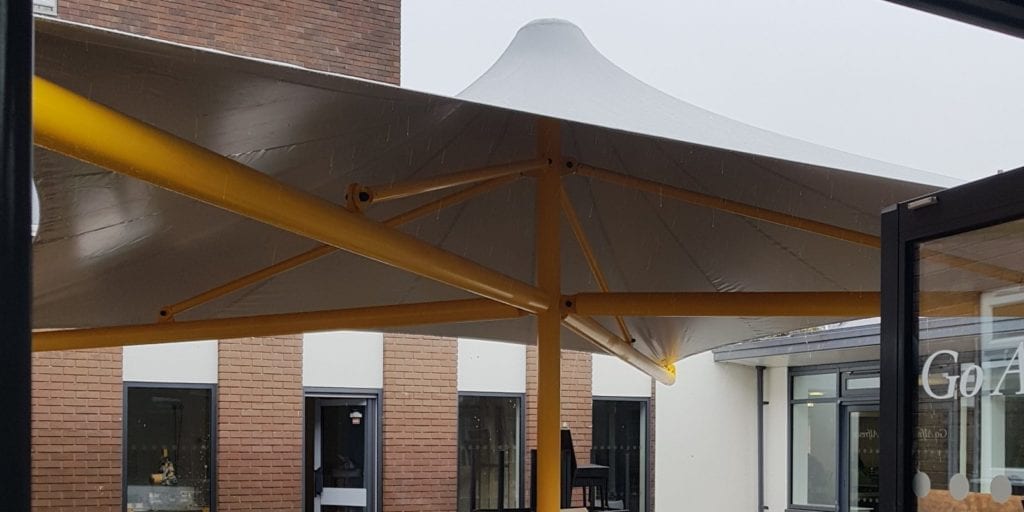 What was the result?
The students and staff of Reaseheath College all love the new canopy. During break times the covered area is a very popular spot to socialise, snack and refresh ahead of the next lessons. It's great for getting some shade away from the sun, or some cover when it is rainy and windy. The shelter has also encouraged the students to spend more time outside which is important during their busy day of work.
A little bit about the client…
Reaseheath College is one of the UK's top land-based colleges, boasting a range of amazing facilities including a mini zoo and equestrian centre. These incredible offerings demonstrate how much the college value their outdoor space, which is why they wanted to get the best use out of it.
Every member of staff was a joy to work with, including Marcus Clinton the Principal. It was clear that everyone was enthusiastic about further improving the campus and the student's educational experience. We know that the college will be able to enjoy the new shelter for many years to come.
Why choose a fabric canopy?
A&S Landscape offers a choice of both polycarbonate and steel and fabric canopies, from our Motiva and Maxima range. Both designs are made with the highest quality materials and are robustly built, suiting a wide range of applications. But why might you choose to install a fabric design over a polycarbonate shelter?
Design statement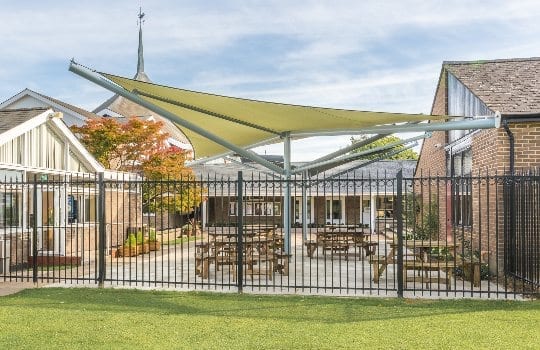 Our Maxima products create a truly stunning and breath-taking statement in any location. The popular Maxima Sail™ can be installed with overlapping sails and our Maxima StarSail™ features a trendy triangle shaped fabric roof. You'll also be able to choose the colour of the steelwork and fabric from our extensive range of RAL colours. Why not opt for a contrasting palette or match your branding and logo?
Temporary cover
Another great feature of our fabric range of canopies is that some of our designs can be taken down to remove the shelter. Simply unhook from the hardware and then safely store the material for the future. We also offer a range of retractable canopies, which can be controlled to adjust the amount of shade you require.
Maximise floor space
You may have to carefully choose your canopy based on the amount of floor space you have available. Several of our Maxima products are installed on a single upright, such as the Maxima Parasol, so the canopy uses minimal space and creates maximum shelter. You can also utilise the upright by attaching a light or heater, creating an outdoor space which can be used throughout the day and year.
How can A&S Landscape help you?
Whether you're looking for a school entrance canopy or a sunshade for your restaurant's outdoor seating area, we have the perfect product. Our team can help you through every step of the project, from the initial concept to the installation. With over 40 years of experience, you know you'll be getting a fantastic shade solution from A&S Landscape.
And don't just take our word for it. See what our clients have said about us on our testimonial page. We're well-known for our integrity and reliability, which is why our list of happy customers is always growing – we would love to add you!
Start your project today and send your requirements to [email protected], or ring 01743 444100.
Fairfield Primary School Add Secure Cycle Shelter
Which is why our Cycle storage range is not based on standard cycle storage. It's based on our Motiva range, full size, robust playground shelters. Which means the spec of our Cyclo Bike is very high indeed.
Why would that matter? Because other than looking pretty, Cycle storage only has one really essential job to do. Keep your bicycles safe! By basing our Cyclo on the Motiva we have created a class leading specification and an antidote to the flood of flimsy cycle stores making their way onto the market.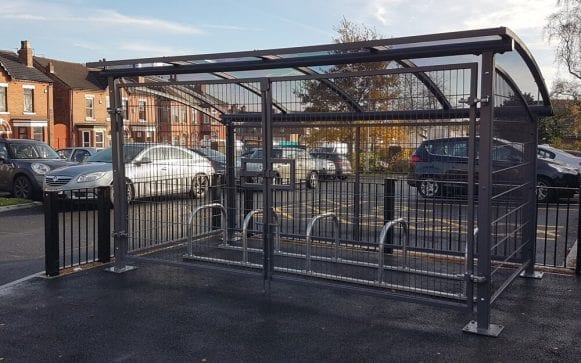 Fairfield Primary School in Widnes felt that this was exactly what they needed so they gave A&S Landscape a call and we came along and installed one for them. A single Cyclo Bike was installed at Fairfield Primary School, giving them space for 5 cycle racks, to accommodate 10 cycles as well as taking the security to the next level with mesh panels to the rear and side elevations and a gate at the front. Finished in a slate grey (RAL 7015) with opal roofing, this Cyclo Bike looks as good as the job it does.
Now Fairfield Primary School has a place to keep bicycles that mean they'll be totally safe and secure. Not only that but they have an attractive shelter that blends into the campus and will last for many, many years. You can look at our whole range of Cycle storage for schools here and if you have any questions, get in touch. A member of our design team can have a full proposal with you by the very next day.
King's School Add Curved Roof Shelter
The prestigious King's School in Chester is a community were staff and pupils share common values and set some really incredible standards so when they contacted A&S we were excited to get involved and offer the best outdoor shelter for their particular problem.
King's School had the challenge of a long pathway along a section of the building adjacent to the car park with no protection from the rain. The walkway has heavy footfall at all times of the day and acts as a car and bus drop off point so staff and pupils of the independent school for boys and girls aged from 4-18 were often exposed to rain, snow, and other unpleasant conditions.
The solution was our Motiva Mono™ curved roof canopy in an attractive Marine Blue colour with a contrasting green roof framework and clear roof panels. Being able to offer this mix of colours in the same structure was a real bonus for the client. The covered walkway canopy extends over 15100mm (over 40ft) and provides ample cover during busy times.
Being able to offer a robust steel canopy structure like this, whilst still implementing a mix of colours was a real bonus, meaning the outdoor drop off shelter looks smart and does the job. So when the rain won't go away, staff and students and Kings School don't need to get drenched.
Whether it's covered walkways for schools or colleges, outdoor covered walkways or something else. If it's putting a roof or cover on an outside space we can help. Take a look at the Motiva Mono™ curved roof canopy and our colours range. You can also see our product gallery for more images of similar projects for schools.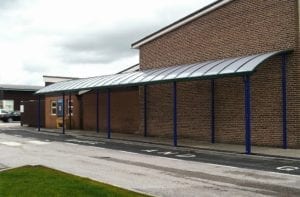 Cantilever Canopy at Countess of Chester Hospital
What was the problem?
The fantastic health care workers at Countess of Chester Hospital knew of the great health benefits of spending time outside in the fresh air. The highest standards of care are given at this medical center and they wanted their patients to be able to get outside no matter the weather conditions. Canopy experts A&S Landscape was asked to propose a shelter design for the area, and safely and efficiently install the structure.
What was our solution?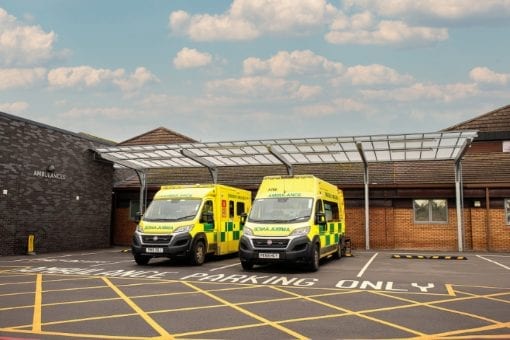 One straight roof Motiva Cantilever™ was installed at the site, measuring a total of 19103mm X 4500mm. The model was finished with opal polycarbonate roofing, which provides essential protection from UV rays. With galvanised steelwork, the sleek and stylish design of the canopy has created the perfect environment for the patients and medical staff.
What was the result?
The hospital is very happy with their new canopy, it has helped them to continue giving the quality care their patients deserve by creating a covered outdoor space. The cantilever canopy design perfectly suits a healthcare environment thanks to the reduced number of uprights. We're glad that we got the opportunity to further improve the fantastic facilities at this local hospital.
A little bit about the client…
Based in Cheshire, Countess of Chester Hospital delivers the highest standard of care for the local residents and community. The medical professionals at this site are clearly passionate about maintaining this level of care, even throughout the current crisis of coronavirus. Now the patients and staff of this hospital are able to enjoy some fresh air during the day, no matter the weather.
As well as this brilliant hospital, we've also worked with many other healthcare sites, including the entrance canopy we added to Mynydd Mawr Hospital and a covered walkway at Hafod Y Gest Care Home. With a diverse range of canopies, shade sails and shelters, we are able to find the right product for every need.
Why add a canopy to your healthcare site?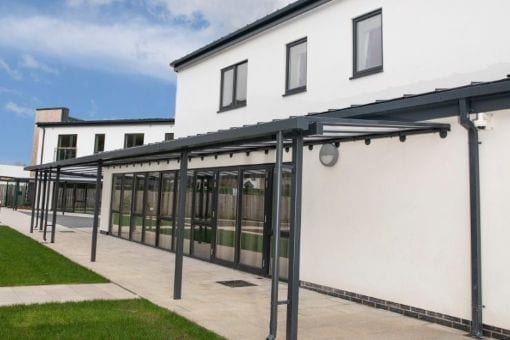 From hospital entrance canopies to a bespoke design shelter at care homes, there are many uses and applications for healthcare site canopy. Medical research has proven the health benefits of spending time outside, including improved mental health and Vitamin D levels. Therefore, more and more health care sites are choosing to install a shelter to create an area of covered outdoor space.
Thanks to our manufacturing process we are also able to create you a bespoke design so that the canopy suits all of your specifications and requirements. You may want to add side panels to our popular Motiva Linear™ model to create maximum enclosure. Or our fabric shade sails help to create a welcoming area, which could be an ideal setting for support groups to meet, like the Maxima StarSail™ we installed at Clatterbridge Cancer Centre.
How can A&S Landscape help you?
Our friendly team will be able to guide you through the project seamlessly to ensure you get the best final product. From the initial concept to the installation, we have the experience and expertise to run your project smoothly and successfully. Whether you're looking for a canopy for a healthcare site, a theme park or a school, we have the right product.
Take a look through our extensive gallery to get inspiration for your next project. We are able to give you a quote for any of the products featured on our website and advise which designs would work best for your needs. After 44 years, we're known for our efficiency, reliability and integrity and we would love to add you to our ever-growing list of happy clients.
Why not get in touch with us today to discuss your options? Send us an email to [email protected], or talk to us directly on 01743 444100.
Colourful Playground Shelter at Ellesmere Port at St Saviour's Catholic Primary School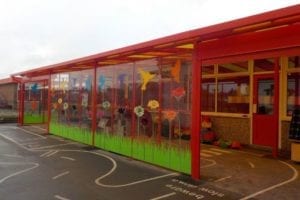 So when St. Saviour's Catholic Primary School got in touch with A&S, we knew exactly how to solve their problem. Because St. Saviours isn't just any old school, they have a reputation for high academic standards and challenging their students by giving them a range of wonderful teaching experiences.
They know, like we do, that children deserve to have their sense of wonder and play invoked and to do that really well they wanted to have a bright, colourful, all weather outdoor classroom extension. And not only that, a very secure one too.
The Motiva Linear™ straight polycarbonate roof canopy installed at St Saviours Catholic Primary School has Alu-Tuff™ (aluminium box profile) guttering and downpipes in Dura-coat™ red. Two matching 4000mm wide electronically operated roller shutter doors, allow the area to be used for secure storage adding another dimension to this flexible space.
Basically, it looks great but is also incredibly secure, meaning that play equipment can be locked up securely at night. As playground shelters for schools go, this is something we're really proud of. Colourful, secure and adding an additional area that St. Saviours can use to keep their students engaged and outside. The bright red colour is eye-catching and added coloured vinyls help invoke that sense of wonder within their students, making it an additional vibrant space for learning.
If you're looking to add a flexible outdoor classroom extension then our Motiva Linear™ range could be exactly what you're looking for and by using our colour preview tool you can get an idea of how it will look before you make a decision. For the rest of our exciting range of outdoor canopies and shelters for schools look no further.
Tensile Roof Tepee Manufactured for Ashton On Mersey School
A&S created a tensile fabric roof Tepee in Ashton On Mersey School Sale, Cheshire. The job involved the supply and fitting of one Maxima™ Tepee tensile waterproof fabric roof structure measuring 10000mm X 10000mm.
Fabric Tepee Manufactured for Knutsford Academy to Create Outdoor Shade
We constructed a tensile fabric roof Tepee for Knutsford Academy Bexton Road, Knutsford, Cheshire. The contract included the supply and installation of one Maxima™ Tepee tensile waterproof fabric roof structure comprising two modules measuring 14000mm X 7000mm.
Covered Seating Area at Carden Park Hotel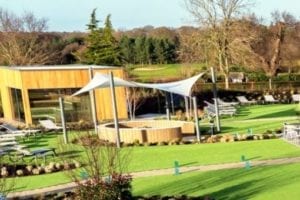 A Maxima Sail™ was constructed on the hotel grounds, overlooking the stunning green landscape. The structure is held up by six posts, finished in a modern Basalt Grey colour which works perfectly with the surroundings. There is plenty of space under the canopy for several people to sit and socialise on the new curved bench feature.
Now the guests of Carden Park Hotel can choose to relax outside in the new seating area. After treatments, they can enjoy the fresh air and the picturesque scenery, without worrying about getting sunburnt. What better way to wind down on a weekend away than taking in the hotel's beautiful Cheshire views? A&S Landscape has worked with businesses across the UK, providing canopies, shade sails and shelters. To see more of our work, view our gallery or recent projects. Or call our friendly team today on 01743 444100.
Playground Canopy and Cycle Shelters Added to Tattenhall Park Primary School
What was the problem?
The pupils of Tattenhall Park Primary School loved to play outside with their friends, enjoying the fresh air of the village school. But when the weather was poor, they had to remain indoors throughout the day. The school was undergoing a period of growth and development and secured the funds to add a canopy to the play area. They also decided to add a bike shelter to encourage the pupils to cycle to school too.
What was our solution?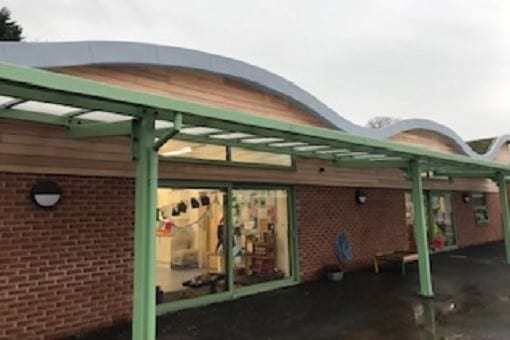 One curved roof canopy was installed in the playground of the school, measuring 18000mm x 2900mm. This created plenty of sheltered space outside, which the pupils could use during their breaktimes. Opal polycarbonate roofing was added to the canopy, which provides essential protection from UV rays.
In addition, we also fitted two cycle shelters at the school measuring 4160mm x 2000mm each. Five bike racks were included in the shelters, meaning up to 20 bicycles can be stored at one time. Similar to the play area canopy, we used Opal coloured polycarbonate roofing to protect the bikes from the weather. Both the bike stores and the straight polycarbonate roof canopy were finished with a beautiful pale green steelwork colour, which matches the school's logo perfectly.
What was the result?
We were so thrilled that everyone at Tattenhall Park Primary School was as delighted with the canopies as we are. The pupils love playing underneath the curved roof shelter and spending lots of time outside no matter the weather. This has allowed them to let off steam and refresh properly ahead of their next lessons.
The bike shelters have also been a great hit at the school too! Already the staff have seen an increase in the number of children cycling, as they know they have a dedicated space to lock their bikes during the day. This has been a great way of encouraging the young children to take up a healthy habit and also help the local environment – well done everyone!
A little bit about the client…
Tattenhall Park Primary School is based in the small, yet beautiful, village of Tattenhall in Cheshire. This small school has become a huge part of the closely-knit community and can now take in even more children thanks to the extension. We loved helping this school further improve the facilities on offer, it's always great to work with a team who value the importance of outside play as much as we do.
Why add a canopy to your primary school?
Our canopies and shade sails aren't just used as playground shelters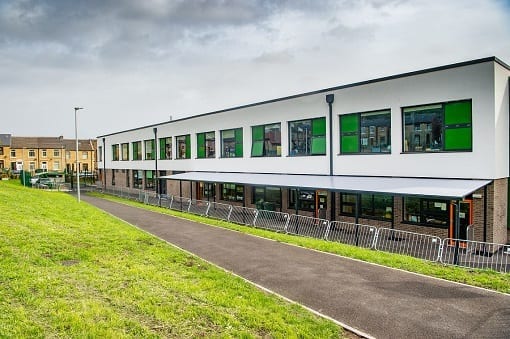 , our versatile range of products can be used for a multitude of applications. Why not create a covered walkway between your school buildings to protect your staff and students from the elements? We did exactly this at Mount Pleasant Primary School when they moved into a brand-new building. This also helps spread out buildings feel like one complete campus and it can even be used as storage space too.
Or why not increase the seating options during lunchtimes with a dining area canopy? Choose from a fabric, straight or curved roof design to create the ideal shelter in your school. This is a cost-effective alternative to building an extension to your dining hall and allows your pupils to dine alfresco throughout the year.
These are just a few examples of the ways our primary school shelters can be used. Take a look through our product gallery to see some of our available designs, and we can give you a quote for any of the images. We'd love to add you to our ever-growing list of happy clients.
How can A&S Landscape help you?
From small nursery schools to large organisations like The Football Association, we've worked with a range of businesses over the past 44 years. Our team has the experience to make every project a success, and we value nothing more than our client's satisfaction. We have a design to suit every need, with a choice of fabric and polycarbonate canopies.
Get in touch with us today to discuss your plans on 01743 444100 or email us at [email protected].
Bishop Heber High School in Malpas Add Two Fabric Tepee Canopies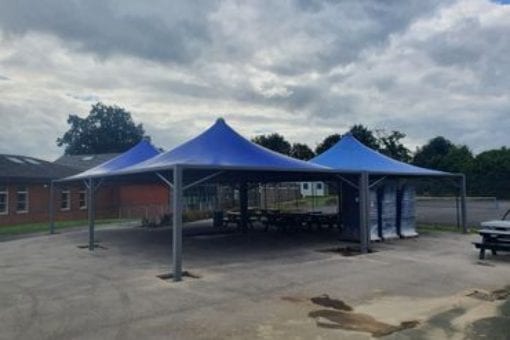 A&S Landscape had previously installed a tepee shelter at Bishop Heber High School in 2016. Now that the school had grown, they decided to add more outdoor shade to the campus with matching canopies. We returned to install two more shelters to the school, which would perfectly match the existing canopy design.
Two Maxima Tepee™ structures were installed at the school, each measuring 7000mm x 7000mm. The canopies feature a waterproof PVC fabric, so that the shelter can be used all year round. While our installation team was at the school, we also cleaned the existing shelter so that it looked good as new.
The students now have more space to use during their lunchtimes and breaks and can enjoy some fresh air every day. This will help them to refresh ahead of their next lessons, which is important when leading up to a busy exam season. The covered area could also be used as an outdoor classroom, with the simple addition of some picnic benches. It's always great to get to work with a school again and we hope we get the opportunity to return to Bishop Heber High School in the future.
Enclosed Canopy Installed On-Site at Wistaston Academy in Crewe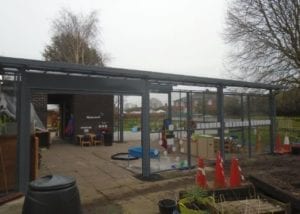 Wistaston Academy in Crewe, Cheshire needed an enclosed shelter that their pupils could make use of all year round. They wanted it to have a sleek design including roller shutter doors and modern colours, and be able to be used for outdoor learning and playtimes. A&S Landscape was delighted to be contacted as they had just installed another canopy at this school, and they had plenty of ideas about how to get started.
After discussing their options, Wistaston Academy decided on a Motiva Linear™ model. The asymmetric design was appealing and the Dura-coat™ finish meant that the colours would stay bright for years to come. The staff requested glazed panels and electric roller shutter doors which created the enclosed space that they wanted and would keep out the rain. They also chose an Opal roof and Blue Grey steelwork for a contemporary look, plus 9000mm X 6800mm specifications to provide lots of space for outdoor play and lessons.
The pupils love the canopy and having the option to spend break times in a fun new space in any weather. The facility provides fantastic outdoor classroom ideas and the staff – who help every child to reach their maximum potential – think that the stylish shelter really adds to the school's appeal. If you're thinking about installing your own canopy, email us now at [email protected] to talk to our friendly team.
Looking for more locations?