Fabric Umbrella Canopy at Reaseheath College in Nantwich
What was the problem?
Reaseheath College in Cheshire has fantastic outdoor facilities which are enjoyed by the students. However, when the weather was poor the students had to spend much of their break and lunchtime inside, instead of enjoying the outside space and fresh air. The A&S Landscape specialist team was brought on board to advise on the design of the canopy to ensure it would work in the courtyard area.
What was our solution?
One fabric umbrella canopy was installed at the college. The Maxima Umbrella™ was finished with Signal Yellow coloured steelwork, which contrasts well with the neutral Boulder fabric used. The canopy provides protection from both the sun and rain, as it was made with a waterproof fabric.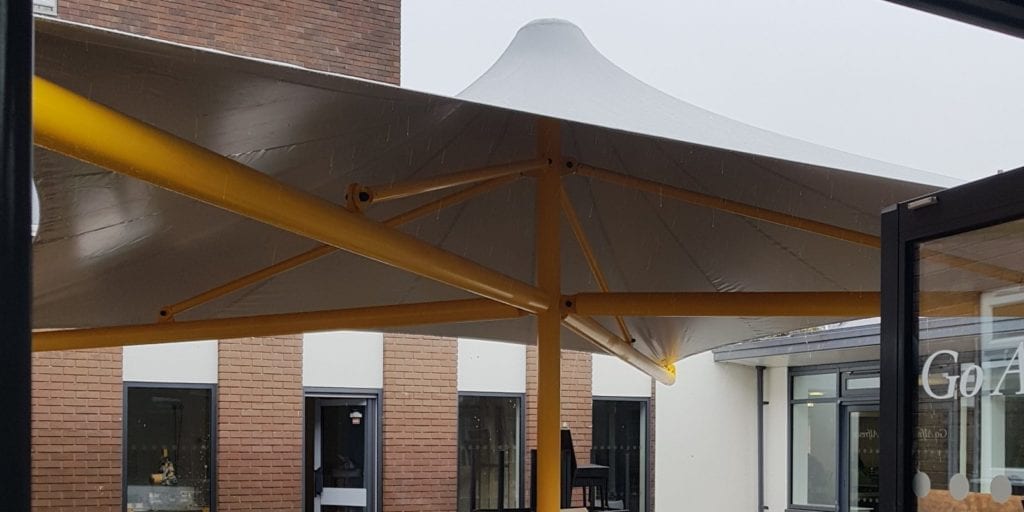 What was the result?
The students and staff of Reaseheath College all love the new canopy. During break times the covered area is a very popular spot to socialise, snack and refresh ahead of the next lessons. It's great for getting some shade away from the sun, or some cover when it is rainy and windy. The shelter has also encouraged the students to spend more time outside which is important during their busy day of work.
A little bit about the client…
Reaseheath College is one of the UK's top land-based colleges, boasting a range of amazing facilities including a mini zoo and equestrian centre. These incredible offerings demonstrate how much the college value their outdoor space, which is why they wanted to get the best use out of it.
Every member of staff was a joy to work with, including Marcus Clinton the Principal. It was clear that everyone was enthusiastic about further improving the campus and the student's educational experience. We know that the college will be able to enjoy the new shelter for many years to come.
Why choose a fabric canopy?
A&S Landscape offers a choice of both polycarbonate and steel and fabric canopies, from our Motiva and Maxima range. Both designs are made with the highest quality materials and are robustly built, suiting a wide range of applications. But why might you choose to install a fabric design over a polycarbonate shelter?
Design statement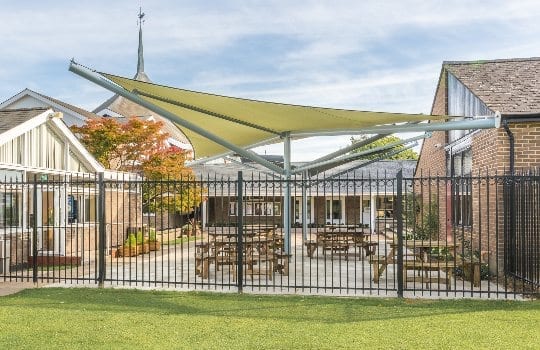 Our Maxima products create a truly stunning and breath-taking statement in any location. The popular Maxima Sail™ can be installed with overlapping sails and our Maxima StarSail™ features a trendy triangle shaped fabric roof. You'll also be able to choose the colour of the steelwork and fabric from our extensive range of RAL colours. Why not opt for a contrasting palette or match your branding and logo?
Temporary cover
Another great feature of our fabric range of canopies is that some of our designs can be taken down to remove the shelter. Simply unhook from the hardware and then safely store the material for the future. We also offer a range of retractable canopies, which can be controlled to adjust the amount of shade you require.
Maximise floor space
You may have to carefully choose your canopy based on the amount of floor space you have available. Several of our Maxima products are installed on a single upright, such as the Maxima Parasol, so the canopy uses minimal space and creates maximum shelter. You can also utilise the upright by attaching a light or heater, creating an outdoor space which can be used throughout the day and year.
How can A&S Landscape help you?
Whether you're looking for a school entrance canopy or a sunshade for your restaurant's outdoor seating area, we have the perfect product. Our team can help you through every step of the project, from the initial concept to the installation. With over 40 years of experience, you know you'll be getting a fantastic shade solution from A&S Landscape.
And don't just take our word for it. See what our clients have said about us on our testimonial page. We're well-known for our integrity and reliability, which is why our list of happy customers is always growing – we would love to add you!
Start your project today and send your requirements to [email protected], or ring 01743 444100.