Straight Roof Canopy Cover At Loddon Primary School in Earley
What was the problem?
The problem that A&S Landscape was asked to assist Loddon Primary School was a lack of covered space outside. While there was ample space in the school grounds, there was no protected space in which outdoor learning and play could continue when the weather was not dry.
What was our solution?
The A&S Landscape solution was selected from a diverse range of school canopy options. Given that the canopy cover was to be located alongside part of the school building, a straight roof option was selected.
What product did we use?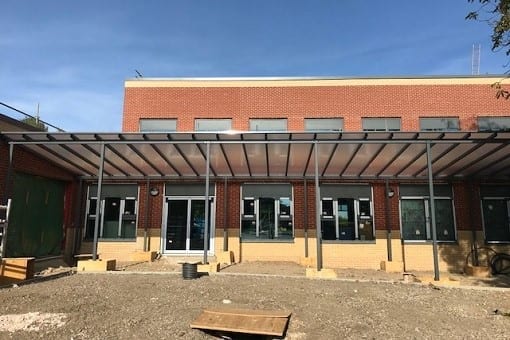 By far and away the best choice for this job was our Motiva Linear™ canopy. Offering a straight roof which sits asymmetrically to the adjoining building, the Motiva Linear™ is constructed with a sturdy metal canopy frame. The addition of aluminium guttering and downpipes on this larger structure means that rainwater is efficiently managed.
This product offers many options for custom canopy or covered walkway projects. Design features also include a selection of steel and polycarbonate colours so you can create a model which is perfect for your space.
What was the result?
Loddon Primary School's canopy was finished with Basalt Grey (RAL 7012) steelwork and a clear polycarbonate roof. The end result was a substantial covered area which fitted in beautifully with the school building. This space is most certainly a practical one, offering outdoor access even on rainy days to allow the children to learn and play outside.
Feedback & testimonials
Loddon Primary School gave A&S Landscape a 5 star rated review, adding:
'A&S Landscape works very well together. They have the right attitude, communicate proactively and have strong leadership at the helm.'
A bit about the client
Loddon Primary School, Earley, is around 4 miles from the town of Reading. Because of Earley's proximity to Reading, it is a popular place to live for commuters. Good schools are important to those moving to the area for work, and Loddon Primary School's record as a 'good' school recommends it well.
A real plus point about the Reading area is its close location to London, offering access to The Capital within 30 minutes. This is great news to schools like Loddon Primary School who actively encourage days out for their pupils in their prospectus. London offers many fabulous educational days out for children of all ages.
What is an asymmetric canopy?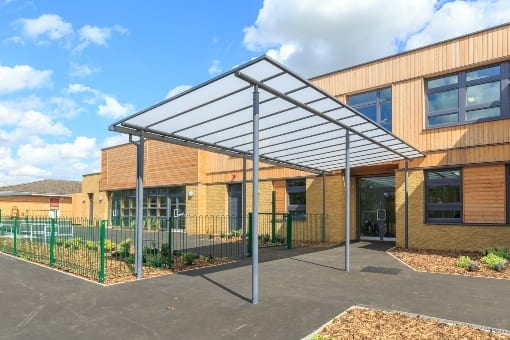 Our Motiva Linear™ canopy is what we would describe as being of monopitch construction. As we've already seen with the Loddon Primary School project, the canopy cover was erected directly adjacent to the school building. The monopitch of the canopy architecture means that one side of the roof is higher than the other, and the roof fits at an angle to the brick of the existing building. The pitch can be varied, although the lowest available is normally 5 degrees.
Why are linear canopies perfect for primary schools?
Not only are linear canopies great for installing next to existing buildings, but the installation phase for your new canopy can typically be undertaken within a week (although this does depend on your specific project). This means that for a busy primary school, construction is quick and efficient with a minimal amount of disruption.
The design of products such as our Motiva Linear™ means that it can be used for a complete range of activities. As an alternative to adjoining an existing building, a straight roof canopy can also be freestanding away from a building. A large canopy of this type can also then offer shade, shelter and accommodation for activities such as dining and outdoor learning.
With customisable designs, no two canopy covers need ever be the same. You can choose the colour of your steelwork and the colour of the roofing. Find out more about the uses that other primary schools have adopted for their canopy covers here. Or we can help you to pick the best shelter design for your specific requirements.
How A&S Landscape can help you
A&S Landscape offers our clients the benefit of over 44 years' experience in the metal canopy industry. Our knowledge covers every aspect of design, manufacture and construction of the very best primary school canopy covers. We recognise that projects can sometimes seem complex and daunting. That's why our friendly team are only too happy to answer your questions and signpost you to the right options for your specific project.
If you'd like to discuss how we can help you to find the right metal canopy cover, get in touch with our canopy and shelter specialists on 01743 444100 or fill out a contact form online.