Canopies and Shelters in Berkshire
As canopy and shelter specialists, A&S Landscape has completed many projects across the county of Berkshire. From fabric canopies at the University of Reading to an umbrella canopy at Charters School, we have gathered just some of our featured jobs based in this area.
We offer a wide range of covered options suiting every site and client. From school cycle shelters to bespoke structures for commercial venues, we can help you get more use from our outdoor areas. We also have many canopy shelters design options so we can match your existing canopy structure or surrounding environment. Choose the colour of the roof, steelwork, guttering and post pads to create a bespoke shelter.
Our shelters suit a range of uses across many different sectors, including:
Nurseries and playgroups
Primary and secondary schools
Colleges and universities
Garden centres
Healthcare sites
Public attractions
Sporting facilities
We have the broad knowledge to make your project a success after over 44 years of experience. Contact us today to find out how we can help you, call 01743 444100 or send an email to [email protected].
Enclosed Dining Canopy At Ranelagh School in Bracknell, Berkshire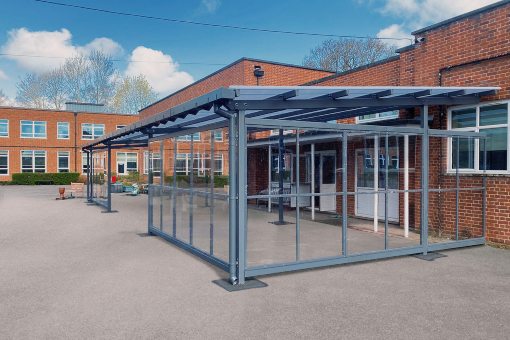 Ranelagh School in Bracknell, Berkshire had been considering adding an overspill dining area for quite some time. Striving for; Values – Tradition – Vision – Excellence, the school understood how important it is for students and staff to be able to breathe in the fresh air and blow the cobwebs away. They were keen to explore a design that would offer a contrast to their magnificent red brick buildings whilst also providing the robust all year-round shelter that they needed.
The design team at A&S Landscape proposed our Motiva Linear™ which would sit comfortably with the existing roofline and could be positioned directly next to the building to offer maximum protection. The school loved the straight roof design and opted to cover an 18000mm x 6000mm area. A cool and chic Slate Grey (RAL 7015) was chosen for the steelwork with a light-diffusing Opal for the polycarbonate roof.
The finished structure looks fantastic! Benefitting from enclosed sides, it adds a contemporary twist to the traditional backdrop and offers maximum protection from the heat of the summer sun right through to those snowy winter days. The undercover dining area really has transformed lunchtimes at the school and the students and staff are delighted with the result.
Covered Seating Area in Reading at the University of Reading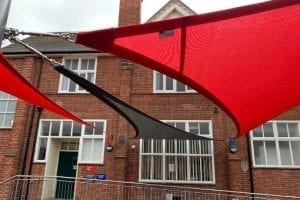 Three Maxima Sail shades were installed at the university campus, creating a bold statement in the once disused area. The university chose two Lava Red sails to contrast against one Charcoal Grey sail. Each shade sail measures 4000mm X 4000mm, so plenty of shaded space has been created. The Slate Grey steelwork also works perfectly with the coloured fabric and surrounding buildings.
The University of Reading in Berkshire has created a fantastic sheltered area which is now very popular with the students. Benches have been added underneath the shade sails, so students can easily eat their lunch, study for a lecture or just relax with friends. The inside dining areas are now less crowded too, as students have more options of where to sit even in poor weather. A&S Landscape has worked with universities and colleges across the UK. From covered walkways to Multi Use Games Areas, we have a design perfect for a range of uses. Browse our gallery of canopy installations for more inspiration or get in touch with us today on 01743 444100 or by submitting an online contact form.
Lunch Canopy Which Blends with Wooden School Building Installed in Reading at Waingels College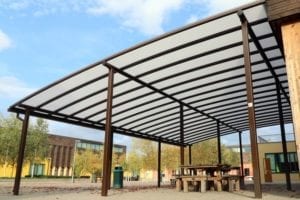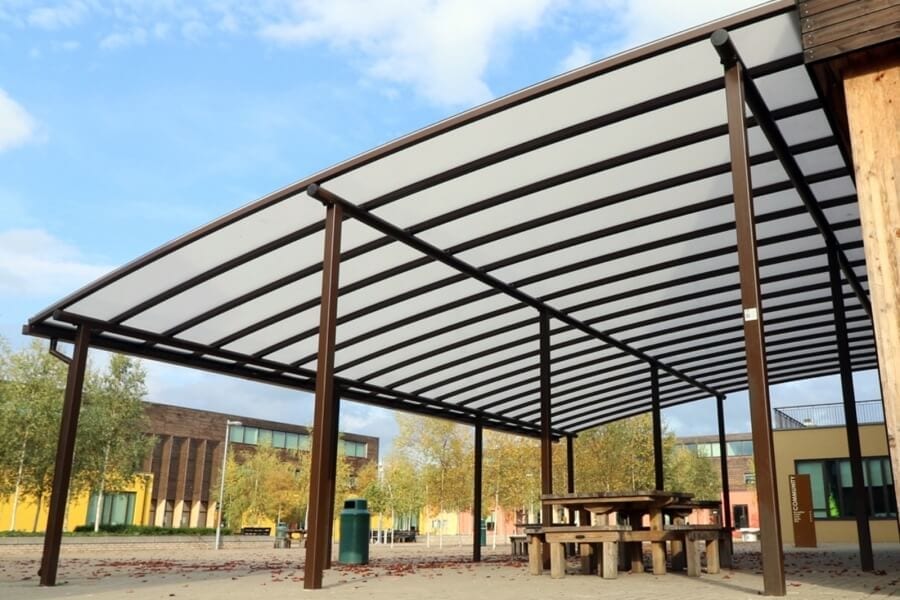 Instead of a timber canopy, we installed a Motiva Mono in a terrific shade that blended in beautifully with the timber finish they already had on the building. The beauty of this is that it complements the current building whilst retaining the strength and structure needed for a large, open dining canopy structure, providing a smart and professional feel and a year-round social zone.
Installed in under a week this Motiva Mono with steelwork in a smart but blending brown offers all the design ambition of the timber alternative, whilst giving Waingels a canopy that really lasts. Whatever the weather, Waingels College now have a beautifully designed outdoor dining canopy that looks stunning alongside the façade of the building. Whether you're looking for dining area canopies or simply want to find the perfect outdoor shelter for schools that will blend with your current building façade, working with our design team means you can have the best of both worlds.
Three Fun Outdoor Canopies at Larchfield School in Maidenhead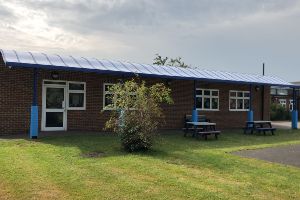 Larchfield School in Maidenhead wanted a trio of outdoor canopies to develop their outdoor areas and provide shelter within the playground, Year 6 area, and over their entrance. The school – who aim to keep the children at the heart of everything they do – thought that the children would love the fun shape of our Motiva Wave™ canopy, and selected this line for both of their playground canopies, providing them with an abundance of shelter from rain, snow, and sun.
In addition to this, the school were looking to create a more distinctive appearance to their entrance, that would also provide shelter to visitors and parents waiting to collect their children. To achieve this, the school decided on our Motiva Mono™ canopy as it can be adapted to fit virtually any dimensions, and was designed to be a perfect fit for the school's recessed entrance. All of the canopies were designed with a Gentian Blue Duracoat™ for a bright and long-lasting colour that would compliment the existing colours throughout the school.
These outdoor shelters were a hit with the staff and pupils and have allowed the pupils to take full advantage of the school's large outdoor space all year round. Fill out our online form today or contact us at [email protected] or on 01743 444100 today to talk through your shelter ideas.
School Canopy at Loddon Primary School in Reading
A&S Landscape have more than 40 years' experience of working with schools and we have a wide range of school canopies to choose from. Loddon Primary School chose a straight roofed, steel and polycarbonate canopy form our Motiva Linear range. The canopy was installed with White (RAL 9010) steelwork and an opal polycarbonate roof.
The new shaded area has created an outdoor space that can be used all year round by the children. They can play at breaktimes, teachers can store items underneath the canopy, and they may even choose to have the occasional lesson in the new space. All in all, a very flexible area which adds a new option to the school.
A&S Landscape has a wide range of shelter solutions. Take a look at our gallery which has more than a thousand images of our canopy construction projects. You can view them here for some inspiration.
Outdoor Dining Canopy in Wokingham at The Bulmershe School
A&S Landscape, canopy and shelter specialists, proposed a model from their Maxima range. The Maxima Sails are available in waterproof fabric, which The Bulmershe School chose for their project. In Poppy Red, they make a striking design feature as well as offering some welcome shelter on the damper British days. The waterproof fabric is available in 40 colours, so there will be something for everyone in this range, no matter what your style.
Now the students have space to socialise, eat lunch, chat and relax sheltered from the best and worst of the Great British Weather. The area also finally has a purpose and the large space is utilised to best effect. An addition to the indoor dining space and another option to encourage students to relax between lessons and get some fresh air. From Umbrellas and Tepees, to straight or curved roof steel canopies, we have a range which is sure to offer you something special. To look at our full range of finished projects take a look at our gallery here. If you feel yourself getting inspired and want more information, please call us on 01743 444100.
Shaded Area at Charters School in Sunningdale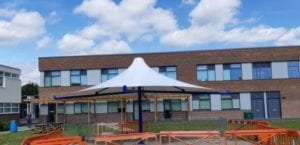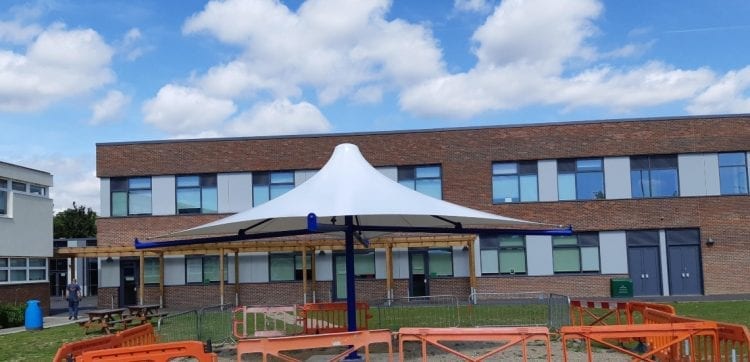 A Maxima Umbrella was installed on a grassy area on the school campus. The fabric canopy covers an area measuring 6000mm X 6000mm, so there is plenty of space underneath the shelter. Charters School, near Ascot, choose Marine Blue coloured steelwork and a white fabric roof to match their school colours and work with the surrounding architecture. The roof material was also supplied with a waterproof PVC fabric, so it can be used in all weathers.
Now the students of Charters School can spend time socialising, eating and relaxing outside during their break times. This allows them to refresh properly ahead of their next lessons, no matter the conditions outside. The covered space can also be used by teachers, should they want to take their lessons in an alternative learning environment.
A&S Landscape design, manufacture and install a range of canopies, shade sails and cycle shelters. Almost all products can be customised and tailored to match your branding, take a look at our extensive colour range too. We pride ourselves on our first-class service and can't wait to add you to our list of happy clients.
Some of our featured Berkshire based clients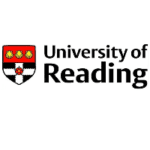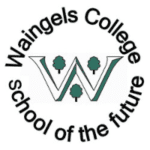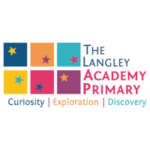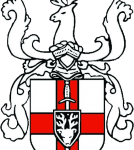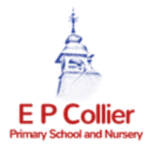 Sheltered Areas Added to Campus at Waingels College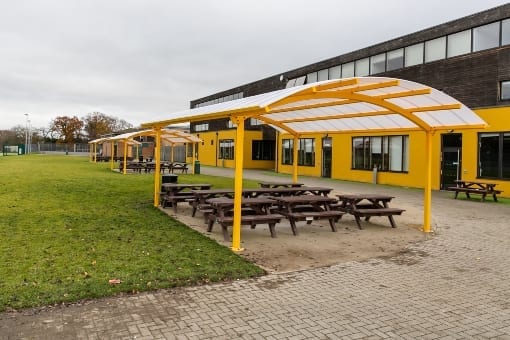 With so many design options available it was hard to choose, so Waingels College installed not one, but three steel and polycarbonate canopies and one fabric Umbrella canopy made with waterproof PVC. The structures were from the Motiva Duo range. Measuring 8m x 6m and constructed from yellow steel with polycarbonate roofing, these canopies have created large seating areas, which the college have completed with 24 recycled plastic benches. The Umbrella shade is from the Maxima range and with its waterproof PVC fabric, standing at 8m x 8m, it has also created a large sheltered area for students to enjoy in all weathers.
The resulting spaces are well used by students at lunch and break times, for socialising, relaxing, dining and perhaps even studying. The Motiva Duo™ shelters are adjacent to the sports pitch, so students can watch their peers as they play a variety of sports.
From cycle shelters, to umbrellas and tepees, to straight or curved roof steel canopies, A&S Landscape have a range which is sure to offer you something special. We can help you from the beginning planning stages, right through to construction. Feel free to look through our gallery, which has more than 1,000 images to inspire you.
St Crispin's School in Wokingham Add Straight Roof Shelter
A&S Landscape offers a wide range of canopy solutions, from shade sails and tepees to straight roof canopies with polycarbonate roofing. It was decided that the Motiva Linear would be most appropriate for this entrance canopy requirement. All steelwork was in grey (RAL 7012) and the roofing in Opal polycarbonate. In total, the school installed three straight roof canopies, all matching, which added a smart design statement to the campus as well as providing shade and shelter for the students for many years to come.
Dry students, sheltered from the rain as they queue to come back into the school building, just what they wanted to ensure with the entrance canopy. In addition, the second canopy provides a sheltered seating area, created from a previously unloved courtyard area that lacked identity. Sometimes, you already have the space, it is just not being used optimally. A&S Landscape can help you with inspiration and design expertise if you think your setting might benefit from something similar. Please get in touch.
A&S Landscape is here to discuss the options if you would like to add some space to your campus. From Shade Sails, Umbrellas and Tepees, to straight or curved roof steel shelters, A&S Landscape, canopy and shelter specialists, have a range which is sure to offer you something special. Feel free to look through our gallery, which has more than 1500 images of canopy installations to inspire you.
Playground Shelter in Slough at Langley Academy Primary School
Spaces can enthuse or tire us and the spaces we experience when at school can go a long way towards our retention of information, the quality of play we take part in and even the relationships we build. When we were invited to install one of our most exciting designs at Langley Academy Primary School, in Slough we knew the impact we were about to have.
A&S Landscape installed three Maxima Sails at 4000mm x 4000mm in grey (RAL 7015) steelwork and with playful Turquoise fabric. These overlapping shade sails created a patchwork of colour that adds a splash of fun and soft lines to the modern design of the rest of the campus. The result is two-fold. On the one hand, we have a design that provides shelter from the sun on hot Summer days, meaning children can spend more time outside without the fear of getting burnt.
But, more than that, this striking piece of design energises everybody who is around it, creating a varied and surprising landscape that stimulates the imagination and promotes play.
We have a wide range of outdoor shade protection and you can see some of our favourite finished projects in our gallery. If you want to know anything else then get in touch, our design team can present you with a proposal and are always on hand to answer any questions you have thanks to our expert advice.
EP Collier Primary School Add Outdoor Shelter in Reading
But perhaps the greatest feature of an outdoor canopy is that it can do all of these things at once. Whilst adding a covered walkway, you've also created a new outdoor learning area. When adding a waiting shelter, you've also created a little temperature control. There are many benefits within one single shelter.
EP Collier Primary School worked alongside a local contractor who brought in A&S Landscape to provide some outdoor playground shelter that just happened to offer some unexpected benefits. We installed a Motiva Linear monopitch straight roof canopy at 15909/11925mm x 2500mm in pale grey (RAL 7040) steelwork with clear polycarbonate roofing. Alu-Tuff™ aluminium box profile guttering and downpipes were provided in matching Dura-Coat™ finish.
The result is an outdoor shelter that affords a little extra protection from the rain, a place to wait in inclement weather. It also offers an additional benefit; with direct sunlight being partially cut out the temperature of the classrooms inside is kept cooler on hot, clear days. Whatever kind of shelter you're looking to add you can be sure that there will be additional benefits you had not expected. It can be a very useful exercise to work through our gallery of completed projects to get some inspiration and also take a look at the specs for the Motiva Linear.
Curved Roof Playground Canopy at Larchfield Primary and Nursery School in Maidenhead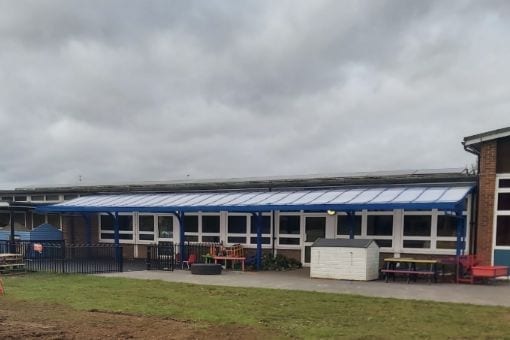 When they approached A&S Landscape, Larchfield Primary and Nursery School, Maidenhead, already had a defined idea of what they wanted for their school site.
Like many other primary schools teaching across a range of age groups, not only did they want to create a fun area for learning and play, but they needed additional storage to take the pressure off other areas of the school. Combining this requirement was easy with the installation of our funky Motiva Wave™ canopy. With all of the expected features of our standard Motiva design, the wave-shaped roofline added a really different look to the overall canopy installation. The canopy cover was installed against an existing low-level school building, giving a run of 17,700mm and a depth of 4,000mm of coverage. This created lots of room for combining zoned areas for play, learning and storage.
Each of the canopy covers in the A&S Landscape portfolio are customisable. This means that whatever option you select, you can make it truly your own. Larchfield Primary and Nursery School chose a Gentian Blue steel shelter frame with an Opal polycarbonate roof from the wide choice available. With a choice of other optional extras available too, designing your custom canopy project is easy.
Straight Roof Canopy Cover At Loddon Primary School in Earley
What was the problem?
The problem that A&S Landscape was asked to assist Loddon Primary School was a lack of covered space outside. While there was ample space in the school grounds, there was no protected space in which outdoor learning and play could continue when the weather was not dry.
What was our solution?
The A&S Landscape solution was selected from a diverse range of school canopy options. Given that the canopy cover was to be located alongside part of the school building, a straight roof option was selected.
What product did we use?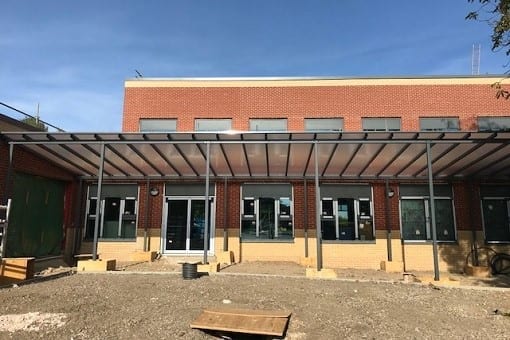 By far and away the best choice for this job was our Motiva Linear™ canopy. Offering a straight roof which sits asymmetrically to the adjoining building, the Motiva Linear™ is constructed with a sturdy metal canopy frame. The addition of aluminium guttering and downpipes on this larger structure means that rainwater is efficiently managed.
This product offers many options for custom canopy or covered walkway projects. Design features also include a selection of steel and polycarbonate colours so you can create a model which is perfect for your space.
What was the result?
Loddon Primary School's canopy was finished with Basalt Grey (RAL 7012) steelwork and a clear polycarbonate roof. The end result was a substantial covered area which fitted in beautifully with the school building. This space is most certainly a practical one, offering outdoor access even on rainy days to allow the children to learn and play outside.
Feedback & testimonials
Loddon Primary School gave A&S Landscape a 5 star rated review, adding:
'A&S Landscape works very well together. They have the right attitude, communicate proactively and have strong leadership at the helm.'
A bit about the client
Loddon Primary School, Earley, is around 4 miles from the town of Reading. Because of Earley's proximity to Reading, it is a popular place to live for commuters. Good schools are important to those moving to the area for work, and Loddon Primary School's record as a 'good' school recommends it well.
A real plus point about the Reading area is its close location to London, offering access to The Capital within 30 minutes. This is great news to schools like Loddon Primary School who actively encourage days out for their pupils in their prospectus. London offers many fabulous educational days out for children of all ages.
What is an asymmetric canopy?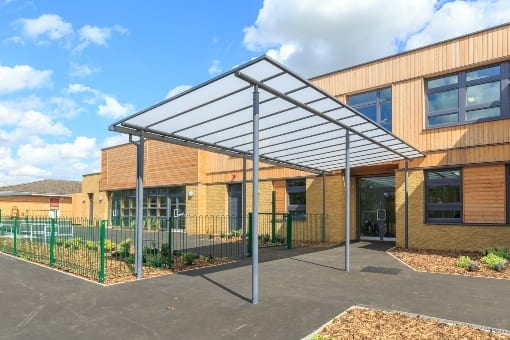 Our Motiva Linear™ canopy is what we would describe as being of monopitch construction. As we've already seen with the Loddon Primary School project, the canopy cover was erected directly adjacent to the school building. The monopitch of the canopy architecture means that one side of the roof is higher than the other, and the roof fits at an angle to the brick of the existing building. The pitch can be varied, although the lowest available is normally 5 degrees.
Why are linear canopies perfect for primary schools?
Not only are linear canopies great for installing next to existing buildings, but the installation phase for your new canopy can typically be undertaken within a week (although this does depend on your specific project). This means that for a busy primary school, construction is quick and efficient with a minimal amount of disruption.
The design of products such as our Motiva Linear™ means that it can be used for a complete range of activities. As an alternative to adjoining an existing building, a straight roof canopy can also be freestanding away from a building. A large canopy of this type can also then offer shade, shelter and accommodation for activities such as dining and outdoor learning.
With customisable designs, no two canopy covers need ever be the same. You can choose the colour of your steelwork and the colour of the roofing. Find out more about the uses that other primary schools have adopted for their canopy covers here. Or we can help you to pick the best shelter design for your specific requirements.
How A&S Landscape can help you
A&S Landscape offers our clients the benefit of over 44 years' experience in the metal canopy industry. Our knowledge covers every aspect of design, manufacture and construction of the very best primary school canopy covers. We recognise that projects can sometimes seem complex and daunting. That's why our friendly team are only too happy to answer your questions and signpost you to the right options for your specific project.
If you'd like to discuss how we can help you to find the right metal canopy cover, get in touch with our canopy and shelter specialists on 01743 444100 or fill out a contact form online.
Southfield School Add Secure Cycle Shelter in Wokingham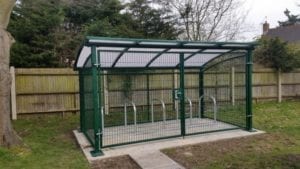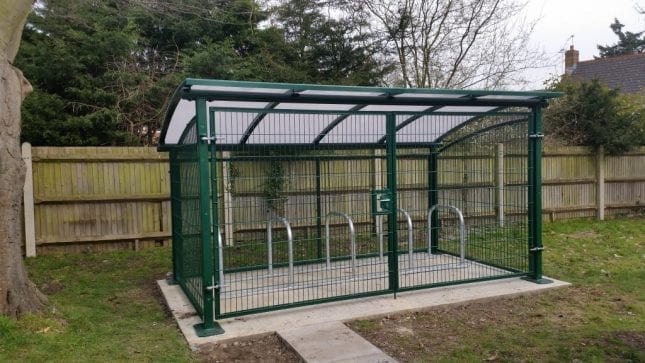 Southfield School chose one of our Cyclo Bike cycle shelters in a smart, professional green steelwork with impenetrable side panels and strong gates made from super robust double wire panel mesh.
Students can park their bikes with confidence and this kind of peace of mind is so important. It tells students a lot about how valued their possessions are, how valued they are. Students that cycle into school receive all manner of health benefits and knowing that it is respected, supported and secure for them to take on is wonderful.
Whether it's cycle shelters or outdoor dining shelters for schools, A&S have a range of beautiful outdoor solutions that can make a huge difference to any business. Take a look at our full Cyclo range of cycle shelters here as well as a full gallery of our favourite completed projects.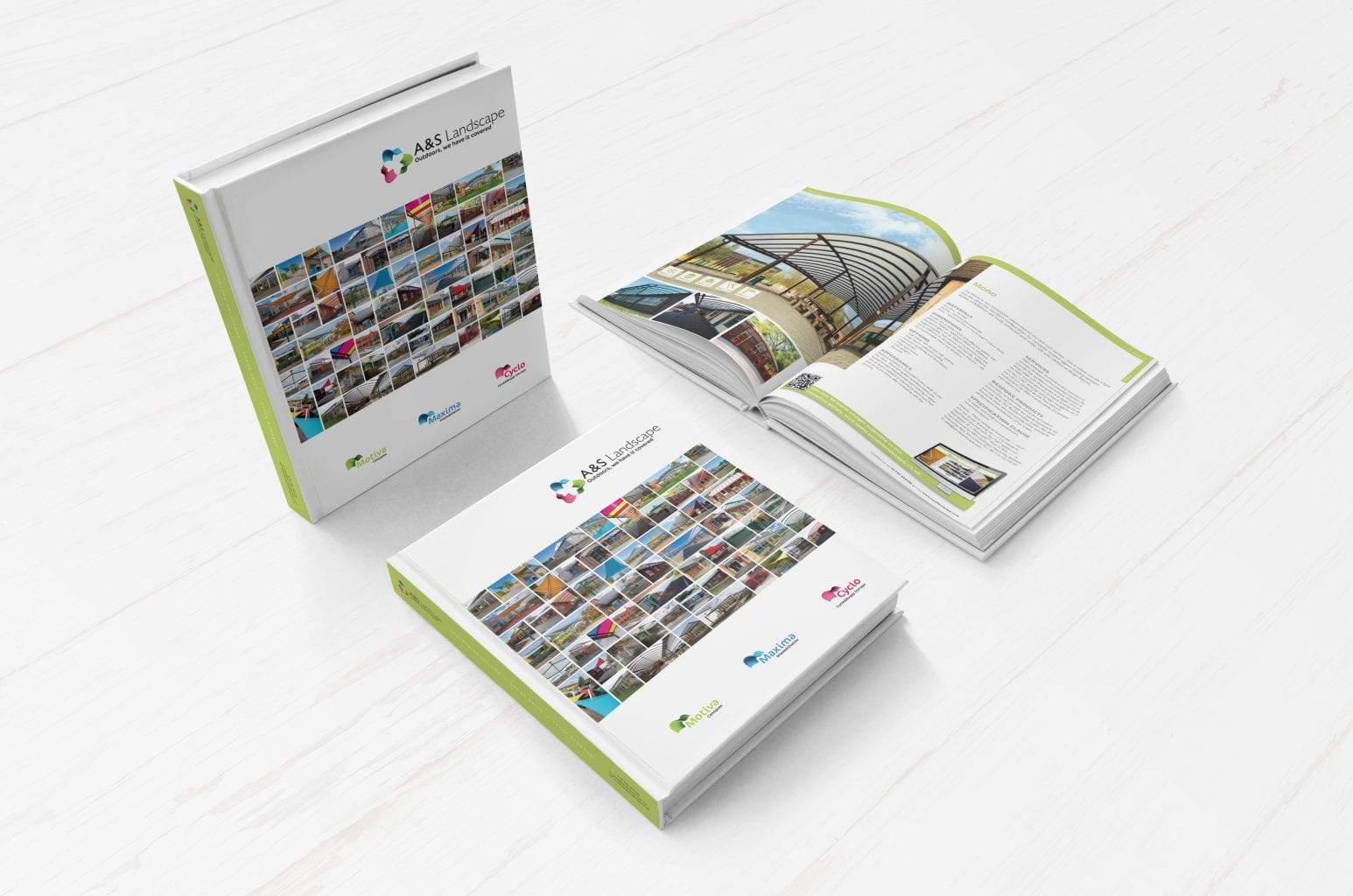 Get in touch to request a copy of our full, 160 page, hardback brochure with all the information you need to make the right choice.