Secure Roller Shutter Canopy at Cullingworth Village Hall in West Yorkshire
Why was the canopy added?
The Cullingworth community wanted the new village hall to include as many useful features as possible, and the group decided adding a secure storage facility to the pre-school would be a worthwhile investment.
What was our solution?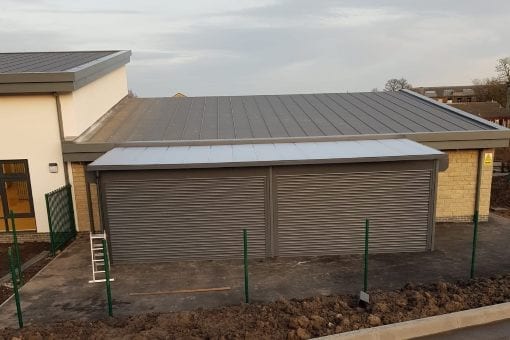 One large straight roof canopy was installed outside the pre-school building at the village hall site. The Motiva Linear straight roof canopy features Slate Grey steelwork and Alu Tuff guttering, giving the structure a sleek and modern look, which works with the new buildings. To enable the team to use the canopy as a secure storage space, we added roller shutters to the front and sides of the design. These can be operated electrically by the staff.
What was the result?
The local community is thrilled with the new Cullingworth Village Hall, including the fantastic pre-school area. The teachers can store equipment in the canopy overnight, knowing everything will be safe and secure. During the day it can be used as an additional outdoor classroom, allowing the children to learn outside of the four walls of a traditional classroom setting.
A little bit about the client…
Cullingworth Village Hall opened in April 2019 after six years of work by the Village Hall Renewal Committee and many volunteers from the local area of West Yorkshire. The new hall features many impressive facilities, including two halls suitable for events and a new coffee shop.
We enjoyed working with the team at the village hall, we could really sense their excitement of opening the new site. It's great knowing that we got to play a part in making a great community resource which will be used for many years to come.
What are the benefits of an outdoor classroom?
We all know that spending time outdoors can have many benefits on our physical health, but there are also many cognitive and psychological benefits too. By allowing pupils to learn outside, they will have an increase in their physical development, and learn healthy active habits for the future.
Children can also develop a stronger understanding and interest in the natural world by experiencing it first-hand. This also helps to create an engaging lesson they will remember. It has also been shown that spending time in an outdoor classroom has positive effects on mental health too.
Creating an outdoor classroom is also a cost-effective method of increasing the school's capacity and usable space, without a formal building. Often our canopies and shelters don't require planning permission and can be installed within weeks. This saves your team hours of time and effort which would have been spent on coordinating the construction works.
How can our canopies be used at village halls?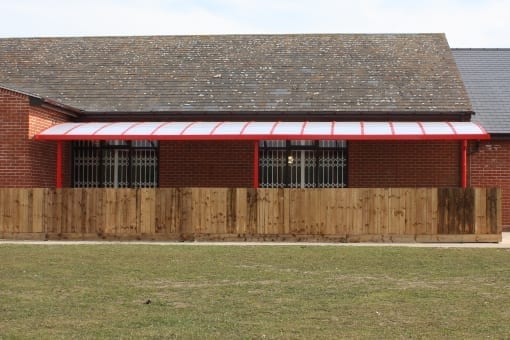 We worked with many community groups to add valuable facilities to village halls and hubs. At Mistley Village Hall in Essex, we installed a curved roof shelter to create outdoor space which can be used all-year-round. This covered area could be used during fêtes and fayres, creating a sheltered spot for stalls. Outdoor equipment can also be kept under the shelter, saving valuable room inside the hall.
We've also installed several bike stores at village halls across the country, giving visitors to the site a secure and covered place to keep their bicycles. This also promotes a healthy lifestyle and reduces the local area's impact on the environment.
How A&S Landscape can work with you
Our expert team has completed hundreds of projects successfully, and we'll work closely with you from the initial enquiry to the final sign-off. We've reviewed lots of brilliant feedback from our clients, and there's nothing more we enjoy than seeing a completed project and a happy customer.
From the Royal Air Force to Team GB, we've worked with a wide range of companies, supplying our versatile canopies for a variety of uses. Whether you need a playground shelter for your pupils or a covered walkway for visitors to your site, we have the perfect shade solution.
Get in touch with us today by calling 01743 44100 or emailing [email protected].