Worcestershire Based Projects
A&S Landscape has completed many school canopy installations across Worcestershire. As canopy and shelter specialists, we have a wide product range which can be used for many applications, including:
Outdoor dining areas
Cycle shelters
Covered walkways
Playground canopies
Our straight polycarbonate roof canopy designs are ideal for primary schools, or an entrance canopy is the perfect addition to your shop. Whatever your needs, we can work with you to create the perfect covered solution.
We've gathered just some of the projects we have completed in Worcester and the surrounding areas to give you inspiration for your canopy. From a large bespoke canopy for Severn Trent Water to a dining shelter at Wolverley CE Secondary School, we've completed a wide range of jobs.
From the initial site visit to the installation, we can take care of the entire process. Our clients appreciate our 'hands-on' approach, and our expert advice helps them to get the best end result. Fill out a contact form online to get in touch with us, we would love to work with you.
Bright Red School Canopy adds Shelter to Wyre Forest School in Kidderminster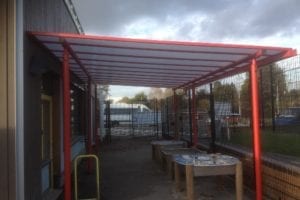 A&S Landscape came on board. We were delighted to offer some suggestions and design advice to Wyre Forest School. It was decided that the area would benefit from a Motiva Linear™ steel and polycarbonate canopy. Installed to an overall size of 7000mm x 4000mm, the canopy was large enough to house play tables and other equipment used by the children.
The result is another space available to the children whatever the weather. The school canopy is nice and bright, installed with Red (RAL 3020) steelwork and Alu Tuff guttering, and an opal polycarbonate roof. Should any of the pupils need some quiet time or a space to relax and take in some fresh air, Wyre Forest School now have another space and another option. They may even choose to have the occasional lesson under the canopy. We hope they enjoy it all year round. A&S Landscape has a wide range of canopies. Our gallery contains over a thousand pictures of our canopy installations and you can view them online for some inspiration.
St Mary's Catholic Primary School in Broadway Add Cover to Playground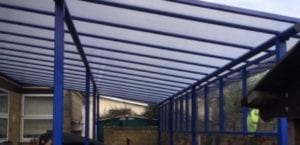 A straight roof shelter was added to the playground, measuring 10m X 5.6m. The Marine Blue coloured steelwork adds a pop of colour to the area, and the clear polycarbonate roofing protects against harmful UV rays. Glazed panels were also added to the top half of the front of the Motiva Linear™ to block the wind.
The pupils of St Mary's Catholic Primary School love their new playground shelter. Break times can be spent outside in the fresh air, where they have more space to run around and let off steam. And thanks to the high-quality materials and installation process we use, the school can enjoy their shelter for many years to come.
A&S Landscape has over 40 years of experience working with schools. From cycle shelters, dining area canopies to covered multi-use games areas, we can help you transform your space. Find out how to request a site visit and call us directly on 01743 444100.
Our Worcestershire based clients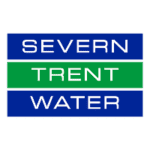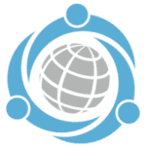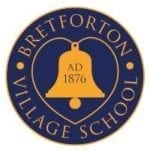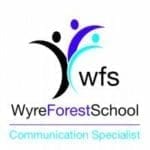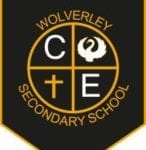 Covered Playground Area at Bretforton Village School in Evesham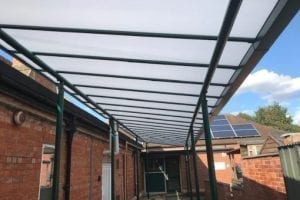 A straight roof Motiva Linear™ canopy was installed alongside one of the school buildings. The steelwork and Alu Tuff guttering features a striking Dark Green colour, which works well with the surrounding environment. The Opal coloured polycarbonate roofing also provides essential protection from harmful UV rays, while allowing some sunlight through. Measuring a total of 16500mm X 3000mm, plenty of sheltered space has been created by the canopy.
The pupils of Bretforton Village School can now enjoy their break and lunchtimes outside, no matter the weather. This allows the children to let off some steam and refresh ahead of their next lessons. Parents can also use the straight polycarbonate roof canopy at the end of the school day when they are waiting to collect their children too. A&S Landscape has worked with schools across the country, supplying canopies, shade sails and cycle shelters. See what our past clients have said about us on our testimonial page and browse our gallery for more inspiration. You can also get in touch with us today on 01743 444100.
Two Curved Roof Canopies Made for Oak Hill First School
We erected two curved roof canopies in Oak Hill First School Wire Hill Drive, Redditch, Worcestershire. The contract included the supply and installation of two curved roof canopies. One Motiva™ Mono monopitch curved roof canopy measuring 6000mm X 4000mm. One Motiva Mono™ monopitch curved roof canopy measuring 4000mm X 3000mm. Both included the dismantling and removal of existing canopy structures with Alu-Tuff™ aluminium box profile guttering and downpipes in matching Dura-coat™ colour finish and four post protection pads for each.
Commercial Building Entrance Canopy in Kidderminster At DMS Chromium Plating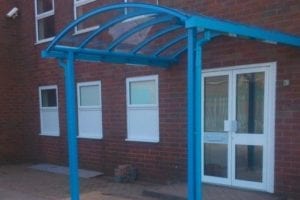 The right entrance does say something about your building. It says 'here we are' it gives a professional and clear statement and, without wishing to over simplify this, it says 'come in'. But more than that, people often judge a building by its public face, so it is important to clearly define the way in, whilst also making certain you give a professional impression. And that's where working with a company like A&S comes in, a team with real building canopy expertise.
DMS Chromium Plating Limited is one of the UK's leading plastic injection moulders and provider of chrome plating of plastics, with an exceptional track record of service and reliability to major UK Original Equipment Manufacturers. So, you can imagine how delighted we were to work alongside their building contractors to provide an entrance canopy over the front of their premises in Kidderminster.
Our compact Motiva Entro™ has given the face of the building a professional new look and offers their staff much-needed protection from the rain. It's robust steel structure also means this will last for a very long time. We were very happy when the site manager for the building contractor gave us 10/10 for the project (see the review here) and reported that there was nothing more we could do to improve on the installation. If DMS are happy, then we're happy.
Building entrance design is often overlooked and it shouldn't be, it truly is the first opportunity for somebody to make a judgement on what the building holds inside. But changes don't have to be sweeping, simply additions can make a great impression and working alongside us at A&S means we can find the solution that works best for you. Take a look now at our full range of entrance canopy designs and contact us to find out how we can help you say exactly what you want to with your building entrance design. Please see our product gallery for more images of similar canopies.
Waiting Canopy at Malvern At The Chase High School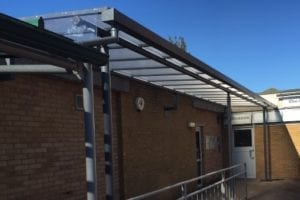 First thing to note, The Chase High School in Worcestershire has high standards, they expect greatness from their students and work really hard to make sure they have every possible opportunity. It's very inspiring. But it also sets the bar high for us!
So when The Chase High School contacted A&S looking for a waiting canopy outside their entrance we spent time looking at the territory first. And something we noticed was that given the placement of the doors we couldn't install using the normal posts in those areas.
After working through a number of options it was clear that a Motiva Linear™ Monopitch (asymmetric) straight roof polycarbonate roof canopy would be the answer, installed with wall brackets instead of posts around the doorways. This kept those areas free and the smart Slate Grey steelwork was complemented with a clear roof, which allows the maximum sunlight to flood the canopy whilst protecting the pupils from harmful UV rays as they walk between buildings.
The canopy was specified with Alu-Tuff™ guttering and downpipes in matching Dura-coat™ finish. Now we know The Chase High School have high standards so we were delighted when they reviewed us 10 out of 10 for the outdoor waiting canopy we installed, with the Senior Site Manager commenting "There's nothing they could improve on," and I'm sure he meant to add 'even if they could fly'.
If you're looking for outdoor canopies for playgrounds, outdoor canopies for schools or even outdoor canopies for fun (somebody must be) then our Motiva Linear™ Monopitch (asymmetric) straight roof canopy could be what you're looking for. Take a look at the whole range here and if it's a responsive design from a team that listens you can contact us here. Please see our product gallery for more images of similar canopies for schools.
Great Witley C of E School add Playground Shelter
Great Witley C of E School didn't need a huge shelter, but they did feel strongly about providing a suitable cover from the bad weather, so their students had somewhere to hide when the heavens opened. Contacting A&S Landscape, we worked with them to put together a proposal that outlined the most suitable option to provide their own little dry oasis over the playground. This Motiva Linear™ Entrance Canopy was just the right size to offer a frame for the doorway and some play area shelter for the students. In two-tone steelwork with both white and green, it also looks great and has all the robust and long-lasting features you would expect from a much larger structure.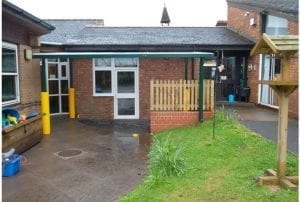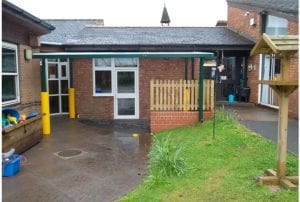 The result is a canopy everybody is happy with. It's small but beautiful, functional and long-lasting. This is a canopy that's going to make its little mark on Great Witley Church of England School for many years to come.
Whether you are looking for a canopy to cover a life-sized replica of The Titanic or you just need a little waiting area shelter design for an entrance or two, A&S Landscape has it covered. Browse our gallery of completed canopy installations here and then get in touch. Our design team can have a proposal to you the very next day.
Long Playground Canopy at Holy Trinity School in Kidderminster
Holy Trinity School – based in Kidderminster, Worcestershire – required a sheltered space to be built next to one of the primary school classrooms for outdoor playtime and lessons. This unique institution which teaches from age 4 to 18 also needed the ground to be resurfaced in order to create a safe, suitable area for the children to enjoy, alongside other projects they were taking on to improve outside facilities.
A&S Landscape proposed the Motiva Linear™; it's a practical canopy cover that can provide protection in any season or weather, and the school thought that this model was ideal. The suggestion of new tarmac in the area was well-received, plus advice about finding funds for the work. Playground canopies provide the scope for many different design and colour combinations, and Holy Trinity School chose Opal polycarbonate roofing and Sapphire Blue steelwork to complement their architecture and add more colour to the area. The shelter measured 20m in length – perfect for protecting a large number of pupils from the elements.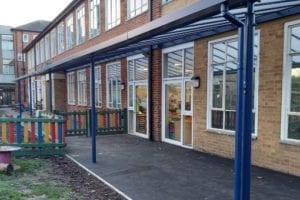 The Motiva Linear™ brought the space to life and now allows outdoor classes to take place, even in the rain. Providing canopy solutions for schools that need more teaching space is a rewarding job, and we loved working with Holy Trinity School to turn wet break times into safe, dry playtimes, as well as open up their learning opportunities outside. If you're interested in finding out more about our canopies, give us a call on 01743 444100 today.
School Canopy added to Droitwich Spa High School
A commercial-grade Umbrella from our Maxima range was chosen and the steelwork is a smart Yellow (RAL 1012) colour. To complement this the fabric is Midnight Blue PVC. This offers both shade from UV rays as well as shelter from the rain. The canopy is large at 7000mm x 7000mm and a post pad protector has been added which is 1200mm high.
The Umbrella looks fantastic. The funds for this super project were raised by a number of initiatives including charity dinners, raffles and tombolas. The whole community has been engaged in the process and the resulting structure has made a huge difference to the students. The school say "The canopy is wonderful, it is everything we wanted, functional, aesthetically pleasing and acts as a signpost for people to see where the school is! I have worked with you before and I won't go anywhere else now."
A&S Landscape has a wide range of canopies, including cycle shelters and entrance canopies. In our gallery, you will see more than 1,000 photos of our previously completed projects. Take a look to get some inspiration at our gallery.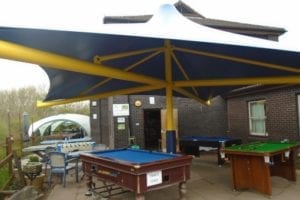 Curved Dining Shelter Added to Wolverley CE Secondary School in Wolverley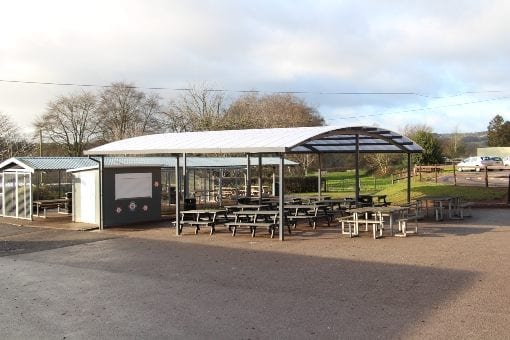 Wolverley CE Secondary School in Wolverley, Worcestershire wanted to install a canopy outdoors to provide extra dining space and accommodate rising student numbers. This institution – which has a 'unique combination of high standards and values within an unrivalled rural setting' – needed a year-round solution that also provided space for plenty of seating. A&S Landscape was happy to help.
The school decided that instead of focusing on minimising costs with the Motiva Linear™ model, they would go for the Motiva Duo™; it was their ideal dining shelter and would bring benefits for years to come. The curved roof and sleek design appealed to the staff and they chose a custom canopy with an Opal roof and Slate Grey steelwork. They also arranged for contractors to install it in term time rather than the holidays, because they were so encouraged by A&S Landscape's health and safety work.
Wolverley CE Secondary School was thrilled with their dining canopy and made a testimonial video to prove it! Anthony, the School Business Manager, said that 'the design that we got and the installation that we got is fantastic quality.' The shelter was large enough to fit lots of benches underneath, as well as a catering pod to feed hungry students. It can be used in all weathers as an essential additional dining facility. A&S Landscape really enjoyed working with the school and wishes them all the best for the future. Email us at [email protected] today if you're considering adding a shelter to your school.
Curved Roof Canopy Designed for Crowle C Of E First School
In combination with our building contractor client we made a curved roof canopy at Crowle C Of E First School, School Lane, Crowle, Worcestershire. The contract included one Motiva™ Duo duopitch curved roof canopy measuring 5700mm X 5400mm with Alu-Tuff™ aluminium box profile guttering and downpipes in matching Dura-coat™ colour finish.
See more of our canopy installation locations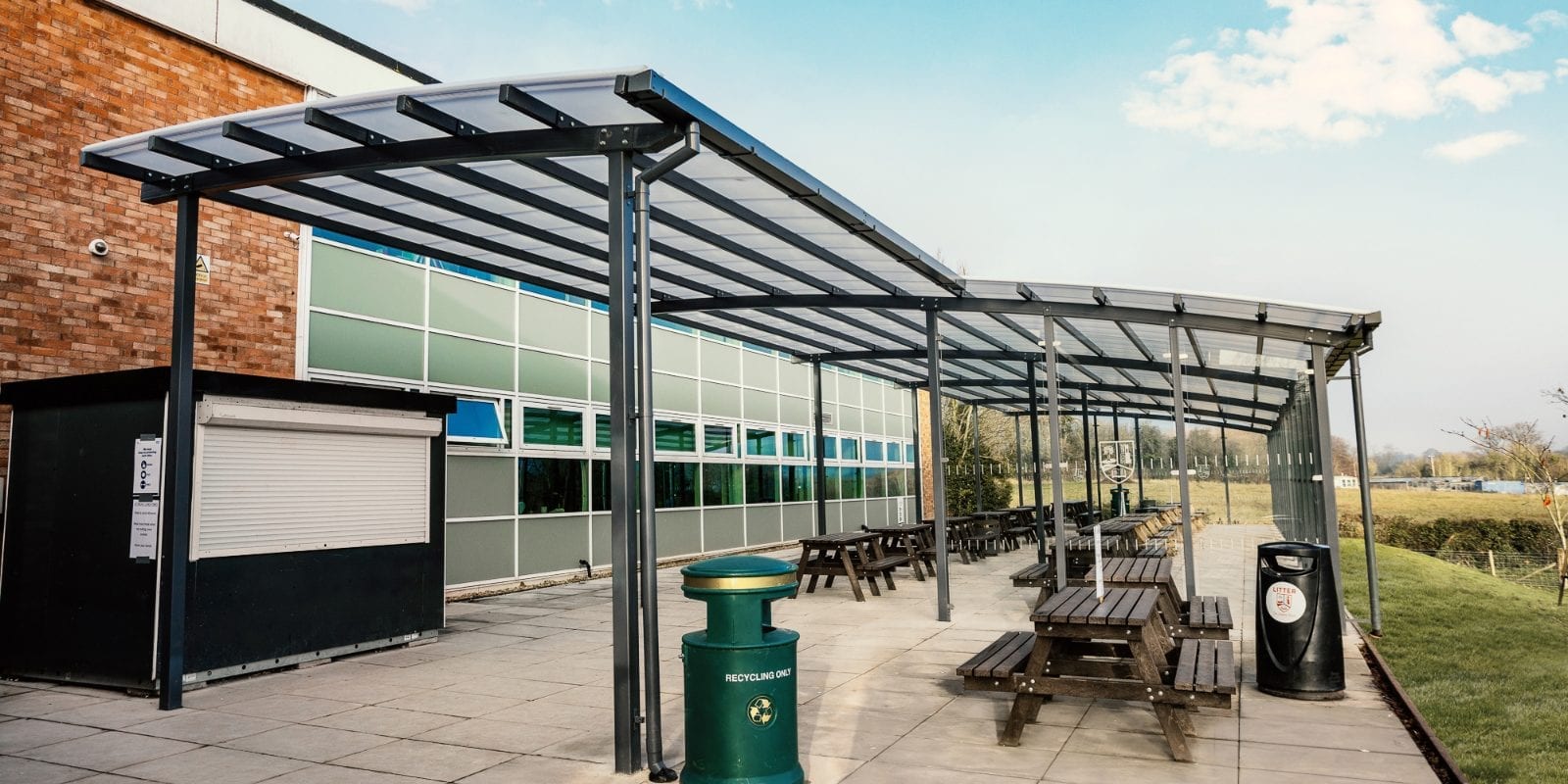 Send us your email and an idea of your requirements and we'll get back to you with a quick price.