Covered Playground Area at Bretforton Village School in Evesham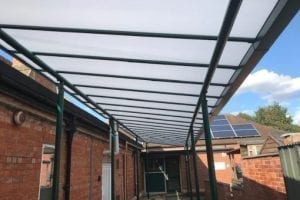 A straight roof Motiva Linear™ canopy was installed alongside one of the school buildings. The steelwork and Alu Tuff guttering features a striking Dark Green colour, which works well with the surrounding environment. The Opal coloured polycarbonate roofing also provides essential protection from harmful UV rays, while allowing some sunlight through. Measuring a total of 16500mm X 3000mm, plenty of sheltered space has been created by the canopy.
The pupils of Bretforton Village School can now enjoy their break and lunchtimes outside, no matter the weather. This allows the children to let off some steam and refresh ahead of their next lessons. Parents can also use the straight polycarbonate roof canopy at the end of the school day when they are waiting to collect their children too. A&S Landscape has worked with schools across the country, supplying canopies, shade sails and cycle shelters. See what our past clients have said about us on our testimonial page and browse our gallery for more inspiration. You can also get in touch with us today on 01743 444100.
Two Curved Roof Canopies Made for Oak Hill First School
We erected two curved roof canopies in Oak Hill First School Wire Hill Drive, Redditch, Worcestershire. The contract included the supply and installation of two curved roof canopies. One Motiva™ Mono monopitch curved roof canopy measuring 6000mm X 4000mm. One Motiva Mono™ monopitch curved roof canopy measuring 4000mm X 3000mm. Both included the dismantling and removal of existing canopy structures with Alu-Tuff™ aluminium box profile guttering and downpipes in matching Dura-coat™ colour finish and four post protection pads for each.
Commercial Building Entrance Canopy in Kidderminster At DMS Chromium Plating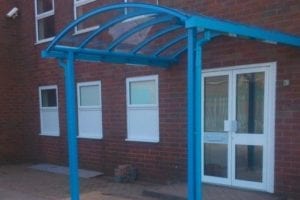 The right entrance does say something about your building. It says 'here we are' it gives a professional and clear statement and, without wishing to over simplify this, it says 'come in'. But more than that, people often judge a building by its public face, so it is important to clearly define the way in, whilst also making certain you give a professional impression. And that's where working with a company like A&S comes in, a team with real building canopy expertise.
DMS Chromium Plating Limited is one of the UK's leading plastic injection moulders and provider of chrome plating of plastics, with an exceptional track record of service and reliability to major UK Original Equipment Manufacturers. So, you can imagine how delighted we were to work alongside their building contractors to provide an entrance canopy over the front of their premises in Kidderminster.
Our compact Motiva Entro™ has given the face of the building a professional new look and offers their staff much-needed protection from the rain. It's robust steel structure also means this will last for a very long time. We were very happy when the site manager for the building contractor gave us 10/10 for the project (see the review here) and reported that there was nothing more we could do to improve on the installation. If DMS are happy, then we're happy.
Building entrance design is often overlooked and it shouldn't be, it truly is the first opportunity for somebody to make a judgement on what the building holds inside. But changes don't have to be sweeping, simply additions can make a great impression and working alongside us at A&S means we can find the solution that works best for you. Take a look now at our full range of entrance canopy designs and contact us to find out how we can help you say exactly what you want to with your building entrance design. Please see our product gallery for more images of similar canopies.
Waiting Canopy at Malvern At The Chase High School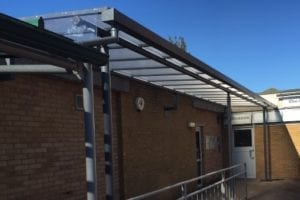 First thing to note, The Chase High School in Worcestershire has high standards, they expect greatness from their students and work really hard to make sure they have every possible opportunity. It's very inspiring. But it also sets the bar high for us!
So when The Chase High School contacted A&S looking for a waiting canopy outside their entrance we spent time looking at the territory first. And something we noticed was that given the placement of the doors we couldn't install using the normal posts in those areas.
After working through a number of options it was clear that a Motiva Linear™ Monopitch (asymmetric) straight roof polycarbonate roof canopy would be the answer, installed with wall brackets instead of posts around the doorways. This kept those areas free and the smart Slate Grey steelwork was complemented with a clear roof, which allows the maximum sunlight to flood the canopy whilst protecting the pupils from harmful UV rays as they walk between buildings.
The canopy was specified with Alu-Tuff™ guttering and downpipes in matching Dura-coat™ finish. Now we know The Chase High School have high standards so we were delighted when they reviewed us 10 out of 10 for the outdoor waiting canopy we installed, with the Senior Site Manager commenting "There's nothing they could improve on," and I'm sure he meant to add 'even if they could fly'.
If you're looking for outdoor canopies for playgrounds, outdoor canopies for schools or even outdoor canopies for fun (somebody must be) then our Motiva Linear™ Monopitch (asymmetric) straight roof canopy could be what you're looking for. Take a look at the whole range here and if it's a responsive design from a team that listens you can contact us here. Please see our product gallery for more images of similar canopies for schools.