Canopies in Scotland
As industry-leaders, we work across the UK helping schools and businesses to get more use from their outdoor space. From south coast of England to Scotland, we have completed hundreds of projects, installing both school and commercial canopies. Our specialist team can work with you from start to finish to make sure that your shelter solution is installed successfully.
We offer a range of products which can be used for a variety of applications, including:
Entrance canopies
Cycle storage
External seating cover
Covered walkways
Playground shelter
Outdoor classrooms
When you first get in touch, we will understand all of your requirements and start work on the design process to create the ideal structure for you. Once approved, we will manufacture the canopy using the latest processes and technology, which will then be fitted by our experience installation team.
There are many benefits to work with A&S Landscape, our friendly team are always on hand to help and assist you. Why not fill out an online contact form today to get in touch?
Gordonstoun School in Elgin Sources Useful Shade Sail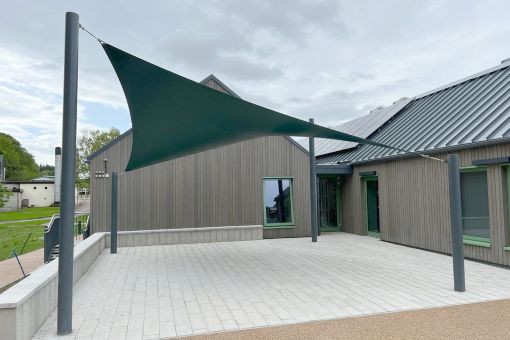 Gordonstoun School in Elgin, Moray wanted to source a shade sail that could provide its students with an area in which they could spend time outside in any kind of weather. The team there liked the idea of it being used for learning, dining and socialising at break times and having a sophisticated design to reflect its top-class facilities. We used our ideas and experience to make their perfect canopy come to life.
Following talks with our customer about their desired outcomes for the shelter, we installed a Maxima Sail™ measuring 6000mm X 6000mm in their grounds. This is one of our best-known shade sail models, which features an efficient shade cloth or waterproof roof that enhances the look of any space. A Tennis Green and Basalt Grey colour scheme lent the outdoor area a new modern, visual appeal and the completed structure was ideal for enabling a myriad of all-weather activities.
The result of the project was this client being truly satisfied with their shade sail. It perfectly met the requirements for their outdoor space and was able to cover it so learners could get outside during their breaks and enjoy lessons, eating and catching up with friends there year-round. The fabric roof protects those beneath it from wind and rain and it has a fantastic contemporary look. Call us on 01743 444100 today to start your shelter journey with A&S Landscape.
Smart Set of Shade Sails at Edinburgh Napier University in Edinburgh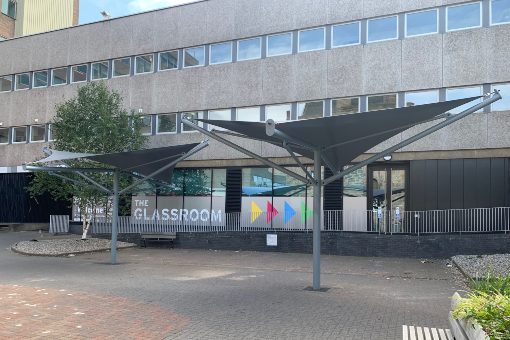 Edinburgh Napier University decided to invest in identical shade sails to offer more covered outdoor spaces on-campus and make the areas more visually appealing. The staff at the institution – which has three campuses across Edinburgh – wanted to buy half a dozen shelters with straightforward, subtle designs that worked with the current buildings. They also wanted them to offer good coverage in all weathers – even in unpredictable seasons – and for a variety of purposes, including socialising.
After getting in touch with us, Edinburgh Napier University decided that Maxima StarSail™ canopies would best fit its requirements. This waterproof sail shade model was a great selection because it has a functional design that can withstand rain, wind and sun – perfect for protecting friends chatting outdoors. The six shelters with simple, matching Concrete roofs and Squirrel Grey steelwork looked fantastic on-campus and made it look more unified, while the 5000mm X 5000mm measurements had a lasting impact.
The staff and students at Edinburgh Napier University were thrilled with the six shade sails. They were just what they needed to lift the look of the site and allow everyone to get more fresh air, even in wetter months. The team loved the design and quality of the fabric roofs, which would provide longstanding shelter and complemented the university's brand and architecture. Contact us to start your canopy journey – call us on 01743 444100 today.
Border Biscuits in Lanark Finds its Perfect Colourful Shade Sail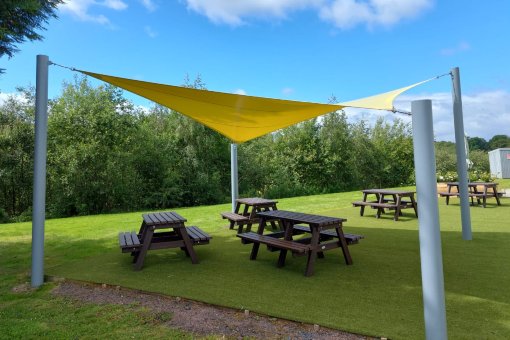 Border Biscuits in Lanark, Scotland had the idea to install a shade sail so staff could sit outside the office during their breaks year-round. This client – Scotland's number 1 premium biscuit brand – needed something with a fun, interesting design to lift the look of the space, which could also protect those beneath it from the elements. It was a pleasure to help them improve their outdoor facilities.
After much deliberation and discussion about our products, the winning one was the Maxima Sail™. This didn't surprise us because this model has a host of wonderful features, such as its economical yet eye-catching design and how it has the longest guarantees in the market. Squirrel Grey steelwork and a Lemon roof made for a colourful shelter that would always look fantastic and be useful, even on rainy days. We built the shade sail to specifications of 5000mm x 5000mm too, so the company could install several benches beneath it and create a relaxing seating area.
The canopy has been beneficial for the team at Border Biscuits; having the option to spend breaks outside in all weathers has provided a boost for everyone's wellbeing. The shade sail design suits and brings more life to the outdoor area, as well as living up to its name and efficiently sheltering the benches. To find out more about our work with tensile fabric canopies and other models, call us on 01743 444100 today.
Sun Shelter Canopy Installed at Galashiels Academy
What was our solution?
Given the existence of fixed equipment on the site in question, our solution here was the installation of a Maxima Sail™ from our extensive range of school shade sails. A tensile canopy like the Maxima Sail™ works on the basis of tension created in the overhead canopy structure. This allows the 'sail' effect to be created which is then attached to the steelwork pillar below.
What product did we use?
A&S Landscape offers a wide selection of sun shelters, UV shelters and standing canopy designs for schools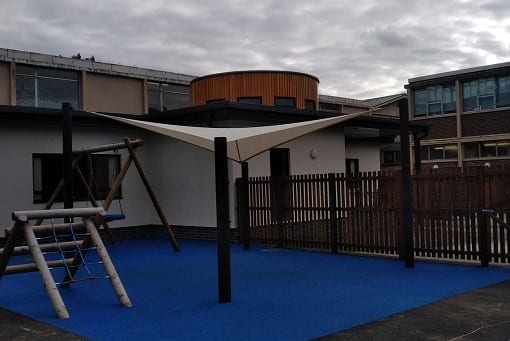 . For this project, our designers needed to understand the space in question, how it would be used, and the footprint and coverage required from the sun shield sail. Not until this had been worked this through with the client was it possible to advise the best product to install.
In this case, because of the location of existing fixed equipment on the site, the best option for Galashiels Academy was the Maxima Sail™. The school were then able to customise the design of their sail by selecting an Anthracite Grey colour for the steelwork and a natural shade for the canopy fabric from our colour palette.
What was the result?
The resulting area of shelter fitted ergonomically with the existing surroundings. The fixed gym equipment already in-situ was in no way impeded by the installation of the canopy. This meant that the area could be used in the usual way, but with the additional benefit of the sun shelter's protection on hot days.
Client feedback
The Galashiels Academy Management Team gave A&S Landscape 5 star feedback for our assistance with this project.
A bit about the client
Galashiels Academy is a high school which serves the immediate local community as well as that of the small village of Stow. The area is hilly and largely rural, and the communities are smaller in these areas. Although the school has been re-founded in more recent history, it has a heritage dating back to 1696.
The area of Galashiels is famous for its annual Braw Lads Gathering, part of the yearly Borders Festival. It brings together the community and tourists to commemorate the town's history, including the marriage of James IV of Scotland to Margaret Tudor. One of the many features for visiting tourists is the choice of cycling routes in the area. Little wonder, then that Galashiels Academy runs a cycling club!
What is a sun shield sail?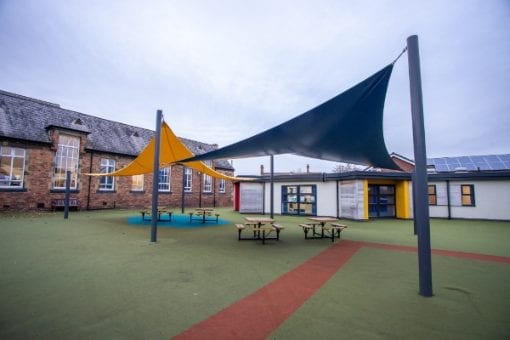 This type of tensile canopy can come in a variety of different configurations. From single steel pillar with overhead sail, to a number of pillars set out in a design of your choice with matching or contrasting colourways. Our versatile fabric Maxima range offers you the option for steel uprights to be root fixed, base plate fixed onto preformed bases, or installed into pre-cast sockets. This gives you many installation options, as well as design choices. Utilising either cloth or waterproof fabric for the sail, you have a great deal of choice for your final design.
Why is a shade canopy perfect for your school?
There are many reasons why a shade canopy is a great addition to your school grounds. Here are just a few:
How can A&S Landscape help you?
We offer the highest standards in design, installation and customer care. You can find out more about our accreditations here. By working with us you are assured of the best customer care from our friendly team, all backed up by testimonials from a range of secondary school clients.
If you would like our help or are interested in finding out what sun shield sail canopy options might work for your school, call our team today. Call us on 01743 444100 or email us at [email protected].
Playground Sail Shade at Locharbriggs Primary School in Dumfries
Which fabric canopy did we use?
The school decided to use our Maxima StarSail™, one of our favourite stylish fabric designs. This canopy combines elements of a shade sail with an umbrella, to create a stunning effect. The singular centre post maximises the amount of covered space made and is safer for young children too. We also added a post pad to the upright for an extra layer of protection.
What was the problem?
Locharbriggs Primary School is located in the outskirts of Dumfries, Scotland and so they can experience extreme weather conditions. From strong winds to cold rain, the elements often meant the pupils had to remain in their classrooms during their playtimes. The teachers wanted to get better use out of the playground and to encourage the pupils to get outside in the fresh air. A&S Landscape was asked to design a shelter which would last for many years and seem appealing to the young pupils.
What was our solution?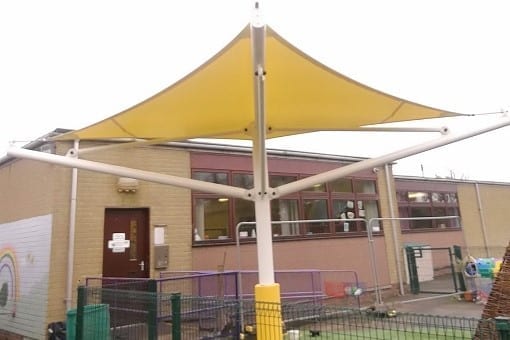 One Maxima StarSail™ was installed outside one of the classrooms, in the playground. The canopy measures 4000mm x 4000mm, so it doesn't take up too much of the play area but still provides plenty of covered space. The sail was made with a waterproof PVC material so the shelter could be used during the wetter months of the year too.
The school worked with our design team and choose a cheerful lemon coloured fabric for the StarSail, which contrasts perfectly with the white steelwork. The post pad was made with a yellow material to match the canopy too.
What was the result?
Everyone at the school is thrilled with the colourful play area shade sail! The pupils enjoy playing underneath the cover and it helps to keep them protected from the elements. The teachers are happy that the play area can be used more frequently, and that the children can get outside to burn off some steam. The school was so impressed with the project that they awarded A&S Landscape five stars for their work.
A little bit about the client…
Locharbriggs Primary School opened back in 1954 and has been educating the young children of Dumfries ever since. The school now features a nursery centre, which gives the youngest pupils the best start to their educational journey. With a small intake of 137, there is a strong community atmosphere which we loved experiencing.
Although this local school is small, the education each pupil gets is fantastic and it plays an important role in the area. Our team enjoyed working for this great school, knowing that the canopy we installed will benefit many children for years to come.
How can I raise funds for my school?
We know that many schools are facing tight budgets and it can be a challenge to find the funds to make improvements to the site. However, we've found some great ways that schools, parents and community members can help to raise money.
Social Media
Facebook, Twitter and Instagram are great places to communicate with the local community and those involved with the school. Many of these platforms now have donation features built into the website, so it's easier than ever to donate. It's simple and straightforward to set up a social media account, you can also share updates on projects which have been funded by your followers too.
Online Donation Websites
If you want to reach a wider audience than your social media followers, you could collect funds through online donation websites. Here you could tell everyone what you will use the money for and keep everyone updated on the progress of the project with videos and images. Your students could also monitor these websites to how the fundraising is progressing.
School Grants
There a number of organisations who provide funds in the form of grants to schools in the UK. This funding could be for a particular project or to make general improvements to the site. We publish a monthly grant guide which contains information on over 75 providers and can be downloaded for free. And to help you to obtain a grant, you can download a copy of 'Writing Successful Grant Applications' guide too.
How can A&S Landscape help you?
Our expert team will work with you to find a design which meets your requirements and your budget. We will help you to choose the right product for your needs and make the whole process as simple as possible. With over 40 years of experience, you put your trust in us and know you'll get the best end result. We've also created a frequently asked questions page all about the timings of our projects, to help you understand how we work too.
We've worked with a range of schools, colleges and businesses to help them use their outdoor space more regularly. It's the great feedback we get that drives us to continue our hard work, we would love to add you to our ever-growing list of clients.
Get in touch with us today to discuss your options. Call us on 01743 444100, or send email to [email protected].
Some of our Scotland based clients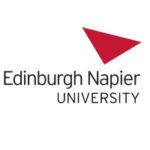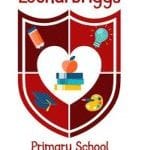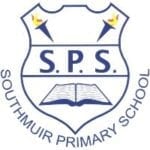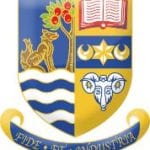 Colourful Entrance Canopy Designed for Southmuir Primary School in Kirriemuir
What Was Our Solution?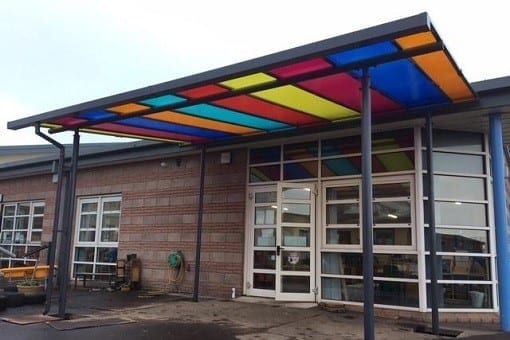 With most projects, there is more than one solution to the problem. At A&S Landscape, we always work in conjunction with our clients to establish what the need is, what they would ideally like to have and to assess the existing infrastructure. Taking all of these things into account, our solution for Southmuir Primary School was a front door canopy, built using a monopitch straight roof variant.
Front door canopies of this type provide a solid steel structure, which, in this case, was finished in Slate Grey (RAL 7015). The structure was completed with a polycarbonate roof in multicoloured panels, this solution was very much designed with the Southmuir Primary School project brief at the forefront of our designer's mind.
What Product Did We Use?
From the extensive choice available from our product range, the Motiva Linear™ straight roof canopy was chosen. The design of this model revolves around an asymmetric-style roofline supported by solid steel uprights and is perfect for erection against an existing building structure. The Motiva Linear™ is a versatile product as it can be installed in virtually any dimension ratio.
What Was the Result?
The overall result can be seen for itself, a large door shelter with bespoke design features in the rainbow-effect roof panels. Providing a practical shelter against the elements for those coming into school. Plus, the shelter also gives provides additional playground space for outdoor play and learning.
Feedback/Testimonials
The feedback from Southmuir Primary School was so great, that they gave A&S Landscape a five star rating. We take our commitment to each stage of the process extremely seriously, from your initial contact with us, right through to completion of the installation. Here's what Southmuir Primary School had to say about their canopy:
"A&S Landscape were very efficient in producing detailed drawings. The installation was carried out to a very good standard and completed on time."
– Southmuir Primary School
A Bit About the Client
Southmuir Primary School is located in the picturesque town of Kirriemuir, in the Angus region of Scotland. The school is classed as small in comparison to the growing number of 'super schools'. Their pupil numbers total 200 in years P1-7 and a further 30 children in their nursery.
What Is a Monopitch Front Door Canopy?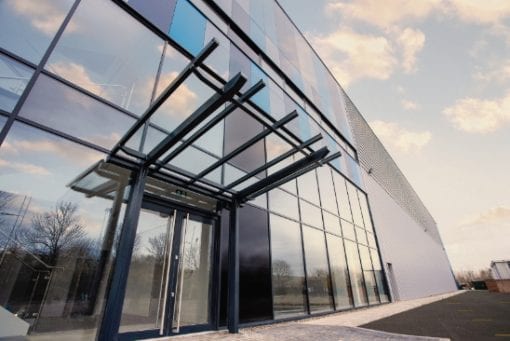 A monopitch canopy is essentially one that sits asymmetrically to an existing building. In other words, one side of the roof pitch is higher than the other side. This style can be utilised for a whole range of different canopy options, from door porch canopies to covered walkways. With this particular type of front door canopy, it is easy to achieve widths of up to 10 metres, and with the implementation of some additional design features, wider than this is also possible. For more information on what's possible for your project, speak to our team who are always happy to assist.
Why Are Entrance Canopies Perfect for Primary Schools?
Whatever type of over door canopy you are considering, there are many advantages on offer to your school. Here are just a few to think about:
Make a Good First Impression
First impressions count, and many studies show that this is the case. Whether it's for a shy pupil on their first day or an Ofsted inspector, your school will want to send the right message of a warm, welcoming and safe space. That valuable first impression will be created literally within seconds of people arriving at the site.
Useable Outdoor Space
Being outdoors is a big part of school life. Providing a door porch canopy can help to create more opportunities for your pupils to be outdoors. It's somewhere to play as well as shelter, so installing one doubles up on the benefits.
Versatile Uses
The flexibility that an option like a front door canopy offers means that you can consider it as a stand-alone school improvement project, with the potential for adding additional matching structures in the future when budget allows. Find out more below about potential options such as:
You can read some of our testimonials from primary and high schools, colleges and universities who have used us for the design and build of their front door canopies here.
How Can A&S Landscape Help You?
A&S Landscape offers unrivalled expertise in the design and fitting of high-quality shelters and front door canopies across the UK.
Our end-to-end service provides you with tailored input at every stage of the process. Need someone to survey the site and design the best option for you? No problem. Our team are on hand to help scope out the plans and take you through the choices. Or do you already have a potential design in mind and want to know if it's workable? We can help with that too. Our team will take you through step by step, and you can also find more information related to our installation process here.
If you'd like to discuss how we can help you find the right outdoor cover, get in touch with our friendly team on 01743 444100 or at [email protected].
Selection of Canopies Installed at Cross Arthurlie Primary School in Barrhead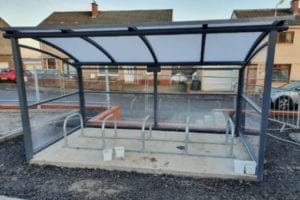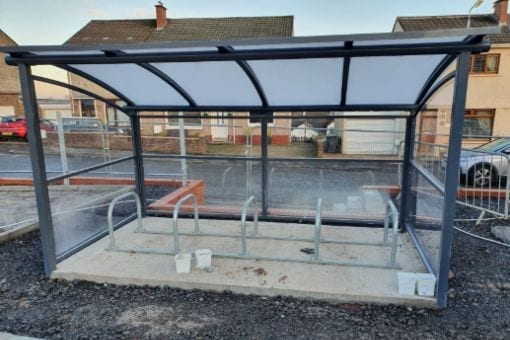 Cross Arthurlie Primary School in Barrhead, East Renfrewshire wanted to add several shelters to their facilities to improve them for the entire school community. They needed a playground canopy to enable pupils to spend more time outside in wet weather, a shelter to spruce up their entrance, and a bike store and buggy store to offer covered space for bicycles and pushchairs. A&S Landscape was happy to help them find some brilliant solutions.
The school chose two curved roof Motiva Cantilever™ shelters for their new entrance canopy and covered playground area, as they loved the year-round coverage and design. The requested Cyclo Bike™ had room to accommodate ten bikes for this bike-mad institution, which has been awarded Cycle Friendly School status. They also decided that a Cyclo Buggy™ would be ideal for their buggy store, with clear sides that could shield buggies from the elements and a modular system that allowed A&S Landscape to easily adapt it to the required size. All four canopies were built with Opal roofs and Slate Grey steelwork to complement the surrounding buildings.
Cross Arthurlie Primary School loved their new shelters and the facilities that they provided for their community. Parents can keep the outdoor space organised by storing buggies in the Cyclo Buggy™, plus pupils can enjoy the fresh air under the playground canopy during wet break times – or even use it as an outdoor classroom gazebo! A&S Landscape was happy to discover that this client would get such great use out of these shelters.
Looking for more of our locations?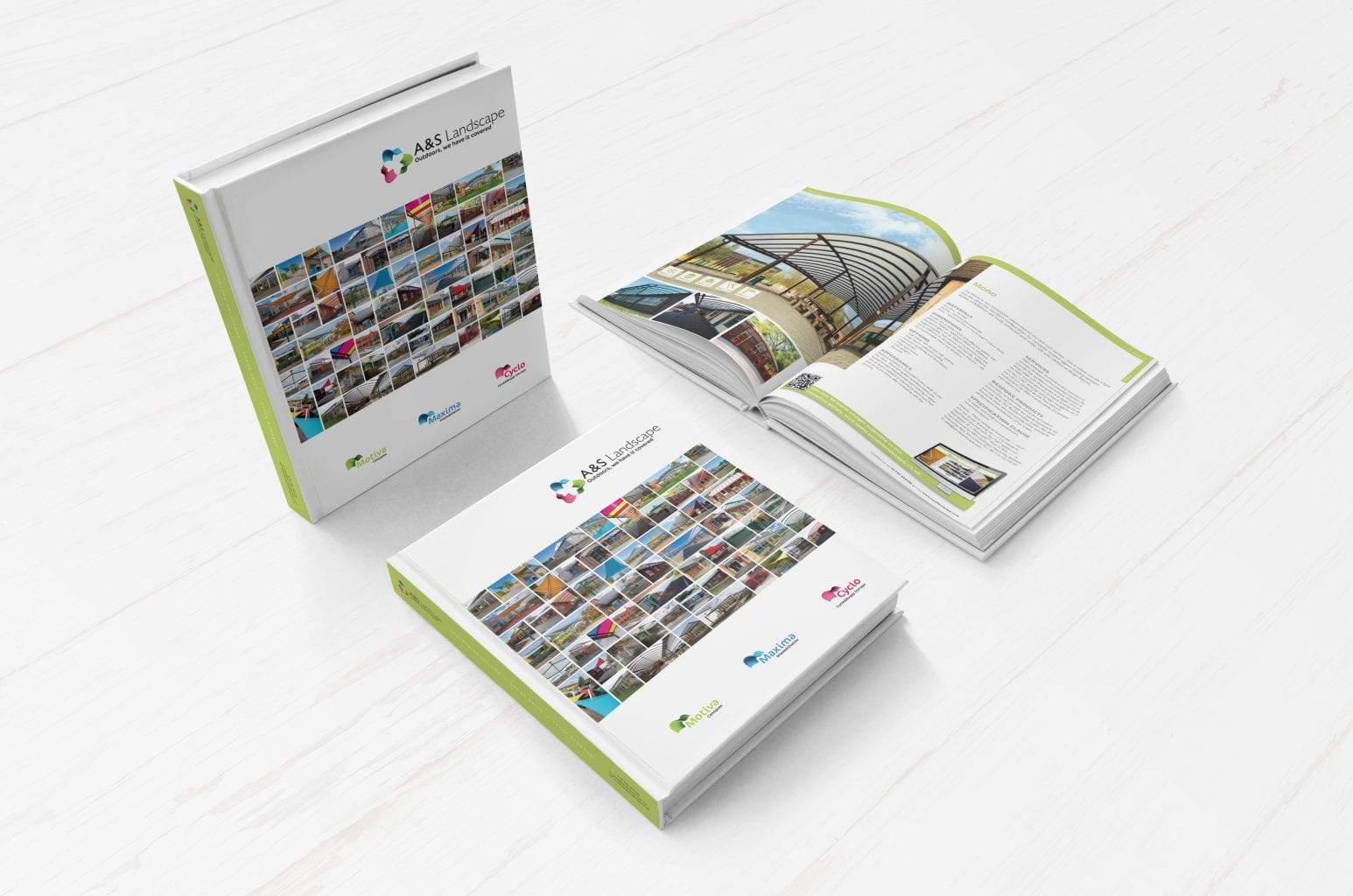 Get in touch to request a copy of our full, 160 page, hardback brochure with all the information you need to make the right choice.