Colourful Entrance Canopy Designed for Southmuir Primary School in Kirriemuir
What Was Our Solution?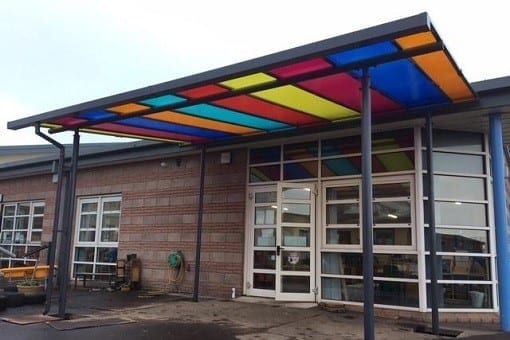 With most projects, there is more than one solution to the problem. At A&S Landscape, we always work in conjunction with our clients to establish what the need is, what they would ideally like to have and to assess the existing infrastructure. Taking all of these things into account, our solution for Southmuir Primary School was a front door canopy, built using a monopitch straight roof variant.
Front door canopies of this type provide a solid steel structure, which, in this case, was finished in Slate Grey (RAL 7015). The structure was completed with a polycarbonate roof in multicoloured panels, this solution was very much designed with the Southmuir Primary School project brief at the forefront of our designer's mind.
What Product Did We Use?
From the extensive choice available from our product range, the Motiva Linear™ straight roof canopy was chosen. The design of this model revolves around an asymmetric-style roofline supported by solid steel uprights and is perfect for erection against an existing building structure. The Motiva Linear™ is a versatile product as it can be installed in virtually any dimension ratio.
What Was the Result?
The overall result can be seen for itself, a large door shelter with bespoke design features in the rainbow-effect roof panels. Providing a practical shelter against the elements for those coming into school. Plus, the shelter also gives provides additional playground space for outdoor play and learning.
Feedback/Testimonials
The feedback from Southmuir Primary School was so great, that they gave A&S Landscape a five star rating. We take our commitment to each stage of the process extremely seriously, from your initial contact with us, right through to completion of the installation. Here's what Southmuir Primary School had to say about their canopy:
"A&S Landscape were very efficient in producing detailed drawings. The installation was carried out to a very good standard and completed on time."
– Southmuir Primary School
A Bit About the Client
Southmuir Primary School is located in the picturesque town of Kirriemuir, in the Angus region of Scotland. The school is classed as small in comparison to the growing number of 'super schools'. Their pupil numbers total 200 in years P1-7 and a further 30 children in their nursery.
What Is a Monopitch Front Door Canopy?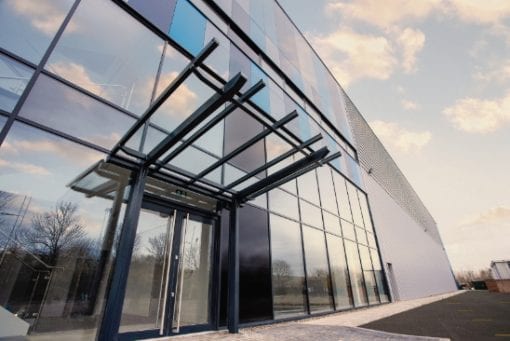 A monopitch canopy is essentially one that sits asymmetrically to an existing building. In other words, one side of the roof pitch is higher than the other side. This style can be utilised for a whole range of different canopy options, from door porch canopies to covered walkways. With this particular type of front door canopy, it is easy to achieve widths of up to 10 metres, and with the implementation of some additional design features, wider than this is also possible. For more information on what's possible for your project, speak to our team who are always happy to assist.
Why Are Entrance Canopies Perfect for Primary Schools?
Whatever type of over door canopy you are considering, there are many advantages on offer to your school. Here are just a few to think about:
Make a Good First Impression
First impressions count, and many studies show that this is the case. Whether it's for a shy pupil on their first day or an Ofsted inspector, your school will want to send the right message of a warm, welcoming and safe space. That valuable first impression will be created literally within seconds of people arriving at the site.
Useable Outdoor Space
Being outdoors is a big part of school life. Providing a door porch canopy can help to create more opportunities for your pupils to be outdoors. It's somewhere to play as well as shelter, so installing one doubles up on the benefits.
Versatile Uses
The flexibility that an option like a front door canopy offers means that you can consider it as a stand-alone school improvement project, with the potential for adding additional matching structures in the future when budget allows. Find out more below about potential options such as:
You can read some of our testimonials from primary and high schools, colleges and universities who have used us for the design and build of their front door canopies here.
How Can A&S Landscape Help You?
A&S Landscape offers unrivalled expertise in the design and fitting of high-quality shelters and front door canopies across the UK.
Our end-to-end service provides you with tailored input at every stage of the process. Need someone to survey the site and design the best option for you? No problem. Our team are on hand to help scope out the plans and take you through the choices. Or do you already have a potential design in mind and want to know if it's workable? We can help with that too. Our team will take you through step by step, and you can also find more information related to our installation process here.
If you'd like to discuss how we can help you find the right outdoor cover, get in touch with our friendly team on 01743 444100 or at [email protected].