School Canopy at Roecroft Lower School in Stotford
Posted on 06/12/2017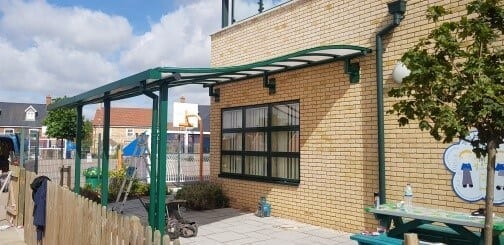 A&S Landscape has more than 40 years' experience working with schools and other commercial buildings, installing canopies and tensile fabric structures, so we knew that we would have the perfect product for Roecroft Lower School.
Project – School canopy brings shelter to pupils at Roecroft Lower School
Product – Motiva Wave
Requirement – Roecroft Lower School in Stotfold, Hitchen say that "Children lie at the heart of this successful school.". What a lovely sentiment. Ensuring that the children have access to play and learn outdoors is obviously something that Roecroft Lower School felt passionately about. They called A&S Landscape and together we designed and created a covered outdoor space for the children to enjoy all year round.