Bright, Colourful School Canopy at St Lawrence Primary School in Shropshire
Posted on 06/12/2017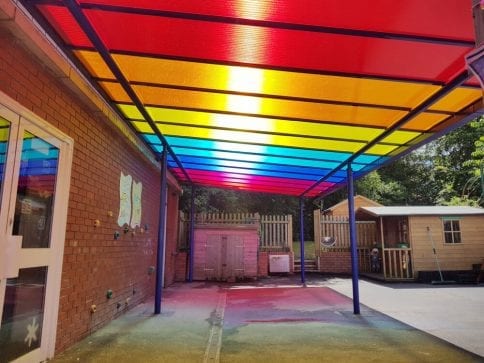 This school were particularly taken with the coloured polycarbonate roofing panels that we can offer on our Motiva Linear canopies.
Project – Rainbow roofed school canopy at Shropshire Primary School
Product – Motiva Linear
Requirement – St Lawrence Primary School in Telford say "At St Lawrence , we aim to ensure that every child and their family enjoy all aspects of school life. We place a great importance on children being happy and in working together as a community with all around us."
Imagine how happy you would have been as a child, to find a large rainbow roofed canopy outside your classroom, giving you more chance to be outside. This is how happy the pupils at St Lawrence Primary School were when they saw the latest installation in the playground!