Trinity Academy in Bristol Adds Duo of Canopies
The duo of canopies has been truly helpful for Trinity Academy. Its September was much less stressful as its increased number of students could comfortably enjoy eating or relaxing in multiple areas, thanks to the dining shelter and food pod.
Project Specification
Product:

Motiva Duo™

Size:

15000mm X 10000mm | 7000mm x 6000mm

Steelwork:

Slate Grey - RAL NO. 7015

Roof:
What was the project brief?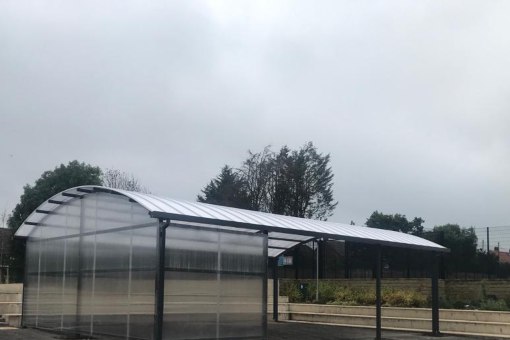 Trinity Academy in Bristol was taking in more students in its new year and needed to find more dining space to accommodate them in a cost-effective way, as well as reduce crowding in existing facilities. The staff wanted two shelters to tackle this – a dining canopy with some side panels for extra protection from the elements outdoors, and a food pod canopy to extend their covered space outdoors at break times. They liked the projects we had done previously so they chose us as their shelter supplier, and we were only too happy to help.
What was our canopy solution?
Trinity Academy took a good look at the different models we have on offer, and then decided that for the main dining shelter, the right fit was our Motiva Duo™. This product is often chosen by academic institutions for their dining solutions, thanks to its smart finish, excellent coverage and easy adaptability. We built it to specifications of 15000mm X 10000mm with clear polycarbonate panels to the sides and one end, to create a great sheltered space where students could eat a snack or meal outside during their breaks, year-round. We also installed a food pod canopy on-site, measuring 7000mm x 6000mm, for additional dining options to broaden everyone's horizons and enjoyment between classes. Each canopy structure sported an Opal roof and Slate Grey steelwork which had a positive, minimal feel and worked well with the surroundings.
What was the result of the new shelters?
The duo of canopies has been truly helpful for Trinity Academy. Its September was much less stressful as its increased number of students could comfortably enjoy eating or relaxing in multiple areas, thanks to the dining shelter and food pod. They allowed the academy to create more room through top-quality outdoor facilities, rather than spending more of its precious budget on new buildings. Plus, the extra panels on the dining canopy were particularly effective at ensuring it could be used in all weathers. It was satisfying to provide this customer with a pair of efficient models when they were so enthusiastic about our past work.
About the client
Trinity Academy moved into a new £25 million building in 2021, where it now delivers cutting-edge teaching in fantastic facilities. It is part of the Cathedral Schools Trust, a multi-academy trust that was established in 2016. Its mission is to create a world-class institution where everyone develops their Head, Heart and Soul, so its students become successful, happy and community-focused. We thoroughly enjoyed helping this academy develop its shelter solutions for the betterment of its student population.
This institution is situated in Bristol, a city with creativity and history aplenty. Many visitors are drawn in by some of Isambard Kingdom Brunel's masterpieces there – including the SS Great Britain and the Clifton Suspension Bridge. With the Bristol Aquarium, Bristol Zoo Gardens and Aerospace Bristol – where you can step on board a Concorde – no-one is short of fun things to do in this South West destination.
What are food pods and kiosks?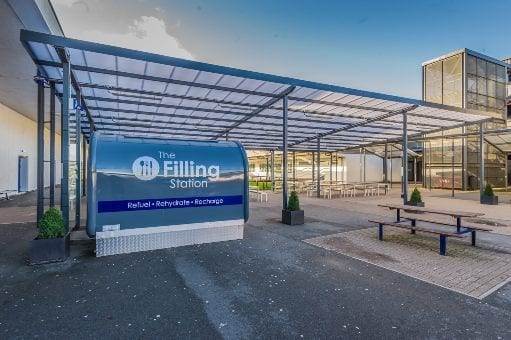 Food kiosks and similar models can sell a variety of hot and cold snacks and drinks, relieve congestion in indoor dining facilities and even be used as satellite dining stations. This can be of great benefit to schools that need to improve and expand their current offerings without breaking the bank. Plus, food kiosks can be created with different equipment and fit-outs to suit both space and requirement, re-located to work with ever-changing environments, and designed to look funky with a bespoke vinyl wrap or stylish with a painted finish. Clients can also choose to have their models installed with branding to make them feel more at home in the grounds and match their colours, and seating to make them comfortable for everyone.
If you're interested in exploring the idea of adding a food kiosk or pod to your institution or business, feel free to contact us with your questions. Email us at [email protected] and we'll be thrilled to answer them and make your shelter dreams a reality as canopy and shelter specialists.
What have other clients thought of A&S Landscape?
You can read our customers' thoughts on our Testimonials page, which includes feedback from everyone from schools to commercial sites. Just some quotes we love are: '"A&S has always been helpful, everything was very good and we are very happy." (Senior Quantity Surveyor – Royal Mail)' and '"The project went extremely well, it was very well organised." (Headteacher – Billing Brook School Academy)'. You can also see the visual results of our projects in our Gallery. Find out how we can make a difference to you with our shelters by calling us on 01743 444100 today.