The Corbet School in Shropshire Add Freestanding Curved Roof Canopy
The primary aim of the new outdoor shelter solution was for the pupils to use at breaktimes.
Project Specification
Product:

Motiva Duo™

Size:

14000mm x 8000mm

Steelwork:

Sapphire Blue - RAL NO. 5003

Roof:
What was the project brief?
The Shropshire village of Baschurch is home to The Corbet School. This mixed secondary school delivers education to children in the North Shropshire area. The school is committed to high-quality teaching and the pursuit of excellence. The Corbet School wanted to create a sheltered outdoor breakout area, specifically for the use of pupils during break times, but also as an additional resource for use by the wider school.
What was our outdoor shelter solution?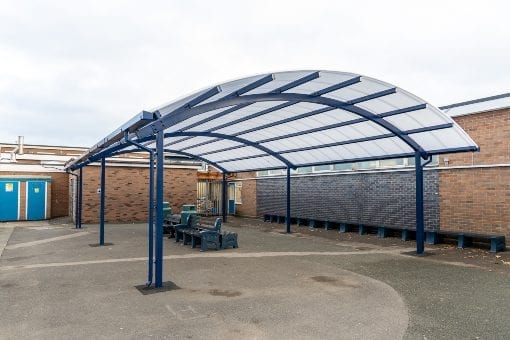 The primary aim of the new outdoor shelter solution was for the pupils to use at breaktimes. A practical solution was therefore needed that took account of how the pupils might use the space during these times. Often, breaktime will involve a quick snack or refreshment, and at lunchtime, pupils are likely to want to spend more time catching their breath before heading into afternoon lessons.
Taking account of the likely demand for use during the course of the school day, our proposed shelter solution was selected from the Motiva Duo™ product range. The Motiva Duo™ works really well as a dining area canopy, but A&S Landscape recognises that there are a multitude of ways that this type of canopy might be used. That's why it's so important for the design phase to take account of what the end-user needs from the canopy.
The Motiva Duo™ is extremely flexible when it comes to size and configuration. From a standing canopy with covered bench seating to steel walkway design and even as a free standing canopy with enclosed with sides and doors. Just about anything is possible.
The Corbet School selected a canopy cover measuring 14000 mm X 8000 mm. With a curved roof construction of polycarbonate in Opal, selected from the choices available from our range, and Sapphire Blue (RAL 5003) steelwork, the finished design was a fresh and inviting outdoor canopy structure.
The Benefits of Eating Outdoors and The Impact on Mental Health
Being indoors for most of the day is connected to increased anxiety and depression. Couple this with the allure of computer games and social media at home and you can see how necessary it is to offer children as many opportunities to be outdoors during the school day as possible.
Spending time outdoors improves Vitamin D levels (an important hormone that helps to protect against a range of diseases such as osteoporosis, depression, heart attacks and stroke). It is stated in research that many of us do not get enough of this important vitamin, so more time outside is key to help confront this deficiency.
With the longest break in the school day being the lunch break, a great resolution is alfresco dining. More and more schools are upgrading their outdoor areas, erecting outdoor dining spaces, with canopies, shade sails, umbrellas and even enclosed outdoor dining rooms. With climbing pupil numbers, this is a solution to the increased pressure that existing dining rooms come under as schools grow.
Continue reading our article to find out how schools can combat this problem and let their pupils to spend more time outside.
What was the result of their outdoor shelter solution?
The end result for The Corbet School is a fabulous, multi-purpose outdoor space providing a breakout area for use at mealtimes. It is also useful as an outdoor classroom for teachers to mix up the standard school day. The size of the canopy installation means that the new shelter is available to plenty of pupils at any one time. It is therefore an attractive draw for the children and enables them to be outside on more occasions during the school day.
About the client
The Corbet School's vision statement is, 'Where excellence, innovation and tradition meet to fulfil the needs and the aspirations of all members of our school community.' They have a strong commitment to their pupils and strive to deliver the best learning experiences possible. These learning opportunities extend beyond the school curriculum too, with pupils able to take part in theatre and skiing trips as well as sporting activities. The school also has a tradition of having pupils take part in the Duke of Edinburgh Award Scheme. Their manager for the scheme, Hannah Jones, told the Award Scheme in September 2020 about their continued commitment to encouraging students to take part, even during the difficult times of COVID-19 lockdown.
Why invest in an outdoor shelter solution at your school?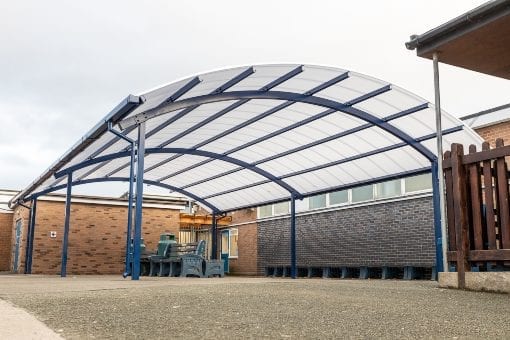 Having an additional breakout area on the school campus can bring with it a number of benefits. Not only can it serve as an outdoor dining area, but it also provides additional opportunities for improving the learning and general school environment. This can translate to additional benefits including:
A quiet, sheltered space away from the main school building. This can be ideal for lessons involving pupils breaking into smaller groups to work independently on a project.
When not in use during lesson times, outdoor shelters can provide an additional opportunity for quiet discussion space for students as well as for staff.
They create an additional area for students to meet up before or after school and can facilitate an environment where peer support and collaborative working is encouraged.
They can be useful in fostering good behaviour and provide a space away from the classroom for students who perhaps need a short period of 'time out' from a situation.
What other options are there for outdoor school breakout shelters?
At A&S Landscape we offer a wide range of shelter solutions across a comprehensive product range. The ideal solution for you will depend upon what you want your canopy installation to achieve. Some of the options to consider are playground waterproof shade sails that offer protection from UV rays as well as shelter from the rain and playground shelters that offer a space for outdoor learning, play and enrichment. As well as dining area canopies in a range of configurations and a wide option of sizes, with food kiosks for additional catering options at peak times.
If you'd like to chat about our product range and find out how we can help you discover the right outdoor canopy cover, get in touch with our friendly team on 01743 444100 or at [email protected].
Read about some of our other projects completed in Shropshire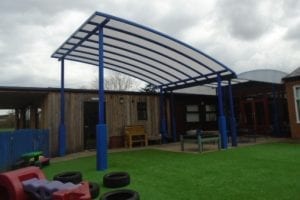 Newtown C of E Primary School Add Curved Roof Playground Shelter
A&S created a curved roof canopy in Newtown C Of E Primary School Newtown, Wem, Shropshire. The full contract involved one Motiva Mono™ curved roof canopy measuring 6000mm X 4800mm and included for our Alu-Tuff™ aluminium box profile guttering and downpipes which were coated in a matching Dura-coat™ colour finish and four post pads.
Outdoor Dining Shelter Designed for Meole Brace School
Our engineers constructed a straight polycarbonate roof canopy at Meole Brace School Science College Shrewsbury, Shropshire. The contract included the supply and installation of one Motiva™ monopitch straight roof canopy measuring 15000mm X 4000mm.
Stokesay Primary School Add Shelter with Polycarbonate Roof Sheets
Our team created a canopy in Stokesay Primary School Market Street, Craven Arms, Shropshire. The contract included relocation of existing canopy to new location and provide new polycarbonate sheets.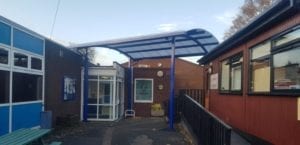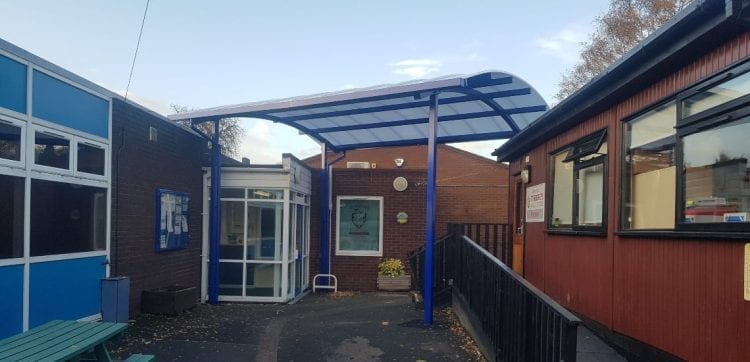 Curved Roof Entrance Cover Designed for St George's Junior School
Our team constructed a curved roof canopy for St George's Junior School Shrewsbury, Shropshire. The job involved one Motiva Duo™ duopitch curved roof canopy measuring 6000mm X 5000mm and included for our Alu-Tuff™ aluminium box profile guttering and downpipes in matching Dura-coat™ colour finish.
Idsall School Add Canopy with Curved Polycarbonate Roof
A&S designed a mono canopy for Idsall School Shifnal, Telford, Shropshire. The job involved one Motiva Mono™ monopitch curved roof canopy measuring 10000mm X 4000mm.
Blue Fabric Playground Umbrella Designed for Ludlow Junior School
We built a playground umbrella for Ludlow Junior School Clee View, Ludlow, Shropshire.  The job involved the supply and fitting of one Maxima™ waterproof Umbrella structure supported on a single upright measuring 5000mm X 5000mm.