Rumworth School in Greater Manchester Install New Covered MUGA
Rumworth School was thrilled with the new canopy structure. It has alleviated pressure on their indoor facilities and means that their students can enjoy playing sports and games outdoors in any season. Plus, the Covered MUGA™ could be used for after-school activities.
What was the project brief?
Rumworth School in Bolton, Greater Manchester wanted to install a canopy to ensure that their outdoor sports area could be utilised all year round and to reduce pressure on indoor facilities. It needed to provide excellent coverage to keep students dry while they enjoyed exercise and games and have a modern design. They contacted A&S Landscape to find out what sort of shelter would work best and the company knew just how to proceed.
What was our canopy solution?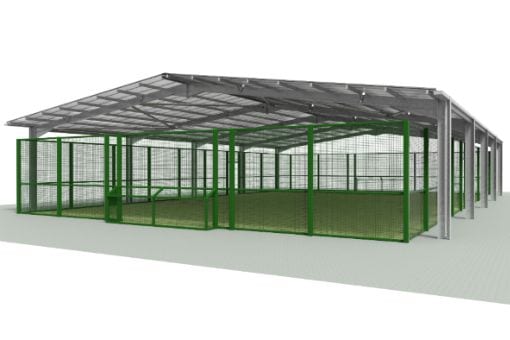 A&S Landscape recommended a Covered MUGA™ (Multi Use Game Area), which the school thought was the ideal model for their needs. Built to measure 25000mm X 17000mm and a huge 425 square metres, the canopy fit perfectly over their sports area to increase possibilities for its use. Their Covered MUGA™ had a pitched roof design and solid steel framework to make sure that students exercising outside would stay safe and dry in bad weather. The team at Rumworth School also chose a galvanised finish for the steelwork and an Opal polycarbonate roof to create an attractive, appealing look for their shelter.
What was the result of their Covered MUGA™?
Rumworth School was thrilled with the new canopy structure. It has alleviated pressure on their indoor facilities and means that their students can enjoy playing sports and games outdoors in any season. Plus, the Covered MUGA™ could be used for after-school activities or be hired out to provide the institution with an additional source of income. Canopies like this can add value to senior schools' facilities and encourage children to spend more time in the fresh air. A&S Landscape was glad to hear that Rumworth School would get such fantastic use out of their shelter and that they loved its modern design.
About the client
Rumworth School educates children between the ages of 11 and 19 with a range of learning difficulties and additional needs – including hearing and visual impairments, physical disabilities, severe learning difficulties and autistic spectrum conditions. They offer their students a 'differentiated and inclusive curriculum that reflects and actively promotes fundamental British Values. This includes teaching about democracy, the rule of law, individual liberty, mutual respect and tolerance'. They value everyone as part of their school community and give them an enriching learning experience. Ofsted also judged them to be Outstanding in 2018. A&S Landscape enjoyed providing this dedicated institution with a canopy to improve their facilities and wishes them all the best for the future.
Rumworth School is located in Bolton, Greater Manchester. The town has prominent industrial heritage through its canals, cotton, coal and railways. It houses many attractions for families to enjoy, including Bolton Museum and Aquarium, Bolton Steam Museum and Smithills Open Farm, and events for adults like the Ironman UK Triathlon. It is also situated close to the West Pennine Moors which offer stunning countryside and views. This area has lots for students of nearby schools, such as Rumworth School, and their loved ones to enjoy.
What are the benefits of a covered multi use games area?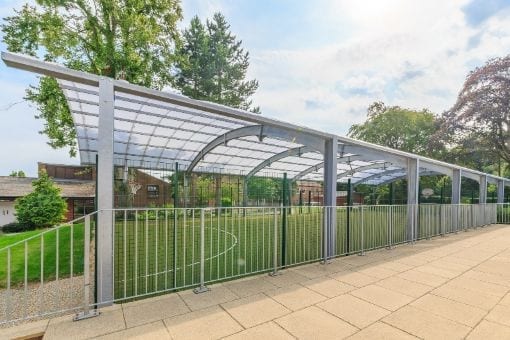 The schools of today face increasing pressure to accommodate more students and improve their facilities and education. Shelters such as Covered MUGAs™ can expand provision for increasing populations and are popular with such institutions because they help to address such common challenges, as well as having other benefits.
They open up facilities – this type of canopy shelters sports areas from all kinds of weather, so schools have an extra space that they can use year-round. This means that students don't have to miss out and increasing populations don't equate to unequal opportunities when it comes to physical education.
They make a powerful statement – Covered MUGAs™ are large, impressive and striking structures that become an essential part of school grounds. They add something special to existing outdoor areas and make a bold statement about schools' commitment to enhancing students' daily lives.
They are versatile – schools can use Covered MUGAs™ as spaces for children to play many different sports and games. These include tennis, cricket, athletics, football, volleyball and archery. They can be used in other ways too, such as extra exam areas or being hired out to external parties like sports clubs.
Covered MUGAs™ are one of the most useful types of canopy that schools can have installed, but there are also many other options they should consider. From dining areas to outdoor classroom buildings and cycle stores, school shelters can create new spaces in countless ways. Want to know more? Give us a call on 01743 444100 and our friendly team will help you to find the right canopy for your institution.
Why choose A&S Landscape?
We launched in 1976 and over the past four decades, we have grown into a canopy designer, manufacturer and installer across the UK and Europe. We support everyone from local authorities to Team GB, schools and NHS Trusts with our shelter solutions – like entrance canopies and outdoor classroom ideas – and strive to build relationships with our clients based on achieving commitments. If you're interested in working with a trustworthy, innovative shelter supplier, email A&S Landscape today at [email protected]. We look forward to hearing from you.
Keep reading about other projects based in Manchester
Holy Cross and All Saints Primary School Add Shelter to Playground
A&S constructed a straight polycarbonate roof canopy in Holy Cross And All Saints Primary School Trafford Road, Barton, Greater Manchester. The job involved the supply and installation of one Motiva™ monopitch straight roof canopy measuring 11660mm X 2000mm with Alu-Tuff™ aluminium box profile guttering and downpipes in matching Dura-coat™ colour finish.
Fabric Sail Canopy Designed for Heathfield Primary School
Our team made a waterproof sail structure in Heathfield Primary School Henniker Road, Bolton, Greater Manchester. The full contract involved the supply and installation of one Maxima™ tensile waterproof fabric sail structure comprising of one sail on four uprights including for all stainless steel fixtures and fittings.
Secure Shelter Manufactured for Horwich Parish CE Primary School
Our engineers produced five rollers shutter doors in Horwich Parish CE Primary School 7 Church St, Horwich, Bolton Bl6 6Ah, Horwich, Greater Manchester. The full contract involved three shutters 3073mm wide x 2650mm high, two shutters 3300mm wide x 2650mm high and two triangular infills 3400mm wide x approx' 750mm high.
Bridgewater Primary School Add Fabric Umbrella Canopy
In combination with our trade partner our team designed a playground umbrella at Bridgewater Primary School Bridgewater Street, Little Hulton, Manchester. The full contract involved the supply and fitting of one Maxima™ waterproof Umbrella structure supported on a single upright measuring 6000mm X 6000mm.