Playground Tepee at St John's School in Northwood
St John's is a Merchant Taylors' Educational Trust School for boys aged 3 to 13 years. This lovely school in London is a place where children are encouraged, nurtured and supported to achieve. They sought some additional outside shelter and came to A&S Landscape to look for a solution.
Project Specification
Product:

Maxima Tepee™

Size:

6000mm x 5400mm

Steelwork:

Sky Blue - RAL NO. 5015

Fabric:
With so many different designs of school shelter available, there were plenty of options to choose from. We offer steel canopies with polycarbonate roofing in a range of colours. We also supply fabric roofed canopies in various different designs such as Umbrellas and Tepees. St John's School chose the Maxima Tepee at an overall size of 6000mm x 6000mm. They added four post protector pads at 1200mm high. At The Chase School, we also installed three tepee canopies to create a covered dining area.
The resulting Tepee with Yellow fabric roofing (RAL 1021) and Blue steel (RAL 5015) looks very striking in the playground. The children at St John's School have additional protection from the post pads. The space itself has completely changed, where there was no shelter there is now both shade from the sun's UV rays and shelter from the rain, due to the waterproof PVC fabric. Somewhere new for the boys to enjoy some fresh air, no matter what the weather.
The Benefits Of Outdoor Learning on Students and Teachers
There are plenty of benefits of learning outdoors which help pupils as well as teachers. A consideration that is generally forgotten is the teacher's satisfaction of teaching lessons and how the prospect to teach outside can be just as enthralling for them as it is for students. Being in an outdoor space is healthy and breeds positivity for teachers which is often echoed in their lessons and the way they teach. If a teacher is uninspired, that sparseness of enthusiasm can carry over into their lessons but putting them in contact with nature can altogether alter the way they envisage teaching.
A joyful teacher is a good teacher and one that is avid about educating children. Introducing a shelter into a school gives both teachers and students a opportunity to explore this together and brings with it a positive sense of freedom. Improving engagement in school is something every teacher is looking to do and with an school canopy from A&S Landscape, it's made much simpler. The more engaged students are with their learning, the more their skills advance and the more assured they become in their abilities.
Click here to read more about the various benefits of learning outdoors.
There are hundreds of photos of projects that we have completed in our gallery. Take a look for some inspiration and if you need further details you can call us on 01743 444100 or email [email protected]
Take a look at some of the other shelters we have installed across London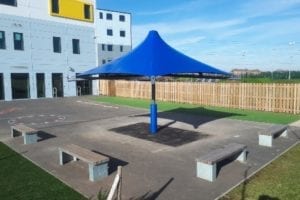 Riverside Bridge School Add Blue Fabric Umbrella Shelter to Playground
A&S created a playground umbrella at Riverside Bridge School Renwick Road, Barking, London. The contract included the supply and installation of one Maxima™ waterproof Umbrella structure supported on a single upright measuring 5000mm X 5000mm and post protector.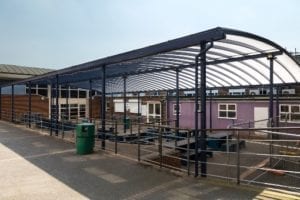 Large Dining Area Canopy Manufactured for Claremont High School
Our engineers created a curved roof canopy for Claremont High School Harrow, London. The full contract involved one Motiva™ Duo duopitch curved roof canopy measuring 23236mm x 12384mm and included for our Alu-Tuff™ aluminium box profile guttering and downpipes which were coated in a matching Dura-coat™ colour finish.
Timber Planter Sail Structure Designed for Durants School
Our team designed a planter sail structure at Durants School Enfield, London, Greater London. The job involved 5m x 5m planter sail, monotec fabric, games board covered planters and installation.
Grazebrook Primary School Install Five Fabric Triangle Sail Shades
A&S erected five triangle sails in Grazebrook Primary School Lordship Road, London, Greater London. The job involved supply and installation of five bespoke triangular sails from monotec 370 fabric.
The Olive School Add Straight Roof Play Area Canopy with Polycarbonate Roof
We produced a straight polycarbonate roof canopy in The Olive School Hackney, London, Greater London. The contract included one steel framed Motiva™ Linear monopitch straight coloured polycarbonate roof canopy measuring 9000mm X 3900mm and included for our Alu-Tuff™ aluminium box profile guttering and downpipes in matching Dura-coat™ colour finish and six post protection pads.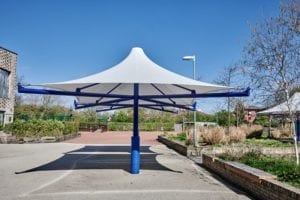 Five White Fabric Umbrella Canopies Installed at The Willow Primary School
Our team erected five umbrellas at The Willow Primary School Broadwaters Inclusive Learning, Adams Road, London. The contract included five Maxima™ waterproof Umbrella structures each supported on a single upright measuring 5000mm X 5000mm.
Little Engineers Nursery Add Wooden Planter Sail to Play Area
Our team erected a planter sail structure in Little Engineers Nursery Tottenham Hale, London, Greater London. The contract included the supply and installallation of one Planter sail structure comprising of 1 Monotec fabric sail measuring 6m x 3m, 4 uprights and 4 planters including for all fixtures and fittings.