Northmuir Primary School in Scotland Add Playground Shelters
Northmuir Primary School based in the small town of Kirriemuir has a variety of fantastic facilities. To further improve the pupil's school day experience, the staff decided to add an area of shelter to the playground.
Project Specification
Product:

Motiva Linear™

Sizes:

7000mm X 4400mm | 4200mm x 2800mm

Steelwork:

Slate Grey - RAL NO. 7015

Roof:
A&S Landscape installed two straight roof canopies at the school alongside the buildings. Both of the Motiva Linear structures were finished with Slate Grey coloured steelwork, which creates a subtle, modern look. Clear polycarbonate sheets were also used on the shelters, allowing a safe level of sunlight to shine through.
The playground canopies can be used by the pupils during break and lunchtimes. This allows them to enjoy some fresh air throughout the school day, which will have many benefits on their health and wellbeing. The teachers could also take their classes outside without having to plan around the weather. This fun learning environment will help to create an engaging and memorable lesson. Parents could also stand under the shelter at the end of the school day, while they wait for their children.
It's great that Northmuir Primary School has recognised the importance of providing an area for their pupils to play and learn outside in, all-year-round. Our canopies are a great cost-effective method of creating more usable space.
A&S Landscape has worked with schools across the country for over 40 years supplying shade sails, canopies and shelters. Our products can help you to get better use out of your outside space. To get more ideas, take a look at our gallery or call our friendly team on 01743 444100.
Take a look at some of the other shelters we have installed nearby in Northumberland
Wooden Planter Sail Designed for Hadrian School
Our team erected a planter sail structure at Hadrian School Pendower, Newcastle Upon Tyne, Northumberland. The full contract involved one 4000mm x 4000mm Maxima™ Planter Sail including for fixtures and fittings.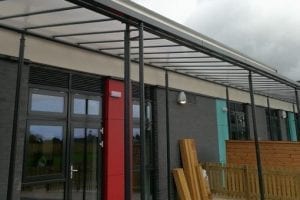 Morpeth First School Install Playground Canopy with Polycarbonate Roof
In collaboration with our building contractor client A&S produced a straight polycarbonate roof canopy for Morpeth First School Morpeth, Northumberland. The job involved the supply and installation of one Motiva™ monopitch straight roof canopy measuring 31800mm X 3000mm and included for our Alu-Tuff™ aluminium box profile guttering and downpipes in matching Dura-coat™ colour finish.
Our Lady Immaculate Catholic Primary School Add Fabric Sail Shades
We constructed three sails at Our Lady Immaculate Catholic Primary School Northumberland Terrace, Merseyside. The job involved three Maxima™ tensile shade cloth fabric sails including for all stainless steel fixtures and fittings.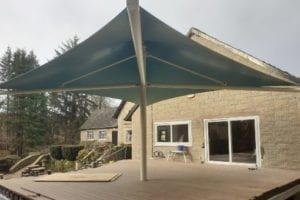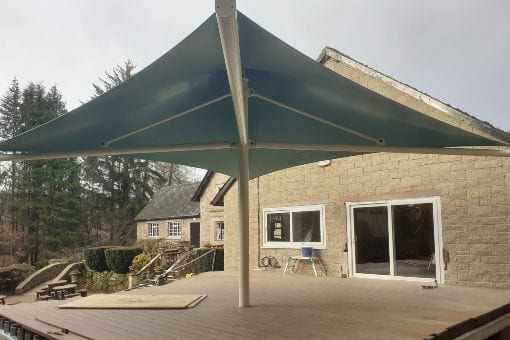 Cover for Outdoor Cafe Seating Area at Vindolanda Museum
Working with our building contractor client A&S created a playground umbrella in Vindolanda Hexham, Northumberland. The contract included the supply and installtion of one Maxima™ waterproof Umbrella structure supported on a single upright measuring 6000mm X 6000mm.
St Cuthbert's Catholic High School Add Bespoke Fabric Tepee
We built an octagonal tepee structure in St Cuthberts Catholic High School Fenham, Newcastle Upon Tyne, Northumberland. The contract included the supply and installation of one Maxima™ Octagonal Tepee fabric roof structure measuring 10000mm x 10000mm including for aluminium frames, windows, doors and laminate glass.