Morpeth First School in Northumberland Add Playground Canopy
The staff at Morpeth First School wanted to ensure the pupils would be able to play outside as much as possible at their new site. To make this possible, A&S Landscape were brought on board to design and install a playground shelter.
Project Specification
Product:

Motiva Linear™

Steelwork:

Black Grey - RAL 7021

Roof:
A straight roof canopy was added alongside one of the school buildings. The Motiva Linear features Black Grey steelwork, which gives the structure a sleek and smart look. The clear polycarbonate roofing allows a safe level of sunlight through while blocking UV rays. Overall the shelter works perfectly with the surrounding environment.
Once the school had moved to their new site, the pupils were thrilled with their new playground canopy. They can now make the most out of the fantastic outside facilities all-year-round, without worrying about the weather. From rainy days to hot, sunny afternoons the children of Morpeth First School can always play outdoors.
The school can also use the covered area to store outside play equipment, saving valuable storage room inside. Teachers could even take their classes underneath the shelter to provide a fun, alternative learning environment. And at the end of the day, the parents can benefit from the canopy too while they wait for their children.
A&S Landscape offers a range of playground canopy designs, including fabric, multicoloured and curved roof options. Encourage your pupils to spend more time in the fresh air by making your playground more accessible. Start your project today by emailing [email protected] or calling our friendly team on 01743 444100.
What Are The Benefits Of Outdoor Learning and How Can Schools Achieve This
There are loads of benefits of learning outdoors which help students as well as staff. A consideration that is usually unrecognised is the teacher's satisfaction of teaching lessons and how the option to teach outside can be just as captivating for them as it is for pupils. Being in an outdoor surrounding is healthy and leads to positivity for teachers which is usually echoed in their lessons and the way they teach. If a teacher is uninspired, that shortfall of spirit can carry over into their lessons but putting them in contact with nature can outright adjust the way they picture teaching.
Being outside instead of inside a building, or mundane classroom, all day leads to a healthy relationship with nature and helps children to grow up with an understanding for living things. Educating children about nature is not necessarily something that is included as part of a curriculum, but it is part of life and an important part of their development as a human being.
Click here to see more about the various benefits of learning outside.
Read about some of the other shelters we have installed in Northumberland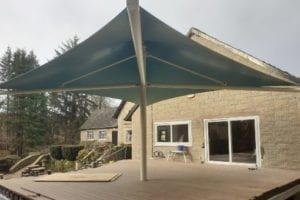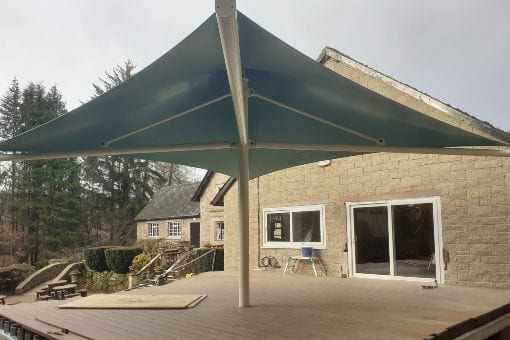 Fabric Umbrella Shade Installed at Vindolanda Cafe Seating Area
In collaboration with our building contractor client our team constructed a umbrella for Vindolanda Hexham, Northumberland. Full details are: the supply and installation of one Maxima™ waterproof Umbrella structure supported on a single upright measuring 6000mm X 6000mm.
Sail Shades Designed for Our Lady Immaculate Catholic Primary School
Our team built three sails in Our Lady Immaculate Catholic Primary School Northumberland Terrace, Merseyside. The job involved three Maxima™ tensile shade cloth fabric sails including for all stainless steel fixtures and fittings.
St Cuthberts Catholic High School Add Octagonal Tepee Structure
We erected an octagonal tepee structure at St Cuthberts Catholic High School Fenham, Newcastle Upon Tyne, Northumberland. The job involved the supply and installation of one Maxima™ Octagonal Tepee fabric roof structure measuring 10000mm x 10000mm including for aluminium frames, windows, doors and laminate glass.
Wooden Sail Structure Designed for Hadrian School
We made a planter sail structure in Hadrian School Pendower, Newcastle Upon Tyne, Northumberland. The full contract involved one 4000mm x 4000mm Maxima™ Planter Sail including for fixtures and fittings.