Outdoor Dining Canopy in Dorset
Posted on 16/03/2017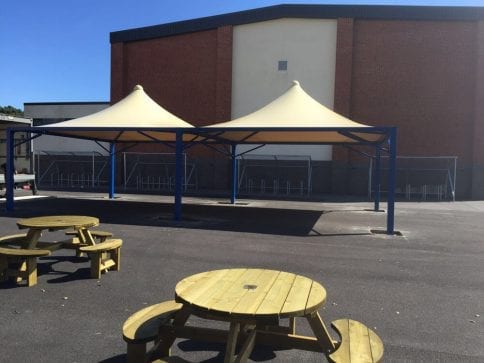 The Maxima Tepee is a large and playful canopy and, being modular, can be arranged at almost any size.
Project – Maxima Tepee creates outdoor dining canopy at Parkstone Grammar
Product – Maxima Tepee
Requirement – We can all agree that eating is pretty important. But does it matter whether you eat inside or outside?
That depends. If one of the only times you get to spend outside is during your lunch period then wouldn't it be great to have that option?
Regular access to fresh air and natural light might seem like something we already have but when we spend so much time during the day indoors we actually have a lot less than you'd think.
Providing outdoor dining facilities is truly valuable. Parkstone Grammar knows this and that's why they called in A&S Landscape to add an outdoor dining shelter on campus.
Solution – The Maxima Tepee is a large and playful canopy and, being modular, can be arranged at almost any size.
At Parkstone Grammar, we installed one double-sized Maxima Tepee at an overall size of 12000mm x 6000mm. Finished in blue (RAL 5002) steelwork with a beige fabric top, this Maxima Tepee provides outstanding shelter from the rain and allows students to eat away from direct sunlight during the summer months.
Result – Being outside is something we take for granted but we really shouldn't. Just because the outside is always 'out there' that does not mean we use it enough.
Being able to plan activities to take place outdoors is so valuable and yet doing that means we have to add a suitable outdoor school canopy.
Parkstone Grammar now has an excellent and long-lasting dining canopy that means their students can eat in nature at any point of the year.
Find Out More – To find out more about our Maxima Tepee you can take a look at our gallery of finished projects here. But why stop there? We have a whole host of options for outdoor dining canopies and social areas that can be explored here.
And when you're ready to start creating your own shelter, don't forget that working with our design team as early as possible will get the best results.