Shelters and Canopies in Dorset
Over the past 40 years, our experienced team has worked on a huge number of projects across the country. As canopy and shelter specialists we have a wide range of products, and work with many different sectors, including schools, hospitality, healthcare and sporting facilities. Often our clients want to make better use of their outdoor space by adding some protection from the weather conditions. Whether that's a covered walkway, external dining area or a play area shelter.
Thanks to our manufacturing process, we are able to customise our structures to exactly match your specification. This can include changing the colour finish on the steelwork, altering the fabric of the sail shades or opting to add side panels to the frame. Our design team understands the importance of ensuring the shelter matches the surrounding building as well as the site ethos so we'll work closely with you to create the perfect product.
Want to start moving your canopy project forward? Email us at [email protected] or use our online contact form to discuss your requirements and find out how we can help.
Wareham Household Recycling Centre in Dorset Add Curved Roof Shelter
Based at Westminster Road, Dorchester, the Dorset Waste Partnership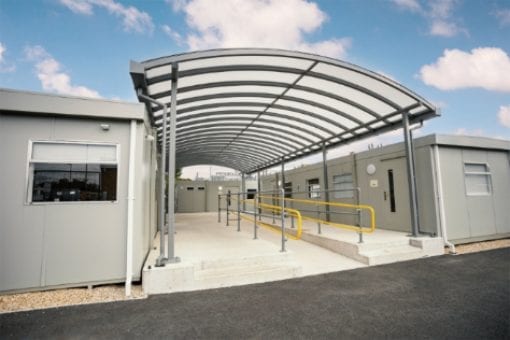 approached canopy and shelter specialists A&S Landscape for assistance with their site improvement project. This industrial canopy project was subject to planning consent and involved working with the planning drawings to ensure that the installation met with the approval given.
With the expertise of our design team, A&S Landscape scoped out a methodology for the design that would take an exact account of all planning stipulations. Fitting between the new commercial buildings on the Dorset Waste Partnership site, this canopy installation was multi-faceted. Intended to improve the environment of the site overall, it was also vital that whatever design our team identified took account of the fact that the shelter solution needed to look good too.
In building a design that met the various elements of the project, our team developed plans for a Motiva Duo™ canopy from our curved roof canopy product range. We offer a choice of options within this extensive range, which means that the design can take account of a vast range of different sites and uses. From dining canopies to storage shelters, the inclusion of sides and doors can give an additional element to your project. With a variety of choices in steel and roofing colour, the ability to create a design that fits perfectly within your individual requirements is a definite advantage. Want a quote for one of our outdoor shelters? Use our enquiry form online to send us your requirements.
Outdoor Dining Canopy at Parkstone Grammar School in Poole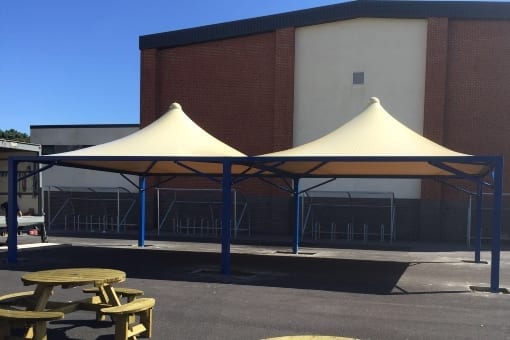 Providing outdoor dining facilities is truly valuable. Parkstone Grammar knows this and that's why they called in A&S Landscape to add an outdoor dining shelter on campus. The Maxima Tepee™ is a large and playful canopy and, being modular, can be arranged at almost any size.
At Parkstone Grammar, we installed one double-sized Maxima Tepee™ at an overall size of 12000mm x 6000mm. Finished in blue (RAL 5002) steelwork with a beige fabric top, this Maxima Tepee provides outstanding shelter from the rain and allows students to eat away from direct sunlight during the summer months.
Being outside is something we take for granted but we really shouldn't. Just because the outside is always 'out there' that does not mean we use it enough. Being able to plan activities to take place outdoors is so valuable and yet doing that means we have to add a suitable outdoor school canopy. Parkstone Grammar now has an excellent and long-lasting dining canopy that means their students can eat in nature at any point of the year thanks to the protection they are given.
To find out more about our Maxima Tepee you can take a look at our gallery of finished projects. But why stop there? We have a whole host of options for outdoor dining canopies and social areas that can be explored here, from curved roof canopies to collapsible umbrellas. And when you're ready to start creating your own shelter, don't forget that working with our design team as early as possible will get the best results. Use our online contact form to send us a message and get your project started today.
St Osmund's CE Middle School Add Sail Shade to Play Area
In collaboration with our contractor client our team created a shade sail structure in St Osmund's CE Middle School, Dorchester, Dorset. The contract included one 16000mm x 8000mm Maxima™ tensile shade cloth fabric sail comprising of two square sails on six uprights including for all stainless steel fixtures and fittings.