Covered SEN Area at Newmarket Academy in Suffolk
Posted on 23/10/2019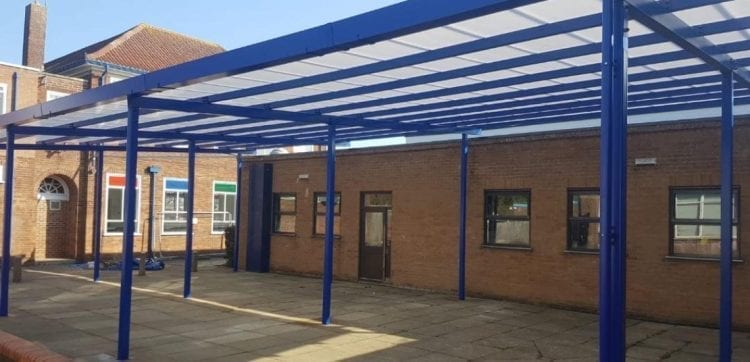 Newmarket Academy wanted to create an area for its students with special education needs. A&S Landscape was proud to have worked with the academy to find the perfect shade solution.
Project – Newmarket Academy add straight roof canopy in Suffolk
Product – Motiva Linear
Requirement – Newmarket Academy in Newmarket, Suffolk wanted to give their special education needs (SEN) students a sheltered outside area. This would allow the students to spend their break and lunchtimes outside in the fresh air throughout the year. A&S Landscape designed, manufactured and installed a canopy on the academy campus.
Solution – A straight roof Motiva Linear canopy was installed alongside the school buildings. The shelter measures a total of 16000mm x 9000mm, so plenty of covered space has been created. The Marine Blue steelwork adds a splash of colour to the site and works perfectly with the surrounding environment. The Opal polycarbonate roofing allows sunlight through while blocking harmful UV rays.
Result – The SEN students at Newmarket Academy now have an outside area which they can enjoy all-year-round. Come rain or shine, playtimes can be spent outdoors. This helps the students to relax and refresh during the school day, helping them stay motivated for their next lessons. Teachers can also use the sheltered space to take lessons outside in an alternative learning environment.
Find Out More – A&S Landscape has worked with schools across the UK, providing a range of canopies, shade sails and shelters. Our products are robust and hard-wearing so they can be enjoyed for many years to come, in all weather conditions. Call our friendly team today on 01743 444100 to discuss your project.