Quiet Area Shelter at St Mark's Church of England Primary School in Cumbria
Posted on 03/04/2020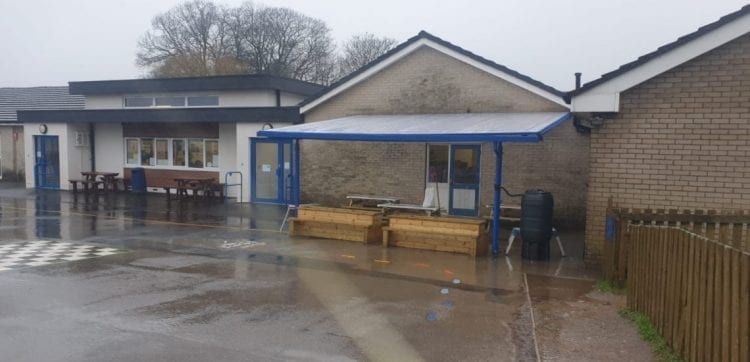 The excellent staff and parents of St Mark's Church of England Primary School wanted to further improve their outside facilities. We worked closely with the school to design a canopy which they loved.
Project – St Mark's Church of England Primary School add straight roof canopy in Cumbria
Product – Motiva Linear
Requirement – The pupils at St Mark's Church of England Primary School in Kendal, Cumbria already had brilliant playground equipment. The staff wanted to create an area outside where the pupils could sit peacefully if they wanted a calm moment. To make the space usable all-year-round, the school decided to install a shelter. After successful fundraising and grant applications, the school was thrilled to contact A&S Landscape to arrange for a cover.
Solution – A straight roof canopy was added to the playground, measuring 6m X 5m. The Motiva Linear was finished with Gentian Blue steelwork, which adds a pop of colour to the area. Opal polycarbonate roofing was also used, which blocks harmful UV rays.
Result – The playground shelter has been a huge success and is a very popular addition to the school. Now the pupils have a dedicated area to sit and talk, regardless of the weather conditions. At the end of the day, parents can also wait under the cover, protected from the elements. St Mark's Church of England Primary School were so happy with the work that they give us a five star rating.
Find Out More – A&S Landscape's products can be used for a variety of applications to help transform your space. From covered multi-use games areas to dining area canopies, we can advise you of the best product for your requirements. Get in touch with us today by emailing [email protected] or calling 07143 444100.