St Mark's Church of England Primary School in Cumbria add Playground Canopy
The rural St Mark's Church of England Primary School wanted to further improve the pupil's school experience. Together with the PTA, the staff decided to add a dedicated quiet area in the playground which could be used all-year-round.
A&S Landscape installed a straight roof canopy at the school, outside one of the buildings. The Motiva Linear measures 6m X 5m, so there is enough room for several pupils to gather underneath at once. The Gentian Blue steelwork perfectly matches the existing fixtures around the school and the shelter looks as though it has always been there. What's more, is that the Opal polycarbonate roof also provides protection from UV rays too.
The finished area has exceeded the school's expectations and has had a huge positive impact on the pupil's wellbeing. If the children want a few peaceful moments during their breaks, or simply want to sit and chat with their friends they now have a great space to do so. The benches the school has added are the best finishing touch, and the space has already been very popular.
How does outdoor play help primary school children to develop and how can we facilitate this during the school day?
Play is the quintessence of childhood, a time when children are well and inarguably being themselves, but for a lot of children the opportunity to play outside, enjoying exercise and fresh air, is limited. Today's generation of children aged 4-11 years spend many hours playing computer games, on iPads and watching TV and so this valuable period of activity is more important than ever to balance long periods indoors in front of a screen. Astonishing recent research show that a third of children play outside for half an hour or less in a normal day. That's less time outdoors than prison inmates get! Of the 1,000 UK families who took part in the survey, 82% blamed the unreliable British weather.
Want to know more? Click here to access our complete post to find out more about the benefits of outdoor play on pupils.
We think it's great that St Mark's Church of England Primary School chose to create this area for their pupils. Spending time outside in the fresh air has so many benefits and is recognised by Ofsted too.
"The canopy has made a massive difference to the school."
– St Mark's Church of England Primary School
A&S Landscape has worked with schools for over 40 years, helping to transform their outside space. You can see examples of our past work in our gallery and read what some of our clients have said about us on our testimonial page. Our friendly team is also ready to talk, call us today on 01743 444100.
We've also fitted canopies at other schools in Cumbria
Newman Catholic School Add Straight Roof Playground Shelter
Our engineers built a straight polycarbonate roof canopy for Newman Catholic School Silverdale Road, Carlisle, Cumbria. The full contract involved the supply and installation of one Motiva™ monopitch straight roof canopy measuring 68358mm X 8000mm and included for our Alu-Tuff™ aluminium box profile guttering and downpipes which were coated in a matching Dura-coat™ colour finish.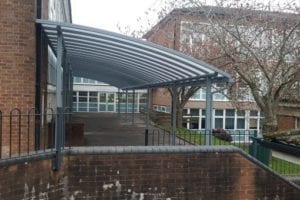 Dowdales School Install Grey Curved Roof Canopy
A&S constructed a curved roof canopy at Dowdales School Dalton-In-Furness, Cumbria. The job involved one Motiva™ Mono monopitch curved roof canopy measuring 21000mm X 5000mm and included for our Alu-Tuff™ aluminium box profile guttering and downpipes in matching Dura-coat™ colour finish and six Adult Olympic recycled plastic picnic benches.